Posted by Sarah Kielbasiewicz 6th Dec 2018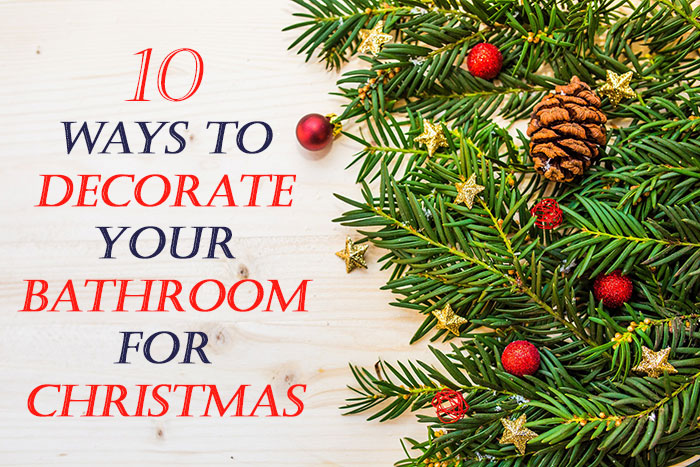 We all love to decorate our homes in the run-up to Christmas. If you're as into Christmas as we are at Wholesale Domestic, you probably want to fill your entire house with festive decorations. But one room that often gets overlooked in the decorating process is the bathroom. However, the bathroom can look gorgeous with a few festive touches. That's why we're going to talk through how you can bring your bathroom to life this Christmas with some festive décor.
So, without further ado, here are our 10 Ways to Decorate Your Bathroom for Christmas!
1) Festive towels
If you don't want to go all out, a good way to bring some festive cheer into your bathroom décor is to switch out your regular bath towels for Christmas-themed ones.
The good thing is, this can be as subtle or as flashy as you want it to be. If you want something subtler, opt for plain towels in festive colours like red or green. This will give a hint towards the Christmas theme without being too much. An extra bonus is that you could make use of the towels throughout the rest of the year.
For something more festive, search out Christmas themed bath towels. These can be found in a range of designs, from the subtle and classy to the wonderfully tacky.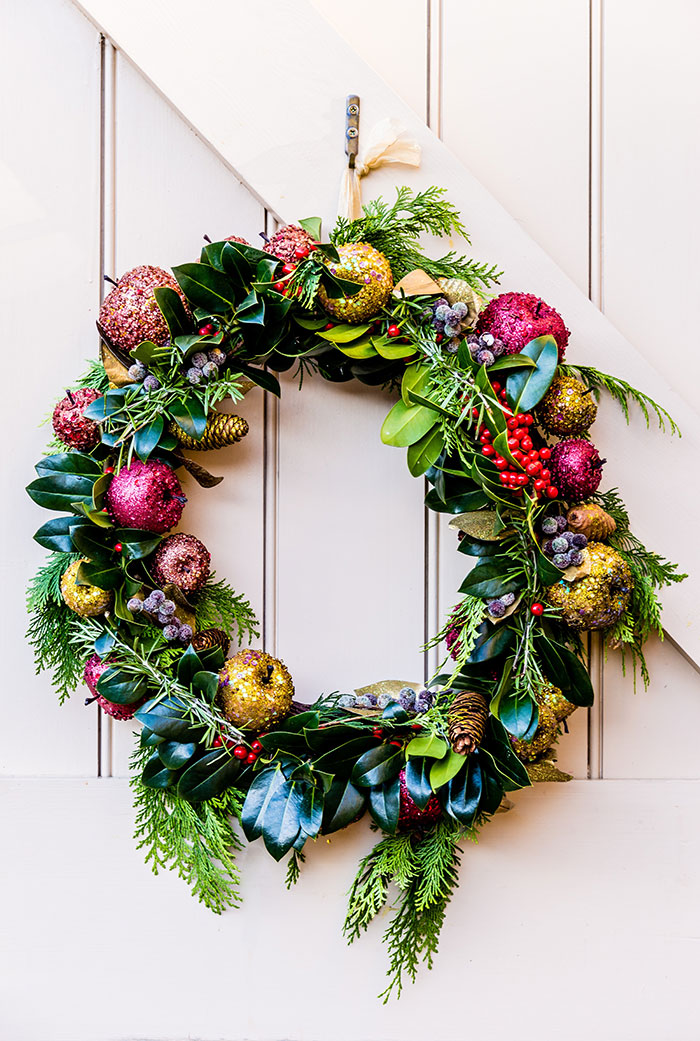 2) Wreath
Whoever said Christmas wreaths were limited to outdoors lacked imagination. A small Christmas wreath can look stunning as an indoor decoration. You could place a small decorative wreath on the bathroom door for a traditional festive look. However, wreaths don't have to be limited to doors. Christmas wreaths also look gorgeous hung up on walls, windows, and even large mirrors!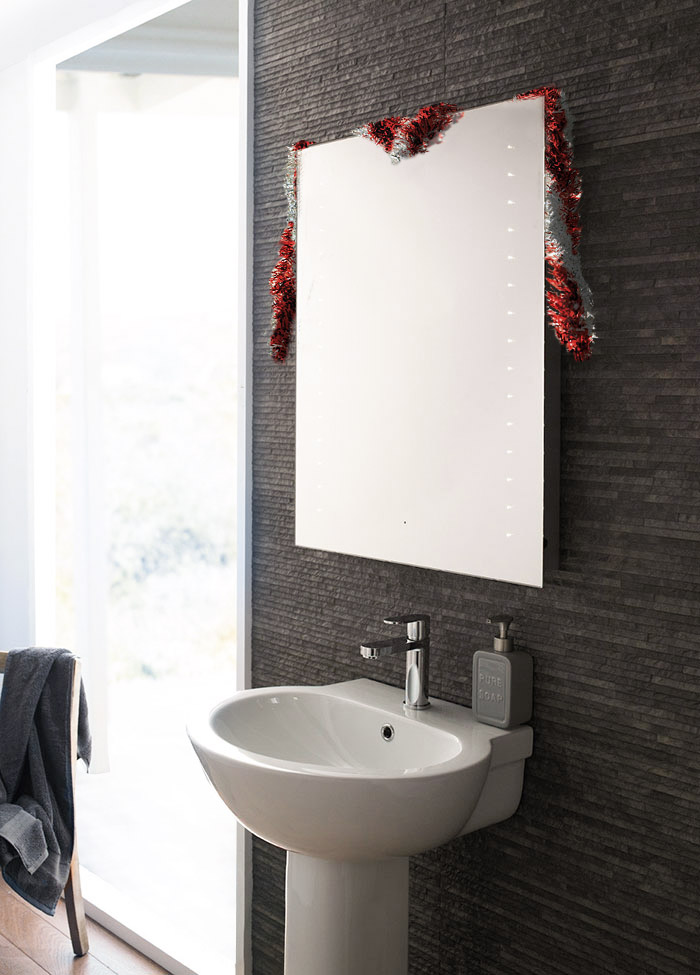 3) Christmas music
Nothing says Christmas like singing along to the cheesiest Christmas playlist known to man during your morning shower. Use a Bluetooth mirror to play music in the bathroom with ease. Et voila: you're ready to pop on some festive tunes and start belting like Mariah Carey.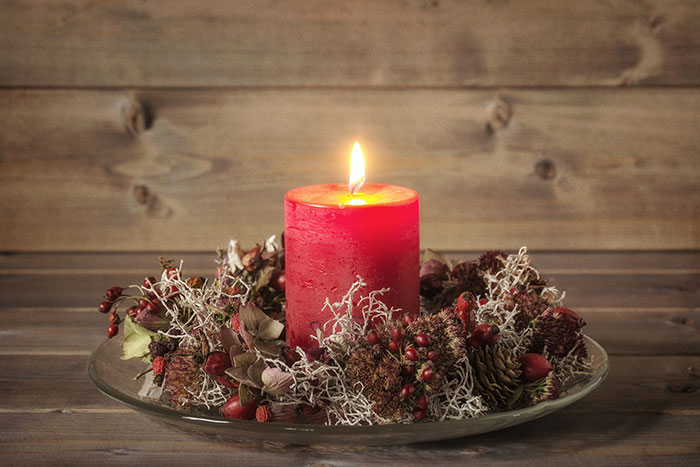 4) Candles
As far as I'm concerned, when the festive candles come out, it's officially Christmas. Christmas candles are a great way to create a festive atmosphere in your bathroom, as well as in the rest of the home. Opt for candles with wintery, spiced scents, like cinnamon or ginger, that make you think of Christmas as soon as you step foot in the room.
5) Snow spray
Take your Christmas décor to a new level with snow spray. Spray on your bathroom windows for a traditional snowy effect. You could also use snow spray to decorate your bathroom mirror, or even on the outside of your shower door.
Spray all over for a frosted effect, or use Christmas-themed stencils to create a festive pattern!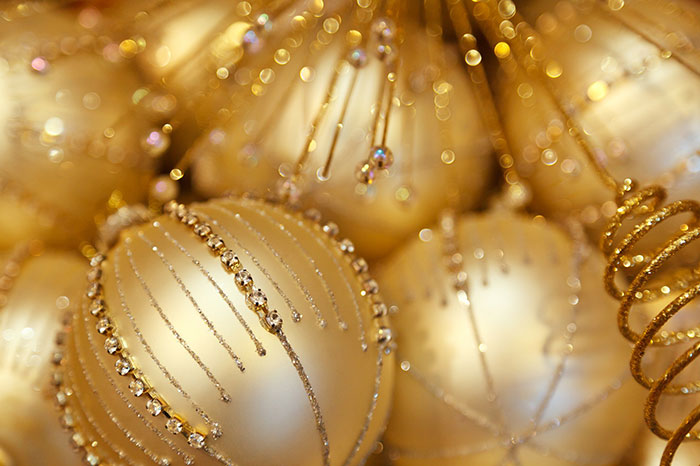 6) Christmas baubles
If you have any spare Christmas baubles left over from decorating your tree, don't let them go to waste! Place any extra baubles into a large glass jar or bowl for festive decoration that won't cost you a penny.
7) Shower decals
If you have a glass shower door, you could use festive glass stickers to add some Christmas cheer. These can be found in a variety of different designs, so they can be as subtle or as bold as you like. This could also work very well on your bathroom window!
8) Tinsel
If your mantra for Christmas décor is "the more sparkly, the better", tinsel is great for adding a festive look to your bathroom. Simply hang some around your bathroom mirror and secure with tape; simple, but effective. You could also place it around your window or on the windowsill to add some extra sparkle.
9) Foliage
If tinsel is a bit much for you, and you're looking for something more subdued, you could opt for festive foliage. Greenery like holly, mistletoe and even eucalyptus all work well for creating a festive appearance with a more natural, rustic quality.
Alternatively, you could add a festive floral arrangement to brighten up the room.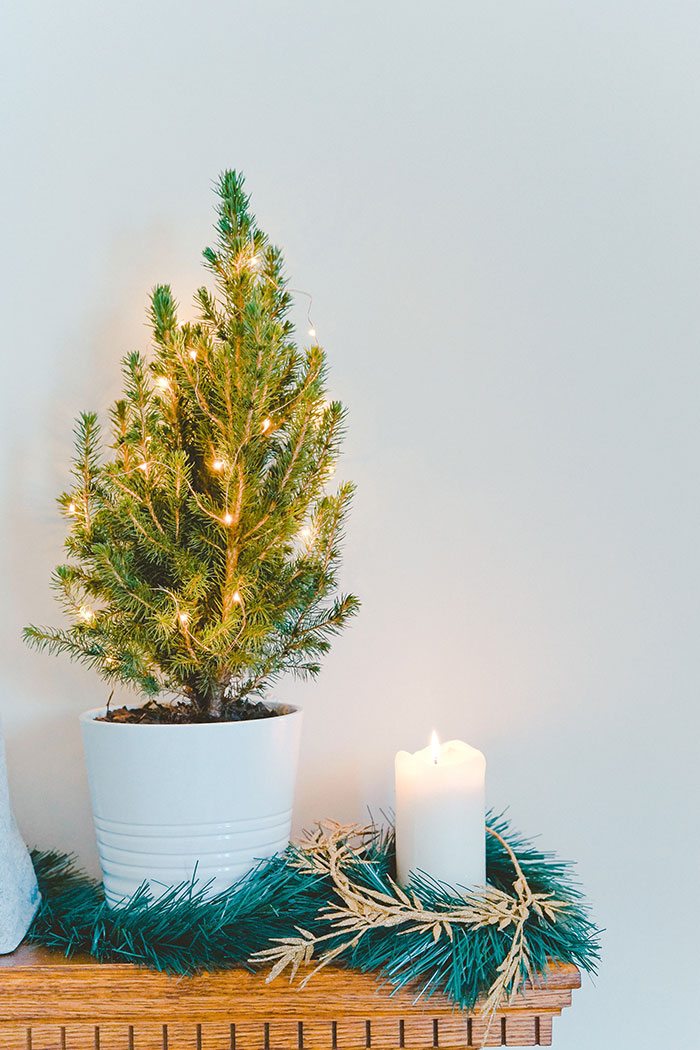 10) Christmas Tree
Now, we realise putting a 5ft Christmas tree in the bathroom is a step too far for most people (although if you have the space, why not?). However, a small table-top Christmas tree can be a great way to add some festive cheer into your bathroom. Find a small artificial tree and display with pride on the windowsill or on top of a storage unit.
And there we have it. 10 ways you can decorate your bathroom for Christmas! Will you be trying any of these ideas this year? Do you have any other bathroom-friendly Christmas décor ideas? Let us know in the comments!