Posted by Gemma Paton 10th Sep 2019
Every year, paint powerhouse 'Dulux' release their much-anticipated "Colour of the Year". Cultivated using global trends, lifestyle insights and consumer desires, Dulux's colour of the year is sure to dominate interiors for the coming months.
For 2020, Dulux has crowned Tranquil Dawn as the chosen shade. A calming, hazy green inspired by the new dawn, this colour is intended to help people re-connect with their human side amidst an ever frantic and digital world. Bringing a sense of serenity back into our homes, this colour is intended to feel natural and offer comfort, a perfect fit for any bathroom space.
At Wholesale Domestic Bathrooms, our Interiors & Trends Team are loving this year's colour choice. Here are their top three ways to incorporate Tranquil Dawn into your bathroom design.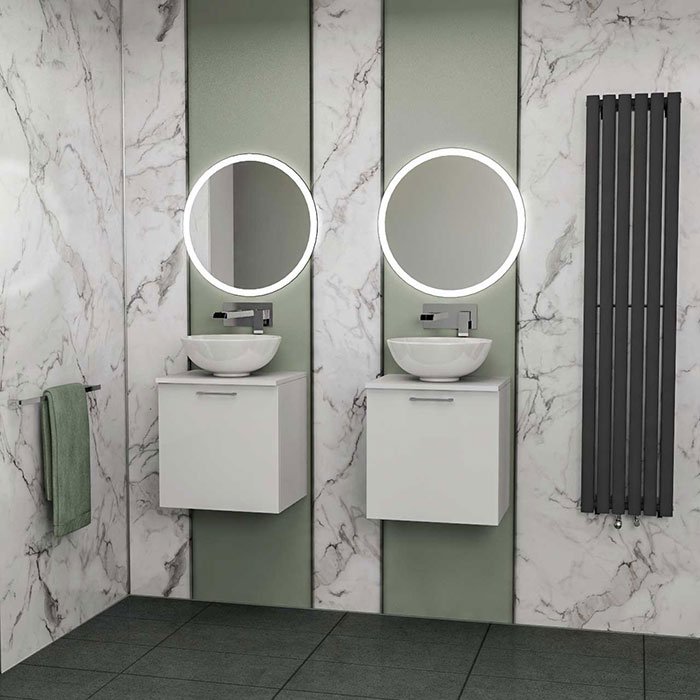 Featured: Almada Countertop Basin || Cubix Waterfall Wall Mounted Tap || Typhon Round Mirror
Firstly… BE CREATIVE! We adore the idea of painting a thick vertical stripe behind each Vanity Basin & Unit to make your space extra impactful. If your bathroom is on the small side, this is a great way to elongate the room and create an illusion of it being larger. Introduce this 'his and her' stunning look by combining a pair of Napoli Wall Hung Units and Almada Countertop Basins.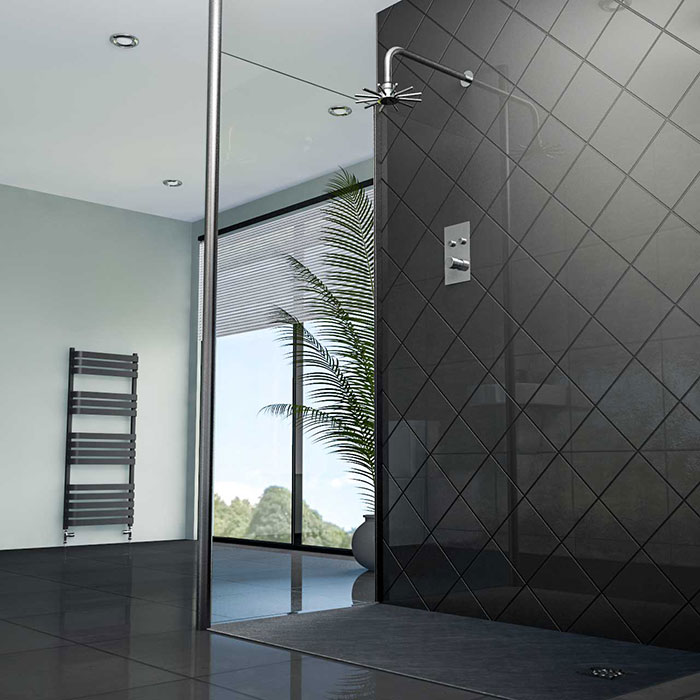 Featured: BCT Condo Smoke Grey Gloss Tiles || Cloud Burst Shower Head || Circo Concealed Push Button Twin Shower Valve
Secondly…BE SELECTIVE! A floor-to-ceiling accent wall can be an excellent way in which to introduce Dulux's Tranquil Dawn. A quick and easy way to transform your space, it doesn't take long to give your bathroom wall a quick lick of paint! At Wholesale Domestic Bathrooms, we have paired this subtle painted wall with our dynamic and bold BCT Condo Smoke Grey Gloss Tiles for a contrasting and lasting impact.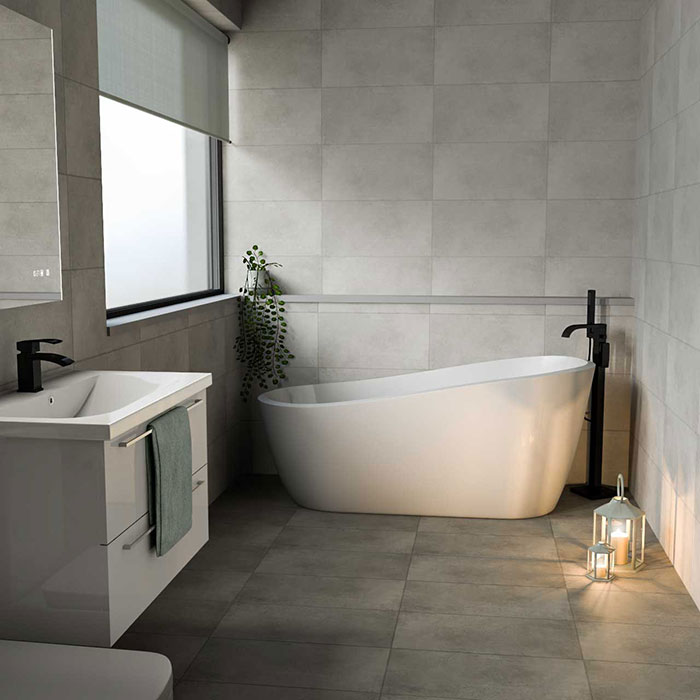 Featured: Salerno Freestanding Bath || Colore Matt Black Freestanding Tap || Street Medium Grey Tiles
Finally…BE REAL! We know that most people opt for a neutral or monochromatic bathroom style, as colour can be a big commitment. However, having a simple bathroom style can work in your favour when introducing trending colours such as 2020's Tranquil Dawn. Towels and accessories can be effortless additions, easily interchanged depending on style, mood or occasion. Our Street Medium Grey Tiles work seamlessly alongside Dulux's Tranquil Dawn due to the subtle, cooler hues within the tile.
Stay social by following us on Instagram, Facebook, Pinterest & LinkedIn.