Posted by Sarah Kielbasiewicz 18th Jan 2019
Established in 1963 Wholesale Domestic was founded by Walter Toward Senior. Fast forward 56 years, and the company has evolved into Wholesale Domestic Bathrooms which is now the leading bathroom supplier in Scotland. Joint CEO's Derek & Walter Toward, sons of Walter Senior, remain owners to this day and lead the business with Brian Toward, Derek's son. Collectively; they will take Wholesale Domestic Bathrooms into the future. Fundamentally, the Towards believe that the evolution of this great family business is a direct result of the fantastic people who have worked alongside them over the years.
This high regard for the extended 'Wholesale Domestic Family' was felt on January 11th 2019 when Tommy Sneddon, an employee with over 43 years of service to the company, hung up his high vis jacket for the final time. The company celebrated his departure from the business with a retirement lunch, where all 65 staff gathered to say their good byes and wish Tommy well. Stories were shared, tears were shed and whiskey was drank; it was the perfect send of for a Wholesale Domestic legend.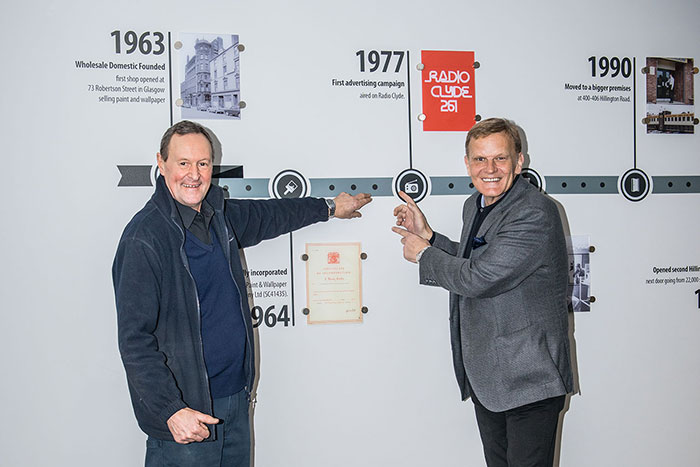 Tommy (left) and Walter (right) point to 1975, the year Tommy started working for Wholesale Domestic
Tommy started his journey working in Argyle Street store as a delivery driver. During his 43 years Tommy worked in many roles for the business and finished his time working at the company's new 133,000ft warehouse and dispatch centre. Tommy heard about the job through his brother in law who told Tommy it would a job for life. Little did Tommy know that this is exactly what it what it would turn out to be.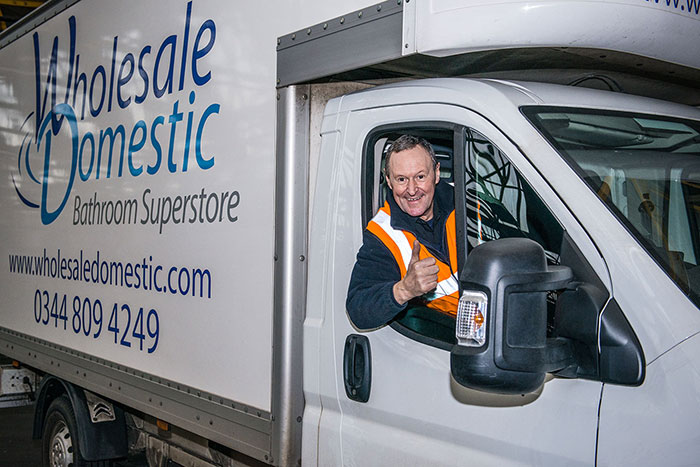 Tommy in his Wholesale Domestic van
During his leaving speech Tommy shared some fantastic memories of his time at Wholesale Domestic Bathrooms, he said
"Over the years I have been well looked after by the Toward family. It's not every day that you get to work with three generations from the same family. I was signed onto the company by Walter Senior, a great man and 43 years later I was signed off by his Son Walter Junior, a friend."
"My fondest memories include our brilliant nights out, I loved nothing more than when we were all together. The Towards became my extended family, the brothers I never had. I am very grateful for what they offered me in terms of employment and support."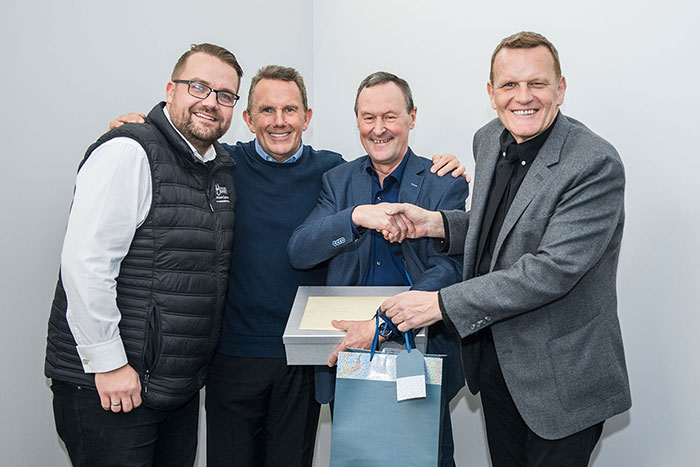 Left to right: Brian Toward, Derek Toward, Tommy Sneddon, Walter Toward
Tommy's time with the company was filled with both work and play. He recalled
"We also enjoyed a practical joke or two and would often ambush Walter Junior with elastic bands and paper bullets until he could take no more. We also made a secret rope swing in the rafters while cleaning the roof A frames of the warehouse and would enjoy swinging about when we were supposed to be doing other things. We still laugh about our antics to this day."
Wholesale Domestic has gone through many changes over the years, and Tommy has been there through it all. He continues to be amazed at how much the company has developed. When recalling the extensive company growth, Tommy summed it up in true Glasgow style
"It was like going from an end terrace to a mansion that we filled with great folk along the way. Quite unbelievable really"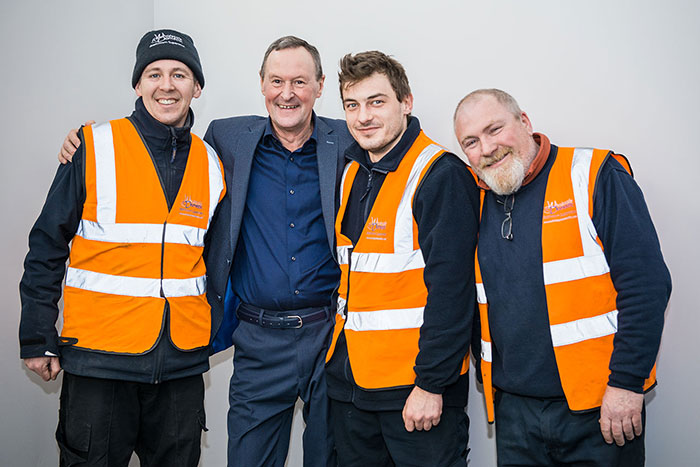 Left to right: Scott Muldoon, Tommy Sneddon, Mateusz Stengierski, Jim Smith
Tommy was known by everyone for his dedication to getting the job done. He was nonstop and always on the go enjoying every minute. His diligence and commitment to the company can't be understated. His absence record, or lack thereof, is one to be revered; 10 days in 43 years! So committed to his job, he once worked for 10 months straight without a day off; in his words "the big boss (Walter Senior) went mad when he found out and made sure he took the next few weekends off".
Working for Wholesale Domestic meant a great deal to Tommy. He couldn't have been more appreciative about how well he had been looked after during his time here. He summed up his time in three words
"enjoyable, pleasurable and privileged".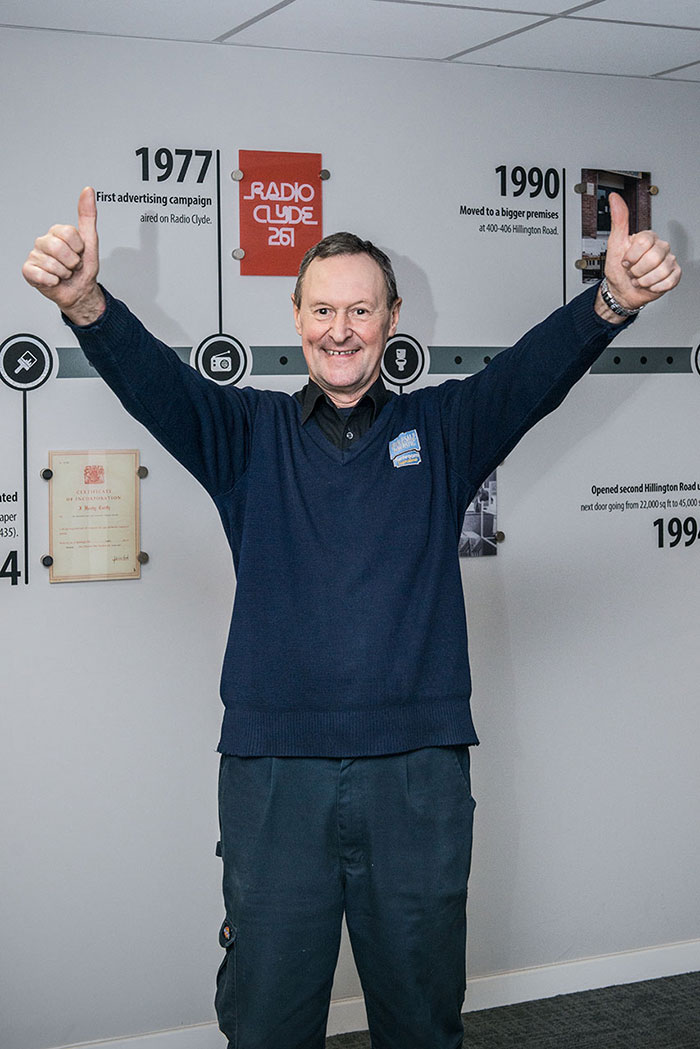 Tommy
It's almost impossible to put into words the contribution that Tommy had made to Wholesale Domestic over the last 43 years. He's truly part of the brickwork that has made this company what it is today. The Toward Family and everyone at Wholesale Domestic wishes Tommy all the best in his well-earned retirement; it is agreed by all that it definitely won't be the same without you.