Posted by Sarah Kielbasiewicz 24th May 2018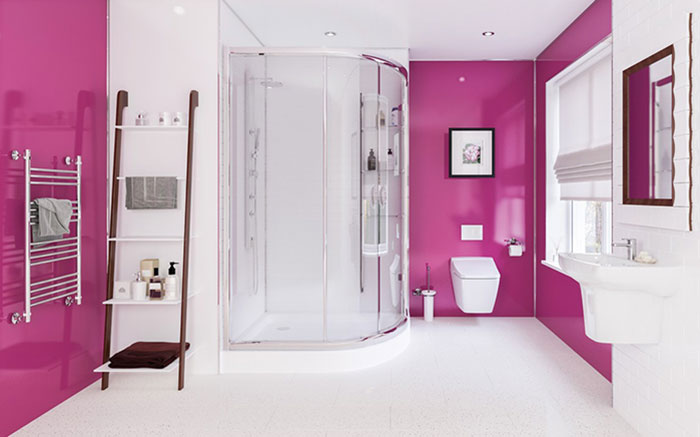 It's no secret that neutral colours are a crowd favourite when it comes to bathrooms; white, black and grey are popular choices. However, recent years have seen more and more people wanting to explore the world of colourful bathrooms. Bright colours can make a bold statement in your bathroom, and are great for adding personality and life to the room. Anyone can add a splash of colour to their bathroom, whether they're planning a full renovation or just fancy a few small updates. So, on that note, let's talk about how you can add colour to your bathroom.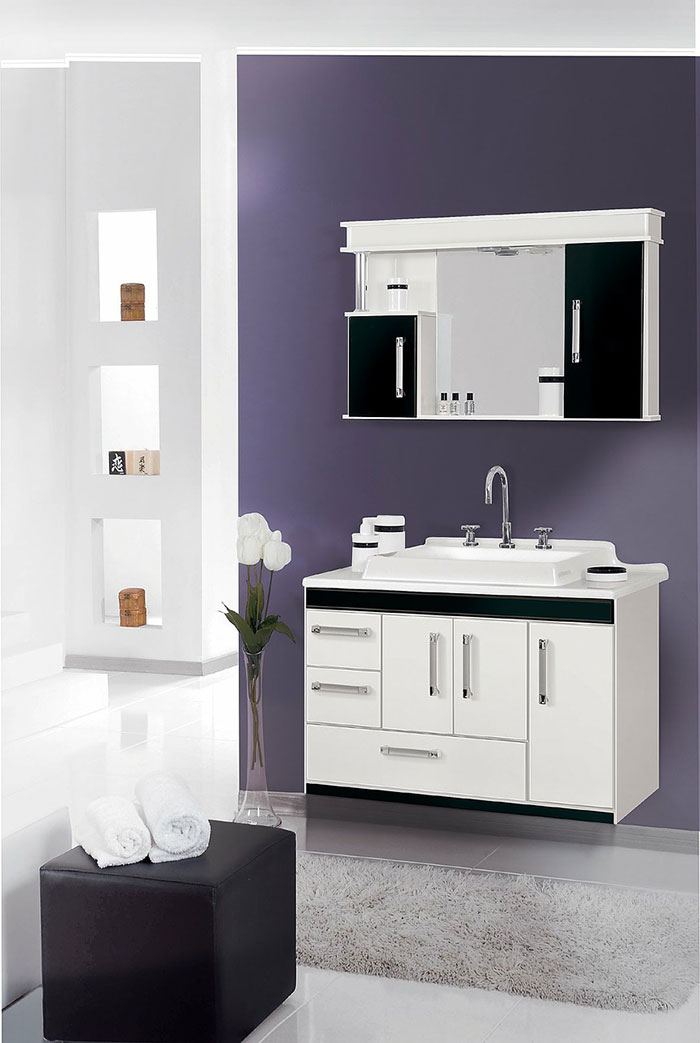 Painted Walls
The walls of a bathroom might seem like the most obvious place to inject colour in the room. It's probably the first thing you thought of when you read the title of this article. But this is for good reason; choosing coloured walls is the simplest, and likely most effective, way of adding colour to a bathroom.
Adding a few coats of paint in your colour of choice is an effective way to add colour to your bathroom. You could paint over the full room for a striking update, or choose to have one feature wall in a bright shade to inject some colour.
Another stylish option is to combine your colourful paint with neutral tiles. A half-tiled wall with a contrasting bold colour above creates a classic look and is ideal for adding a subtle pop of colour.
Wall Panels
Colourful wall panels are a great, no fuss option for adding colour to the walls of your bathroom. Not only are wall panels the perfect low-maintenance choice for bathroom walls, they're available in an array of bright colours. Their versatility means they can be used in whichever part of the bathroom you choose. Keep them contained to your shower enclosure for a small dose of colour, or use them throughout the full room for an eye-catching look.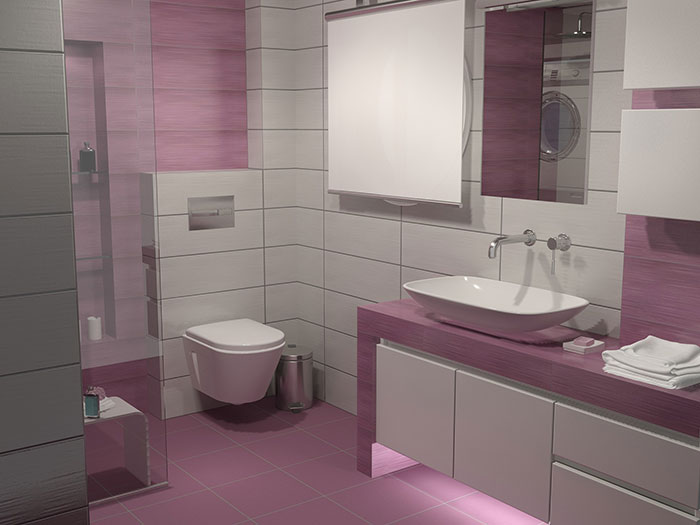 Colourful Tiles
Brightly coloured tiles are another excellent way to add colour to your bathroom. Simple tiles in a single bold colour can be very eye-catching. They look great when used all over the room, or in a specific area like on a feature wall or in a shower enclosure.
Colourful, patterned tiles are another great option. These can add interest and create a strong statement in an otherwise simple bathroom. Patterned tiles can be placed all over the room, but they also look particularly stunning when used on a feature wall. A feature wall of patterned tiles can be contrasted with painted walls for an eye-catching appearance. It can also be combined with simple tiles in a neutral colour, like white or grey, for a stunning, eclectic look.
Colourful tiles don't have to be limited to the walls, either. Combining colourful floor tiles, be they patterned or in a block colour, with neutral coloured walls can make a bold statement.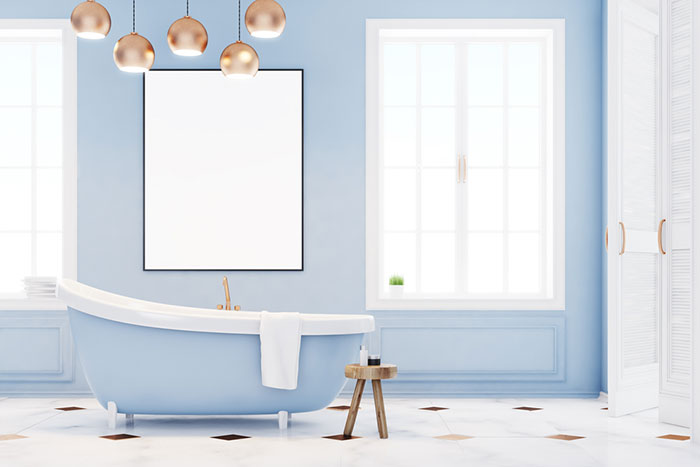 Coloured Bath
There are plenty of other ways to add colour to your bathroom without choosing boldly coloured walls or floors. Necessary bathroom appliances, such as baths, tend to be thought of as only being available in white. Nowadays, however, there are actually plenty of options for those who prefer baths with more colour. For standard, straight baths, coloured bath panels could be chosen for a modern update on a traditional look.
Free standing baths lend themselves well to colour, as the outside can be painted in a strong colour to contrast with the white acrylic inside. Coloured freestanding baths create a bold statement in a room; it's no wonder they're so popular on Pinterest! These can be purchased brand new or, as an alternative, some baths can be painted on the outside with the proper preparation using an acrylic polymer paint.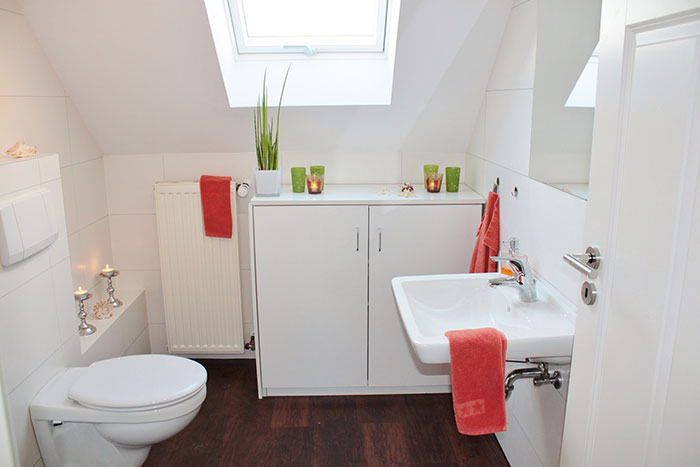 Accessories
Patterned tiles and colourful baths are all well and good. But what if you can't afford to renovate your whole bathroom, but still want to add a splash of colour?
Well, the answer to that lies in the details; you would be surprised just how much accessories can change the look of a room. Adding bath mats and towels in vibrant shades is a great way to add a pop of colour. Choose vivid shades, like yellow or red, to really perk up the room.
If in doubt, a fail-safe way to add colour to a bathroom is to add in a few houseplants. Adding greenery is one of the simplest and most effective ways to add colour to a monochromatic bathroom. If you need some guidance on what kind of plants to choose, check out our blog on bathroom plants here.
Adding colour is a great way to revamp your bathroom and bring life back to the room. What do you think? Would you try any of these ideas?