Posted by Gemma Paton 10th Feb 2021
We can all dream of a bathroom the size of Kim Kardashian's but when it comes down to it, our bathrooms can be relatively small. So how do you make a small bathroom bigger? To start with you need a basin, toilet, washing facilities whether that be a bath or shower, and often, storage solutions for all your bathroom bits and bobs, towels, soaps, and toilet roll to name a few.
"But how can I create a stunning bathroom with the small space I do have?" Well, we are here to offer you the assistance you need. We have all the space saving bathroom ideas, hints and tips to help you design the beautiful bathroom you've always wanted; with the space you do have.
We get a lot of customers asking, "how much does it cost to renovate a small bathroom space?" It all depends on your budget and how much you are willing to spend. At Wholesale Domestic Bathrooms, we pride ourselves on providing affordable, quality products for any bathroom design.
So, what are we waiting for? Let's get into it.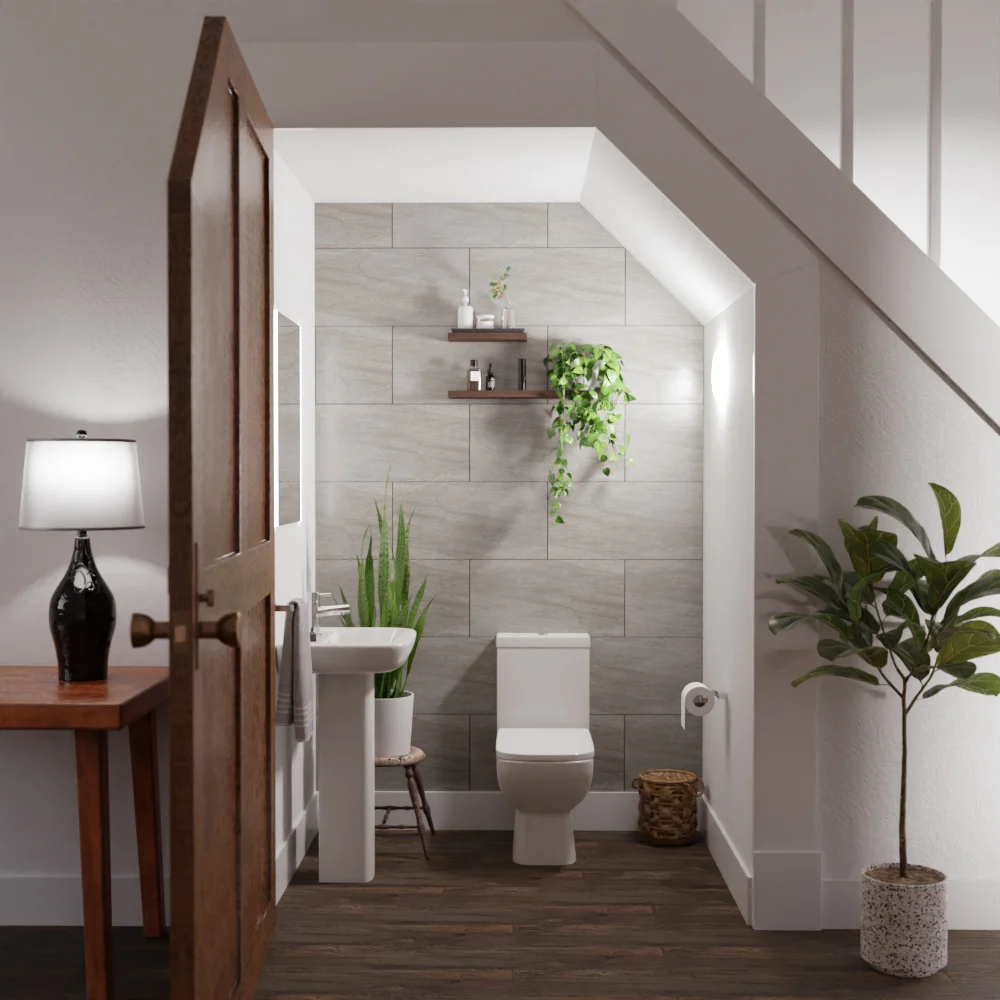 Complete Bathroom Suites
Firstly, let's talk complete bathroom suites. Most bathrooms within the UK are a standard 2.5 x 2.5m. At Wholesale Domestic Bathrooms, we have a wide range of complete bathroom suites available, designed specifically to suit the standard UK bathroom.
For those looking for something budget-friendly, we have got the key practical and functional essentials you need with the Ideal Straight Bathroom Suite.
• Basin & Pedestal
• 1700mm Bath
• WC Pan, Cistern & Soft Closing Seat
To finish off the look all you need is a standard bath panel, and to find your perfect tap. When choosing your basin & bath taps, we always recommend going for a matching set to create consistency across your complete bathroom look. One of our customer favourites is the Flow Tap. Flow is a range of taps designed specifically for the interior guru within you. Available as a Mono Mixer, Mini Mono Mixer, and High Rise (for countertop basins).
Shop all of our Complete Bathroom Suites.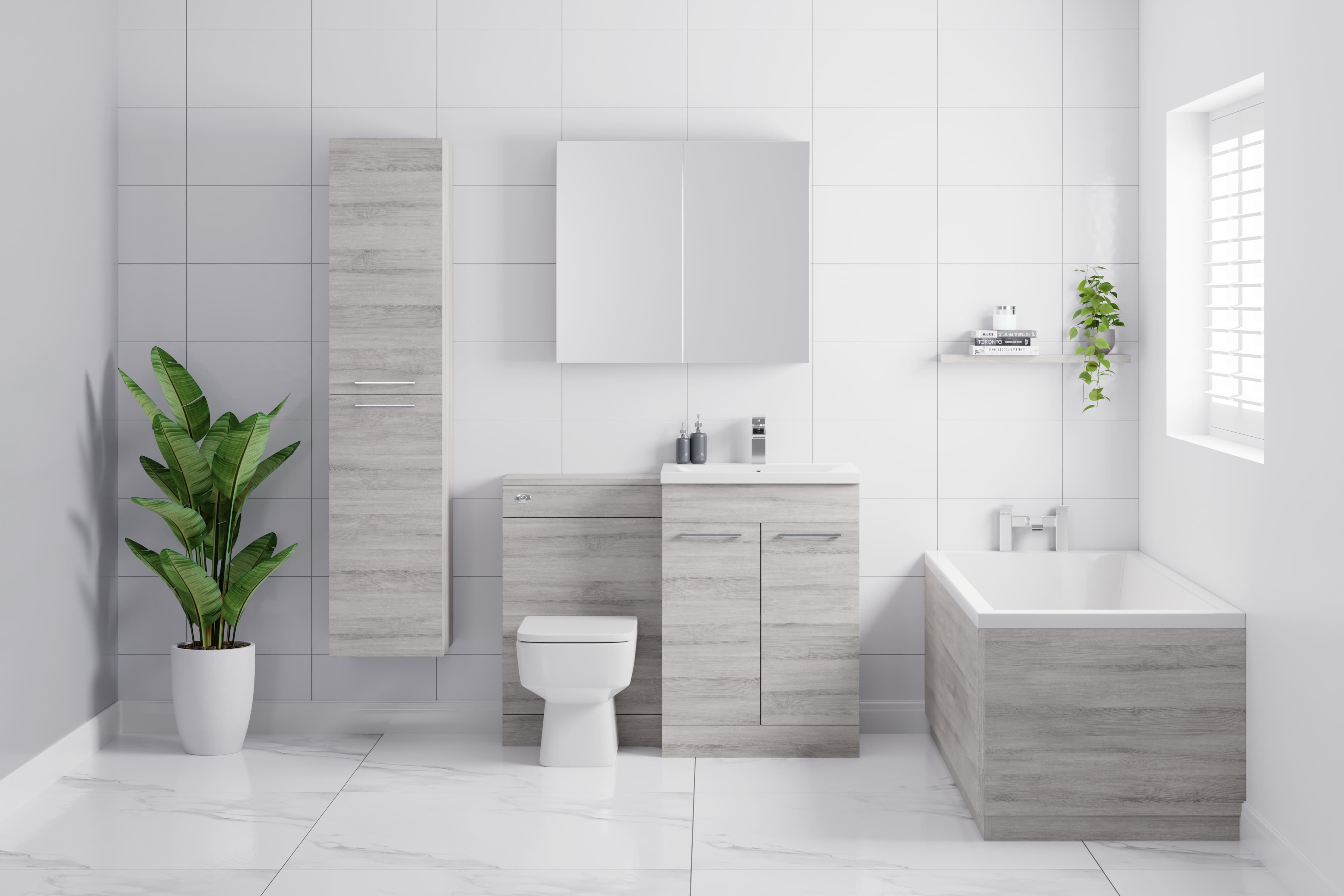 However, if you don't want a bath in your new bathroom design, go for a complete shower suite instead. The Ideal Quadrant Shower Suite is perfect to create a spacious environment within a small bathroom space.
Basin & Pedestal
800mm Quadrant Shower Enclosure & Shower Tray
WC Pan, Cistern & Soft Closing Seat
To finish off this look, all you need is a basin tap, and to select your shower. At Wholesale Domestic Bathrooms, you can opt for an electric shower or mixer shower. If you choose a mixer shower, go for a triple concealed valve set, which includes a rail kit (a handheld shower head) and a fixed shower head, allowing you to shower in complete luxury.
Small Bathroom Storage Ideas
Storage can be a big problem in a bathroom, particularly a small bathroom space, so let's talk small bathroom storage ideas. With towels, shampoos, moisturisers, and even the kids bath toys, it can be difficult to keep everything under control. Maximise the limited space you do have with wall hung furniture. Flawless and slick, at Wholesale Domestic wall hung furniture is available in several forms.
If you want to be clever, opt for a wall hung basin vanity unit, meaning you have ticked off both your basin, and storage.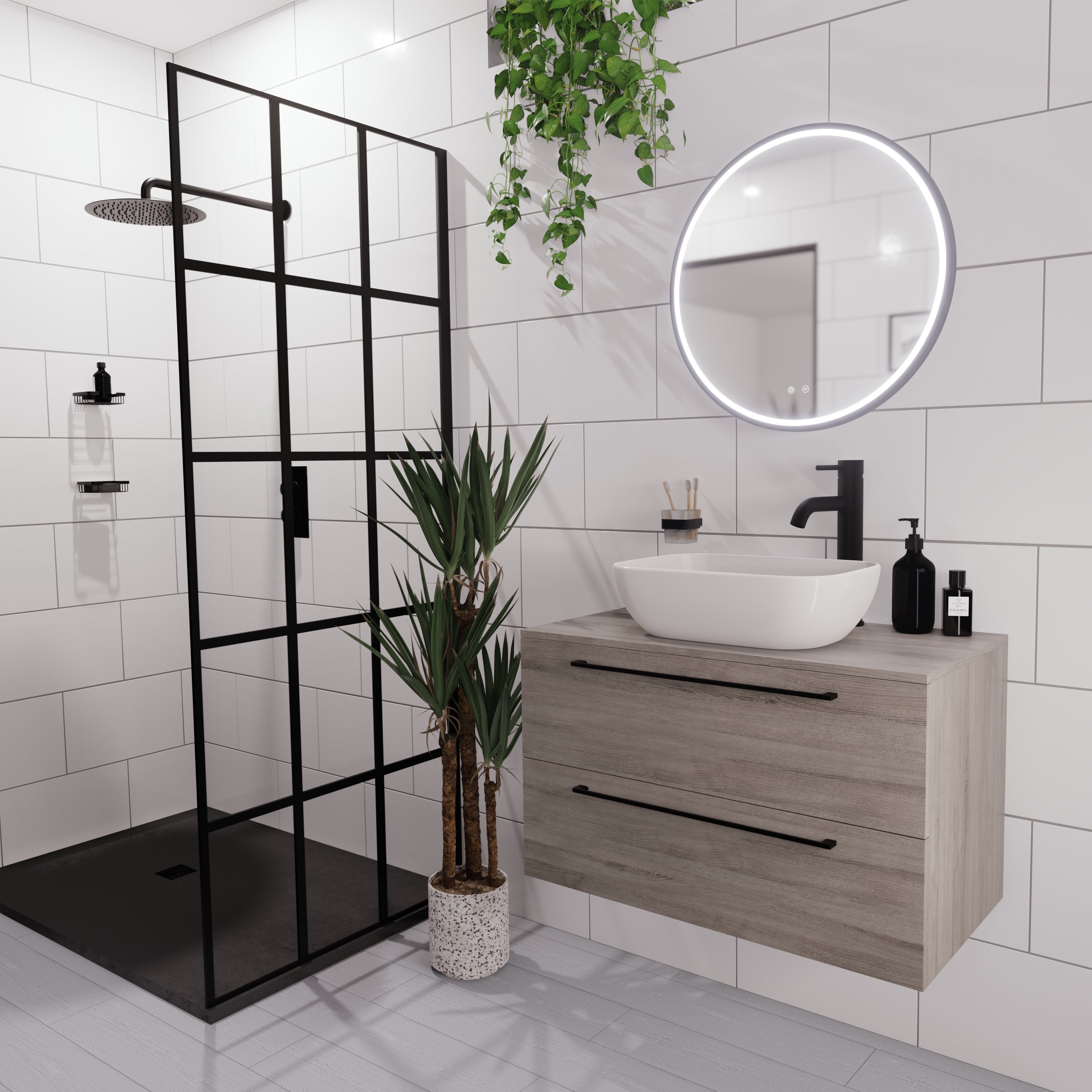 Coming complete with 2 deep drawers, this vanity unit is ready to house anything from your make up, or toilet roll, to your neatly folded spare towels. However, if you would like to separate your towels, we have a solution for that - opt for a wall mounted towel shelf. A shelf is a simple and easy solution, perfect for housing your spare towels neatly. We suggest the Gemini Wall Mounted Towel Shelf, yours for only £49.95.
Another option is a storage cabinet, and within the Napoli Collection we have a wide range of sizes and options available suited to small bathrooms, large bathrooms and any other bathrooms in-between.
Small Cloakroom Toilets & En-suite Ideas
If you have an extra small bathroom space, like a cloakroom, downstairs toilet or an en-suite you can still make the most of the space available. The Ideal 2 in 1 toilet and basin combination features a one-piece pan, one tap hole basin, present-day top fix seat with soft close technology and provides both hot and cold water from a clever mixer tap, all for only £269.95.
For those looking to include a shower into their small space, we have a wide range of shower enclosures available all suited to different styles, and spaces.
Quadrant Shower Enclosures are a versatile option, perfect for that small unused corner of your bathroom, available as symmetrical or offset, ranging from 800mm, to 1200mm in size. Or perhaps a single sliding door enclosure is more your style. The sliding door option is also excellent for smaller spaces creating a neat look in your bathroom design, with sizes ranging from only 1000mm to 1700mm.
A key essential which can be forgotten about when designing your bathroom is heating. Radiators & heated towel rails previously could be bulky and awkward to fit into a small bathroom space. Not anymore.
One of our bestselling heated towel rails is the Galileo, boasting a stylish square design, finished in polished chrome. This contemporary looking product is available in 2 heights; 800mm & 1200mm, and its width comes in at only 490mm making it an ideal and practical addition to a small bathroom space.
At Wholesale Domestic Bathrooms, the majority of our Heated Towel Rails are available in both standard and electric. What's the difference?
Standard Heated Towel Rails are plumbed directly into your central heating system, similar to the way in which a radiator would be, whereas an electric version will work off your electricity. Electric versions tend to generate significantly more heat.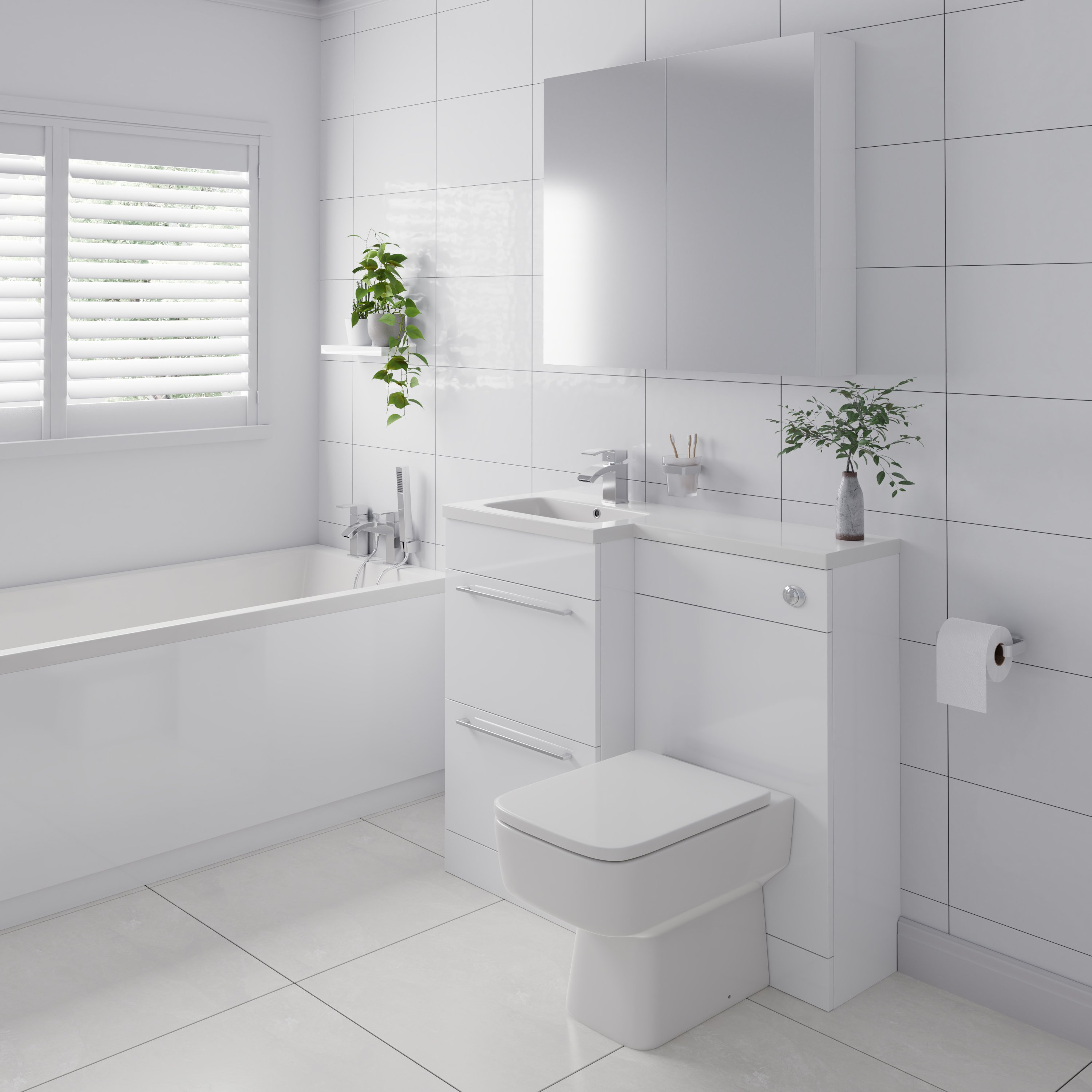 Bathroom Tiles & Bathroom Wall Panels
The colour you choose for your bathroom backdrop could also subconsciously alter the dimensions of your bathroom design. Top tip: dark colours can make a room feel smaller, whereas light colours can enhance the size of a space.
At Wholesale Domestic Bathrooms, we have a wide range of both floor and wall tiles and wall panels. Check out our previous blog, Bathroom Wall Panels vs Tiles for all the info you'll need to help you decipher which product you should go for.
If opting for a tile, go big or go home. Larger tiles can trick the eye into making the room look and feel bigger. This is because smaller tiles such as mosaics have more grout lines, making the space seem busy and small. For no grout lines at all, head over to our wall panels category. We have a wide range of subtly patterned panels ready to take your bathroom design up a notch.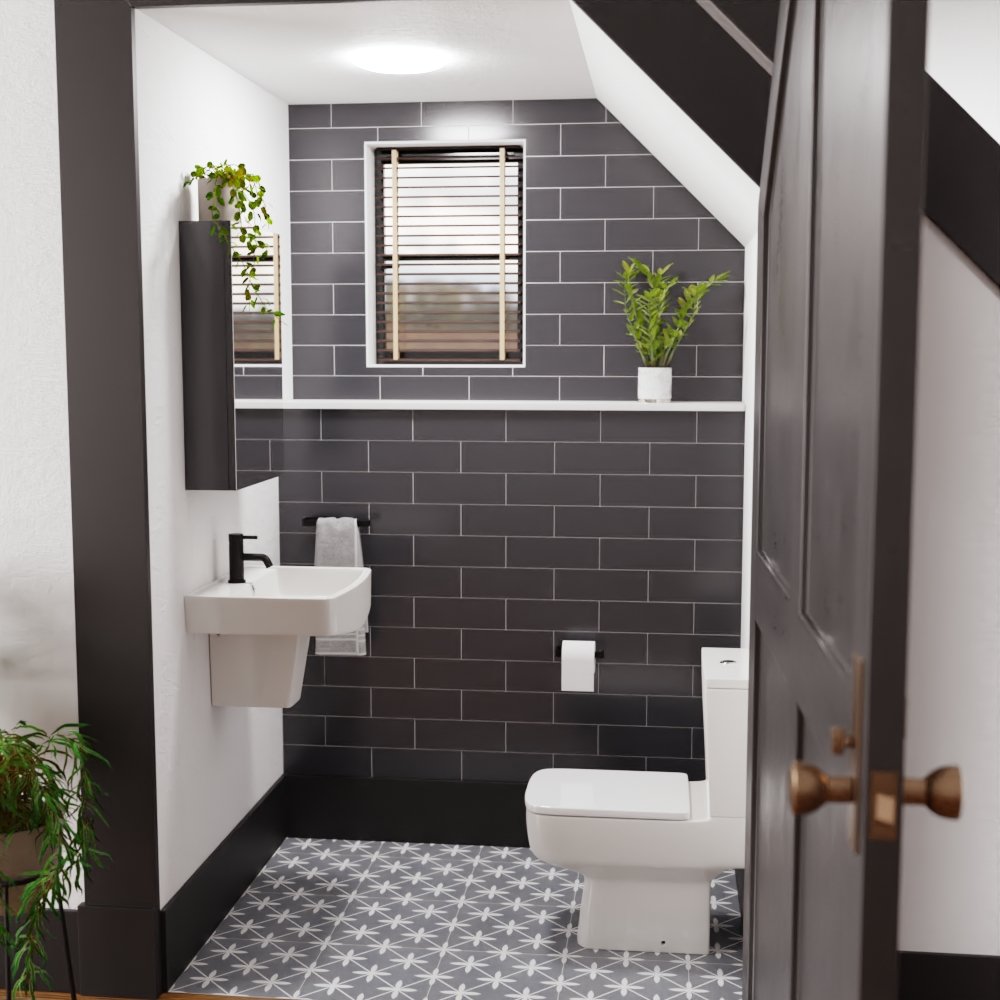 So, there you have it, space-saving bathroom ideas and how you can maximise the space you do have. Not all bathroom sizes are the same, or budgets, however, at Wholesale Domestic Bathrooms we are proud to say we have a wide selection of product to suit the largest to the smallest of bathrooms at all price ranges.
If you have seen something you like, or would like more information on, give us a call, email or send us a DM on our social channels, we'd be more than happy to help.
Stay social by following us on Facebook, Instagram, Pinterest & LinkedIn.