We can all dream of having a large, luxury bathroom, but when it comes down to it the bathrooms in our homes can be relatively small. So how do you make a small bathroom bigger? Well, that's virtually impossible – but it is possible to maximise space in your bathroom to make it appear bigger than it actually is. To make up the basic bathroom you need a basin, toilet, washing facilities whether that be a bath or shower, and often, storage solutions for all your bathroom bits and bobs, towels, soaps, and toilet roll to name a few.
"But how can I create a stunning bathroom with the small space I do have?" Well, we are here to offer you the assistance you need. We have all the space saving bathroom ideas, hints and tips to help you design the beautiful bathroom you've always wanted, with the space you do have.
We get a lot of customers asking, "how much does it cost to renovate a small bathroom space?" Well, it all depends on your budget and how much you are willing to spend. At Wholesale Domestic Bathrooms, we pride ourselves on providing affordable, quality products to suit all budgets and bathroom designs.
So, what are we waiting for? Let's get into it.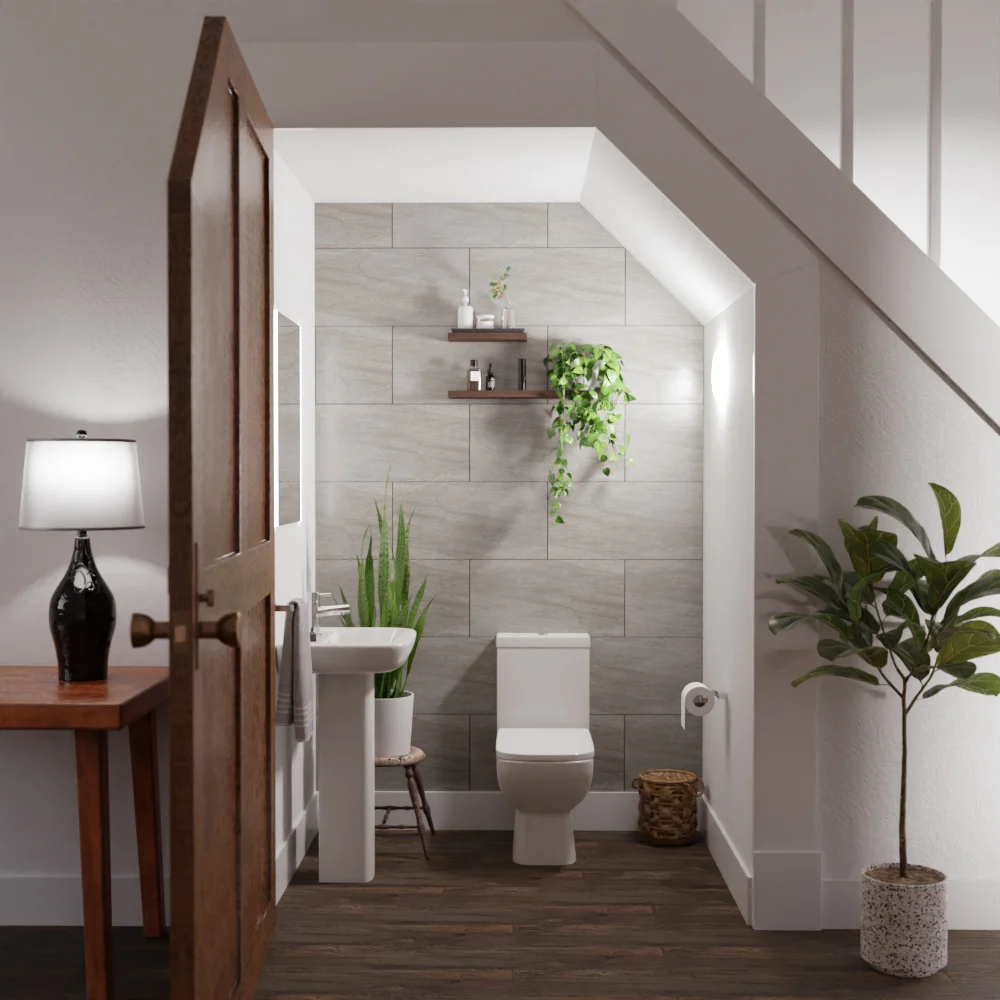 Complete Bathroom Suites
Firstly, let's talk complete bathroom suites. Most bathrooms within the UK are a standard 2.5m x 2.5m. At Wholesale Domestic Bathrooms, we have a wide range of complete bathroom suites available, designed specifically to suit the standard UK bathroom.
For those looking for something budget-friendly, we have got the key practical and functional essentials you need with the Ideal Straight Bathroom Suite. Included is a full pedestal basin, toilet and cistern with soft closing seat and a 1700mm straight bath, all for only £334.85*.
To complete the suite all you need to add is a standard bath panel, and to find your perfect taps. When choosing your basin & bath taps, we always recommend going for a matching set to create consistency across your complete bathroom look. One of our customer favourites is the Flow Tap. Flow is a range of taps designed specifically for the interior guru within you, finished in chic polished chrome and is available as a Mono Mixer, Mini Mono Mixer, and High Rise (for countertop basins).
Browse all of our Complete Bathroom Suites here to suit your bathroom size and budget.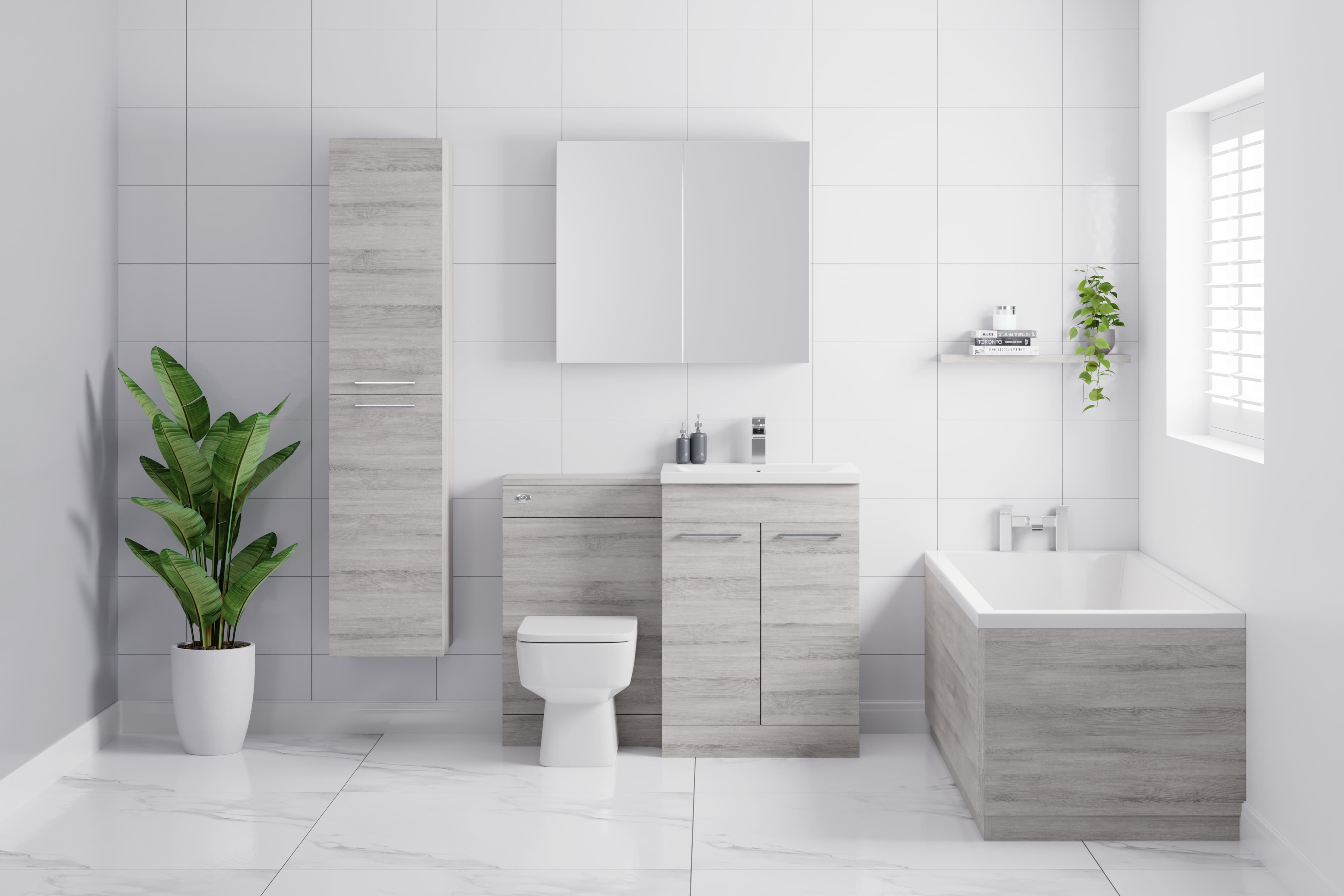 If you don't want a bath in your new bathroom design, you can go for a complete shower suite instead. The Ideal Quadrant Shower Suite is perfect for creating a spacious environment within a small bathroom space.
Included in this suite is a full pedestal basin, toilet with cistern and soft closing seat as well as a 900mm quadrant shower enclosure with compatible shower tray all for only £399.95*.
To complete this suite all you need is a basin tap, and to select your favourite shower. Choose between an electric shower or mixer shower, depending on your needs. If you choose a mixer shower, we suggest going for a triple concealed valve set, which includes a rail kit (a handheld shower head) and a fixed shower head, allowing you to shower in complete luxury.
Small Bathroom Storage Ideas
Storage can be a big problem in a bathroom, particularly a small bathroom space, so let's talk small bathroom storage ideas. With towels, shampoos, moisturisers, and even the kids bath toys, it can be difficult to keep everything under control. Maximise the limited space you do have with wall hung furniture. Flawless and slick, at Wholesale Domestic wall hung furniture is available in several forms.
If you want to be clever you can opt for a wall hung basin vanity unit, meaning you have ticked off both your basin and storage solution in one.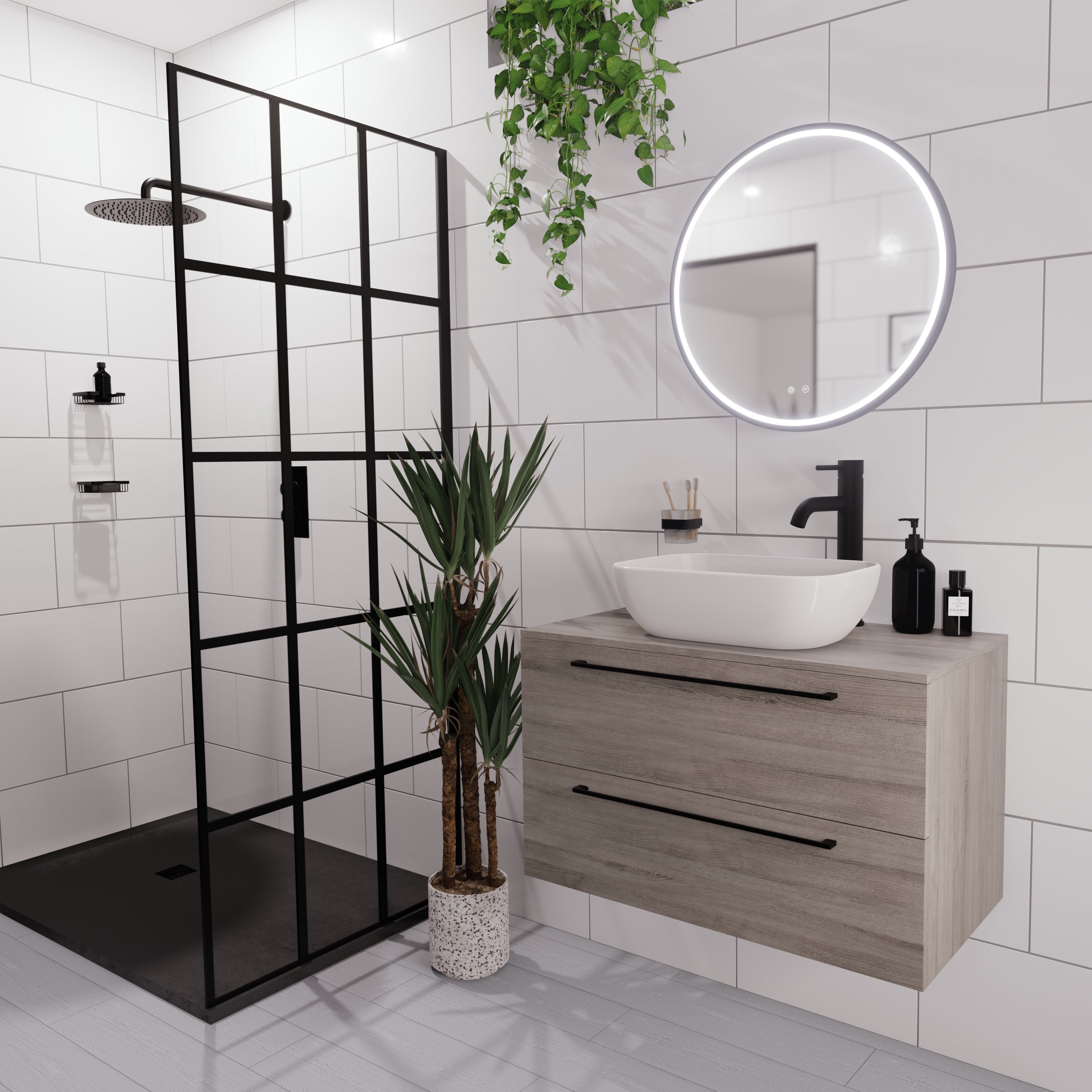 Coming complete with 2 deep drawers, this vanity unit is ready to house anything from your make up, or toilet roll, to your neatly folded spare towels. However, if you would like to separate your towels, we have a solution for that too - opt for a wall mounted towel shelf. A shelf is a simple and easy solution, perfect for housing your spare towels neatly. We suggest the Gemini Wall Mounted Towel Shelf, yours for only £49.95*.
Another option is a storage cabinet. Within the Napoli Collection we have a wide range of sizes and options available suited to small bathrooms, large bathrooms and any other bathrooms in-between.
These range from side cabinets with one cupboard and internal shelf, to large tall boys with both drawer and cupboard compartments offering maximum internal storage space for all your needs.
Small Cloakroom Toilets & En-suite Ideas
If you have an extra small bathroom space, like a cloakroom, downstairs toilet or an en-suite you can still make the most of the space you do have available. The Ideal 2 in 1 toilet and basin combination features a one-piece pan, one tap hole basin, present-day top fix seat with soft close technology and provides both hot and cold water from a clever mixer tap, all for only £269.95*.
For those looking to include a shower into their small space, we have a wide range of shower enclosures available all suited to different styles, and spaces.
Quadrant Shower Enclosures are a versatile option, perfect for that small unused corner of your bathroom. Available as symmetrical or offset, they range from 800mm to 1000mm in size. Or perhaps a single sliding door enclosure is more your style. The sliding door option is also excellent for smaller spaces creating a neat look in your bathroom design, with sizes ranging from 1000mm to 1700mm.
A key essential which can be forgotten about when designing your bathroom is heating. Radiators and heated towel rails previously could be bulky and awkward to fit into a small bathroom space, but not anymore.
One of our bestselling heated towel rails is the Galileo, boasting a stylish square design, finished in polished chrome. This contemporary looking product is available in 2 heights; 800mm & 1200mm, and its width comes in at only 490mm making it an ideal and practical addition to a small bathroom space.
At Wholesale Domestic Bathrooms, the majority of our heated towel rails are available in both standard and electric, but what's the difference?
Standard Heated Towel Rails are plumbed directly into your central heating system, similar to the way in which a radiator would be, whereas an electric version will work off your electricity. Electric versions tend to generate significantly more heat, so these are also things you'll need to consider when designing your new bathroom space.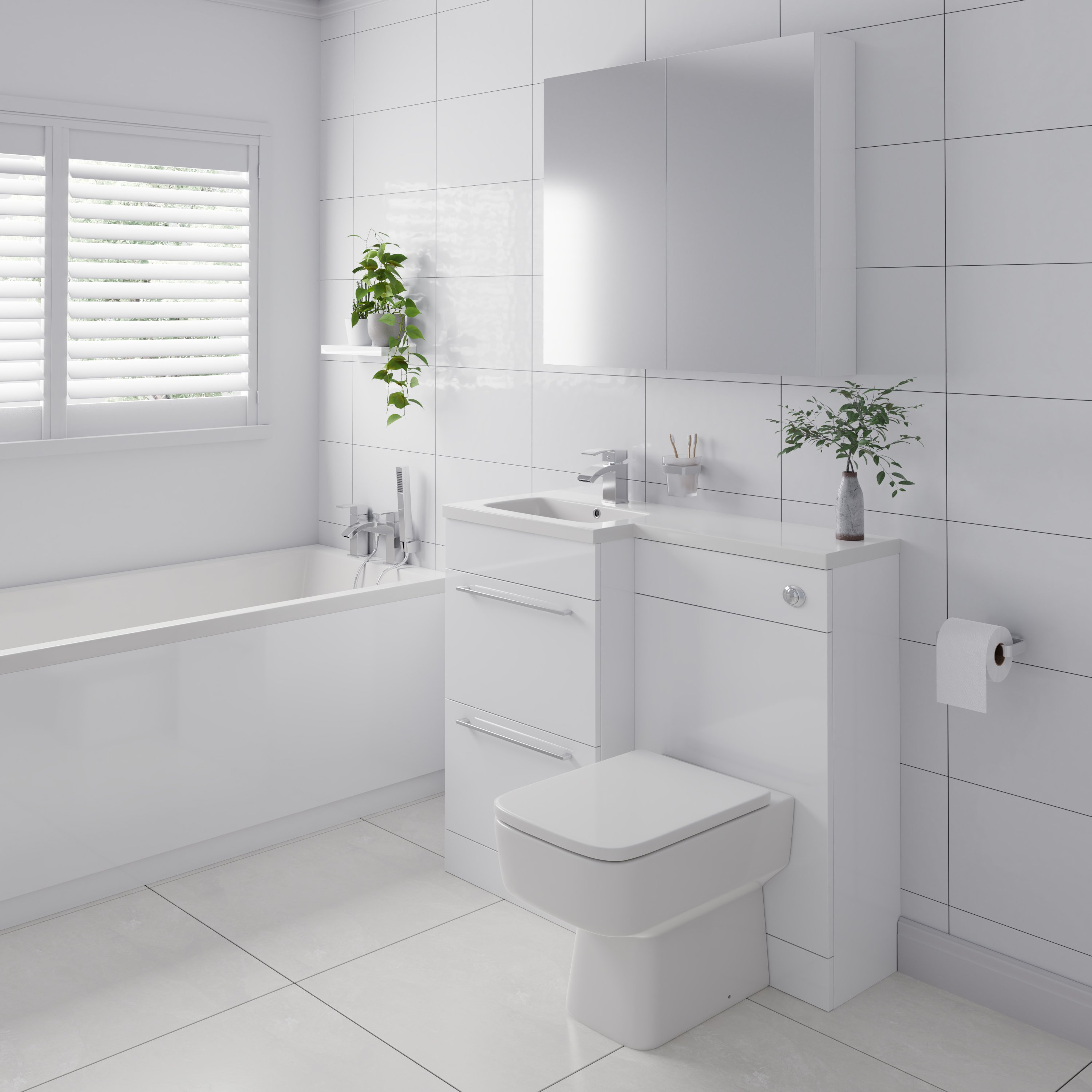 Bathroom Tiles & Bathroom Wall Panels
The colour you choose for your bathroom backdrop could also subconsciously alter the dimensions of your bathroom design. Top tip: dark colours can make a room feel smaller, whereas light colours can enhance the size of a space.
At Wholesale Domestic Bathrooms, we have a wide range of both floor and wall tiles and wall panels. Check out our blog, The Buyer's Guide to Tiles & Wall Panels for all the info you'll need to help you choose which product type you should go for.
If opting for a tile, go big or go home. Larger tiles can trick the eye into making the room look and feel bigger. This is because smaller tiles such as mosaics have more grout lines, making the space seem busy and small. For no grout lines at all, head over to our wall panels category. We have a wide range of subtly patterned panels ready to take your bathroom design up a notch.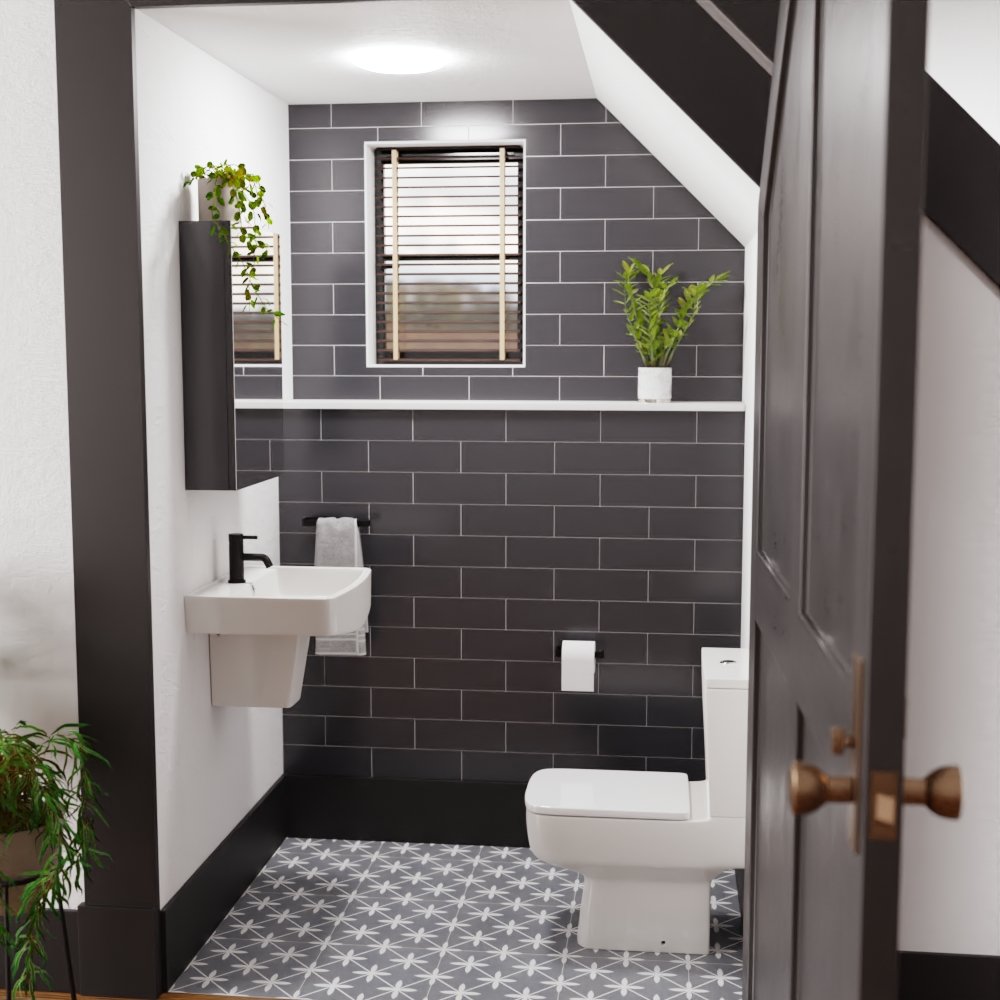 Bathroom Mirrors to Enhance Space
The choice of bathroom mirror in a small bathroom can really influence how the space appears. A bathroom mirror is a must-have in any bathroom, no matter the size, however, they can play a particularly important role in a small bathroom. Mirrors create the illusion of space by reflecting the space around them as well as bouncing any light throughout the room.
Some of our favourite mirrors include the Penates 500mm Round Battery Operated Illuminated 16 LED Mirror. Its rounded shape adds a softness to the room whilst the battery-operated LED lights will encourage reflection within the room.
If wall space allows, we love the look of a large wall-to-wall mirror placed above your vanity unit. It will fill the space and create an optical illusion with its reflections and can be a wonderful way to light up your bathroom. Check out our Laverna 1400mm x 750mm Illuminated Dimmable LED Mirror with Demister for a large, luxury bathroom mirror.
A wall-hung mirrored cabinet can provide three features in one; a mirror, light, and storage solution. The Modena 750mm x 750mm Downlit Vanity Mirror with Storage is a great example, still providing a large enough mirror area to reflect around the room, whilst also combining a sleek storage cabinet and ambient downlight too.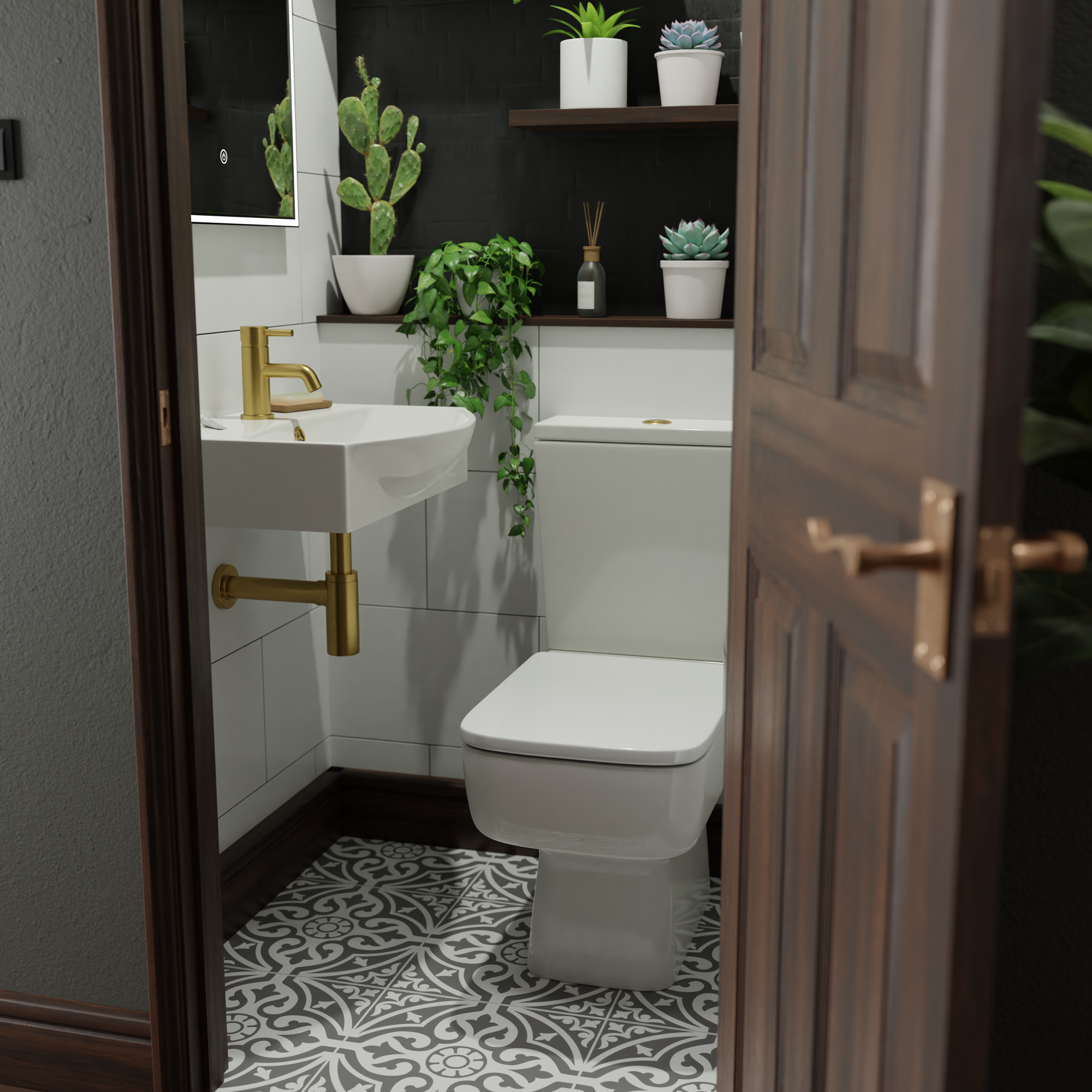 The Importance of Lighting
When it comes to lighting a small bathroom, the choice of light fixtures and fittings can play a huge role in how the space appears. Try to be creative by choosing light fixtures that maximise functionality as well as being aesthetically pleasing.
As mentioned above, having lighting incorporated into your bathroom mirror is a great way to add ambience as well as provide you with a focused light for doing those all-important daily preening tasks.
Recessed lighting, or downlights, are great for small bathrooms as they take up no space. They are concealed in the ceiling and can be used over shower and bathing areas without worry. Our modern selection of downlights even includes finishes such as satin brass and brushed copper as well as classic chrome, meaning you don't have to compromise on style when choosing your lights.
A chandelier or pendant light is also an option that can be used in small bathrooms. If your bathroom has high ceilings, this type of light can be perfect as it hangs overhead and will not intrude on the space below. Our Forum collection of lighting has a plethora of options to choose from.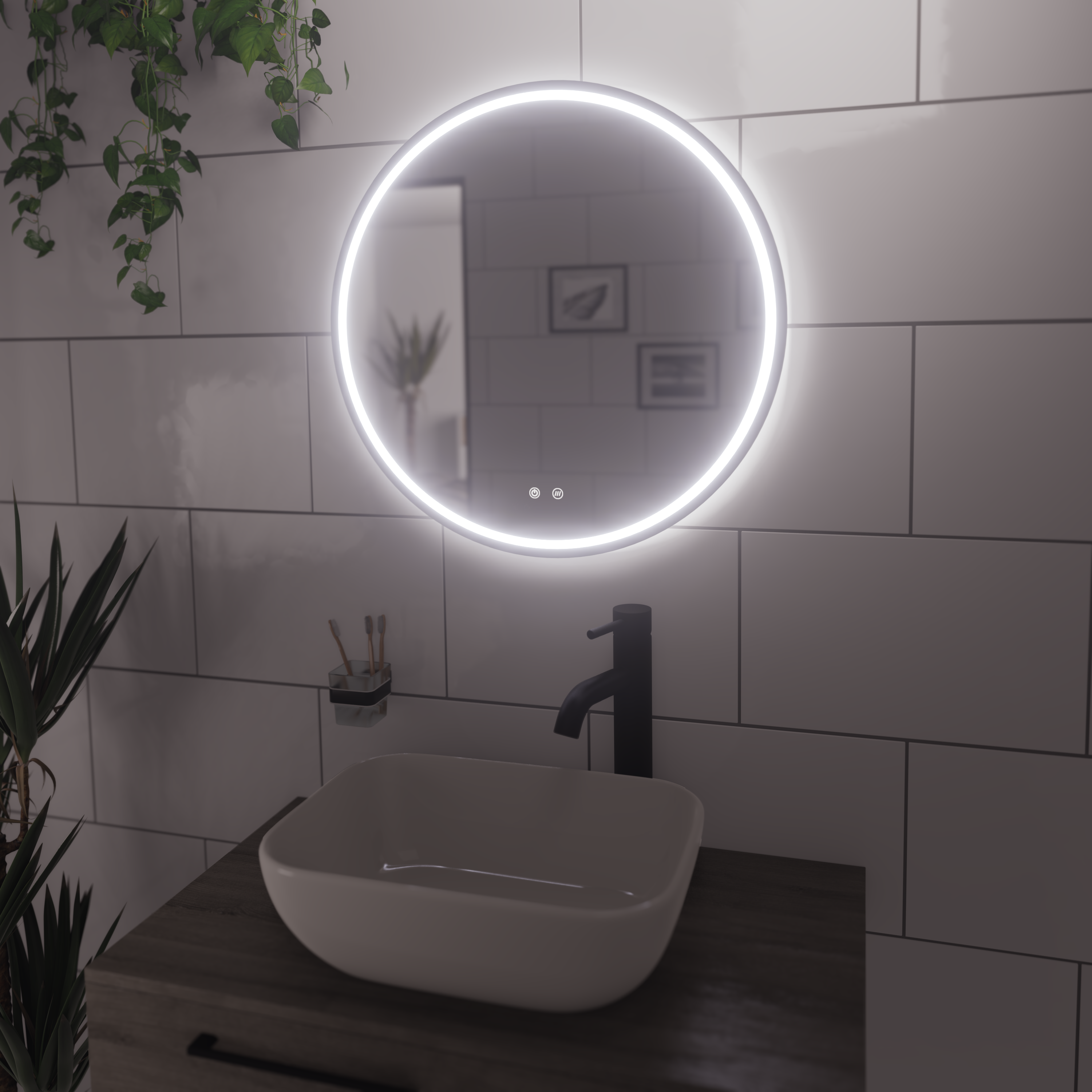 So, there you have it, space-saving bathroom ideas and ways in which you can maximise the space you do have. Not all bathroom sizes, or budgets, are the same, however, at Wholesale Domestic Bathrooms we are proud to say we have a wide selection of product to suit the largest to the smallest of bathrooms at all price ranges.
If you have seen something you like, or would like more information on, give us a call, email, or send us a DM on our social channels, we'd be more than happy to help.
Stay social by following us on Facebook, Instagram, Pinterest & LinkedIn and receive news, updates and information straight to your phone by signing up to our email newsletter below.

*Prices correct at time of publishing.