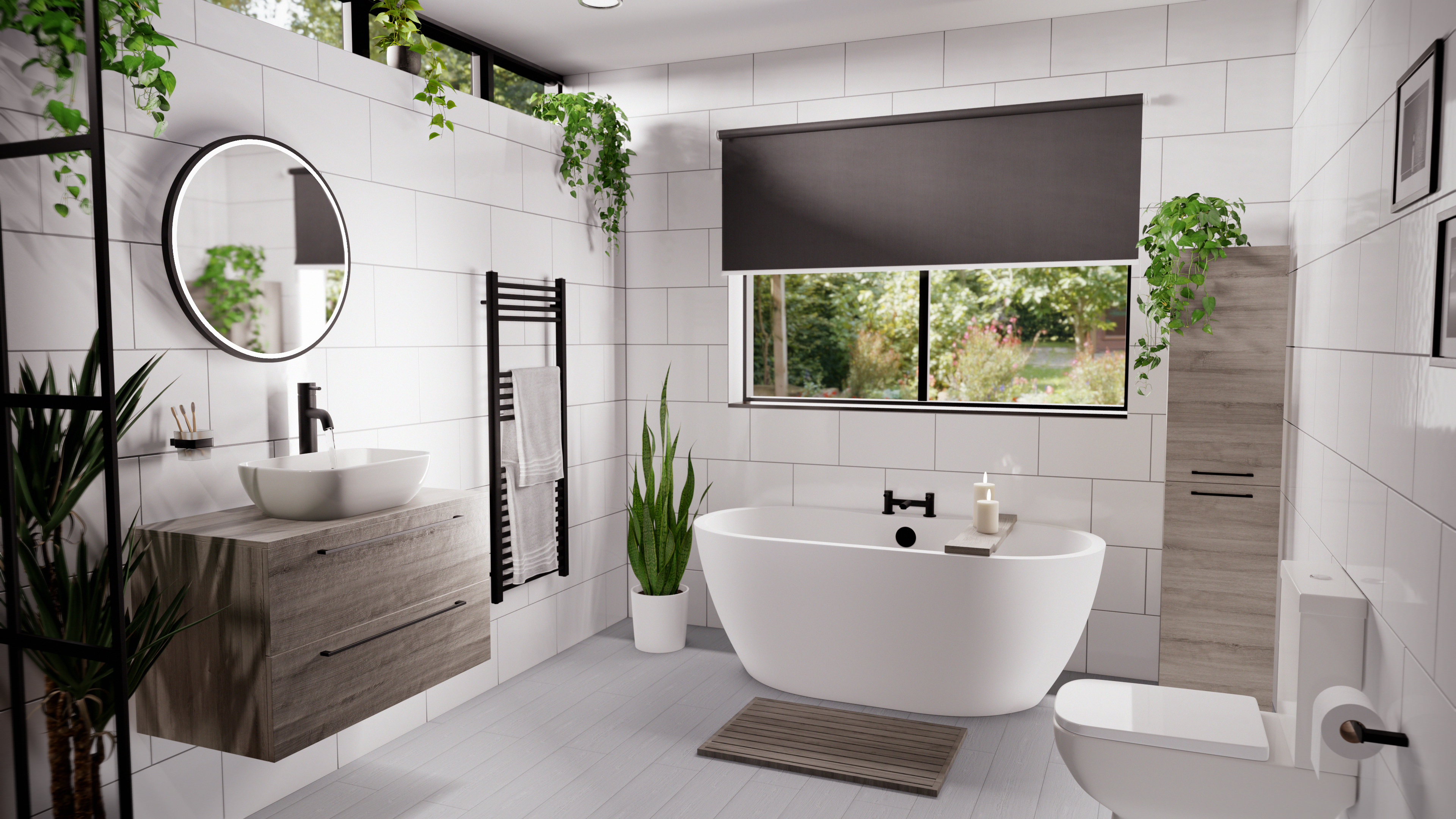 Ready to redesign your bathroom? Gone are the days of pencil and paper to sketch out your design, now there's an app or website for everything so there's no reason why you can't design and visualise your bathroom before you commit. Designing a new bathroom can be fun, but it is a mammoth task with big and often financial decisions to make, so cue the app! Let's take a look at the 5 best free design apps that will help you design a new bathroom that you'll be happy with for years to come. Ready? Let's do this…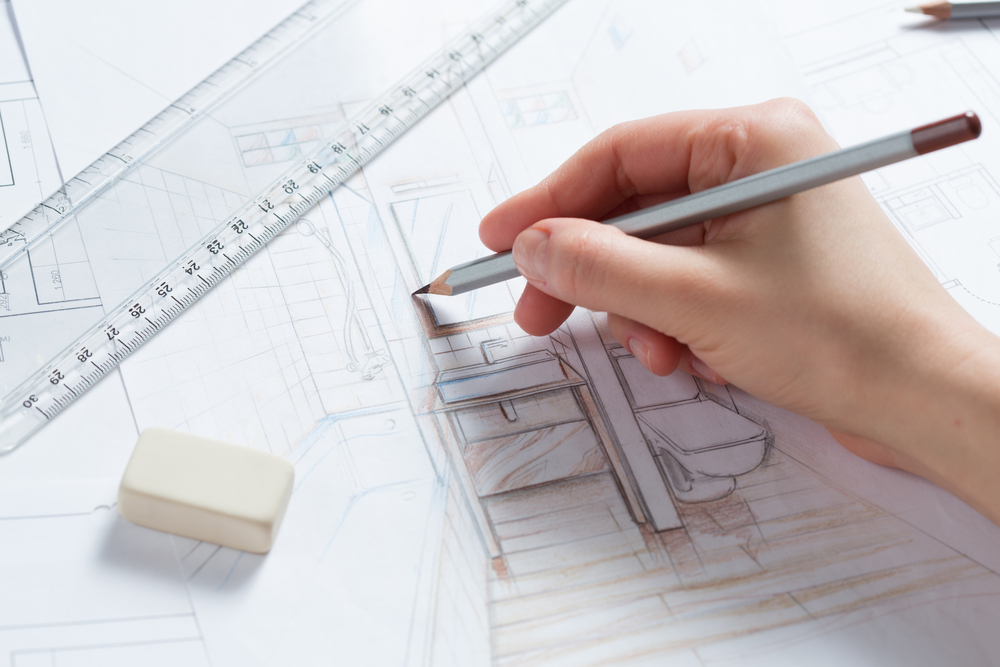 A great bathroom planner that's available to use online. It's nice and easy to set up your bathroom size and shape, choose floor and wall colours and even add windows and doors. It has an extensive library of products that can be dragged and dropped into the room and repositioned easily. You edit your design in 2D first then at the end it allows you to take a 3D photo of the room and save it if you sign up for a free account. The product library is split into categories making it easy to find what you are looking for and the bathroom section provides products in many different styles and modern finishes, showing everything from black taps to brass showers and even toilets with coloured flush plates included.
Tips: Know the measurements of your room to use this tool more effectively as the scale of the room vs size of products can become confusing.
Time: As the features are quite basic you could quickly generate your bathroom layout in 30mins-1hr to give you a rough idea of what you're looking for, but there is a large catalogue of products to choose from so you may get lost scrolling through these for hours on end.
Skill level: As long as you can use a computer, you'll be able to design your bathroom using this tool.
Available for desktop, Android and iPhone, it starts with easy instructions to help you navigate your way through the design features then you are free to go ahead and start on your own. If you haven't signed up for an account already it will continually pop up asking you to join, so it's easier to do this from the get-go. It's also worth noting that not all features are available on the free plan but if you are looking to make a basic design then the free plan is sufficient, and you'll not need to pay for any extra features.
You can design in both 2D and 3D allowing you to view your project from different angles and it is super easy to set up your room as well as add windows and doors and change the colours and textures of the floor and walls with a long list of materials included from tiles to wood. It incorporates a drag-and-drop feature making it simple and straightforward to use.
My tip: If you're looking for a wide range of products to choose from then this might not be the best choice for you, but if you're able to visualise your design and are more focused on the layout aspect than the products provided then it's a very good tool to use.
Time: For a good working image I'd say you could easily spend 1-2 hours on this.
Skill level: No special skills are required, once you've navigated your way around, you'll be able to use this tool.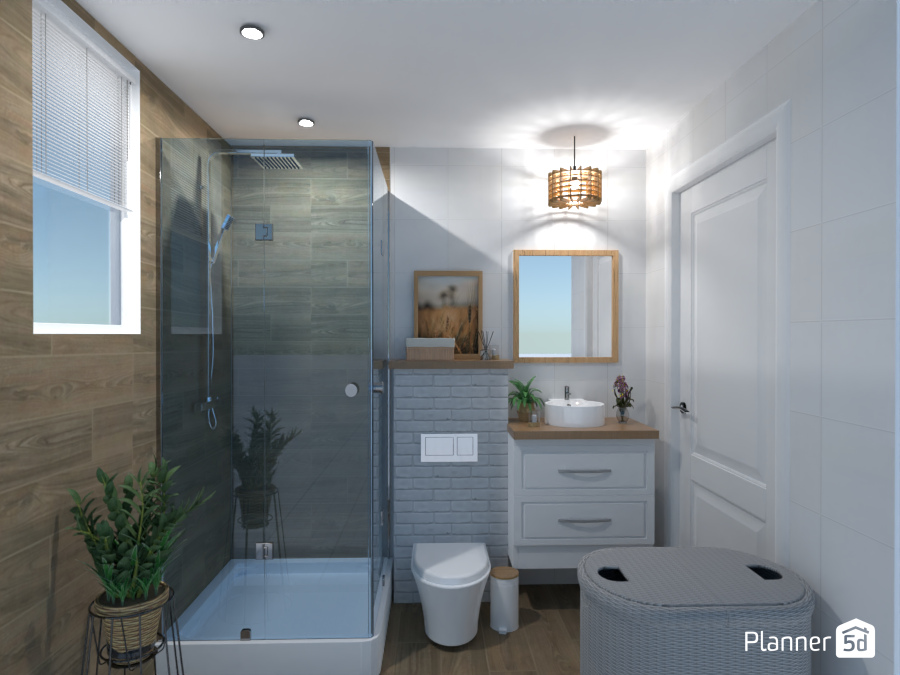 This online tool is an excellent choice to help you create a realistic 3D plan and give you great insight into how your bathroom could look. Customise your room shape and size, then add in your products with ease, as well as doors and windows to finish your room. The product catalogue is split into categories to easily navigate and becomes quite specific in some instances even down to adding your shower waste. It's really easy to use and build a 3D image as you go.
My tip: The only thing I will say is that it was a bit slow on my computer, but totally worth it for the results.
Time: I estimate you'd need to spend about an hour to get a good image.
Skill Level: You don't need to be a professional to use this but knowing your way around a computer will make it easier.
Homestyler 3D
Available on desktop as well as the app store, it gives you all the tools you need to create and visualise your dream bathroom. You can create your room from scratch with your required measurements as well as customise floor and wall colours and even add finishing touches such as lighting and accessories. The products available to be staged are super realistic allowing you to get a really good idea of what your finished room could look like, and you can then save and render out your final design for a high-tech finish.
My tip: The options are endless on this one so you could easily use it to redesign your entire home if you wanted to.
Time: Set yourself a few hours aside to play around with this one and you'll be able to create some really cool designs.
Skill level: Getting the hang of it can be quite tricky for a novice, but if you are not a complete beginner to technology or design then this can be a great tool to use.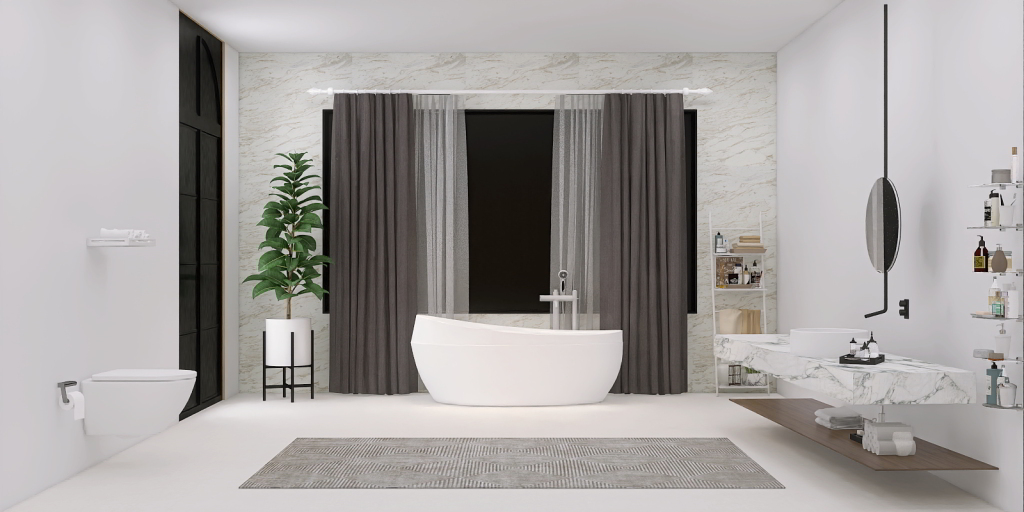 This design tool allows you to completely design a room from scratch by either creating the walls yourself or choosing from a range of templates where you can specify your surface size to ensure the perfect dimensions. You can build items into your design such as doors, windows and even a staircase, as well as add exterior features if you are redesigning your full home. The furnish feature allows you to add products from actual brands and the drag-and-drop system makes it super easy to use. You can also decorate the walls, flooring and add any accessories to create a truly realistic design. Switch between 2D and 3D modes to view your design from different angles, and there is also an inside mode where you can see the view as if you are standing in the actual room.
My tip: Don't get too bogged down on the branded products available as you do not have to purchase these, they can simply aid you in helping with your design.
Time: The time spent using this tool could be endless as it's easy to get carried away, spend as much or as little time as you like designing your new bathroom.
Skill level: You don't need any special skills to use this tool, it's relatively straightforward.
So, there you have it, whether you want to use your phone, tablet, or spend some time on the computer there's a design planner to suit your needs. Some are better than others, but all of these will give you a decent view and visualisation of your new bathroom that could potentially save you thousands of pounds in the long run. Spend a few hours planning your bathroom properly to make sure you're designing it exactly how you want.
If you're looking for advice or need extra help you can pop into one of our showrooms to view our own products and displays in person and allow our bathroom experts to help you further visualise and create your dream bathroom. You can also speak to one of our experts on 0344 809 4249 or by emailing [email protected]. Happy planning!