There are so many different styles of toilets these days that our customers can often get a bit overwhelmed. Sure, it's easy for us, because we work with these products every day and it's our job to know them inside out, but that doesn't mean you have to! That's why we've put together this helpful guide that will explain exactly what a close coupled toilet is as well as a Q&A of the style too, to help you make the right choice for you and your new bathroom. Ready? Let's go…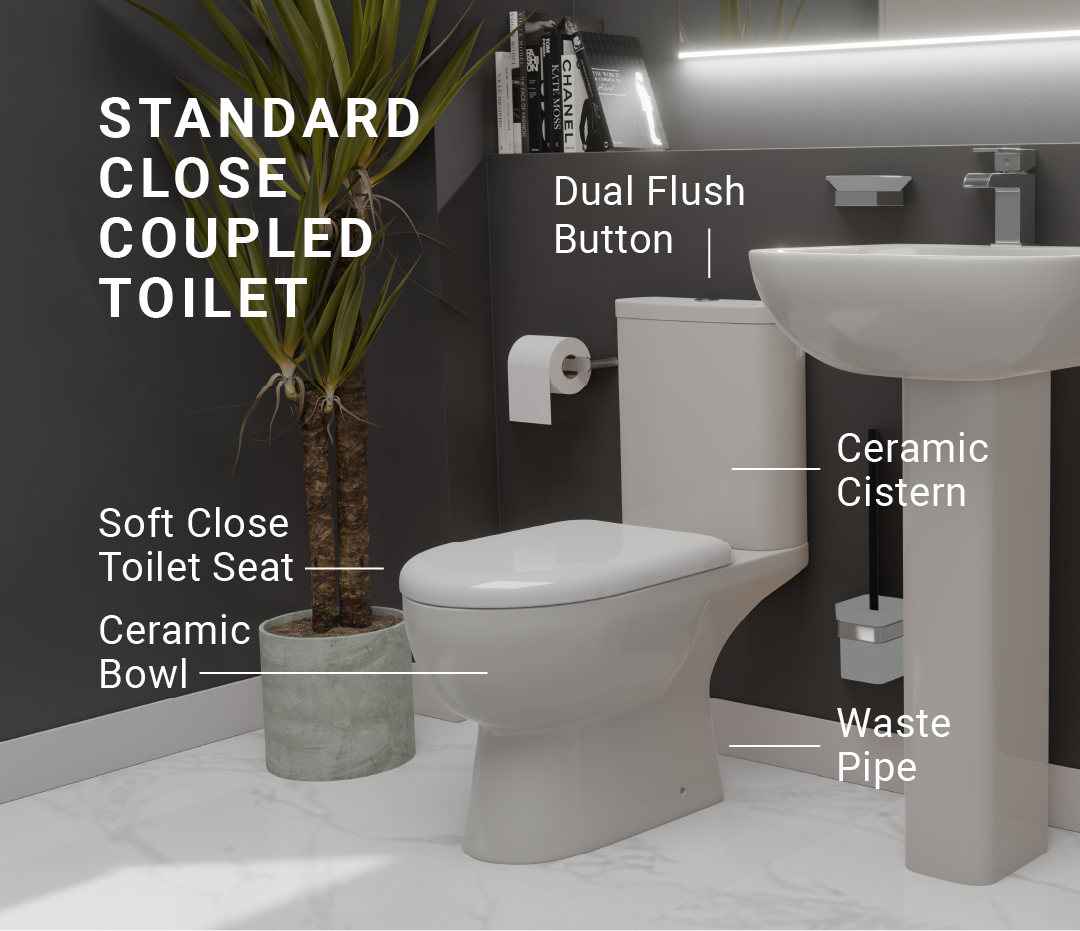 What is a close coupled toilet?
A close coupled toilet is essentially what you imagine when you think of a toilet. It's a modern take on the traditional form of toilet where the cistern was suspended overhead, a few feet from the toilet bowl. Now, the bowl and cistern are closely coupled together and come in both modern and traditional styles to suit you and your bathroom theme.
How does a close coupled toilet work?
A close coupled toilet works by the toilet bowl and cistern being closely connected together, allowing the water to evacuate from the cistern into the bowl using either a flush button or handle. Most of the parts of a close coupled toilet are hidden making them a preferable choice for many bathrooms. Most models that feature a flush button will have the option of either a 3-litre or 6-litre flush, which puts you in control of your home's water consumption.
Is a close coupled toilet old fashioned?
Not at all. We have a huge range of close coupled toilets to choose from with styles ranging from highly modern to classically traditional, depending on the look you want to achieve.
How popular is a close coupled toilet?
A close coupled toilet is one of our bestselling styles and there are a few reasons why. They are easy to install and are available in a wide range of designs both modern and traditional. Some close coupled toilets come in a fully flush to wall design which conceals any plumbing, such styles can be seen in our Darnley square close coupled toilet, Stamford round close coupled toilet or our unique Club close coupled toilet.
Close coupled toilets are also available in short projection depths, making them great for smaller bathrooms or en-suites that are tight on space.
Another highly modern close coupled toilet option available is the smart bidet toilet. The number 1 must-have bathroom product for any home, the smart bidet close coupled toilet comes fitted with practical functions and features that will make your toilet use more comfortable, relaxing and hygienic. It is suitable for the full family and boasts a plethora of gadgets designed for daily use. And the fully back to wall design of this toilet means there's no pipework on view at all - contemporary and futuristic!
Benefits of a close coupled toilet
The benefits most definitely outweigh the drawbacks of a close coupled toilet. Here's a quick rundown…
Hardwearing, sturdy and not as prone to damage as other types of toilet
Fashionable with both modern and traditional styles available
Dual flush is featured on most models making them environmentally friendly
Easy to install
Creates a minimalist look with a compact feel
Short projection styles are perfect for small bathrooms or en-suites
Low cost compared to other types of toilets
Some styles are available in a comfort height option, designed for people who are taller or for those with lower mobility
Drawbacks of a close coupled toilet
There aren't many to list, but here's what we've found…
Doesn't conceal plumbing as well as a wc unit unless you go for a fully back to wall close coupled toilet
Could crack or chip over time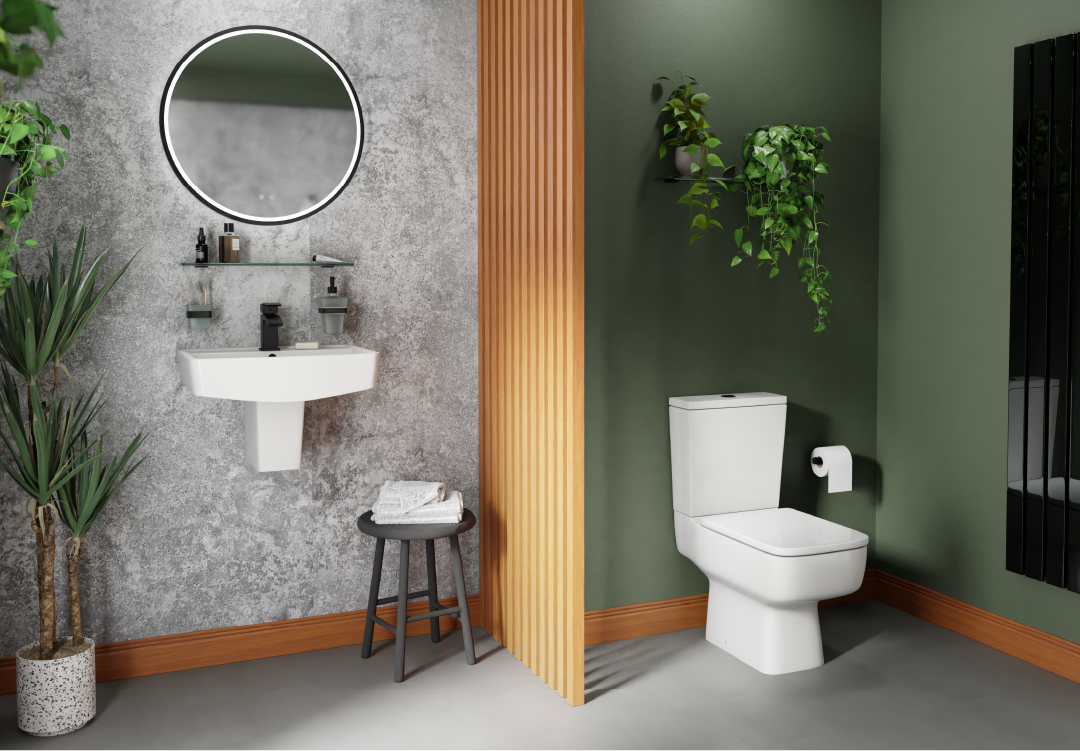 Why choose a close coupled toilet?
You'll want to opt for a close coupled toilet if you're looking for a timeless style. This design won't go out of fashion any time soon and is a practical and functional choice for any new bathroom. Modern and traditional options give you the opportunity to completely customise your new bathroom design and you can also add a basin and bath in a matching design if desired. This style is so quick and easy to install and will provide your home with an attractive, low-cost solution that will look good for years to come.
Key points to remember when choosing a close coupled toilet
It's easy to get carried away but please remember that your new toilet will need to have the same (or similar) waste direction as the old one to allow an easy connection to your soil stack.
Choose a size of toilet that will help maximise space in your bathroom, not minimise. Opt for a smaller, compact design such as a short projection in a small bathroom to help your bathroom look spacious.
If you don't want to see any pipes whatsoever, then a close coupled toilet maybe isn't for you. Opt for a back to wall toilet with a WC unit to neatly conceal every pipe.
Should I choose a different style?
It really depends on what you're looking to create in your bathroom with what style you should go for. If you don't like the sound of what is mentioned above, then perhaps it would be a good idea to explore other options. There are many styles of toilets to choose from including:
So, there you have it, our round up on all things close coupled toilets. If you need further advice then why not pop into one of our showrooms, or give us a call today on 0344 809 4249.