Posted by Gemma Paton 27th Jan 2021
"Sometimes the most productive thing you can do is relax."
Who takes a little time out to focus on themselves? Who practices self-care?
This past year has been one for the history books; being stuck at home, working from home, and even setting up the classroom at home. It can be hard to find the balance of "things you must do" and "things you should do". The only room of the home that is our salvation is the bathroom.
Let's start with "what is self-care". In the Oxford Dictionary, the definition is as follows.
"Self-care definition, the act of attending to one's physical or mental health, generally without medical or other professional consultation (often used attributively): It's been a rough week, so this weekend is all about self-care through exercise."
Self-care is becoming increasingly significant to support our well-being, so how are you incorporating it into your lifestyle? Over the past year your bathroom, that one room of the home has become a haven, a retreat, an escape, and it should be.
Self-care and your bathroom go hand in hand. Check out our tips below on how best to create your own self-care bathroom that really adheres to your needs.
Storage Units
According to Instagram cleaning sensation Mrs Hinch, organisation soothes the soul, a key benefit to self-care, and we must agree. The bathroom tends to be the smallest room of the home yet also tends to hold the most "stuff"- from towels and toilet rolls, to shampoos and all your skincare regime products in between.
Keeping this space organised can be difficult, to keep it feeling zen, we suggest bathroom storage units. At Wholesale Domestic we have a wide range of sizes and styles available. The Napoli is one of our most popular options, available in various styles in a choice of 7 colours: White Gloss, Molina Ash, Boardlino Oak, Gloss Grey, Gloss Grey Pearl, Nero Oak and Walnut.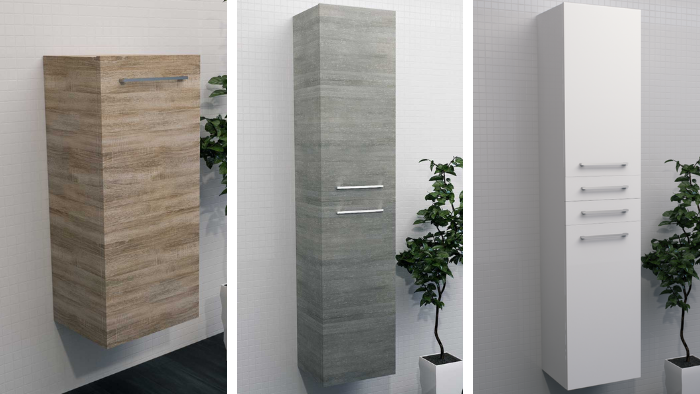 Featured: Napoli Boardalino Oak Side Cabinet || Napoli Molina Ash 2 Door Tall Unit || Napoli White Gloss 2 Door 2 Drawer Tall Unit
Our classic collection, Alexander James is another range which is bursting with bathroom storage units for you to choose from. Our top 3 have got to be:
1. Alexander James 350 x 330mm Laundry Basket
Not necessarily a storage solution, but an excellent unit to keep all your laundry together. Disguised as a unit, there's now no more excuses for dirty clothes strewn over the bathroom floor.
2. Alexander James 250 x 300mm Cupboard
A slimline option for smaller spaces, with one drawer and one door. A practical option, coming complete with chrome handles and soft closing technology, minimising risk to little fingers.
3. Alexander James 300 x 330mm 4 Drawer Unit
Simple, slick and extremely useful. Utilise the 4 drawers to separate your soaps from your skincare, your toothpaste from your face cloths. Available in a gorgeous gloss white, with soft close technology and chrome handles.
If you are reading this thinking, "I have nowhere to put storage units in my bathroom space". Don't fret, we have sneaky storage solution options up our sleeve.
Mirrored Bathroom Cabinets
A mirror is a key product which you are likely to incorporate into your bathroom design, so instead of a simple mirror, opt for a mirrored cabinet. With so much deceiving storage space, cabinets are like Mary Poppins handbag, you can fit much more than you expect. We have a wide range of Mirrored Cabinets available, but one of our favourites is the Windsor. A traditional looking style, available as a single door (600mm) or double door (800mm), with slick chrome handles, the Windsor comes in 3 wood grain textured hues: White, Stone Grey and Dark Grey.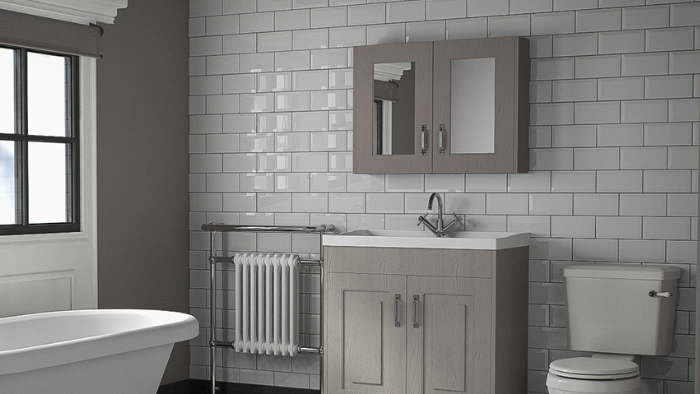 Featured: Windsor Mirror Cabinet 800mm Stone Grey
You can also store all your self-care products in the City Mirrored Cabinet, a more contemporary option for modern bathroom designs. Available in 500, 600 or 800mm widths – in a luxurious Gloss Grey colour, this Mirrored Cabinet is a firm favourite with our Wholesale Domestic customers.
Or if you're simply wanting to showcase your new faux Ikea Fejka, get a bathroom shelf and hang it over the edge. We have a range of bathroom shelves, in various colours and sizes, in wood effect or glass.
Freestanding Baths
If this last year has taught us anything, it's that self-care should be a priority, with winding down, taking a break, and looking after yourself becoming more and more important. And what better way to do that than relaxing in your very own luxurious freestanding bath. Not only does a bath have the power to soothe our minds, it's also great for relaxing those tired muscles.
Self-care bath-time tips
Schedule – designate a day for YOU, like self-care Sunday.
Tidy up your bathroom space – if you need more storage options re-read the above.
Added extras – scented candles, bath bombs and calming music are the basics.
Modern Freestanding Baths
When visualising a freestanding bath, your mind can wander into the medieval period, probably due to all those classic movies of rich kings bathing in large steel freestanding baths. But we've moved on from that. The options we have today are super sleek, modern and ready to take your bathroom design up a notch.
If a double ended bath is what you're looking for then the Florence is the ideal option. We get customers asking, "what size of freestanding bath should I go for?" well that ultimately depends on the space available. However, with the Florence Freestanding Bath we have 4 sizes available; 1415mm, 1555mm, 1655mm or our largest at 1800mm, so you'll be sure to find out to suit your space.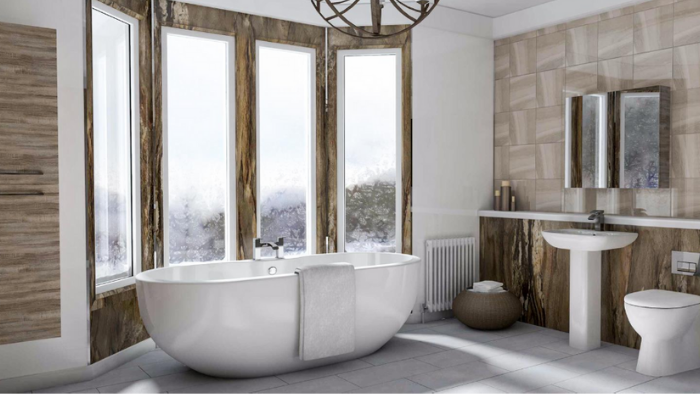 Featured: Florence 1800mm Freestanding Bath
The Como Single Ended Freestanding Bath is next on our must-have list for self-care. A contemporary created slipper bath for the ultimate bathing experience, cleverly created to cradle your back as you soak, washing your stress away. Pair with a freestanding bath tap such as the Circo, a modern mixer design with single column for a stunning finish.
Roll Top Freestanding Baths
If you're looking for something a bit more traditional, we suggest a roll top freestanding bath. What are roll top baths? A type of vintage-inspired bath which includes a curved edge along the rim, which also tends to come with classic feet.
The Windsor is a classic, with its double-ended design, roll top edges and chrome ball and claw feet, a perfect addition to a vintage-inspired space. Opt for the traditional bath shower mixer tap from the Windsor range, with its gorgeous Victorian styled design, this tap is sure to make a feature in your bathroom design.
Indulge in the Kensington Freestanding Slipper Bath with its roll top edges, slipper shape and chrome or brushed brass tiger feet, this spacious bath is ideal for self-care, so light that lavender candle, press play on your Spotify soothing music playlist, and relax.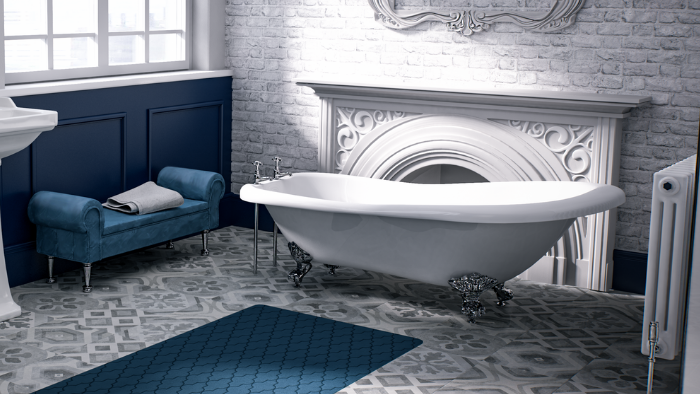 Featured: Kensington Freestanding Bath
Natural Woods
Your bathroom should be your tranquil haven, your zen, your relaxation room, and with nature and self-care going hand in hand, it makes sense to bring the outdoors into your bathroom design with natural woods.
Multipanel Salvaged Plank Elm cleverly designed by interiors expert Linda Barker is a softly weathered wall panel representing natural woods which can be incorporated into any bathroom space. Quick and easy to install, wall panels are an excellent alternative solution to tiles and can be used as a feature wall behind your shower or throughout your complete bathroom.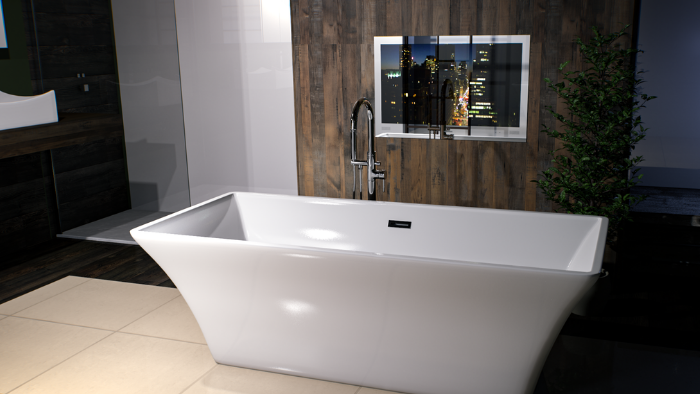 Featured: Multipanel Linda Barker Salvaged Plank Elm Wall Panel
Self-care is important, especially nowadays with so much uncertainty in the world. So, make sure to take time for yourself, wind down, and relax – however you choose to do that.
If you have seen something you like, or would like more information on, give us a call on 0344 809 4249 or send us a DM on our social channels, we'd be more than happy to help.
Stay social by following us on Facebook, Instagram, Pinterest & LinkedIn.