When it comes to choosing the correct heating source for your bathroom, it can be a minefield. Customers ask us all the time; "what's the difference between a radiator and a heated towel rail?" Well, we're here to answer all your questions and help you choose the right heating source for you and your bathroom.
In simple terms, radiators are more efficient at transferring heat; their job is to keep your room at an optimum temperature, whereas towel warmers do what they say on the tin, 'heat your towels', generally offering minimum heat output to the rest of the room.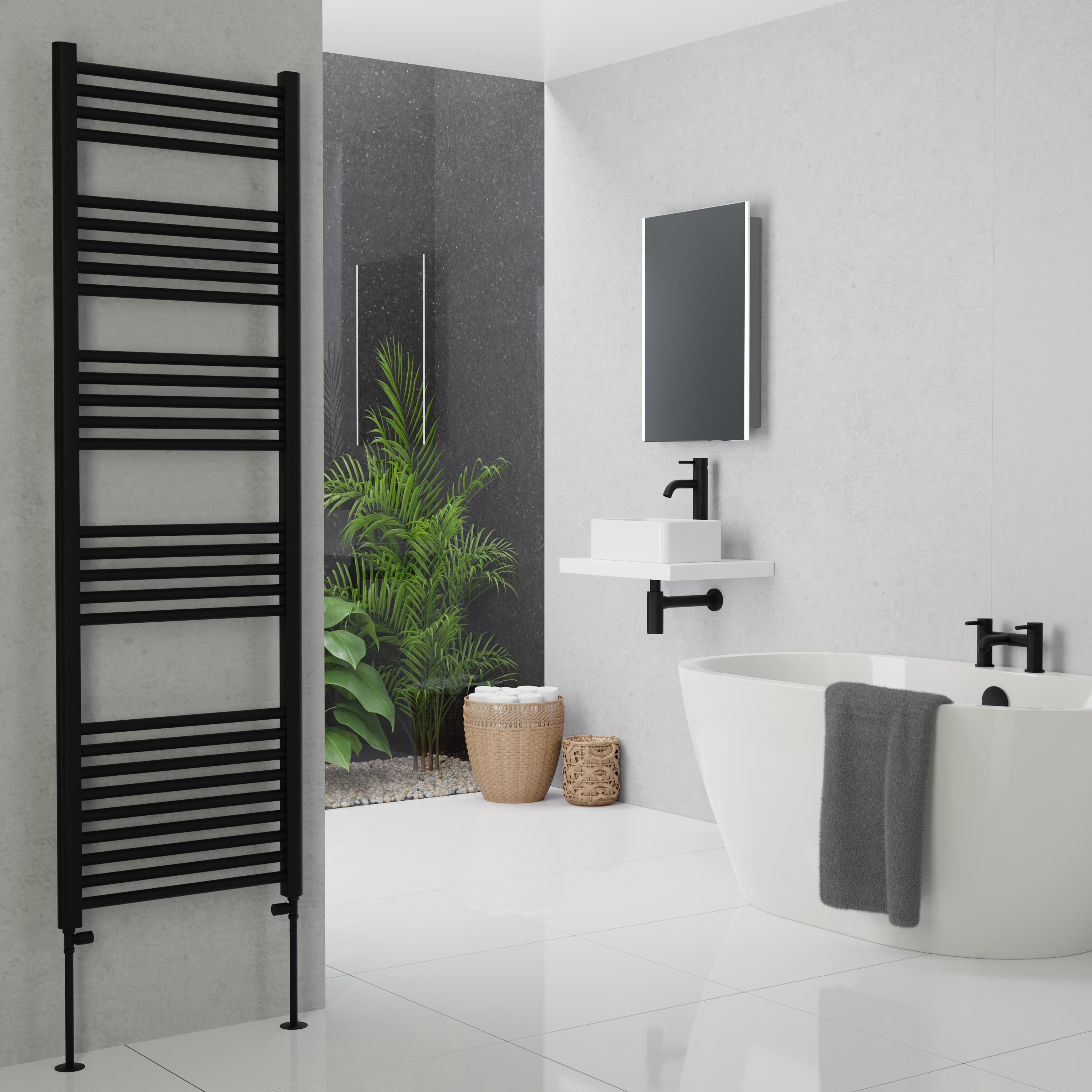 How Does a Radiator Work?
Radiators work through a heat transfer process called convection. When water in the radiator is heated, this heats up the surrounding area by moving hot air around the room as it circulates. Rows of fins heat the body of air inside the radiator and allow it to escape through vents, usually found at the top of the radiator.
Types of Radiators
Radiators are available in many different styles and sizes meaning there will be one to suit all spaces in the home, not just the bathroom.
If you're looking for a classic radiator, then our range of panel radiators could be for you. The Kartell K-RAD Type 22 Double Panel Radiator is a typical radiator style, perfect for any room of the home.
One of our modern favourites includes the Boone Anthracite Double Panel Radiator which is available in four different size options. Featuring a unique Grey finish and avant-garde design, this beautiful radiator will help to keep your bathroom at a comfortable temperature as well as create an interesting focal point in the room.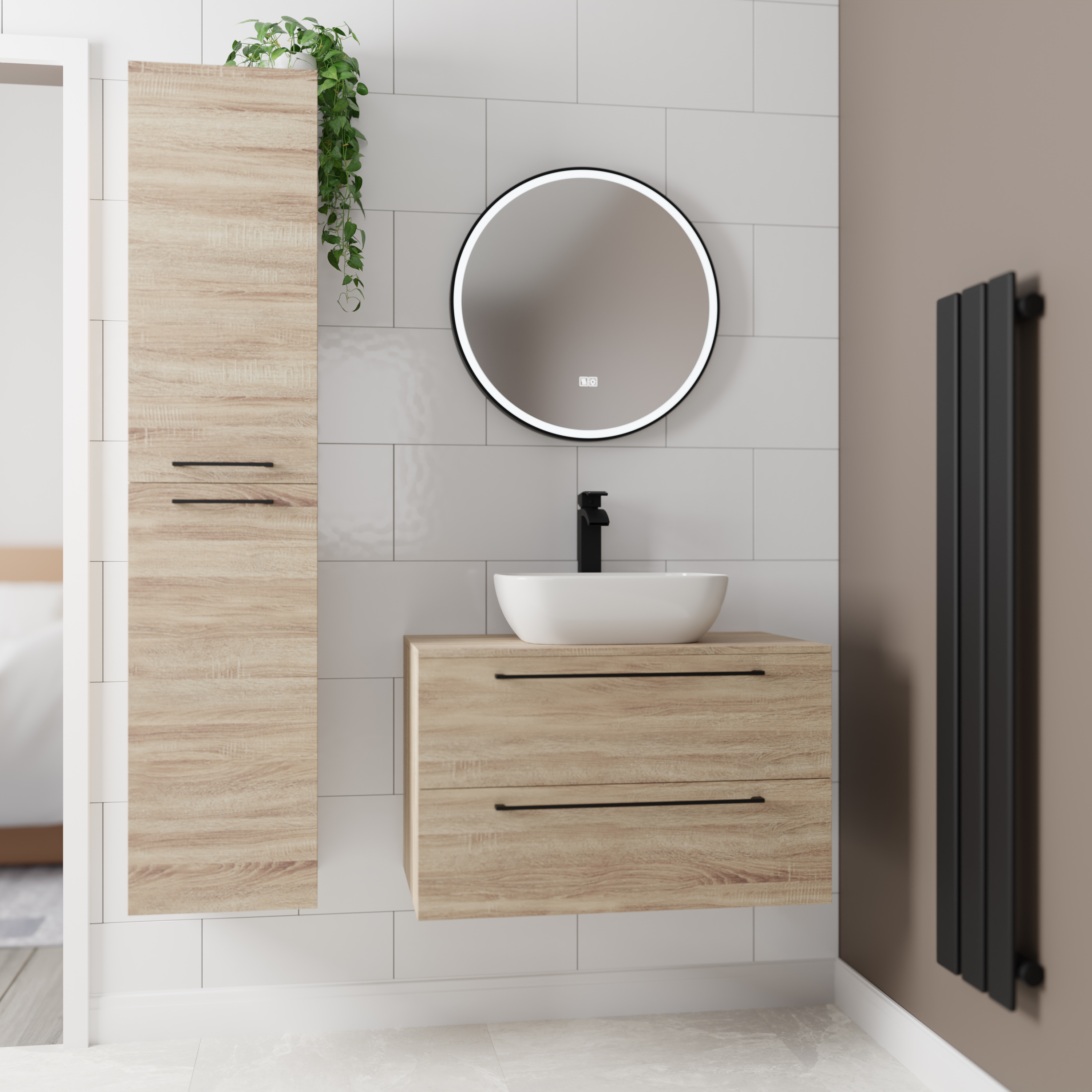 How Does a Heated Towel Rail Work?
A heated towel rail is an alternative to a radiator in a bathroom design, allowing you to hang your towels or robe on to keep warm for you coming out of the shower.
Standard heated towel rails that are connected to the central heating system work similarly to standard radiators but will emit less heat than them. Electric heated towel rails are fitted with an electric element and are filled with a water inhibiting fluid, the element heats up the fluid and in turn warms the towel rail.
Heated Towel Rail Styles
Towel rails are also available in a wide range of styles, sizes and finishes to complement your personal style and bathroom design. If you have curved bathroom furniture, then you may want to opt for a curved towel rail to continue the design or choose a square towel rail for a point of difference.
Aside from traditional chrome, our towel rails are also available in matt black, brushed brass, black nickel and anthracite grey as well as white. One of our personal favourites has to be the Colore Brushed Brass Heated Towel Rail which comes in a selection of sizes. Its modern brushed brass finish complements other brushed brass accessories throughout your bathroom.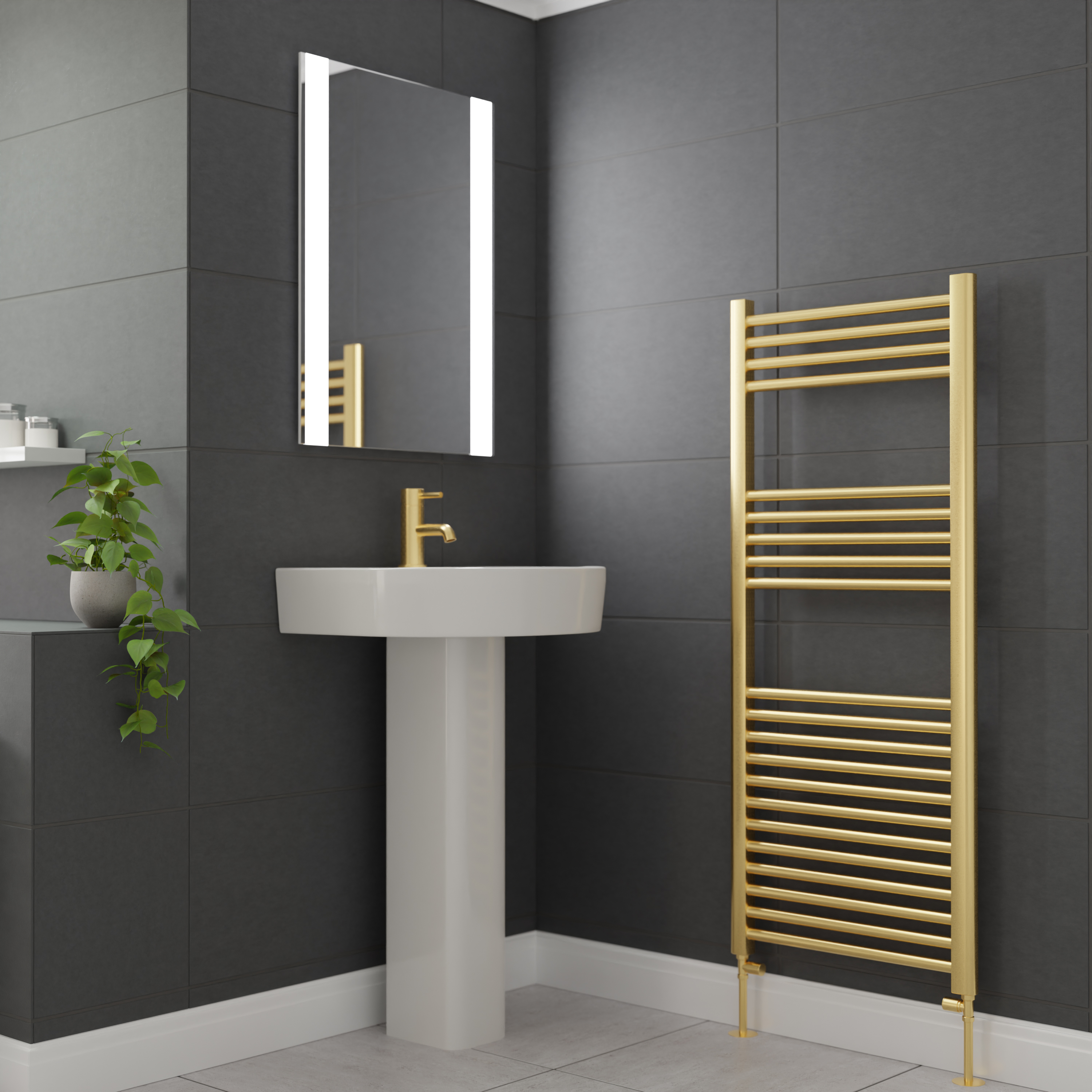 Should I Choose a Radiator or Heated Towel Rail?
To make your decision on what is the best product for you, it is important to consider various factors. These include:
the dimensions of the bathroom you are buying for
the type of window you have
the heat source
If the space is larger, then you may want to consider a radiator as these produce more heat, however, if it's a smaller space, then a heated towel rail might just do the job.
To help you make the right choice, you can consult an online British Thermal Unit (BTU) calculator, as this will advise on the level of BTU output required to heat your bathroom. Once you have established this, simply check the BTU output of the radiator or heated towel rail you would like to purchase to ensure it meets the requirements you need. Sometimes, more than one item is required depending on the size of the space.
As a rule, the higher the BTU number, the higher the heat output and vice versa, so ensure you choose the right product for your space. Too big and it will be too hot, too small, and it will be too cold. However, don't despair, your plumber will also be able to advise on the recommended BTUs and best products for your requirement.
Another factor in deciding between a radiator or heated towel rail is the purpose you wish to use them for. If your main reason is to dry damp towels then a heated towel rail would be sufficient, but if you're looking for optimum heat output then you should go for a radiator.
Finally, space is also a factor to be considered. A sleek towel rail will more often than not take up a lot less room than a bulky radiator, so can be best suited to smaller bathrooms such as en-suites or cloakrooms. Where the room is larger, you could even opt for a traditional floor standing radiator which combines both a radiator and towel rail in one, whilst providing an eye-catching focal point in your bathroom.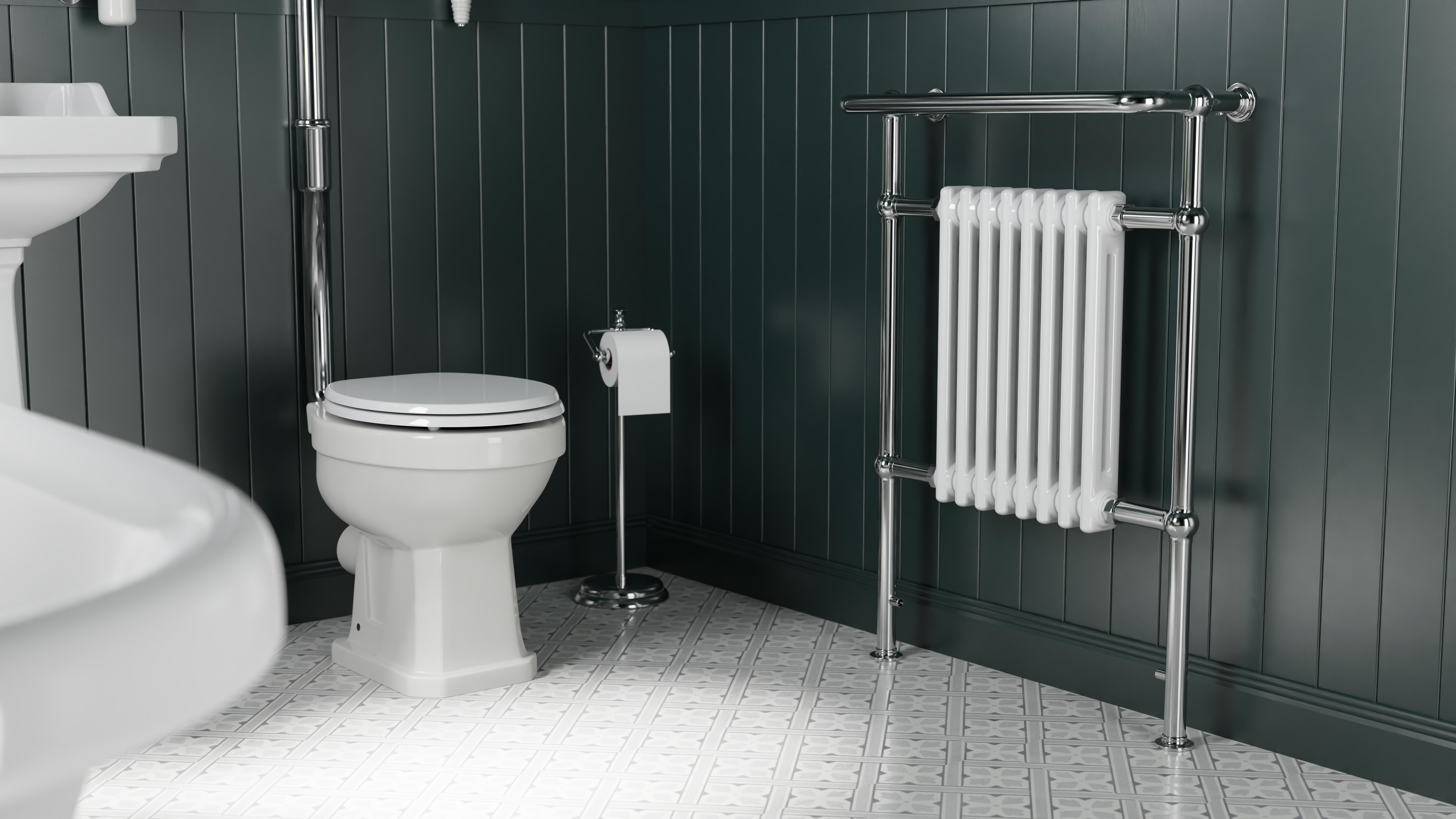 Shop Bathroom Heating Today
At Wholesale Domestic Bathrooms, we have a wide range of both radiators and heated towel rails in an array of different styles and designs. Whether you want ultra-modern, traditionally vintage or uber-designer – we have it all.
If you've made your decision and want advice on exactly what you should buy, our helpful buyers' guides on radiators and heated towel rails will guide you through everything you need to know about each one in more detail.
Feeling social? Stay up to date with us on Facebook, Instagram, Twitter and Pinterest! And for any offers, news and updates straight to your inbox, sign up to our newsletter below!