Posted by Kristin Kudeva 11th May 2023
Industrial Chic
Rugged yet refined | Structured | Tactile | Concrete | Raw | Brick | Edgy
The Industrial Chic aesthetic is rugged yet refined. Taking inspiration from the "warehouse look", this style celebrates structure and tactility, choosing to display exposed building elements, which would normally remain concealed.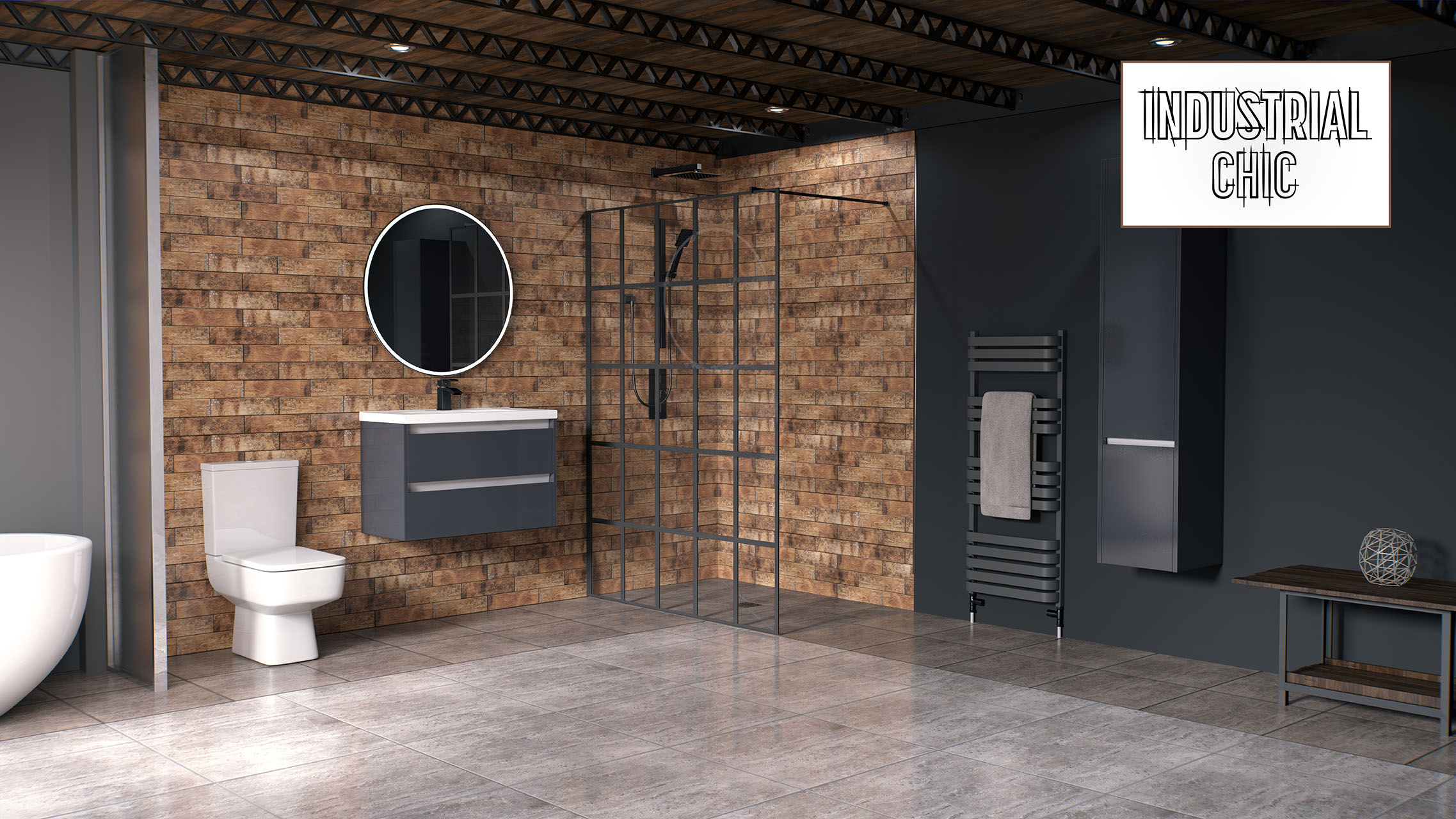 Featured: Walk In Black Framed Shower Screen // Matte Black Concealed Thermostatic Shower // City Grey Gloss 800mm Wall Hung Unit // Colore Black Mono Tap // Annona Mirror // Paulo Toilet // Vasco Anthracite Heated Towel Rail // City Grey Gloss Tall Unit // Piatto Red Porcelain Tiles // HD Parallel Dark Grey 45cm x 45cm // HD Parallel Light Grey 30cm x 60cm
What is chic industrial style?
Industrial interior design draws inspiration from the utilitarian spaces of factories and warehouses, with a focus on exposed building materials such as bricks, pipes, and ducts. While this style emerged as a new addition to the interior design world, its roots go back to the 1700s during the industrial revolution. Factories were built in city centres, with exposed building materials serving a practical purpose of saving money and reducing fire hazards.
In the mid-20th century, abandoned factories were repurposed for housing, and interior designers embraced the warehouse look by combining exposed brick with functional yet stylish pieces. The result is a raw, unfinished, yet effortlessly chic style that highlights the beauty of the space's building materials.
Some of the main characteristics of a chic industrial design include exposed building materials, functional furniture, and natural textures. If you're looking to design an industrial style bathroom, this article will guide you through the essential elements you need to consider.
Exposed Pipes
To achieve an authentic industrial feel, it's essential to maintain the raw and unfinished elements of the space. Exposing steel beams, pipes, and ducts can add to the desired vibe. By highlighting these structural elements, you can create a space that exudes an unfinished and raw aesthetic, perfectly capturing the essence of industrial design.
Our advice is to make the most of the space's existing elements. Rather than concealing them behind drywall or plaster, draw attention to them and showcase them! Exposed beams, columns, and pillars are important architectural elements that should be celebrated and not hidden behind drywall or plaster.
If necessary, renovate them to properly honour their character and preserve their originality. These raw elements add to the charm and authenticity of industrial spaces.
Brick Walls
A hallmark of industrial bathroom design is the presence of visible brick walls, often found in lofts and warehouses constructed from brick buildings. Exposing the "bones" of these homes adds character, with red brick walls being a popular choice.
This aesthetic is associated with the New York loft apartment look, which is synonymous with industrial style. To add to the overall effect, exposed pipes can be incorporated into the design and contrast beautifully with white spaces, particularly when set against the colour of exposed brick walls. This design approach can also be extended to furniture and design pieces that incorporate exposed pipes.
If you don't already have exposed brickwork in your bathroom, you can achieve a similar effect with our Piatto Red Tiles. Additionally, dark wall panels or paint can be used to create a secondary staple element of this trend, which adds a dynamic and powerful look to your bathroom style.
Rustic Wood
Incorporating rustic wood into an industrial style bathroom can help to counteract the space's sometimes cold and uninviting appearance.
To maintain a cohesive design style while adding a natural touch, consider using darker or aged woods. These types of wood can give your bathroom a rustic look and introduce a textural element to offset the darker, metallic materials that are often featured in industrial design.
For example, consider including a wood vanity such as the Napoli Bordalino Oak 800mm Wall Mounted Vanity Unit to make the space feel cosy and inviting. This modern, wall-hung basin vanity unit features a captivating bordalino oak finish with plenty of graining to bring warmth to your industrial bathroom.
Open Shelving
To achieve the desired rustic and chaotic design style in an industrial bathroom, it's important to move away from sleek and built-in furniture. Opting for open shelving is an easy way to achieve this look, and it allows you to display your bathroom essentials. For a more unique touch, consider refurbishing an old piece of wood and using steel tubing to install your shelves.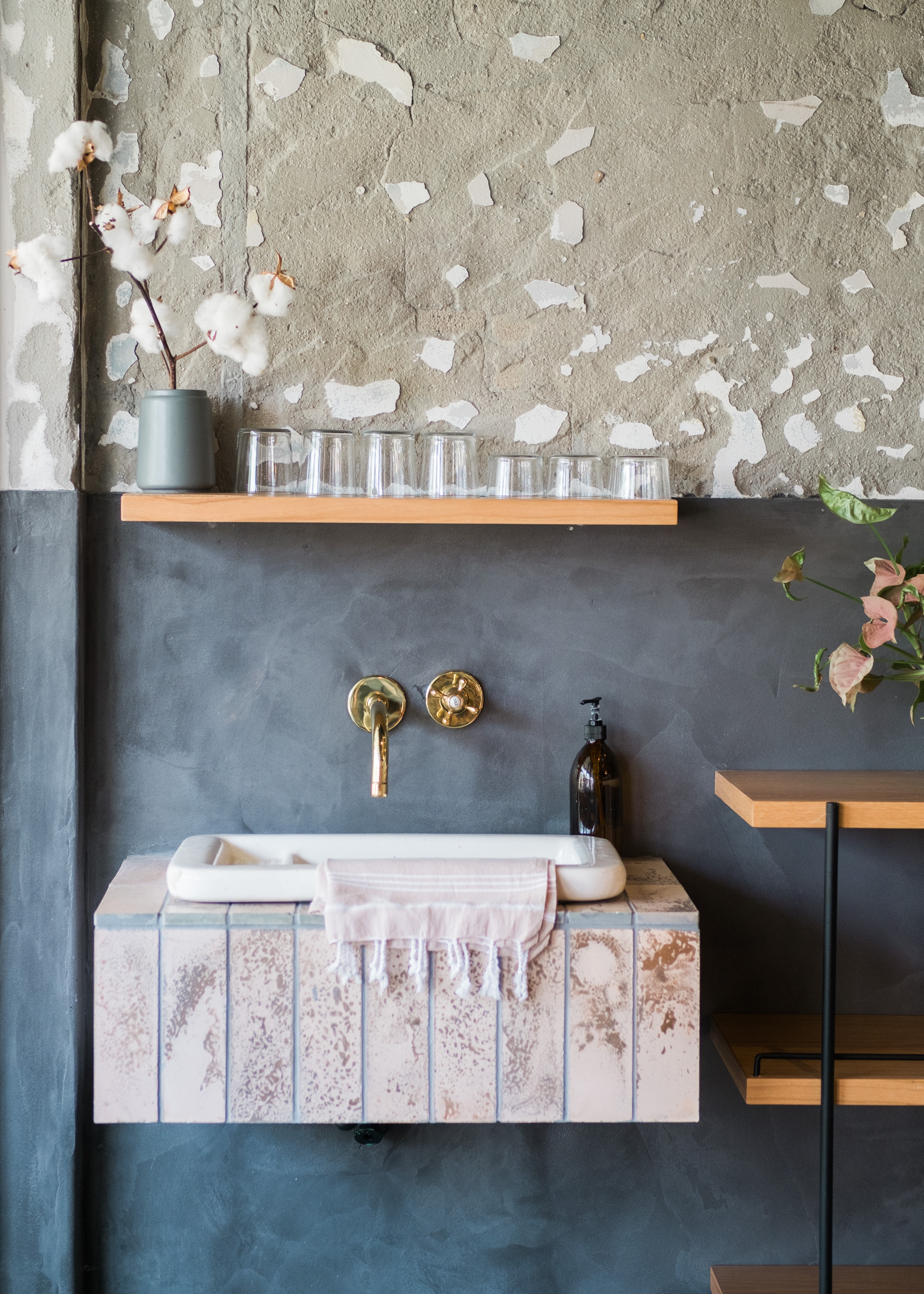 Adding a floating shelf, such as the Napoli Bordalino Oak 30cm Floating Bathroom Shelf with chunky brackets, can also add an unrefined feel to the space. This type of shelf provides additional storage without taking up too much space and helps to create a cohesive design style in the bathroom.
Matt Black Fixtures
In an industrial bathroom, matt black fixtures are a common occurrence. This particular bathroom boasts a striking design, featuring a black metal frame that separates the shower, a black shower head, an anthracite heated towel rail, exposed brick-effect tiles, a matt black basin mixer tap, and a glossy grey bathroom vanity. The use of dark metal accents creates a stunning contrast against the red brick wall, the pearly white shower tray, and the glossy finish of the vanity unit.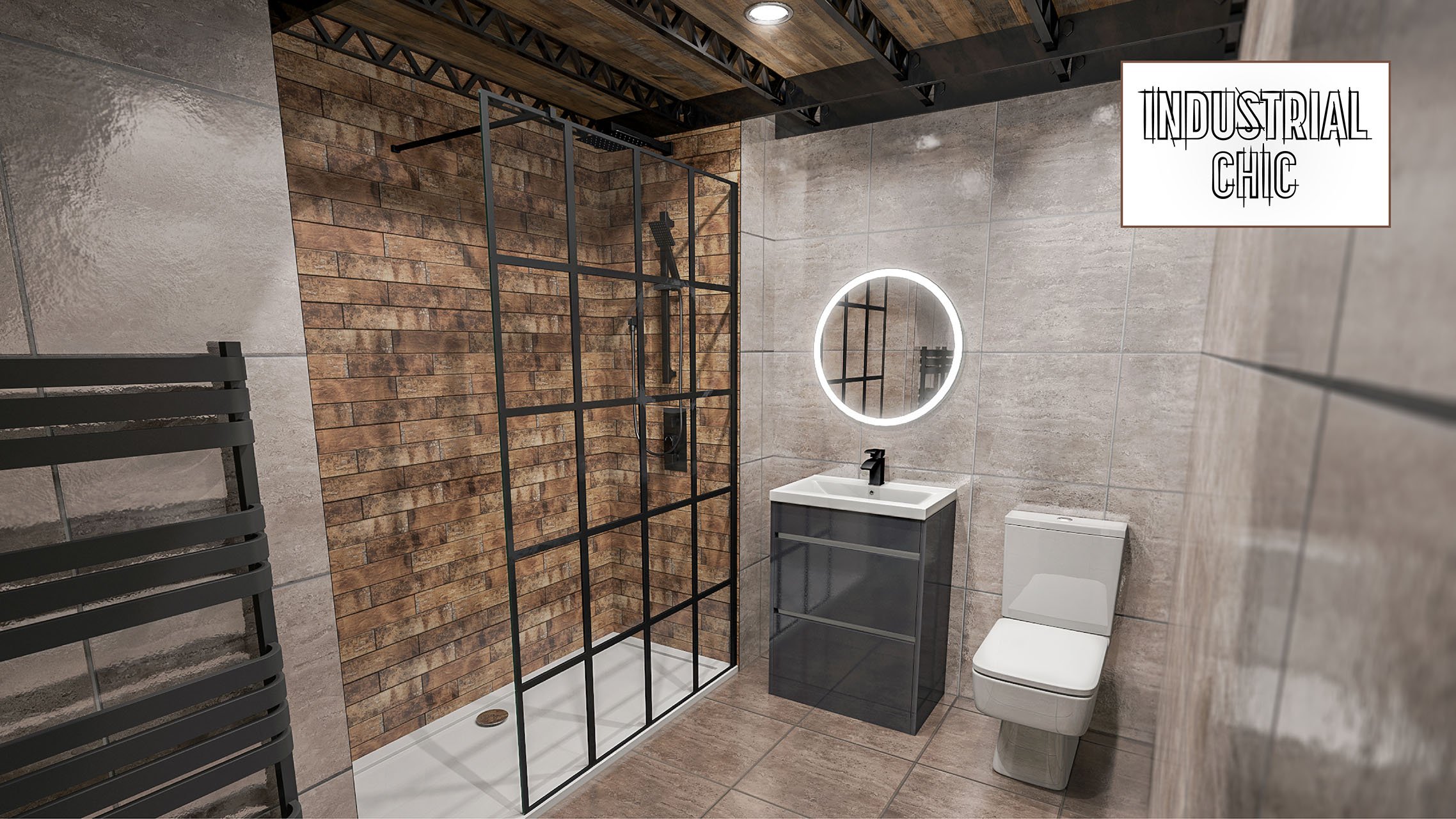 Featured: Walk In Black Framed Shower Screen // 40mm Pearlstone Shower Tray // Matte Black Concealed Thermostatic Shower // City Grey Gloss 600mm Unit // Colore Black Mono Tap // Typhon Mirror // Paulo Toilet // Vasco Anthracite Heated Towel Rail // Piatto Red Porcelain Tiles // HD Parallel Light Grey 30cm x 60cm
For those looking to replicate this style, our walk-in black shower screen comes in six sizes to fit any bathroom. It serves as a strong and bold addition to any space, especially when paired with an exposed brickwork feature wall.
And if your space allows for a bath too, then the Luxor White freestanding bathtub is a staple of modern bathrooms and fits perfectly into an industrial design. Its gentle curves provide a softer touch to the space without being overpowering. To achieve a more industrial appearance, pair it with a minimalist, black freestanding bath filler such as the Hudson Reed Tec Bath Shower Mixer Tap. The matt black finish of the tap complements the industrial aesthetic and ties the space together.
Concrete Shower Walls
Decorating your industrial bathroom with concrete shower walls is a great way to achieve a raw and industrial look. For instance, you can use the RAK Basic Concrete Dark Grey Matt 60cm x 60cm Porcelain Wall and Floor Tile to create a stunning concrete-effect shower wall. For a beautiful contrast, pair it with black shower fixtures.
To add more interest to the bathroom, you can use a patterned floor tile such as the Decor Black 33cm x 33cm Porcelain Floor Tile. This will create a charming environment while maintaining the industrial feel.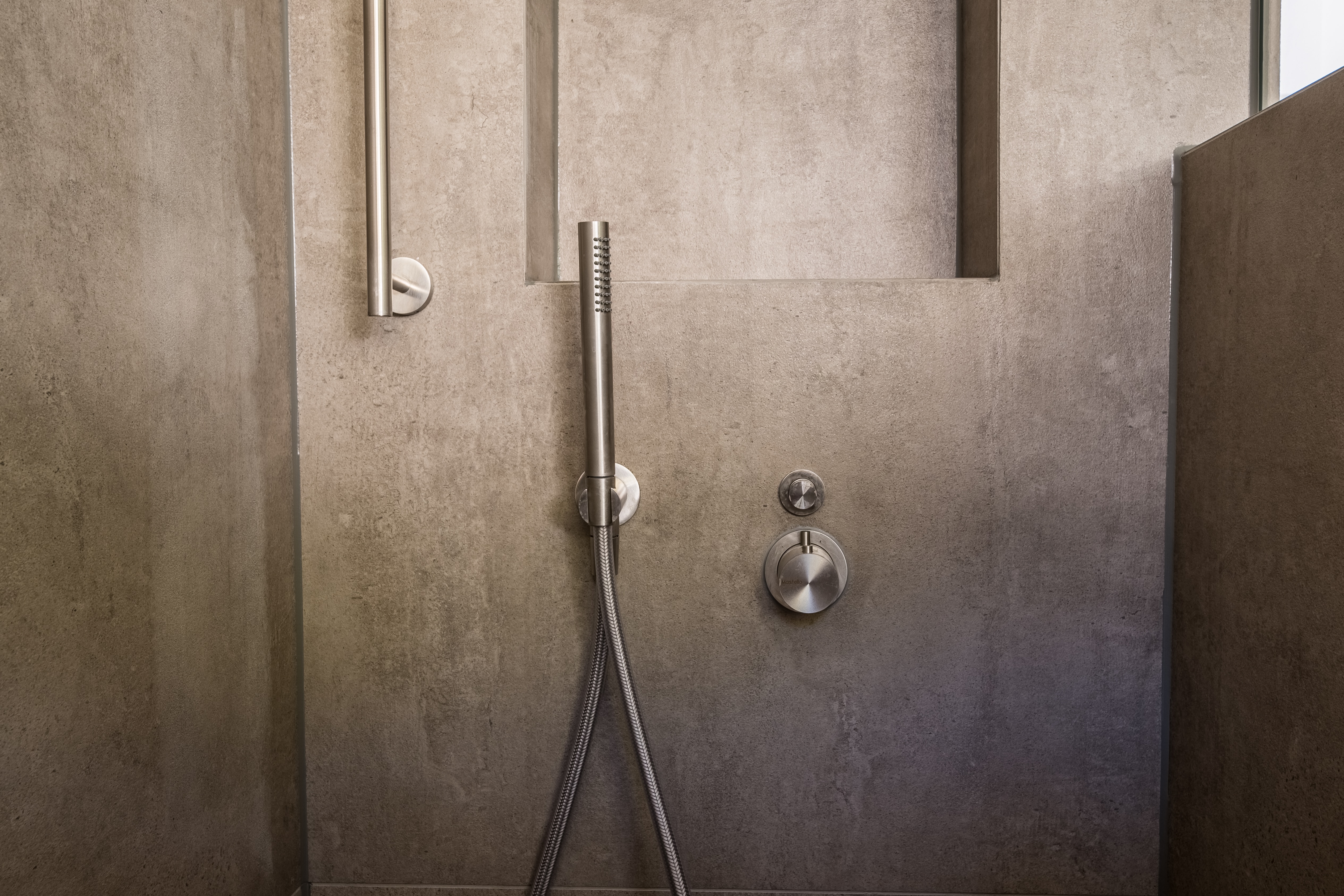 So, here you have it – now you know the key elements you need to incorporate into your bathroom design to achieve an authentically chic industrial look. With exposed pipes, visible brick walls, rustic wood, open shelving, and matt black fixtures, it's the perfect way to add some character and uniqueness to your space.
But wait, there's more! By signing up to our newsletter below, you'll get access to even more tips, inspiration, and exclusive offers to help you create the bathroom of your dreams. So why wait? Sign up today!
Recommended articles: