Posted by Gemma Paton 16th Sep 2019
Modern Luxe
Contemporary | Strong shapes | Simplistic | Sleek
The 'Modern Luxe' bathroom trend combines ultra-current Bathroom Suites with contemporary colour palettes and chic textures. Fuelled by strong shapes, statement pieces and endless glam, the Modern Luxe trend can take your bathroom from standard to stunning.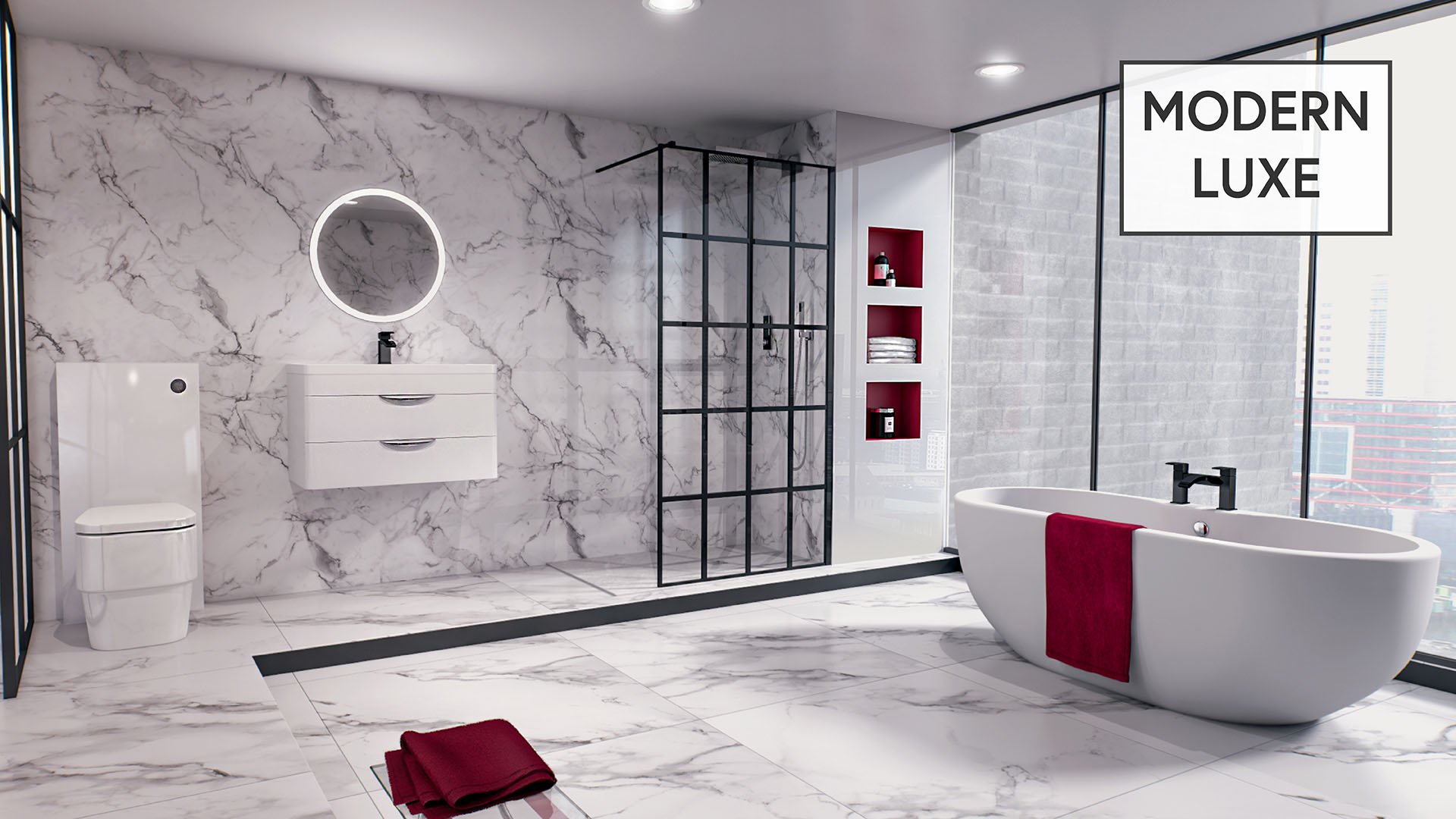 Featured: Obelisk White Cistern || Club Back to Wall Toilet || Parade 800mm Unit || Black Flow Tap || Typhon Mirror || Walk In Black Framed Glass Shower || Blade Shower Head || Triton Home Digital Shower Controller || Bologna Freestanding Bath || Flow Black Freestanding Tap || Calacatta Marble Multipanel Wall Panels || Calacatta Floor Tiles
Chic marble is the modern day bathroom muse. Its monochromatic structured look can seamlessly run from floor to ceiling without feeling over-powering. It is often thought that an ultra-modern styled bathroom should be white, clean and airy, but it doesn't have to mean colourless. Accent colours such as vibrant raspberry can add interest and flair into a large bathroom space.
Spacious bathrooms allow for a separate shower and a freestanding bath. For your shower, consider going digital. Our Triton Home digital shower allows you to set the spray and temperature level, pair with our Blade shower head and walk-in black shower screen, for a stand out monochromatic look.
Create the look at home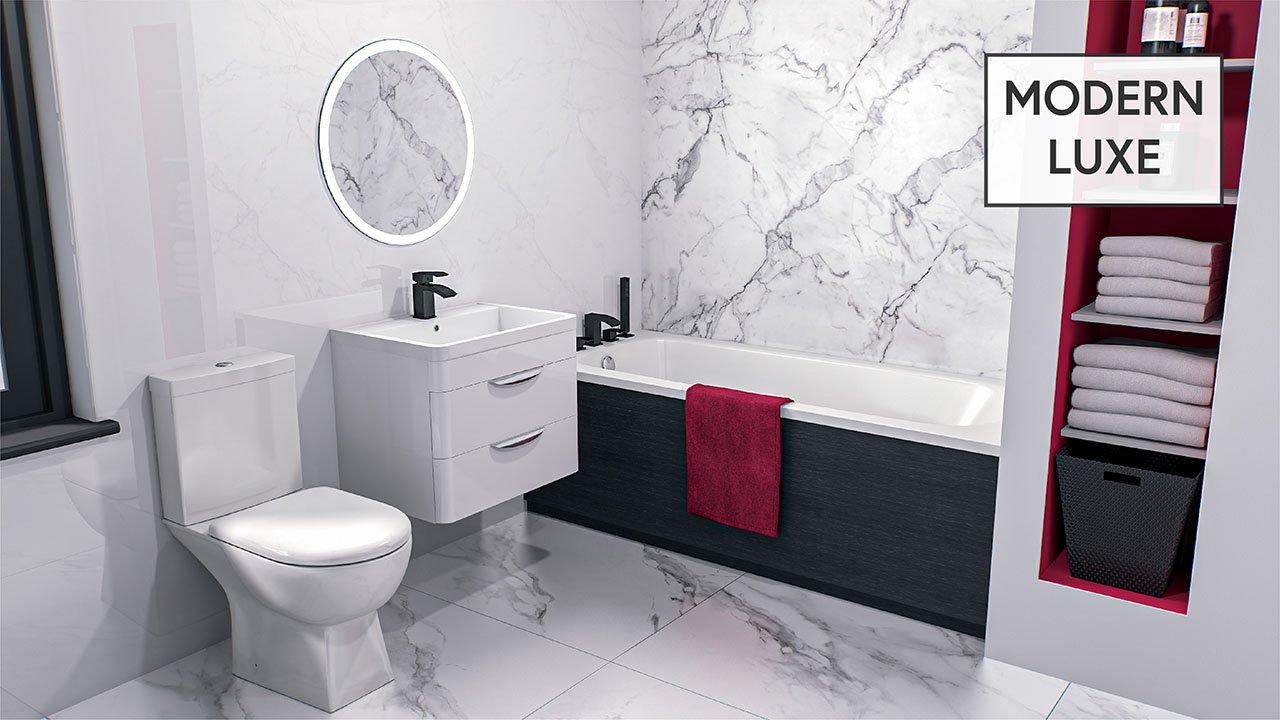 Featured: Ailsa Toilet || Parade 600mm Unit || Black Flow Tap || Typhon Mirror || Monte Carlo Bath || Napoli Black Oak Bath Panel || Flow Black Bath Shower Mixer Tap || Calacatta Marble Multipanel Wall Panels || Calacatta Floor Tiles
Strong shapes are a key element of the Modern Luxe bathroom trend, with the contrast of curved furniture such as our Parade Wall Hung Vanity Unit & Ailsa Toilet versus our square Calacatta floor tiles, and straight edged Napoli bath panel.
The Parade wall-hung vanity unit not only has a built in basin but the drawers also offer excellent storage space, particularly useful if you have a small bathroom. Available in two varying sizes, couple the Parade unit up with our Flow Black Basin Tap. You can even choose matching Flow Black Bath Taps to tie your modern look together.
Finally, we recommend introducing an LED round mirror like Typhon, with demister and touch sensor technology, the Typhon mirror is the perfect way to finish off your modern bathroom design.
Stay social by following us on Instagram, Facebook, Pinterest & LinkedIn.