Posted by Kristin Kudeva 12th Apr 2023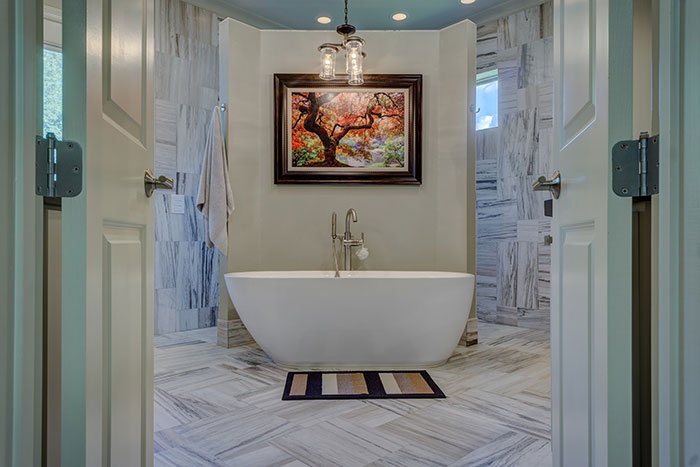 Hygge. We've all heard of it. You probably saw a multitude of books on the subject when you were doing your Christmas shopping last year. But even so, who actually knows what it means? And how do we embrace it? We're going to talk about how to add hygge into your home, specifically your bathroom. But first, let's start with the basics.
What is Hygge?
Hygge (pronounced 'hue-guh', just in case the spelling left you squinting in confusion) is a Danish word that seems to lack any one definition. There's been a lot of discussion over the last couple of years about what it actually means, but I think the simplest and most apt description for it is 'the pursuit of everyday pleasures'.
The concept of hygge is focused on creating a cosy and welcoming ambiance. In short, it's all about relaxation, indulgence and enjoying the simple pleasures in life. It's a concept that is very much embedded in Danish culture and, given that Denmark is considered one of the happiest countries in the world, perhaps it's something that we, Brits, could learn from.
There are many ways that you can embrace the Danish concept, but one of the best ways to add hygge to your life is to add it to your home. And where better in your home to add a cosy feel than your bathroom? We all spend time in it daily and, for some of us, it's one of the only places in our home where we really get to relax. So, without further ado, here's a few ways to add hygge into your bathroom.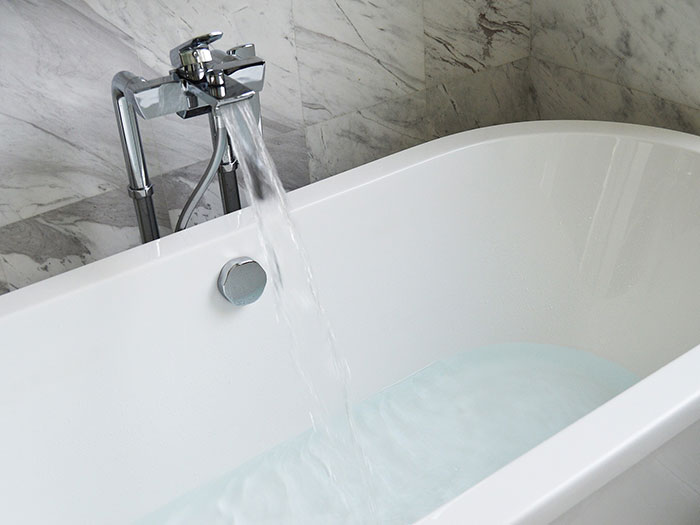 Add an amazing bath
To feel hygge is to feel totally relaxed and, in our opinion, there are few things more relaxing than a long, soothing bath.
When it comes to baths - the more luxurious, the better. Add in a spacious and elegant freestanding bath to give you optimal room to lie back and relax. With its double ended design, our Genoa Gloss White Freestanding Bath is sloped at one end to perfectly cradle your back while you bathe, offering ultimate comfort and relaxation.
And if you want something really luxurious and indulgent, you can also opt for a whirlpool bath to create the ultimate relaxing spa experience. The Verna 1800mm x 1100mm 12 Jet Easyfit Double Ended Spa Bath, for example, features 12 jets positioned on the bottom of the bath for a gentle massaging experience - perfect for relaxing any tension in your muscles.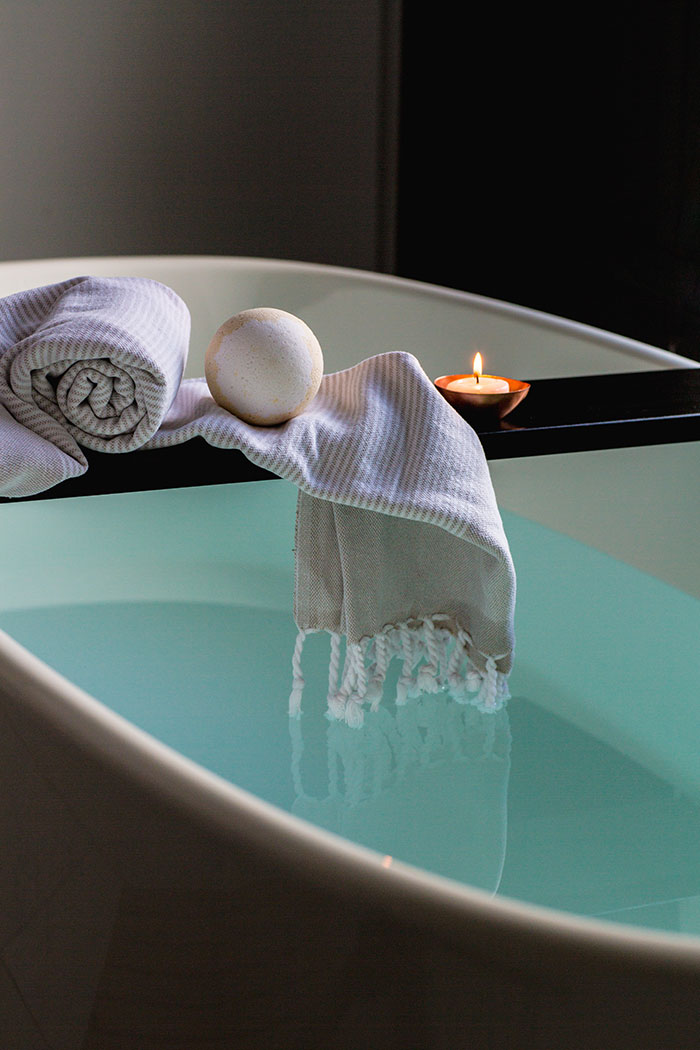 Keep it Cosy
Cosiness is a main factor in hygge, so it's essential to keep your bathroom feeling warm and comfortable.
Underfloor heating is a great way to keep your bathroom cosy; not only will it help keep the room heated, it will keep your bathroom tiles warm and toasty. There's nothing hygge about stepping out of a hot bath onto freezing cold tiles!
Heated towel rails are also great for keeping things cosy and comfortable. As well as using them to warm your towels, you can even hang your dressing gown on them so it's warm and cosy when you get out of the bath.

If you're looking for a heated towel rail that not only adds a touch of luxury to your space but also looks stunning, the Kartell Oregon Chrome 1180mm x 500mm Designer Towel Rail is the perfect choice. With its ultra-modern design and timeless chrome finish, it's a stylish addition to any bathroom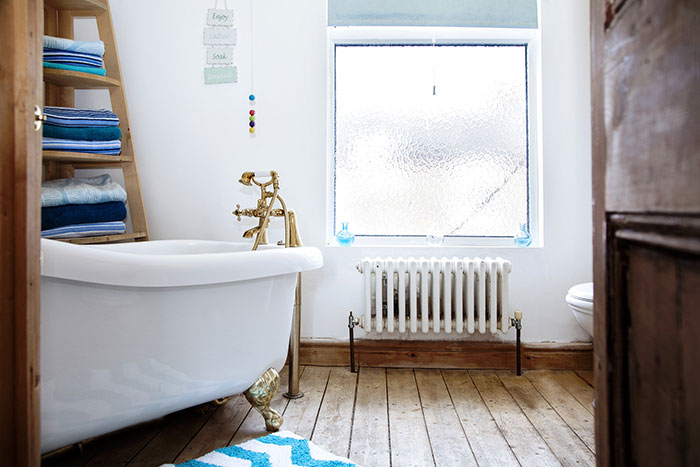 Neutral Colours
It's important to keep your bathroom a calm, relaxing space. Bright, bold colours tend to have the opposite effect, so opt for warm, neutral colours to keep things soothing and tranquil.
Adding wood effect furniture is another excellent way to turn your bathroom into a calming, serene space. A bordalino oak or molina ash wood is much less harsh than white and adds a rustic, cosy feel.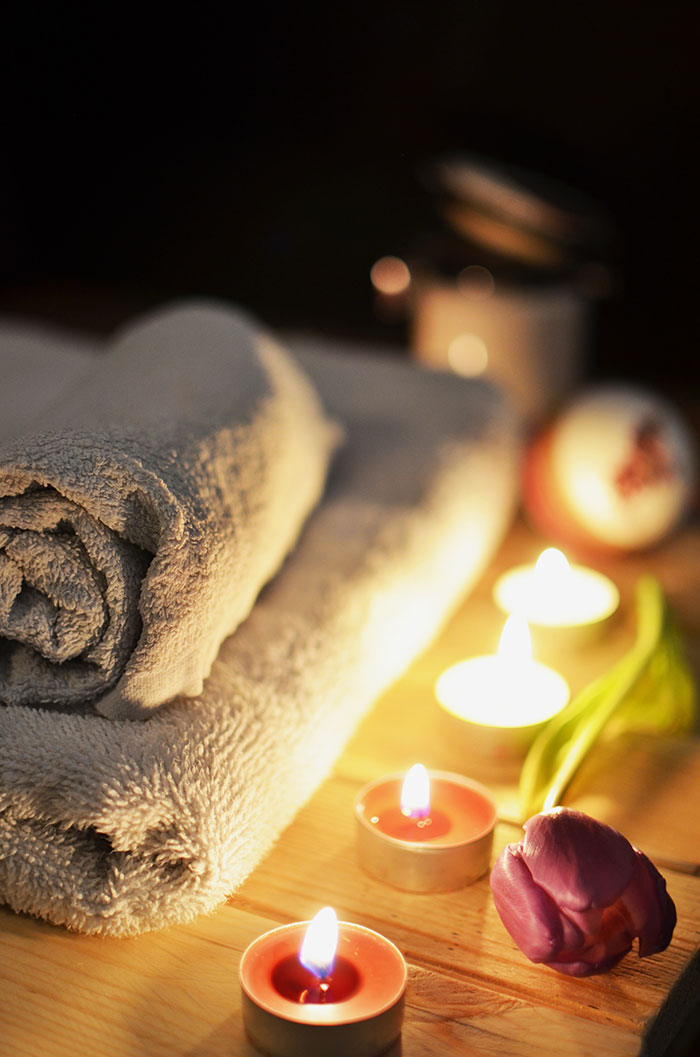 Mood Lighting
Adding hygge to your bathroom is all about creating a cosy, soothing ambiance and a simple, but very effective, way of doing this is with lighting. Dimmable lights or downlights are a great option as they give you plenty of light when you need it, but also offer the option of soothing mood lighting to help you relax and unwind.
Candles are another effective way to add atmospheric mood lighting; try adding a few on your windowsill or on the edge of your bath (provided that it's safe to do so, of course. Don't burn your house down for the sake of hygge!) Not only will they add to the warm, cosy atmosphere, scented candles will add a gorgeous smell to the room. Peak relaxation!
It's All in the Details
Everything mentioned so far are fairly big changes to make in a bathroom, and not everyone is willing or able to buy a new bath or install underfloor heating. But there's plenty you can do that doesn't involve renovating your entire bathroom.
Adding fluffy textures to your bathroom is a great way to make, what could be, a harsh room into something cosy and welcoming. Add a fluffy bath mat and pick up some thick, high quality towels to add a luxurious and cosy feel.
Wooden bath racks are great for turning your bath into your ideal place to relax. You can use it to hold a scented candle, a book or even a cup of tea!

Decluttering your bathroom with the help of simple floating vanity shelves can also do a lot to make your bathroom feel more spacious, open and inviting.
So, there you have it: 5 ways to add hygge to your bathroom. Life moves pretty fast, so taking time to relax and enjoy the little pleasures is something we could all benefit from. What do you think? Are you ready to embrace the cosy trend?

Don't forget to sign up to our newsletter below for more amazing bathroom tips and tricks!