Posted by Francine Flanagan 18th Nov 2014
We're officially on the countdown to Christmas and for a lot of households that means renovating the bathroom just in time for visitors. No one wants to feel embarrassed about their bathroom, especially when you've committed to asking EVERYONE round to your place for Christmas dinner. As well as this, you deserve to shower and bathe in a room you feel comfortable in, a lovely new bathroom could be just the Christmas treat you need.
Over 50 years of experience in the bathroom business has given us valuable insight into a huge list of bathroom faux pas, so we thought we'd share our top 6 tips with you just in time to help you save your lovely new bathroom from any disastrous blunders.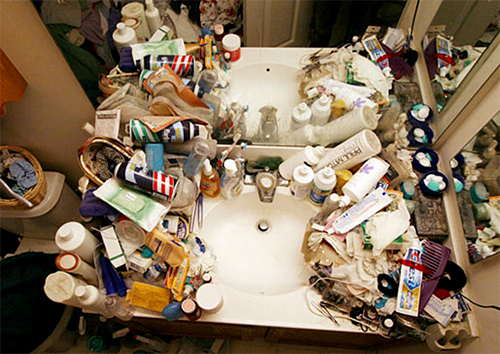 1. Lack of storage
This is a really simple tip but if overlooked you'll run the risk of your bathroom looking like a scene from the apocalypse…ok so maybe I exaggerate a little – but trust me it won't look good. Spend some time designing your new bathroom and consider the idea of bathroom storage, whether that be a basin cabinet, wall hung cabinet or additional units or cupboards if you have the floor space to spare. It will help to keep all your bathroom products tidy and under control at all times and you won't have loads of tidying to do for the arrival of guests….score!
2. Good lighting
Another simple tip, but if you don't put some thought into this your bathroom could end up looking like a scene from a horror movie. Scary stuff eh? Don't let lighting be an afterthought, look online for ideas and inspiration to help you achieve a bright and welcoming space. I've visited too many a bathroom where they've just threw up one of those fluorescent strip lights and let me tell you, it's a harsh light and it tends to flicker – you don't want a light in your bathroom that sends a chill down your spine and makes you survey the room, do you? You'll be glad you spent some time looking at your options…trust me.
3. Tiny tiles
Small bathroom tiles can look great but please take this advice;
If you choose to apply them everywhere it will be incredibly difficult to line them up perfectly (most bathroom walls aren't straight).
Think about the maintenance of the grout! That's all I'm going to say.
If you plan on taking on this task yourself, it will take much longer to complete your full bathroom with these small tiles….much longer.
If you're adamant about having smaller tiles in your bathroom then choose a natural tile colour, it won't go out of fashion and will help to disguise discolouring grout rather than a bold shade against white grout – it just spells disaster.
Remember to choose an anti-fungal grout mix to make sure the upkeep is as painless as possible.
4. Good ventilation
Every bathroom needs to have good air flow to help prevent hazardous mould and mildew. You can always consult your plumber or installer for the best option to suit your new bathroom design, usually a ventilator fan or a bathroom extractor will be recommended, although bear in mind that most new bathroom windows have clever ventilation units at the top, to help steam and condensation escape without the need for extra appliances. Make sure you address this issue, the last thing you need is for your newly fitted bathroom to be riddled with mould…not cool.
5. Don't go too modern
I know everyone wants to modernise, tired and fed up of the bathroom they've lived with for the past 10 years, it seems like the sensible choice to go nuts and choose all the latest new-fangled gadgetry to help update that eyesore of a bathroom…but HALT! Try and choose your new bathroom based on what you like and try not to go too modern. Don't get me wrong if you did, it would look great for a year or two but you don't want to look at it in a few years and think 'What the hell were we thinking?!' so choose wisely, you'll probably need to live with for a while.
6. Steady with the DIY
Ok, so most of us are advocates of DIY these days, am I right? In a bid to save precious pounds we decide to take on a job ourselves and it really can be a great way to save money and build your own self-confidence. My word of warning is; be very careful if you're planning on installing your own bathroom, but why you ask? It really requires a lot more skill than you think and unless you are 110% sure you can do as good a job as a professional, leave it alone! Trust me you won't be too pleased if you've spent a small fortune on new tiles and a new bathroom suite and then you mess it up. Think about the plumbing as well, if it goes wrong you might flood your bathroom or worse yet you could ruin the ceiling below…have a long hard think about it and if in doubt leave it to someone who knows that they're doing. Think about it this way, if something goes wrong at least you'll have someone to blame.
Don't despair, I know that this seems like a lot to consider but once you've tackled how to avoid these common bathroom mistakes, a professional can fit your lovely new bathroom in around 2 short weeks, so there's still plenty of time to renovate your bathroom in time for Christmas guests. If you're unsure about your new bathroom design and would like some FREE advice why not pop into our showroom or give us a call on 0844 809 4249.