Posted by Sarah Kielbasiewicz 15th Oct 2019
Upgrading your bath taps is a great way to transform the way your bath and full bathroom look. As with basin taps, the different types of bath taps you can choose from relate to the number of tap holes already in the bath. However, most baths come without tap holes pre-drilled, so your installer can drill in holes where necessary. This allows you more flexibility when shopping, so you can choose the bath tap that's right for you.
Things to Consider When Selecting the Perfect Bath Taps
Before purchasing your bathroom bath taps there are a few things you may need to consider:
Bath type: Different styles of taps will be compatible with different types of baths. If your tap already has pre-drilled tap holes you will need to take this into account when purchasing your tap, or if your bath is freestanding, you can decide whether to go for a freestanding or wall mounted bath tap depending on the position of the bath in your bathroom.
Style: What style of bath tap best suits you and your needs? Do you require a bath shower mixer, or simply a traditional pair of bath taps? Does your bathroom style and shape accommodate a wall mounted tap, or do you want to opt for luxury with a waterfall tap? And is your overall look traditional, or more modern?
Bathroom fittings: Does your bathroom have the necessary fittings required to accommodate the style of tap you like? Such as the ability to be wall-mounted or freestanding.
Water pressure: This can vary between households and determines the flow of water from the tap. Our taps state the maximum and minimum pressure levels in their descriptions.
What Types of Bath Taps Are Available?
There are many types of bath taps to choose from, and the style you go for will often depend on which type of bath you have. Our selection includes:
Bath Mixer Taps
Wall Mounted Bath Taps
Bath Shower Mixer Taps
3 Hole, 4 Hole and 5 Hole Taps
Freestanding Bath Taps
Bath Mixer Taps
Bath Mixer Taps, or Deck Mounted Taps, are a highly practical and popular option. Much like their basin counterparts, mixer taps combine the hot and cold water sources to flow at the perfect temperature.
Most bath mixer taps will require two tap holes drilled into your bath and can be placed at one end or in the middle, depending on which style of bath you have. These bath taps come in a range of different styles, both modern and traditional and work well on most bath types, including modern straight baths and even some freestanding baths.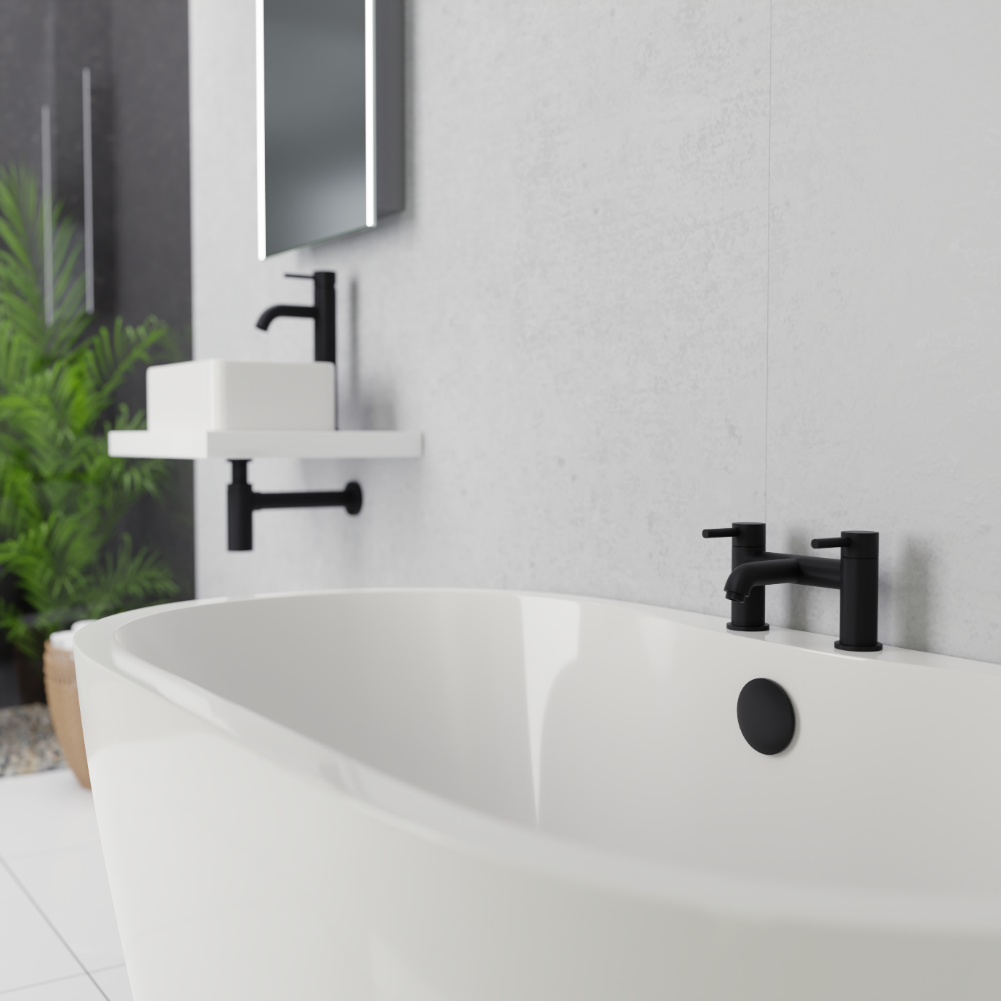 Wall Mounted Bath Taps
Wall mounted bath taps are mounted on the wall to provide a contemporary and stylish look. As well as being aesthetically pleasing, wall mounted taps are also extremely functional, with no nooks and crannies on the bath ledge for dirt to build up in, your bath is easier to clean. They don't require you to drill any holes into your bathtub and can provide a flush, high-end appearance.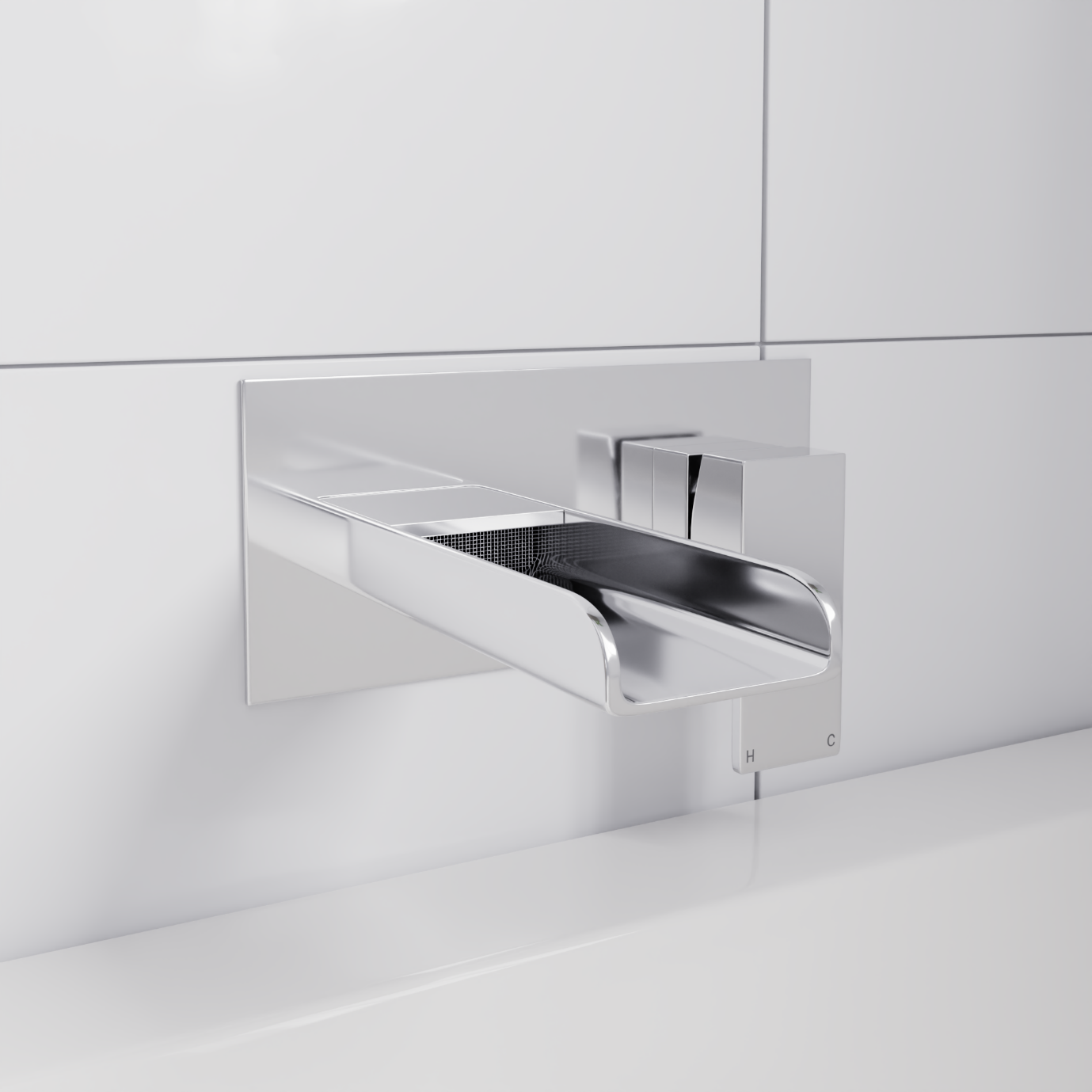 Bath Shower Mixer Taps
Bath shower mixer taps are pretty similar to standard mixer taps, however these also come equipped with a shower head attachment. This feature can be very useful for tasks such as rinsing the bath after use, making them a must-have for family bathrooms.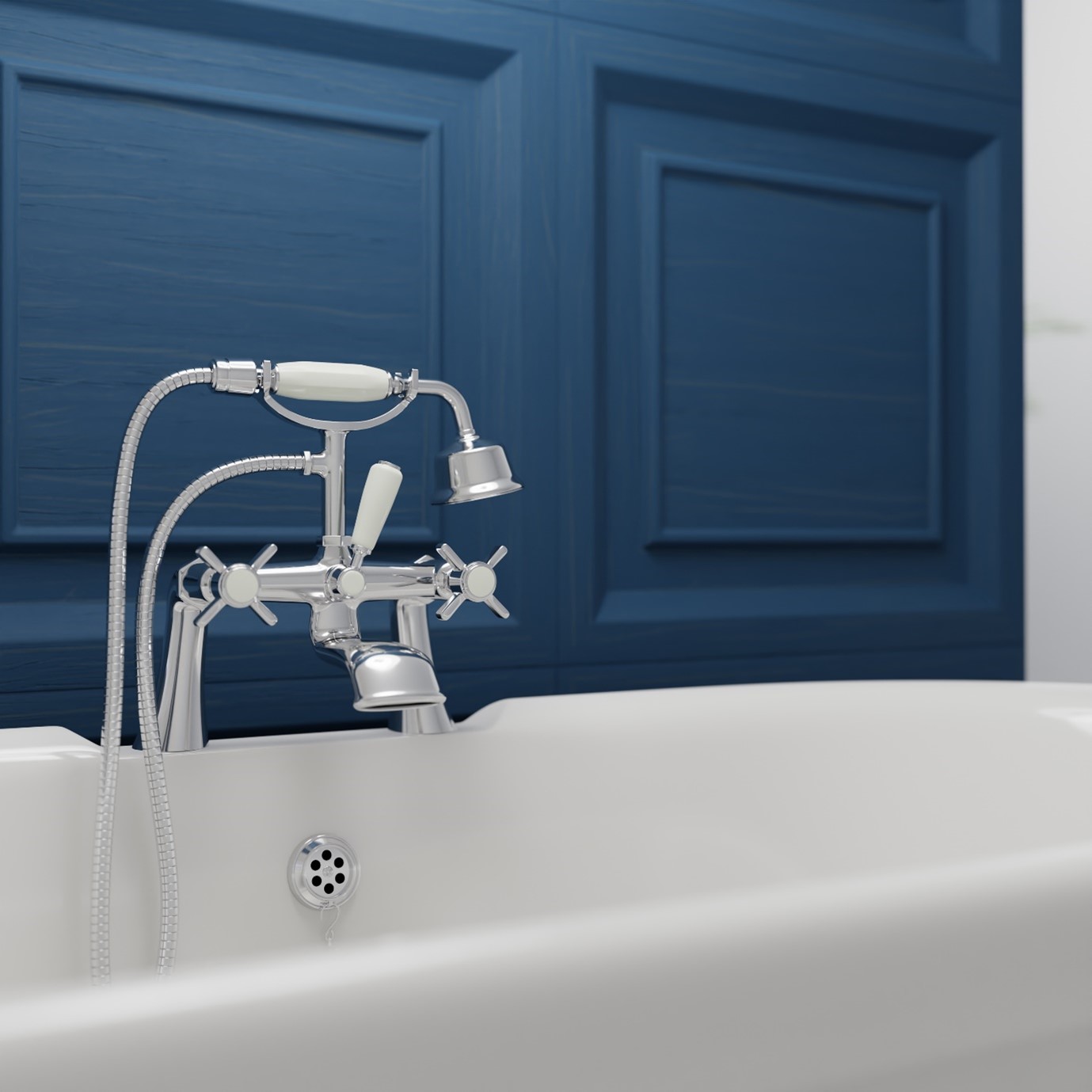 3 Hole, 4 Hole and 5 Hole Taps
3 Hole Taps usually feature individual hot and cold taps with a central spout. They can provide an elegant symmetry to the look of your bathroom design.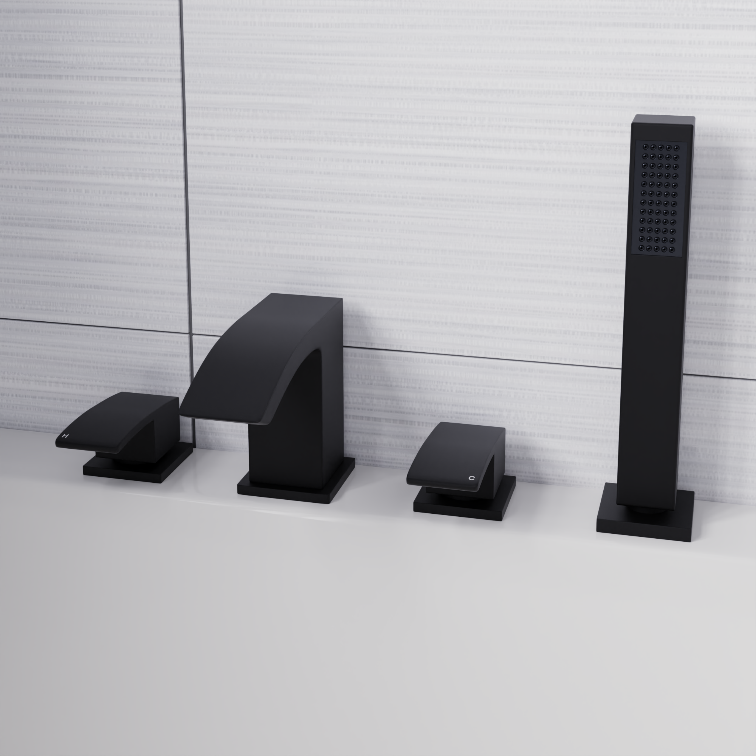 4 Hole Taps and 5 Hole Taps are fairly similar to the above, usually including two taps and a central spout however, they also have the addition of a shower attachment.
4 Hole Taps will usually have a diverter button built in to the spout to change between the use of the shower or the bath tap, whilst 5 Hole Taps will have a separate diverter valve which is used to choose this option.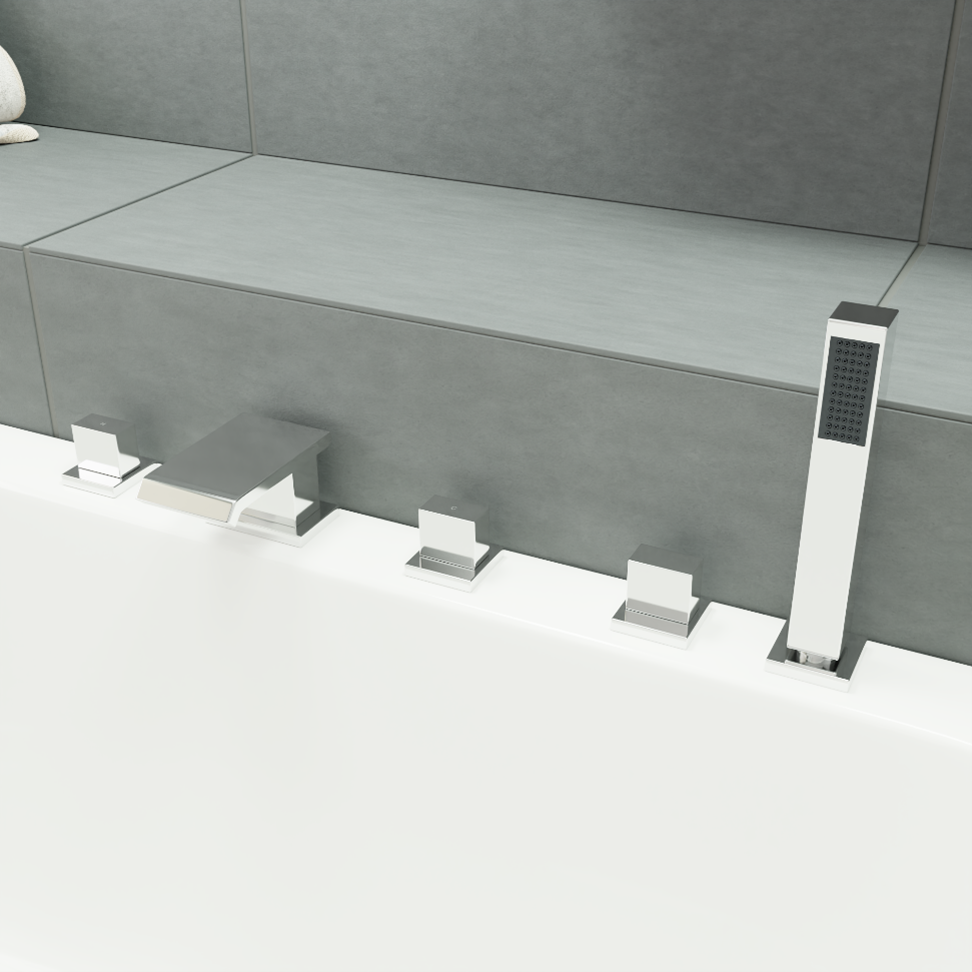 Freestanding Bath Taps
Freestanding bath taps are a pretty fashionable choice to pair alongside a freestanding bath. These taps sit on the floor so there is no need to drill tap holes into your bath. The water is poured into the bath from a height, creating a stunning feature in your new bathroom. Many freestanding bath taps come with a shower mixer as well.
Available in both modern and traditional designs, freestanding taps are perfect for making a dramatic style statement.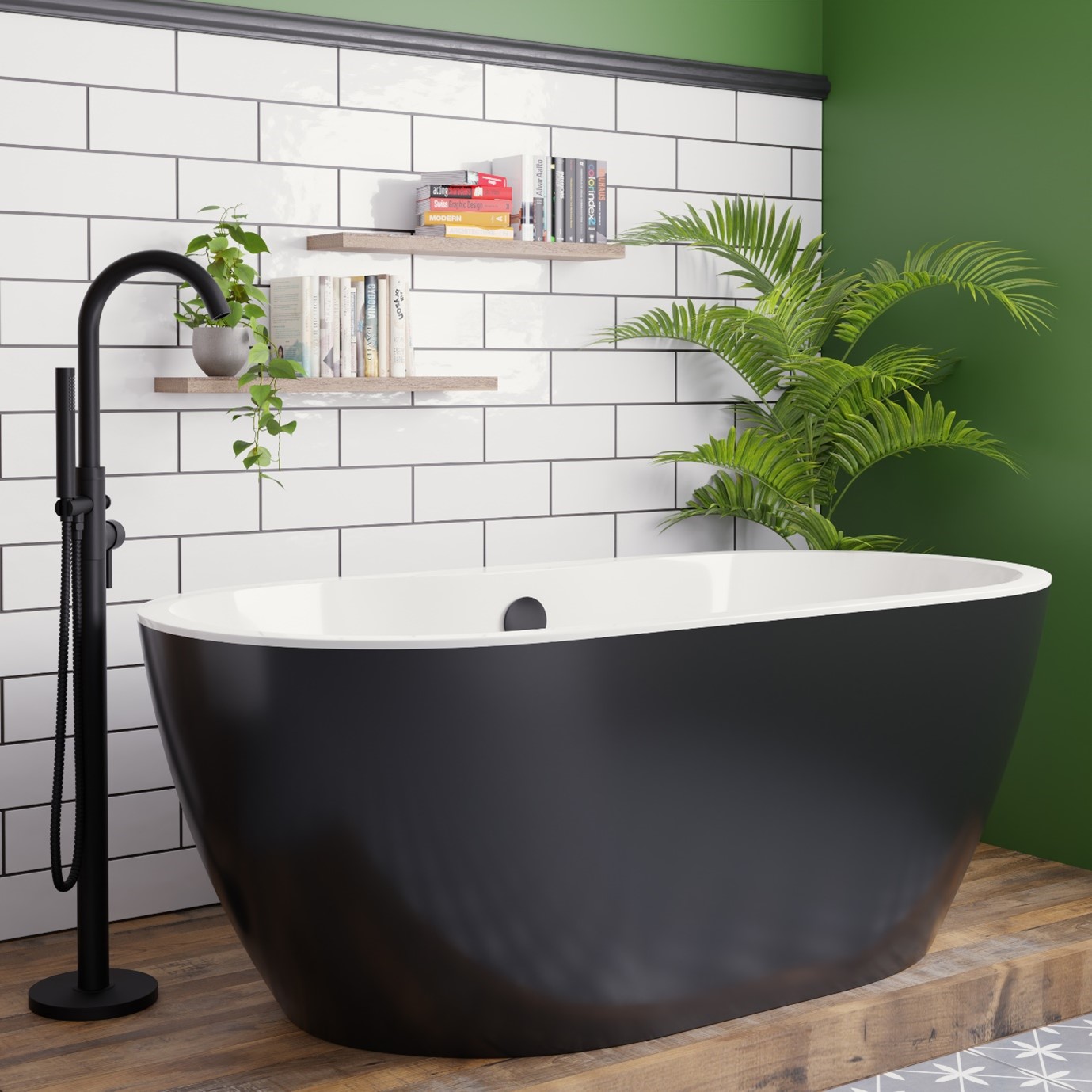 Shop Bath Taps Today
So, whether you're in the market for a full bathroom renovation or simply looking to upgrade your current bath taps, shop our full selection online today. From black bath taps, to brass bath taps and chrome bath taps in various types and styles, we're sure to have something to suit all bathrooms and budgets.