Posted by Francine Sweeney 7th Jan 2014
2015 is upon us and with many households opting to update their tired bathrooms; we decided to put together this helpful guide to take you through the basics of what you need to know before you begin.
So here it is, Wholesale Domestic's 10 tips to help you take the plunge…
First of all you need to know the width of your room. Use a tape measure and jot down the measurement; wall to wall.
Again do the same for the length of the room.
Take a note of the location of the window in your bathroom.
As well as the location of the door (from corner to door).
Next, find out the location of the WC waste pipe (i.e. wall or floor).
Is there a radiator in the room? If the answer is yes, then you guessed it you'll need to mark down where it sits.
Are you thinking about adding tiles to your new bathroom? If so, you'll need to measure from floor to ceiling and also decide where you want the tiles to start and stop.
Now, what about your shower? Will you have a shower mixer or an electric shower? If you decide to go for an electric shower then you'll need to know what KW your shower is running on.
Have you thought about accessories? The right accessories can add a sense of sophistication as well as practicality to a new bathroom – really think about this; they can make all the difference.
Lastly, breathe a sigh of relief the questioning is over! All you have to do is bring your plan in and let us create your dream bathroom, leaving you free to splash out on some new bubble bath and enjoy!
Planning a new bathroom can be slightly overwhelming at first, making sure that you've answered these questions will help you greatly in the initial planning stage, and will also ensure that you get the best possible layout for your new bathroom.
A top tip from our Showroom Manager Jamie Ross:
"Roughly draw the shape of your room on a bit of paper and write the dimensions on it like this, you don't need to sketch in your existing furniture just include the essentials above. This will give you a better sense of the space that you've got to work with, and will also give our team the information they need to help you get started."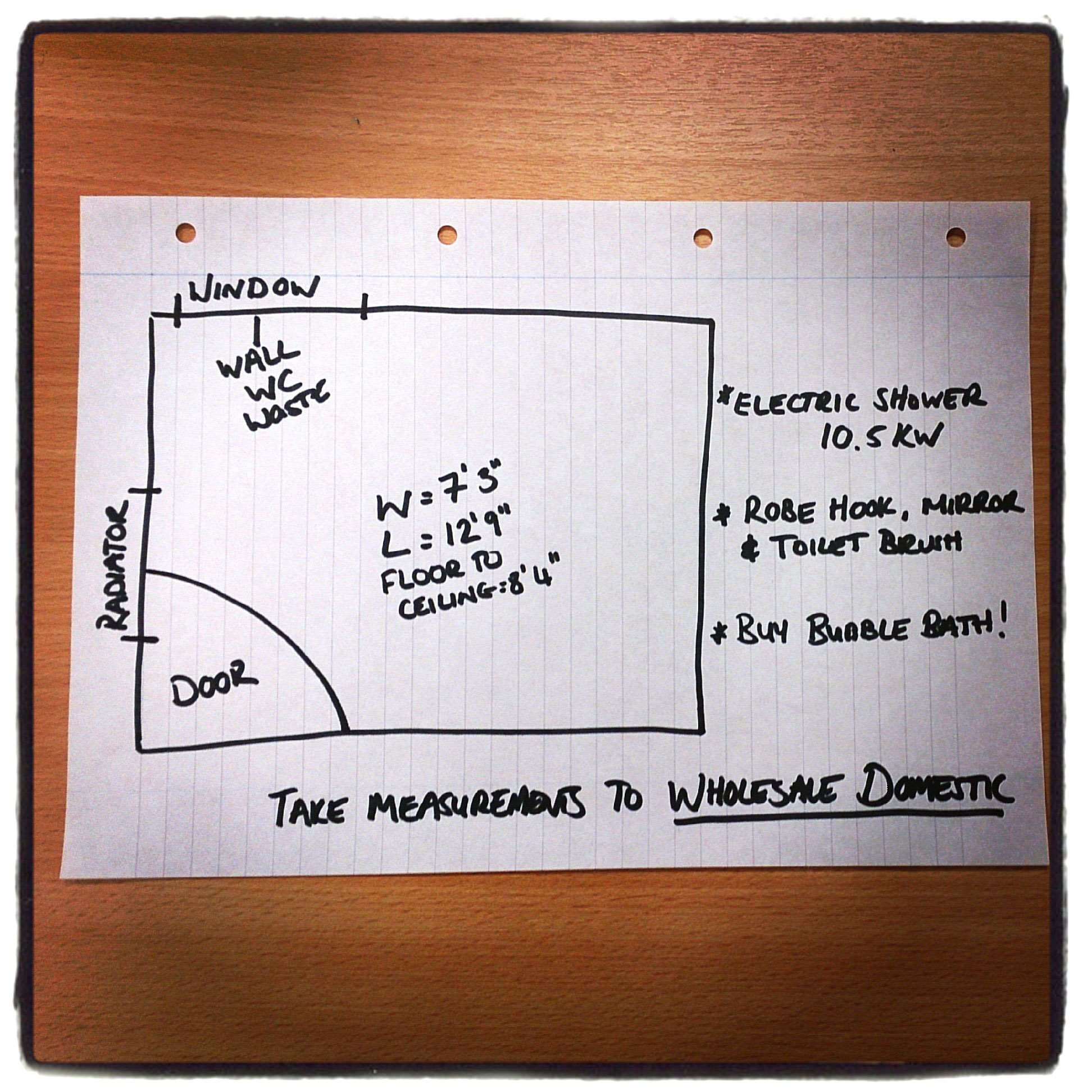 If there's anything you're not quite sure about why not contact us or visit one of our showrooms.