Posted by Kristin Kudeva 15th Feb 2023
When it comes to crafting a sleek, modern bathroom, black tapware is all the rage. Monochrome has taken the interior design world by storm, with many seeking a bathroom that uses one base colour before adding tones, hues, and shades of that same colour to create contrast. With an attractive matt black finish and sleek design, it's no surprise black taps have become a highly sought after feature.
Why should I choose black taps?
Black taps are:
Easy to clean
Aesthetically pleasing
Resistant to scuffs, scratches and fingerprints
Adaptable to changing trends
Black taps are perfect if you're looking to add something unique to your bathroom design. Matte black taps can transform a simple bathroom design into something stylish and contemporary. Taking the virtual interior design world by storm, black tapware is all the rage across Pinterest boards and Instagram feeds. Dipping your toes in this trend needn't cost the earth. At Wholesale Domestic, we have a selection of sunning matt black tapware at an affordable price. Here are some of our most appealing and budget-friendly options:
Black Basin Taps
One of our most popular options is the Colore Matt Black Mono Basin Mixer Tap thanks to its stunning contemporary finish. With well-defined lines, sleek design and slimline lever, it is the ideal option for most modern bathrooms. This tap is well-suited to most of our bathroom basins.
Highly versatile, this tap sits perfectly on most standard basins. It looks especially stunning paired with our City White Gloss Vanity Unit and Basin. Use this tap as part of a modern bathroom design for a sleek look that will stand the test of time. Paired with this vanity unit which includes two drawers for ample storage, you have the perfect sink unit.
For smaller basins such as those in cloakrooms, ensuites or tighter bathrooms, discover the Colore Matt Black Mini Mono Basin Mixer Tap. Enjoy all the benefits of the original version in a smaller, more compact basin mixer tap. Larger taps can often look out of place when fitted to smaller basins and have two high of a projection meaning water spillages. This matt black tap is the perfect solution.
Want to make a statement? Look no further than the Colore Matt Black High Rise Basin Mixer Tap. This tap features a high-rise design that's made exclusively to match a counter top basin. Both practical and fashionable, it has a chic and dramatic look that adds a stylish edge to your bathroom. This basin tap looks stunning when paired with any of our modern counter top basins. We've paired it here with our Rio Rectangle Counter Top Basin for a contemporary look.
Black Bath Taps

The Colore Matt Black Bath Filler Tap has a distinctive, elegant design that will complement your modern bath perfectly. This practical bath filler tap is both functional and stylish, adding a dramatic flair to even the simplest of baths. It's a stunning match for any of our modern baths. For a seamless finish, this tap also coordinates perfectly with any of our Matt Black Basin Taps, allowing you to easily coordinate your matt black fixtures.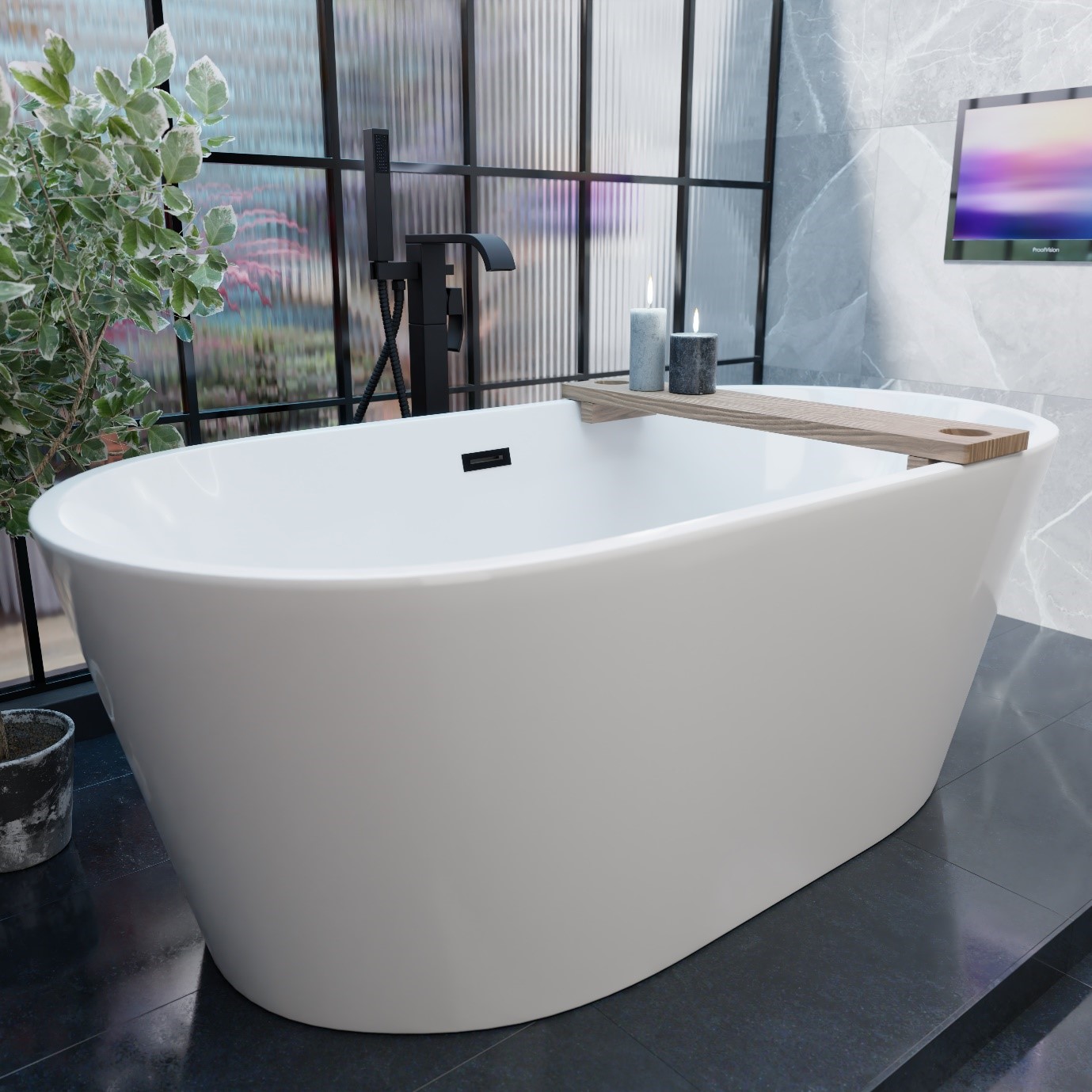 The Colore Matt Freestanding Bath Shower Mixer Tap is the standout product of our black tapware range. Made solely for use with freestanding baths, this elegant tap makes a strong visual statement. This freestanding bath tap features a unique and eye-catching shape. A single square column is topped off with a distinctive arched mixer design. This stunning tap adds an air of sophistication and glamour to any bathroom. We've styled up this striking tap with our Luxor White Double Ended Freestanding Bath for a luxurious modern finish.
Black Shower Valves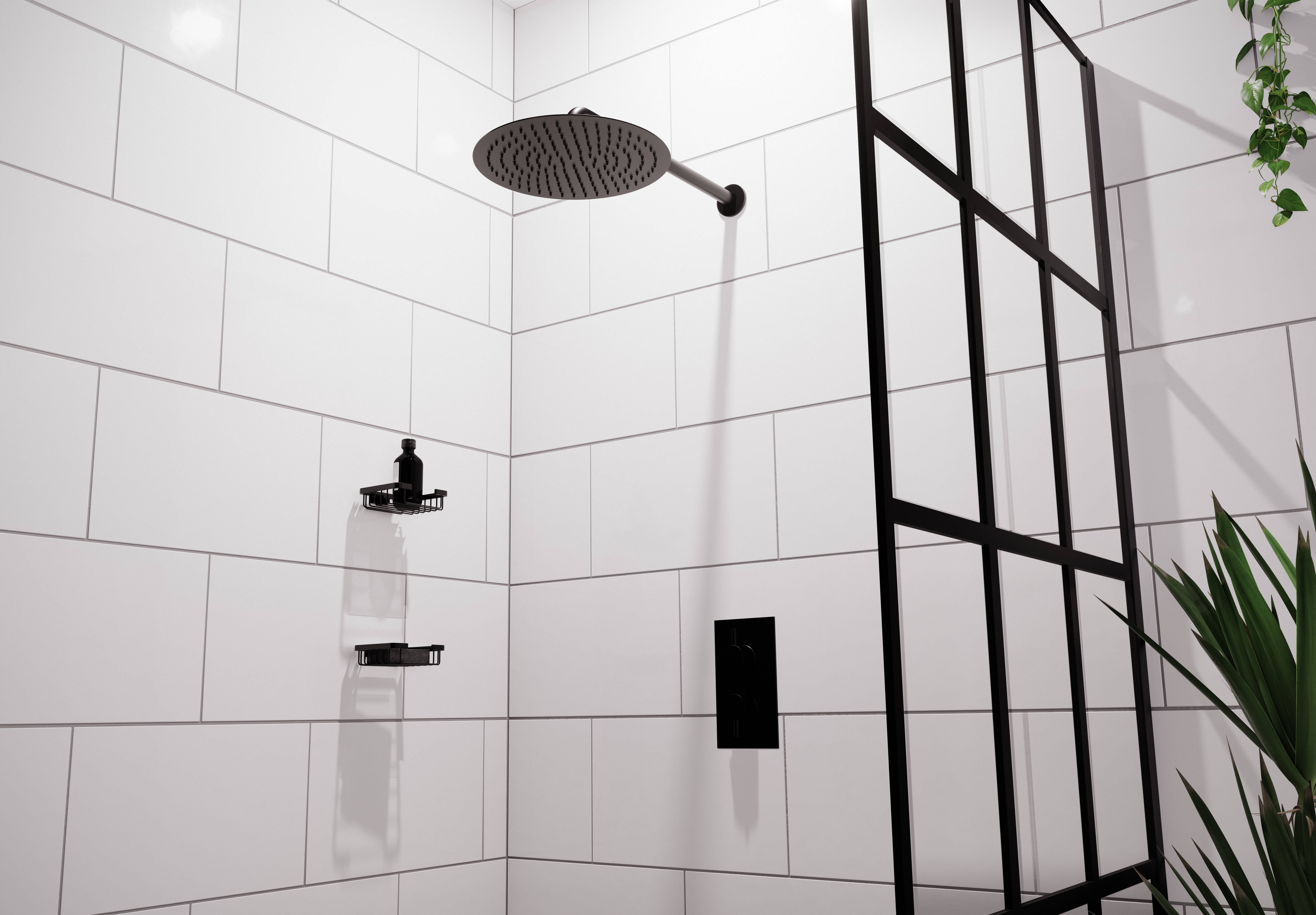 Level up your showering experience with our Matt Black Twin Shower Valve. This stunning shower essential can be easily matched with our wide selection of Matt Black Shower Heads. The round valves control both the temperature and water flow giving you your best showering experience yet. Using thermostatic technology, the shower valve regulates the water temperature to the perfect heat, preventing scalding and unnecessary accidents.
To create the ultimate shower enclosure, take a look at our Black Framed Walk In Glass Shower Screen. This stunning screen is a bold statement with its black frame panel effect and single piece of 8mm toughened safety glass. This screen is the perfect way to get a dramatic interior that feels light and airy, and features an exclusive black wall profile that adjusts to out of true walls.
Or do you need a matching shower enclosure? You'll love the Matt Black Hinged Door Shower Enclosure. Enjoy all of the design benefits of the walk in screen in a convenient enclosure perfect for smaller spaces or those who prefer an enclosed showering experience.
How do I clean black taps?

Black taps might seem intimidating when it comes to cleaning, but it's actually very straightforward. Simply clean with mild soapy water, then dry gently to avoid water marks. Steer clear of using any abrasive cleaners or strong chemicals to avoid scratching the matte surface. For daily dust and dirt, wipe down with a microfiber cloth to keep your black taps looking good.
Browse black bathroom furniture at Wholesale Domestic
Discover our range of black bathroom furniture to build your dream bathroom today. Whether you're looking for striking taps for your bath or basin, a gorgeous shower enclosure or walk in shower screen, we've got everything your bathroom needs. It's time to get onboard with the trend that unlike many others, will stand the test of time.