Posted by Sarah Kielbasiewicz 19th Jul 2018
Hotel-inspired bathrooms are a big trend in 2018, and it's not hard to see why. Once upon a time, bathrooms were seen as purely functional. But now, in an age of self-care, we're all looking to add a touch of luxury to our homes and create relaxing spaces where we can indulge ourselves. And what better way to create a luxe bathroom at home than to take some inspiration from luxury hotels.
So, without further ado, here's a few ways to create a hotel-inspired bathroom at home.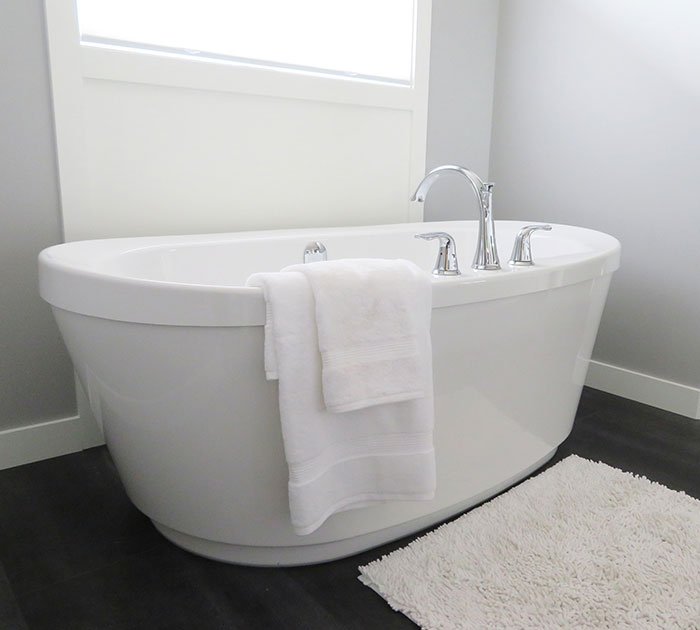 Bathe in Style
Something that luxury hotels usually have in their bathrooms is a stylish bath. Luxurious baths are a big thing in hotel bathrooms, often found situated dead centre in the middle of the room, and/or facing a large window with a staggering ocean view. Now, most of us aren't blessed with an ocean view, nor do we have bathrooms large enough to place baths in the centre of the room (without having to climb over it just to get to the toilet). But the bath itself? The bath is something most of us can do.
Freestanding baths are a big trend in hotel bathrooms, and nowadays are actually more affordable than you might think. If you've got the space for one, these are a great option that will create a stunning statement in your bathroom. If you're lacking in space, that's okay! Whatever type of bath you go for, the primary thing it should be is spacious. If you don't have the room for a larger bath, you could also choose a slim edge bath in a standard size; you can get the luxurious feeling of a spacious bath, without taking up too much room.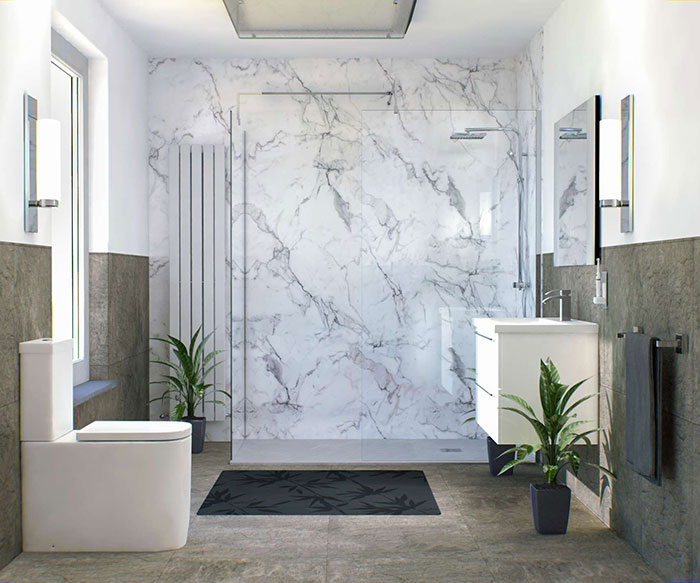 Walk-in Shower
If you're not so keen on baths, you can still create a luxurious bathing space. Walk-in showers are commonplace in luxury hotels; the spaciousness of a walk-in shower adds to the lavish feel that's characteristic of hotel bathrooms.
Opt for a waterfall-effect shower head to achieve an elegant look and luxe feel. If you really want to amp up the relaxation factor, you could choose a stylish shower panel, which comes complete with a waterfall-effect shower head and luxurious body jets, for the ultimate relaxing experience.
Wood Furniture
Wooden furniture is a popular choice in hotel bathroom design, as it adds to the calming, relaxing vibe that hotel bathrooms are known for. Units in a dark wood finish are a great option for creating a luxurious, opulent appearance.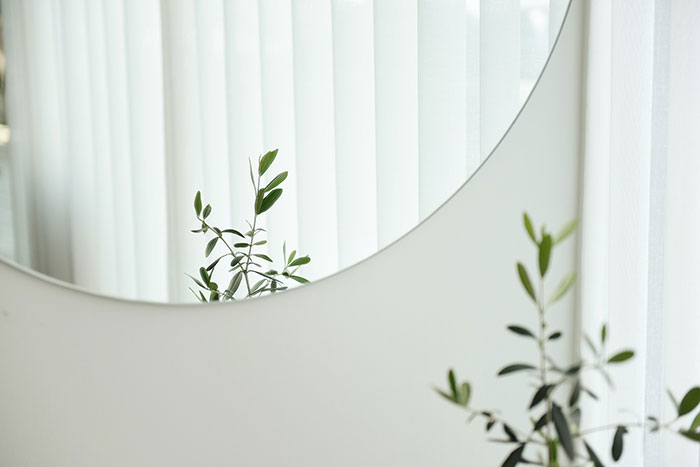 Mirror, mirror
Adding in a large wall mirror is a great way to create a hotel-inspired look in your bathroom. You can opt for something simple for a minimalist look, or choose a more detailed and ornate design for a touch of luxury. Either way, a large mirror is great for creating the illusion of space and adding a luxe look. Another great option is to choose an illuminated mirror for an extra glamorous feel.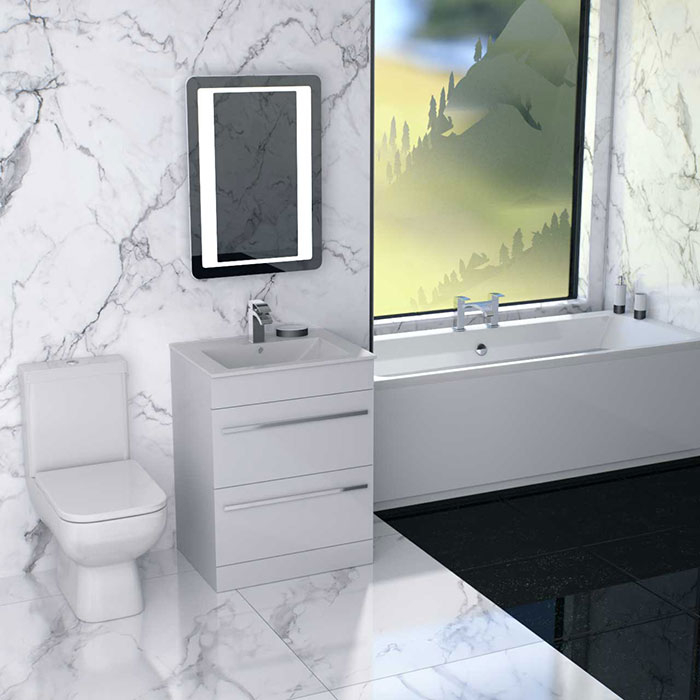 Tiles all over
Hotel bathrooms tend to opt for tiles to create a luxurious look, that's also cost-efficient and easy to clean. A popular look is matching floor and wall tiles, which maximises the appearance of space and creates a cohesive look. Opt for a neutral tile to keep a relaxing feel, or amp up the luxury and go for marble tiles. Alternatively, you could also choose marble effect wall panels to create an elegant look without the eye-watering cost or high maintenance that comes with real marble.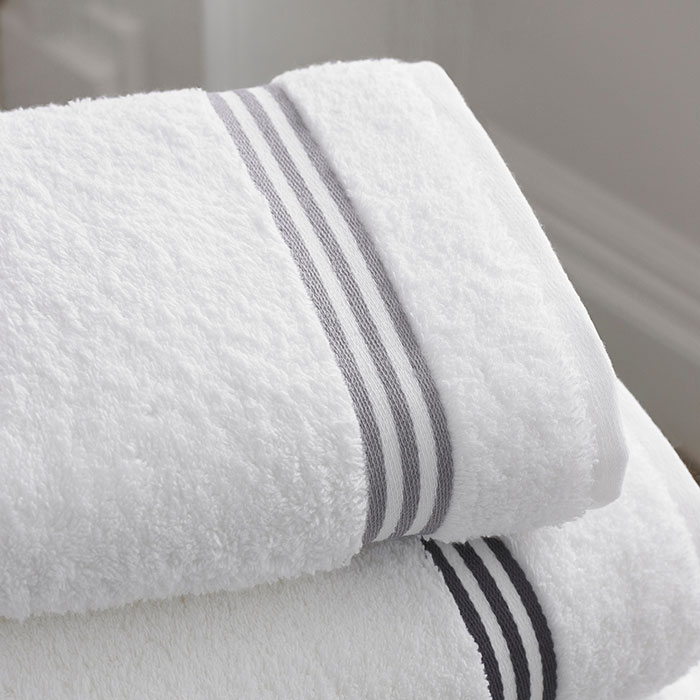 Towels
For one last finishing touch, upgrade your old, mismatched towels for a brand-new, matching set of luxurious, high quality towels. White towels are a staple in hotel bathrooms and are a great option for creating that luxe, hotel-inspired look. You could even go all out and treat yourself to a white towelling dressing gown. Alternatively, if you're doubtful that you can keep those white towels looking bright, you could opt for towels in navy or grey. These still create a luxurious look, but without the maintenance of white towels.
So, there we have it. Our top tips for creating a hotel-inspired bathroom at home. Would you go for a hotel-style bathroom?