Posted by Sarah Kielbasiewicz 27th Sep 2018
Marble has become a massive trend in interiors in the last few years, so it should be no surprise that marble is a popular choice in bathroom design. Marble is perfect for creating that luxurious and lavish look that we all dream of for our bathrooms. But I'm sure you know the catch; real marble can be eye-wateringly expensive. Most of us just can't afford to spend their life savings on marble floors for their bathroom. Luckily, nowadays there are plenty of more affordable options for getting the marble look (that don't require taking out a second mortgage to pay for them!). So, without further ado, here are our tips for creating a marble bathroom on a budget!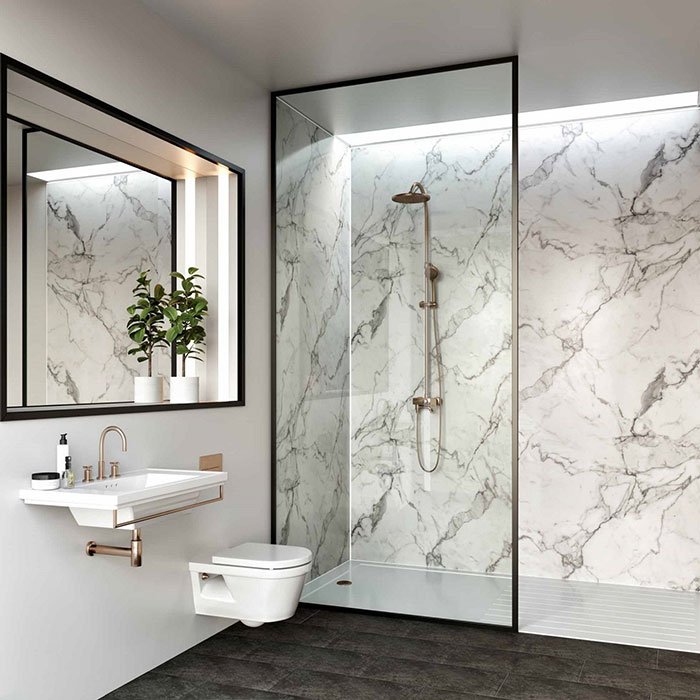 Marble Wall Panels
If you love the look of marble, but find yourself fainting at the hefty price tag, wall panels could be a great alternative option for you. Marble effect wall panels are available in a variety of different effects and colours. Different patterns are available to give the effect of different finishes of marble.
A calacatta marble effect wall panel, like this one, is a popular option. Calacatta marble is probably where your mind goes first when you think of marble. It's a classic option, so it's not surprising that wall panels with this effect are very popular. A calacatta finish gives an authentic look and is very on-trend.
If you're not keen on the calacatta finish, there are other options that incorporate the trend. A black marble wall panel is great for adding a more dramatic look. Alternatively, a smooth white marble effect, like this one, will add a luxurious feel and never go out of style.
These wall panels will look great anywhere in the bathroom. They look stunning when used all over the room as a full wall covering. Another great option is to keep them contained to your shower enclosure, which will give the look of a marble shower but without the bothersome maintenance.
Marble effect wall panels may not have the same luxurious feel as real marble, but they do have some added benefits. As well as being much more affordable, they're far easier to maintain than real marble. Cleaning is quick and easy, and you don't have to worry about any stains or chips.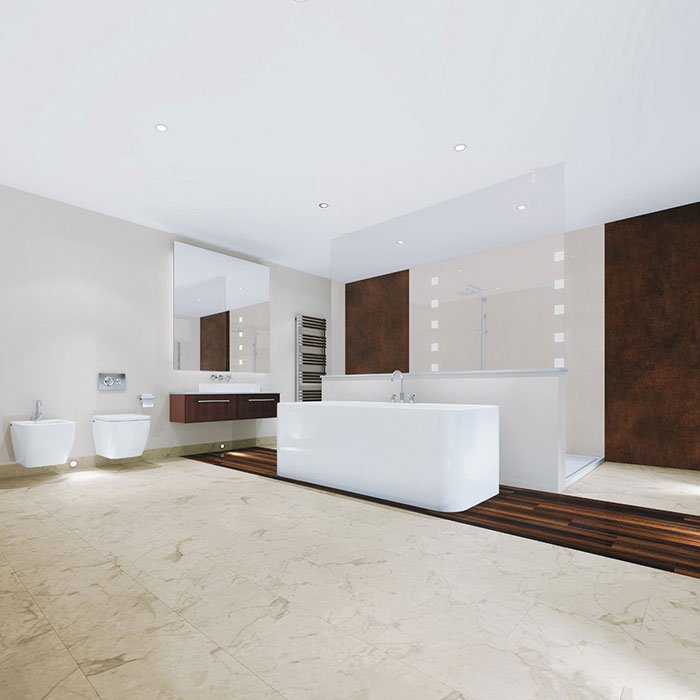 Vinyl Flooring
To get the look of marble flooring, marble effect vinyl floor tiles are a great option. Available in different colours, these give the appearance of square marble tiles with grout, but without the gruelling maintenance. Marble effect vinyl floor tiles are also available as larger, interlocking floor tiles. These give a seamless appearance that's reminiscent of a real marble floor.
Much like wall panels, vinyl floor tiles won't have the same luxe feel as real marble does. However, they do have the benefit of being far more low maintenance. Not only do they help you avoid the arduous task of scrubbing grout lines for hours on end, they also quell any worries about accidental damage. Real marble flooring tends to come with the negative point of additional worry that it will be damaged. Drop something particularly heavy, and you could be left with a sizable chip in your beautiful marble floor (a sobering thought, indeed). With vinyl flooring, there is little to worry about and, if on the off chance it ever does get damaged, it's pretty simple and inexpensive to replace.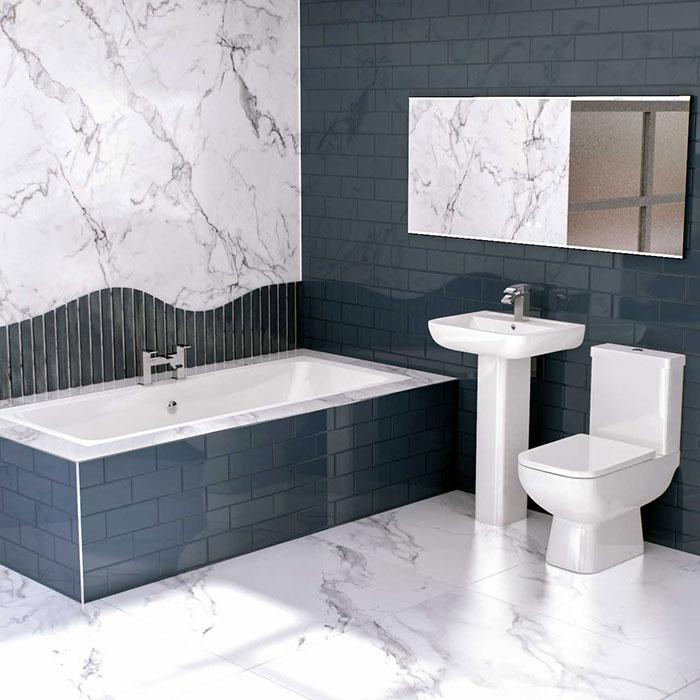 Tiles
If you're not as keen on wall panels or vinyl flooring, marble effect porcelain tiles are another great option. Porcelain tiles are a much more affordable option than real marble, but feel more similar to the real deal than vinyl or laminate materials.
Porcelain tiles can be used anywhere in the bathroom, from the floor to the walls. Pair white marble effect tiles like these with white grout for a classic appearance, or opt for dark grey grout to create a more contemporary look.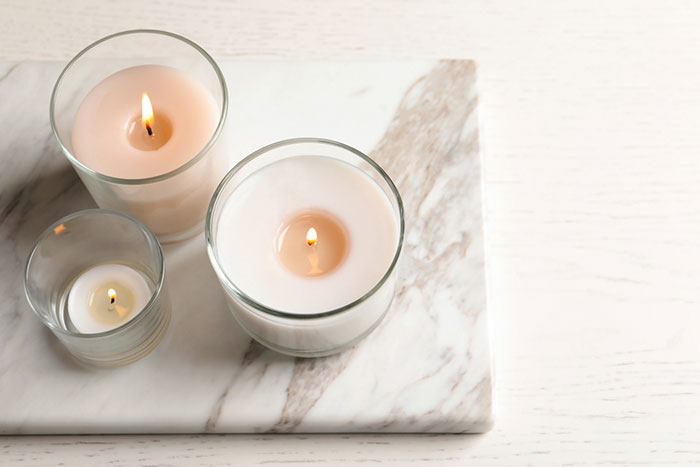 Accessories
For those of us who aren't ready for a full renovation, there are other ways to incorporate marble into your bathroom. Use marble as an accent pattern and choose marble accessories, like soap dishes, tumblers and toilet brush holders. Small accessories like these are available in genuine marble, and are often more affordable than you might think. Alternatively, you could opt for accessories in faux marble, which are available all over the high street. You can even find faux marble accessories in the homeware section of your local supermarket.
Another way to incorporate marble as an accent in your bathroom is to opt for marble patterned textiles. A marble patterned shower curtain is a great way to add the trend into your bathroom décor. You can also find other textiles like towels, bath mats and even toilet seat covers in marble patterns.
And there we have it. How to create a marble bathroom on a budget. What do you think of the marble trend? Would you try out any of these ideas?