Posted by Sarah Kielbasiewicz 29th Nov 2018
Minimalism has become a huge trend in bathroom design in the last few years.
The driving mantra behind minimalist décor is "less is more". The simple, clutter-free appearance of this style is great for turning your bathroom into a tranquil, relaxing space. Tidy home, tidy mind.
This understated style of décor is perfect for those with small bathrooms and helps to make any room feel more spacious.
So, on that note, let's talk through our top tips for creating a minimalist bathroom design.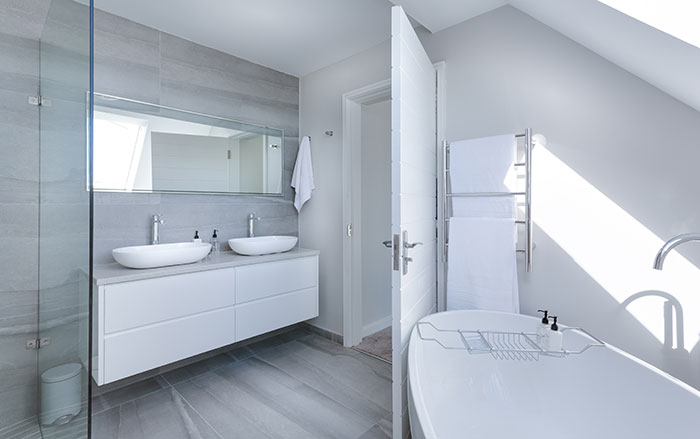 Choose your colour wisely
Colour is a vital factor in minimalist bathroom design. It's important to keep the colour scheme light and fresh.
Neutral colour schemes are a common feature in minimalist interiors. An all-white colour scheme is perfect for keeping the room looking airy and bright and provides a blank canvas for your simple bathroom design. If you're not keen on white all over, you could also go for grey or black to add dimension to the room.
If you're not willing to give up colour entirely, you could opt for a single feature wall in a more colourful shade. Light blue shades work well here, as they add a splash of colour without taking away from the clean look.
The real key here is to keep things simple. Don't add too many different shades and tones into your colour scheme. To keep things cohesive, two main colours is plenty.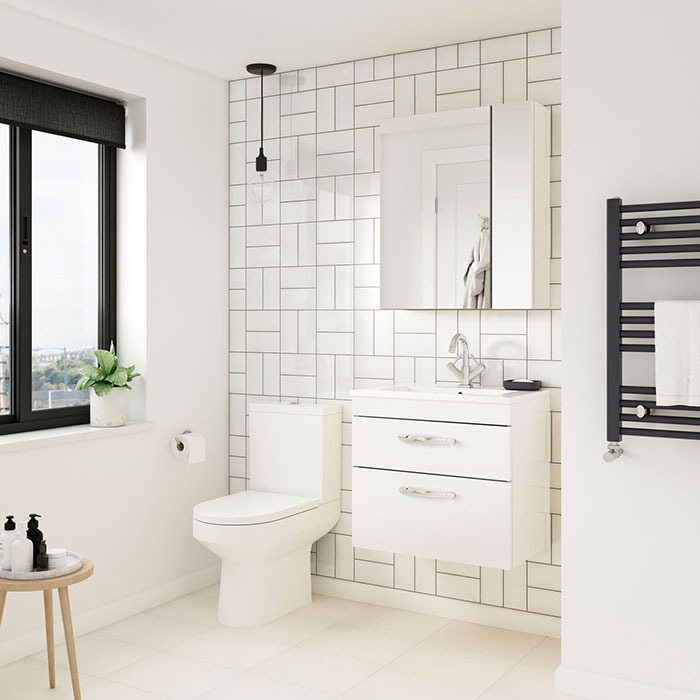 Simple tiles
When it comes to tiles, simplicity is best. Opt for plain tiles for the walls and floor. Avoid heavily patterned tiles, as these can overpower the room and detract from the minimalist theme.
Plain, block colour tiles don't have to be boring. Choose geometric tiles in neutral colours to add visual interest, while still keeping the room understated. A classic metro tile is a popular choice that always works well and can be lain in various fashions to create different effects.
Alternatively, you could opt for tiles with a hexagon pattern to add interest while still keeping a minimalist appearance. Opt for geometric tiles in a neutral colour, like white or grey, and combine with grout in a matching colour to keep the look subtle.
Eliminate clutter
Minimalism is all about keeping things simple and clutter-free. So if you want to opt for a minimalist bathroom design, you have to embrace minimalism. That means banishing all unnecessary clutter. Get rid of anything in your bathroom that you don't need, and be ruthless. Out of date toiletries? Gone! Old razors? Gone! That face cleanser you don't actually like but keep anyway because it was so expensive? Get rid!
When you get rid of the unnecessary clutter, your bathroom will already start to feel like a tidier and more relaxing space.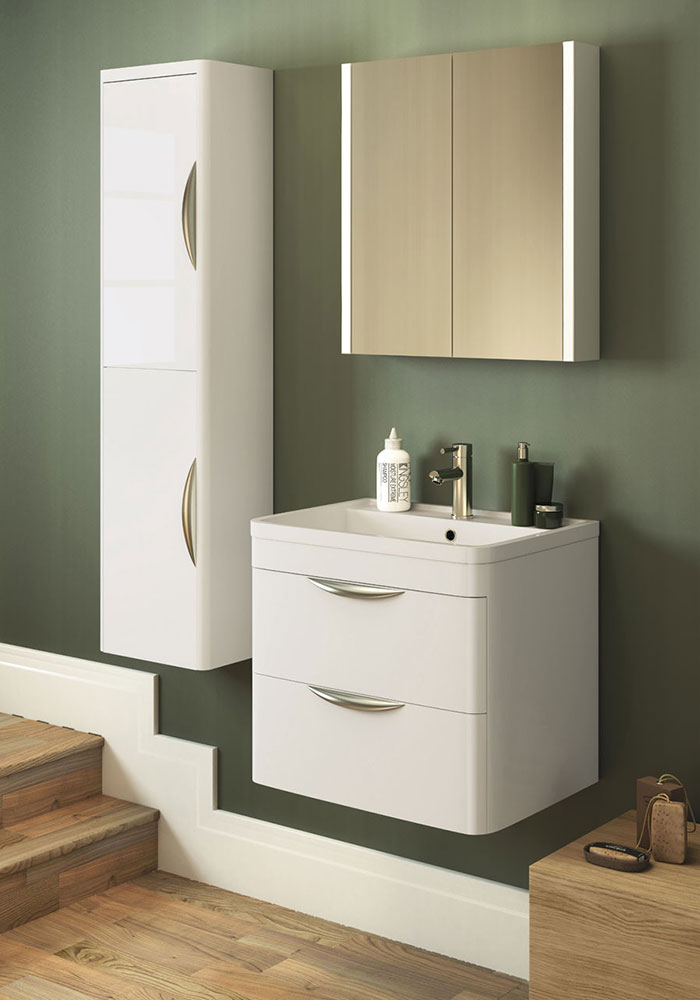 Add storage
You want all your exposed surfaces to be as tidy and clutter-free as possible, and the key to doing this is storage. Add in clever storage furniture to keep all of your essentials stored away and your counters clear.
However, don't go overboard here. Too much bulky furniture can take away from the minimalist appearance we're going for, especially if your bathroom is on the smaller side. The trick here is to only buy as much storage as you need. Keep the amount of furniture in the room to a minimum. Multi-purpose furniture, like basin vanity units, are a great option here.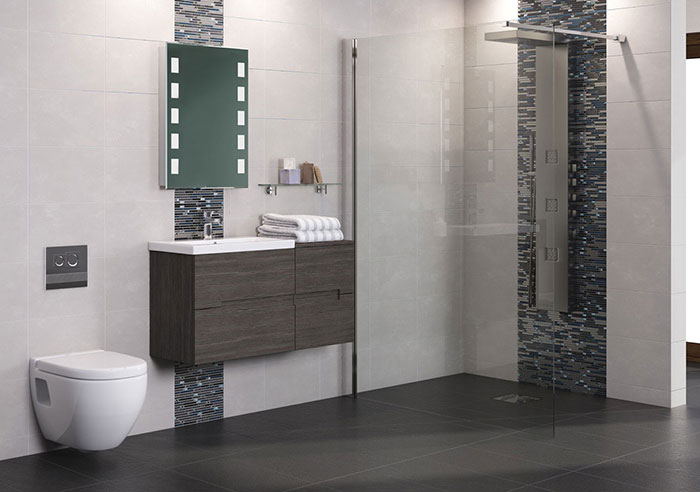 Modern fixtures
Minimalist décor tends to heavily feature modern furnishings. Opt for contemporary, understated fixtures to complete the look. Wall hung fixtures are perfect for achieving a minimalist appearance. Wall hung vanity units create a floating effect that create the illusion of a bigger bathroom. Wall hung toilets and basins are also good options; these hide away bulky plumbing and give an overall sleek and simple appearance.
Traditional shower enclosures can appear bulky. Opt for a walk in shower or, even better, a wet room instead. Pair with a simple glass wet room screen to achieve an understated appearance.
Another good tip here is to build fixtures, like shower enclosures and baths, into recesses in your bathroom. This helps to create the illusion of more space and keeps your bathroom looking uncluttered.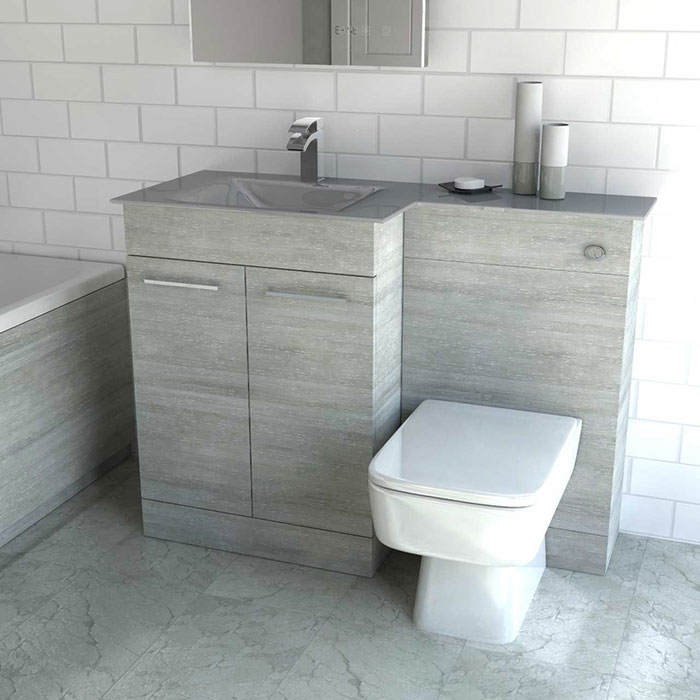 Create contrast
Choose stylish, contrasting décor to stop the room from looking too clinical. Opt for black taps, like this one, to make a bold statement and add extra style to the room, without adding in unnecessary clutter.
Another option is to choose furniture in light wood; this will add life to the room, while still keeping the look light and open.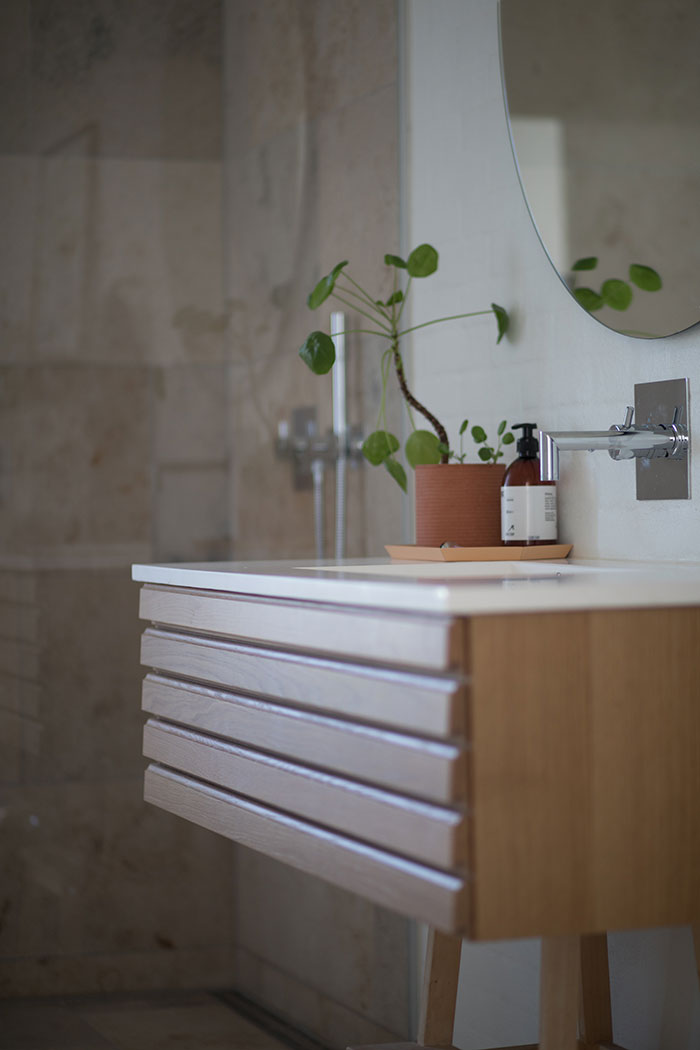 Simple décor
The final touch to your minimalist bathroom design? The décor! And when it comes to minimalist décor, less is definitely more.
The majority of your decorative items should have a purpose beyond décor. Add in a stylish waste bin or laundry basket. You could also opt for a contemporary heated towel rail in a stylish design; this can act as decoration, as well as a source of heat.
Add a large wall mirror to decorate. Make sure to choose one with a simple, modern design. As well as adding style to the room, it will help to create the illusion of more space.
Finish off with a few decorative touches, like a single houseplant or a few personal ornaments. Just make sure you don't go overboard. Have you ever heard that Coco Chanel quote? "Before you leave the house, look in the mirror and take one thing off"? Well, the same applies to minimalist interior styling. When you think you've finished decorating and added enough ornamental trinkets, take a good look and remove an item or two. Less is more.
And there we have it. Our tips for creating a minimalist bathroom design. Would you try out the minimalist trend?