Posted by Kristin Kudeva 19th Dec 2022
Modern bathroom trends may come and go, but one kind of décor that seems to have stood the test of time is Victorian style. Originally built to be purely functional, Victorian bathrooms had a stunning, ornate look that has remained prevalent to this day. In an era where we all crave a Pinterest-worthy home, Victorian-inspired bathroom design is incredibly popular.
But how do you get the look? What exactly do you need to create your own Victorian bathroom? Well, whether you simply want to take some inspiration from the period style, or you want your bathroom to feel like you stepped into 1896, we've got you covered. So, on that note, let's talk about how to create a Victorian-inspired bathroom.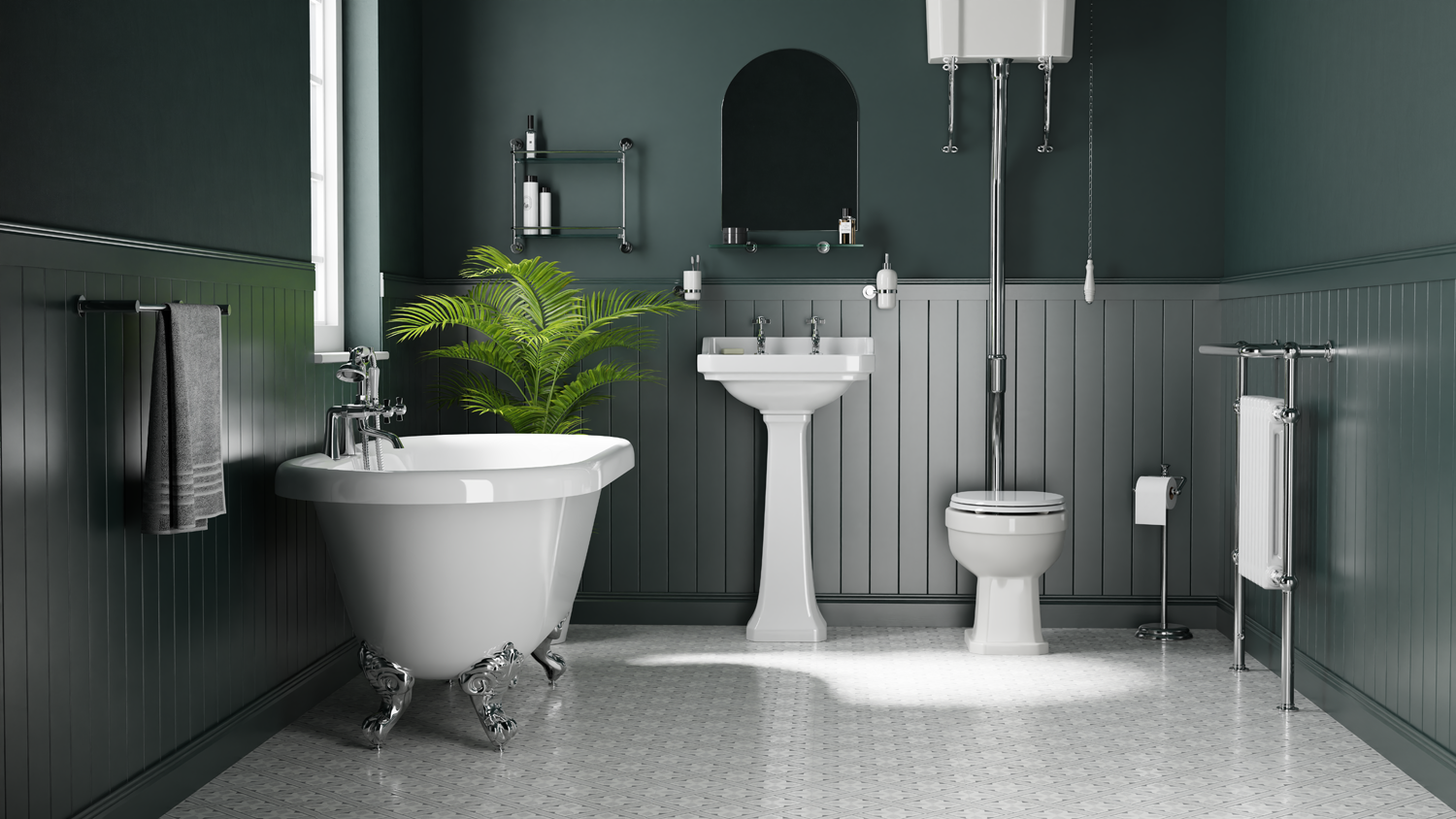 Traditional Toilets
A high level toilet is perfect for achieving a Victorian-inspired bathroom design. A high-level toilet consists of a cistern that sits high on the wall, and a toilet pan which are connected by a flush pipe. A pull chain is attached to the cistern for flushing. High-level toilets were a prominent feature in Victorian bathrooms. Though they can be more expensive than a close coupled toilet, a high-level toilet is the best choice for those seeking an authentic Victorian look. Low level toilets are also available; these are similar to high level toilets, but the cistern sits lower on the wall. A low-level toilet is a good alternative for those who want the traditional appearance of a high-level toilet, but don't have enough height in their bathroom to accommodate one.
For those who aren't keen on high level toilets, or don't have the wall space to accommodate one, there are other options for achieving a traditional appearance. Close coupled toilets are available in traditional designs that fit in nicely with a Victorian-inspired bathroom. Make sure to opt for one with a flush lever, as opposed to a flush button, to maintain the traditional appearance.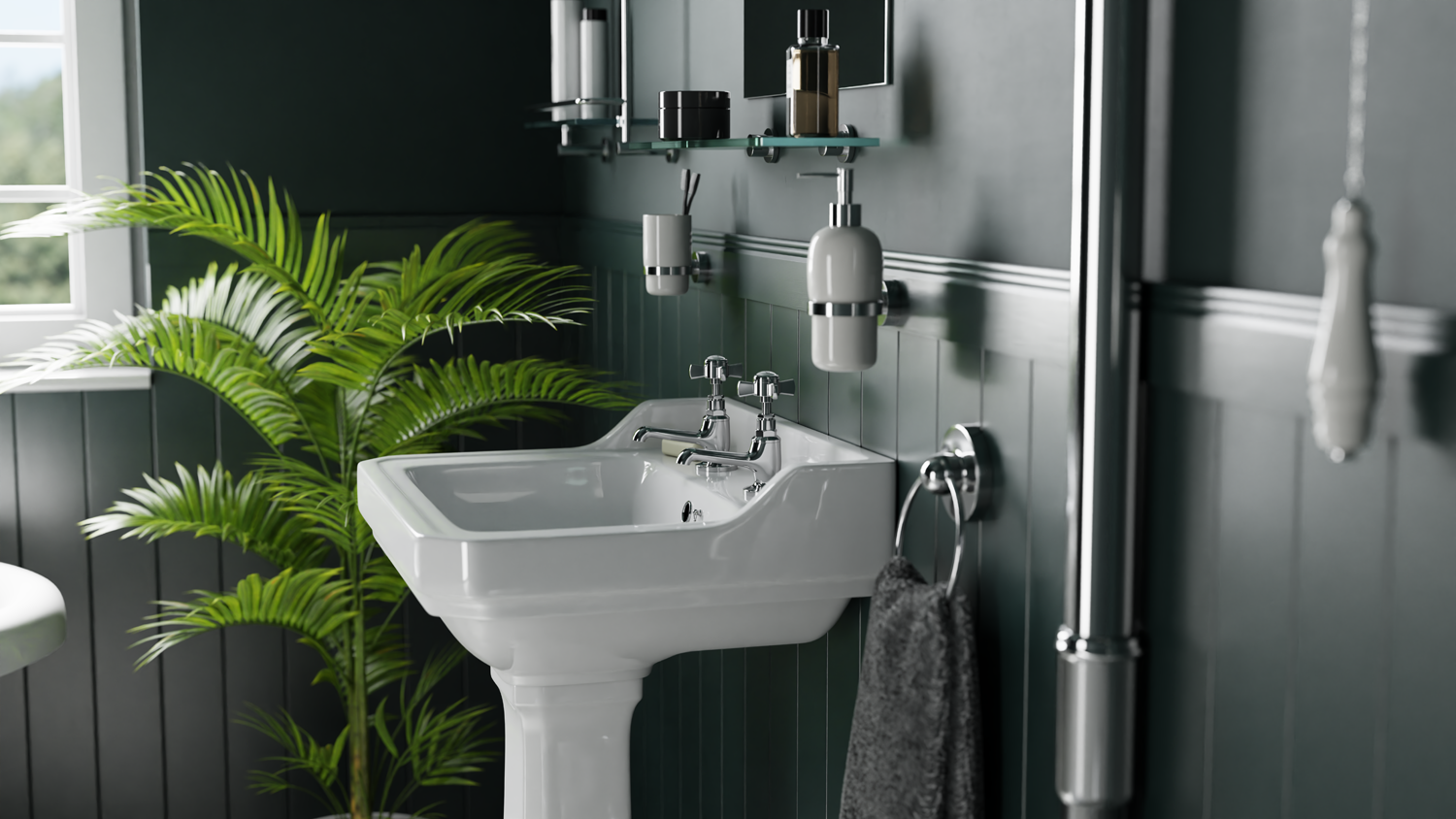 Vintage Basins
Washstands were a staple item in Victorian bathrooms. Washstands can be found ready-made here.
Alternatively, there are pedestal basins available in traditional designs that blend well with Victorian-inspired décor. These are available separately, or as part of a toilet and basin set to make your bathroom renovation even more simple.
Whichever type of basin you choose, it's important to choose the right taps to go with it. Make sure to choose traditional taps to match your Victorian-inspired basin. When it comes to Victorian style, two taps are better than one. A two-tap basin was the standard in Victorian bathrooms, so opt for a pair of taps, like the Windsor Traditional Polished Chrome Basin Taps Pair, to achieve the most authentic look.
However, if you prefer a mixer tap, there are other options that will give a similar look. Mono basin mixer taps are available in traditional designs to fit with a Victorian theme. Another great option is a 3 tap hole basin mixer, which comes with two separate controls and a central spout. This gives a very similar look to Victorian taps, with the modern functionality of a mixer tap.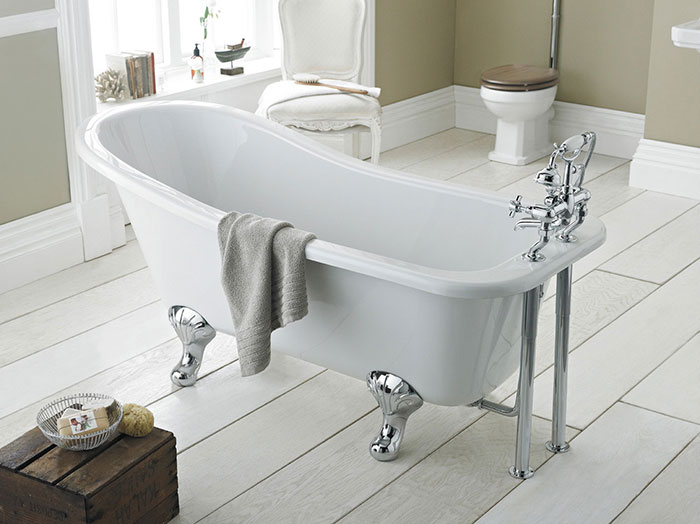 Victorian Baths
The main focal point of a Victorian bathroom was generally the bath. Freestanding baths were a popular style, particularly roll top slipper baths. Traditional slipper baths are widely available, so it couldn't be easier to replicate this style. Make sure to opt for one with traditional feet to match the Victorian theme.
If a freestanding bath is out of reach, a simple straight bath can also be used in a Victorian-inspired bathroom. Simply add traditional bath panels; these are available in various colours to suit you and have a vintage appearance that will match a period design.
Two tap systems were the most commonplace choice for Victorian baths, so a double tap is the best option for an authentic Victorian look. Alternatively, you could opt for a traditional bath shower mixer tap, such as the Windsor Traditional Polished Chrome Bath Shower Mixer Tap with Shower Kit. This type of tap offers a stunning period look, as well as the modern functionality of a mixer tap and shower handset.
If you've chosen a freestanding bath, a freestanding bath shower mixer tapis a stunning option. This tap features a double metal column design and is made exclusively for use with freestanding baths. The gorgeous vintage design fits well with the Victorian theme and adds a feeling of luxury to the room.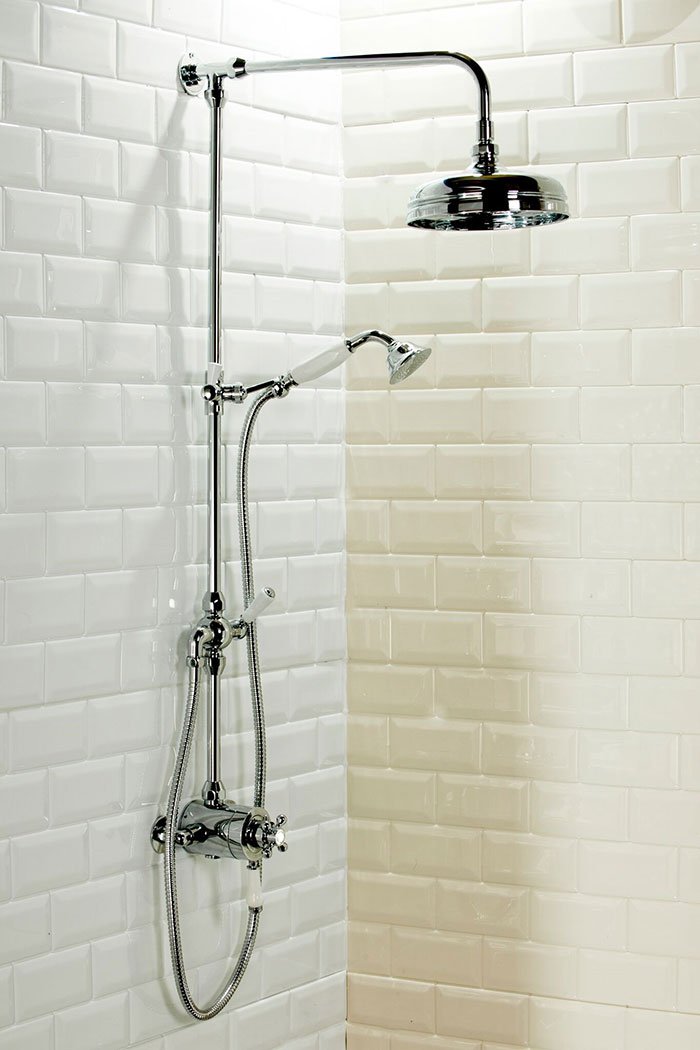 Vintage-Inspired Showers
Showers obviously weren't commonplace in Victorian bathrooms. However, this might be one of the areas where you simply want to take inspiration from Victorian bathrooms, rather than replicate one completely. It may not be authentically Victorian but, in this day and age, it's probably unrealistic to expect someone to omit a shower from their bathroom entirely.
Fortunately, there are ways to add a shower to your bathroom, without compromising on the Victorian-inspired décor. A shower bath is a great option that will allow you to keep the traditional appearance, more so than a modern shower enclosure. Alternatively, you could install a walk in shower or wet room with a simple glass screen; this would allow you the convenience of a modern shower, without obstructing the vintage appearance.
As for choosing a shower, a traditional thermostatic rigid riser shower, like the Windsor Polished Chrome Exposed Thermostatic Shower Valve and Rigid Riser Kit with Diverter is ideal for a Victorian bathroom. The traditional design mixes well with Victorian-inspired décor.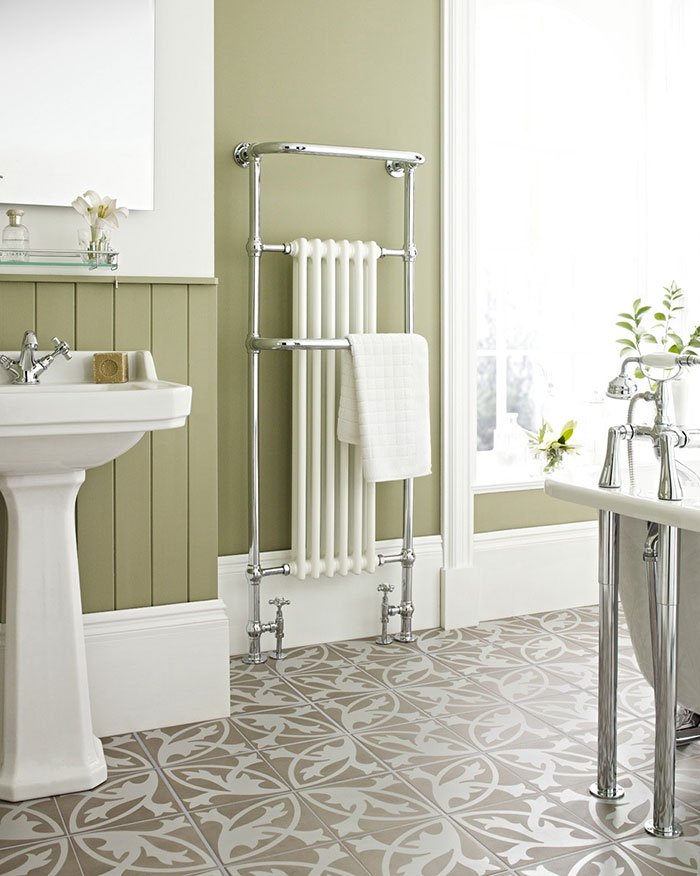 Traditional Radiators
Radiators were a staple item in many Victorian bathrooms. In fact, the Victorian era was the period when radiators started to become decorative items, as well as functional ones.
A traditional radiator is a great option that adds to the Victorian appearance. It also has the added bonus of being highly functional, with a design that's perfect for hanging towels to dry.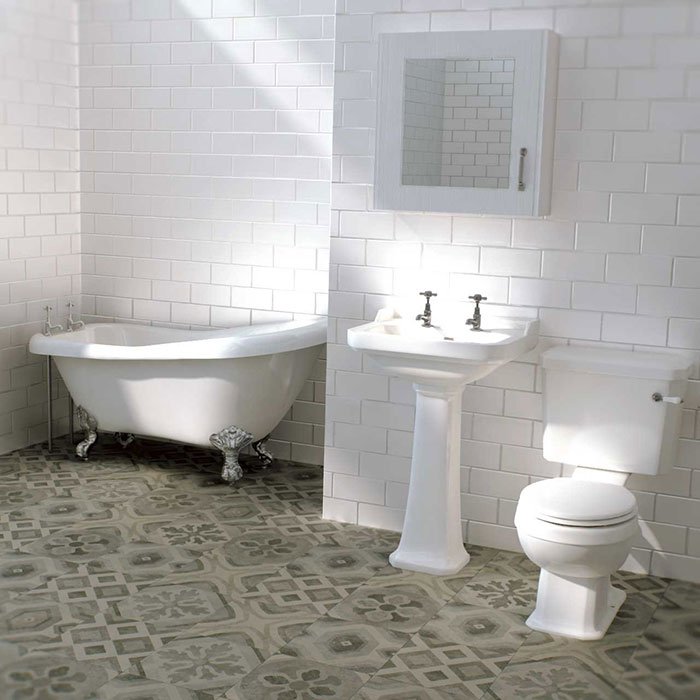 Victorian Tiles
Tiles are something that can make or break your bathroom design. A bathroom with stunning Victorian fixtures can be spoiled by the wrong choice of tile.
Wooden floors were commonplace in Victorian bathrooms, particularly during the early Victorian period. A modern way to replicate this is to opt for wood effect tiles to get a similar appearance, without the hassle of trying to maintain real wooden flooring in a humid bathroom.
Towards the later Victorian period, the wooden bathroom floors gave way to more functional floor tiles. Heavily patterned tiles were a popular choice in Victorian bathrooms, particularly for floors. Opt for a bold patterned tile to replicate the look.
For walls, the best option in a Victorian-inspired bathroom is to keep it simple. Opt for plain square tiles or metro tiles. Basic colours like black, white or grey work well here, but you could also opt for plain tiles in a bold colour, like green or blue, to create a dramatic look.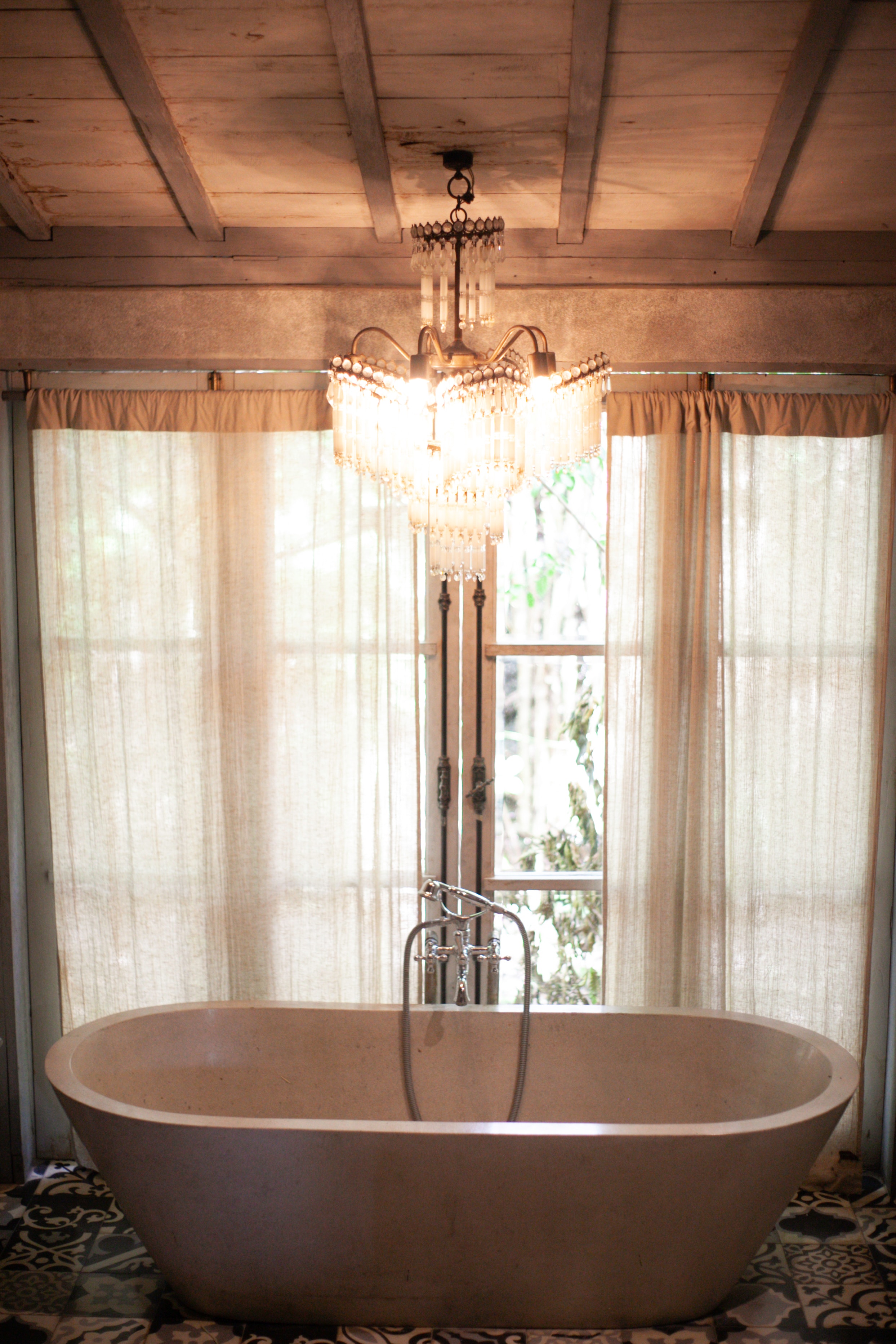 Traditional Bathroom Lighting
To ensure your bathroom is bright and well-light, you will need to choose light fittings that suit period bathrooms. One light source such as a ceiling light or a wall light will probably provide enough light in a small bathroom or en-suite, however, sometimes layering the lighting by adding more sources can give your room more dimension, making it appear larger.
For example, opulent chandeliers are a great statement lighting that will make your space more welcoming and will perfectly suit the timeless elegance of the rest of your bathroom. The Forum Spa Pro Annalee Polished Chrome/Clear 600mm 8 Light Chandelier is a designer crystal chandelier with a glamorous look and a polished chrome frame that will fit in perfectly with the rest of your Victorian bathroom furniture style products.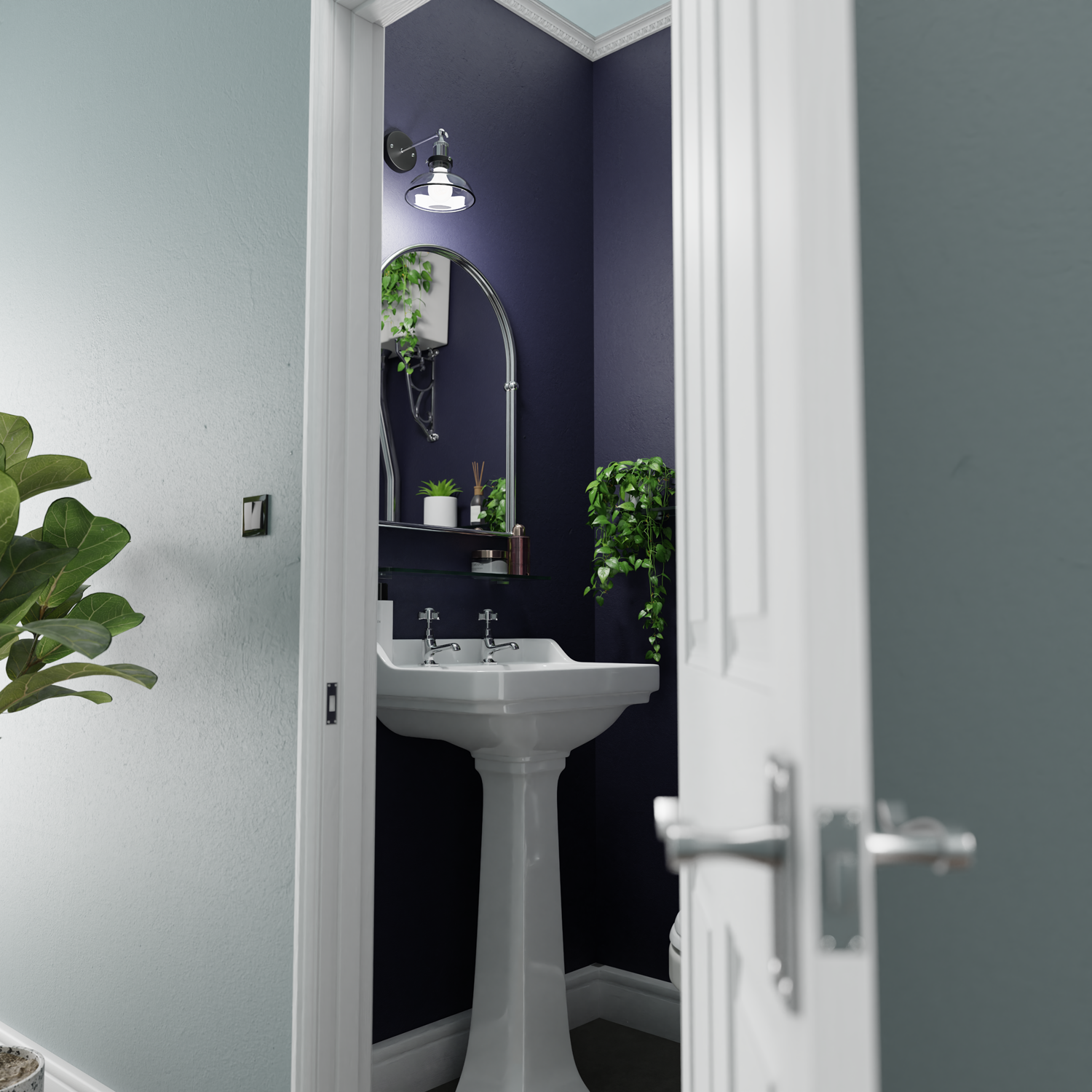 Period-Style Mirrors
The ideal way to finish off a classic-inspired bathroom is by accessorising with a traditional mirror. For example, a mirrored cabinet such as the Old London Storm Grey 600mm Mirror Storage Cabinet will not only look great in a Victorian style bathroom but will also make for a practical addition to your space due to the ample storage it offers.
Another example of an ornate and intricate mirror is the Old London Hunter Green 600mm Flat Mirror with Decorative Top Moulding. Available in different finishes to suit any colour palette, this beautiful mirror perfectly captures the look of classic décor.
And that's it, folks. How to create a Victorian-inspired bathroom. We hope you found this helpful, whether you want to create a completely traditional bathroom, or simply want to take inspiration from a few aspects of the style. Would you opt for a Victorian-inspired bathroom?
For more inspiration, ideas and expert bathroom advice, make sure to subscribe to our newsletter!