We all wish we could have our dream bathroom. The luxurious freestanding bath, that glorious walk in shower, a double basin so we no longer have to argue with our partner about who brushes their teeth first, oh the list is endless! But there's something important that all of these wonderful things need: space. And the sad thing is, most of us just don't have it. The average UK bathroom only measures 6ft x 8ft; not much bigger than a king-sized mattress! As much as we would love to fill our bathrooms with everything our heart desires, most of us just don't have the room.
You may not have the physical space to fit in that freestanding bath you want, but there are some design tricks you can use to make your small bathroom look a little bit more spacious. So here are our top tips on how to make a small bathroom look bigger.
All White Colour Scheme
An all-white bathroom may seem like the 'boring' option, but there's no denying that it's the best colour for making your bathroom appear more spacious than it actually is. Creating the illusion of space is mostly about adding light to the room, and going for an all-white colour scheme is one of the best ways to do just that. Be they painted or tiled, white walls are the simplest way to make a room look bigger than it is. And don't be fooled; white doesn't have to mean boring. Play around with different textures and patterns, add metallic or wooden accessories and the world is your oyster! If you're stuck for ideas, check out our Pinterest board dedicated to white bathroom design ideas!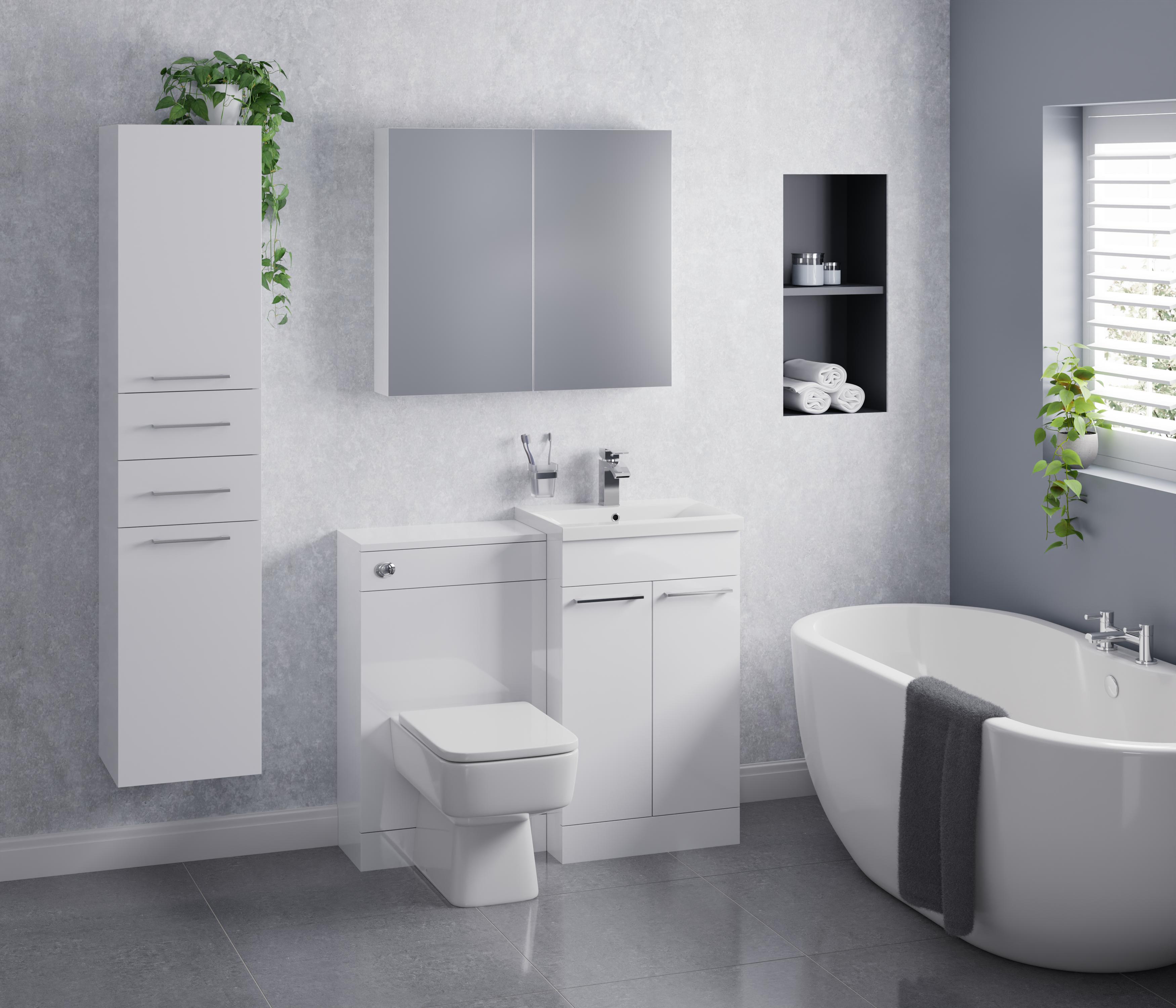 Wall Hung Items
Necessary bathroom fixtures, like basins, can take up a fair amount of floor space and make the room look smaller. A wall hung basin is a great option for combating this issue; it creates the illusion of space whilst giving the room a chic, modern look. Win-win!
Basin units are also notorious for taking up floor space in bathrooms. While they're incredibly useful for storage, they can also be bulky and take up a lot of precious room, so they're not always the best option for small bathrooms. Wall hung vanity units, however, give you the best of both worlds; they have a minimalist look that is less bulky than floor standing basin units due to the illusion of floating, and they also provide you with useful storage space perfect for keeping all your bathroom essentials tidy and hidden away. We love the Oslo Gloss White Vanity Unit with Basin , in a sleek wall hung design with two large storage drawers and modern chrome handles, it's the perfect addition to any bathroom space.
Back to Wall Toilets
In my experience, the best thing that you can do to make a small bathroom look bigger is to keep things hidden and tucked away. Large fixtures can tend to make small rooms look and feel even smaller than they are so the sleeker the better! Back to wall toilets are a great option as they hide away that bulky cistern, often concealing it inside the wall, giving a neat and minimalist look. Our Devon Wall Hung Toilet is a great example, keeping floor space clear as well as concealing the cistern within the wall, it comes complete with a sleek chrome flush plate which sits flush to the wall so there is no bulkiness in sight.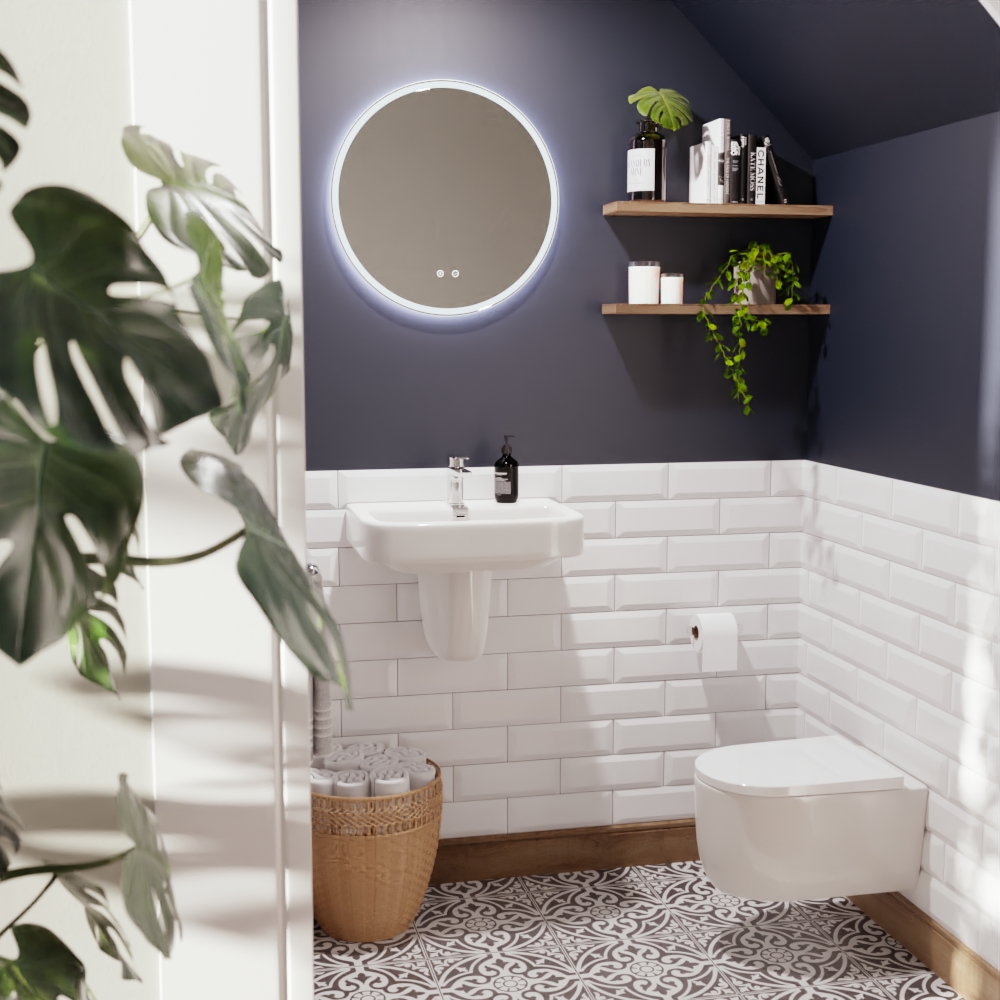 Large Tiles or Wall Panels
Tiles can be a tricky old thing to get right in small bathrooms. Smaller tiles can actually draw attention to the small size of your bathroom. Our advice? Go for larger tiles to create a more spacious look. Bonus: larger tiles mean fewer grout lines to keep clean. Result! We stock a large range of 60cm x 60cm tiles in a variety of colours and patterns which are great for adding your own style to your bathroom.
Alternatively, you could ditch the grout altogether and opt for wall panels. They're perfect for making your walls look bigger and have the added bonus of requiring virtually no maintenance.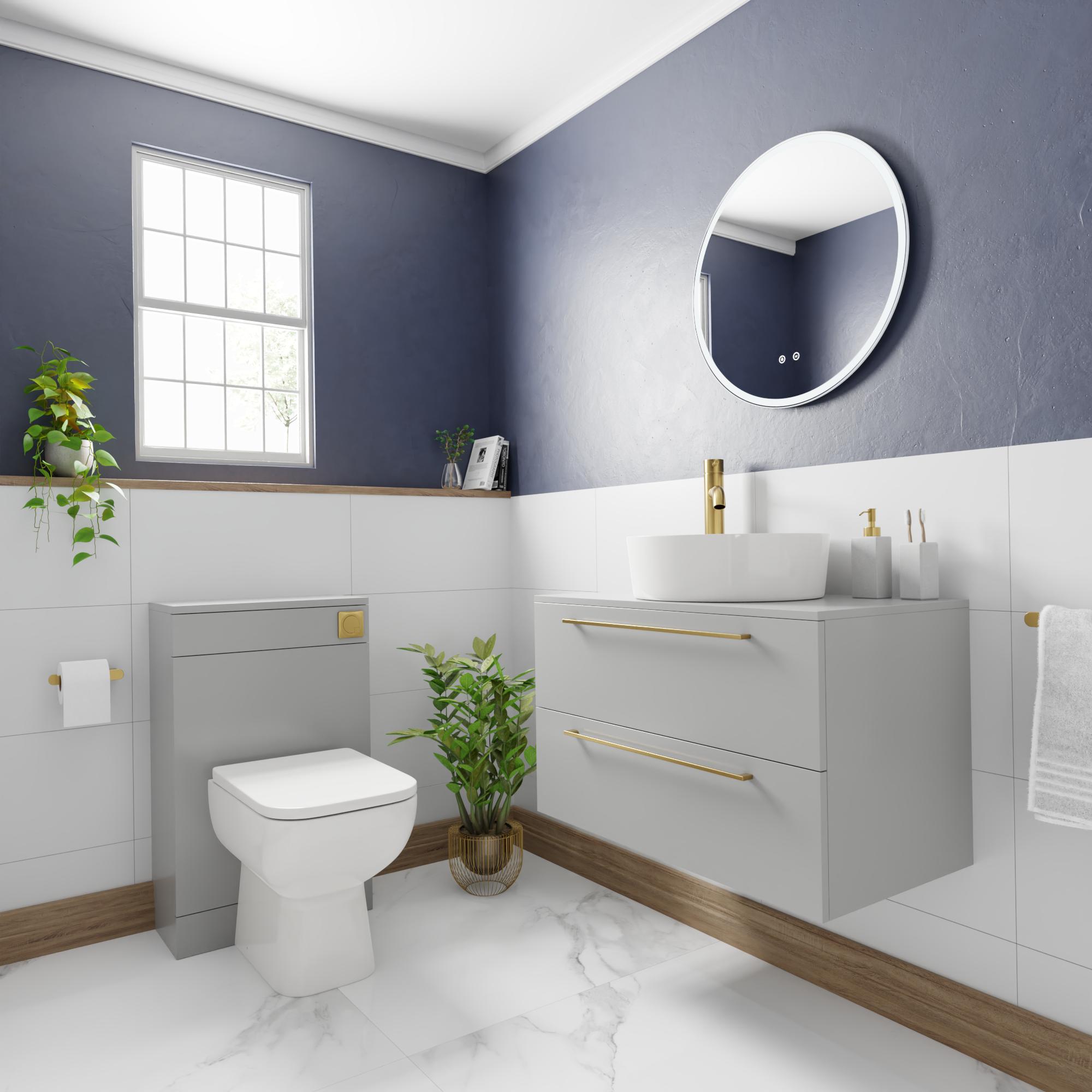 Large Mirror
Adding in large, bulky items probably seems counter-productive, but in the same way as adding large tiles to the room can make it appear bigger, the same can be said for adding a large mirror. Covering your wall with a large mirror won't just look good and make a visual statement; the rest of the room will reflect in the mirror and create the illusion of a much larger room. Top tip: if you can, place the mirror so it reflects a window to add extra brightness to the room.
If you have the wall space, our Laverna Mirror will make a real statement in your bathroom. Its large rectangular design alongside a demister function and dimmable LED lighting will create the perfect ambience in the room.
Ditch the Bath
This one might be slightly controversial, but one way to add extra space in your bathroom is to remove the thing in it that's currently taking up the most space: the bath. I know this isn't for everyone, but for those of us who aren't too fussed and only ever seem to use the shower anyway, replacing the bath with a spacious shower enclosure is a great way to utilise a smaller space.
There's plenty of different shower enclosures that would work in smaller bathrooms. Quadrant enclosures tend to be a good space-saving option as they fit neatly into a corner of the room, but it all depends on the layout of your bathroom. One thing I would absolutely suggest: go for a shower enclosure with extra tall shower doors. The extra height will create the appearance of more space.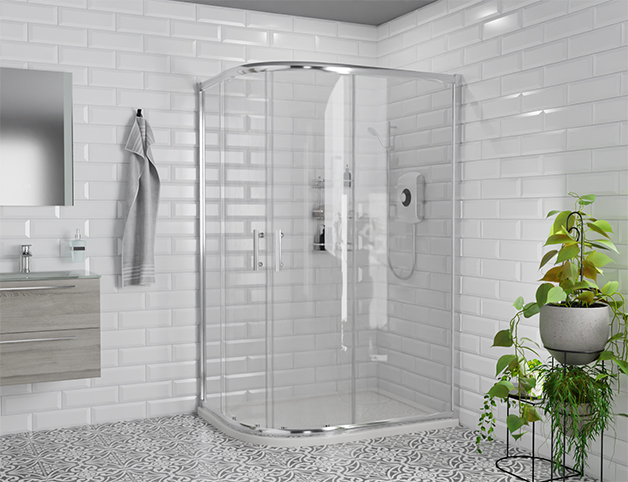 Choose a Shower Bath
If you're just not willing to give up your bubble baths but don't have the space for a separate bath and shower, the best compromise is to opt for a shower bath. Shower baths combine both a bath and shower in one giving you the best of both worlds without having to compromise on space. To make sure the room doesn't look too closed in, leave out the shower curtain and opt for a clear glass shower screen instead.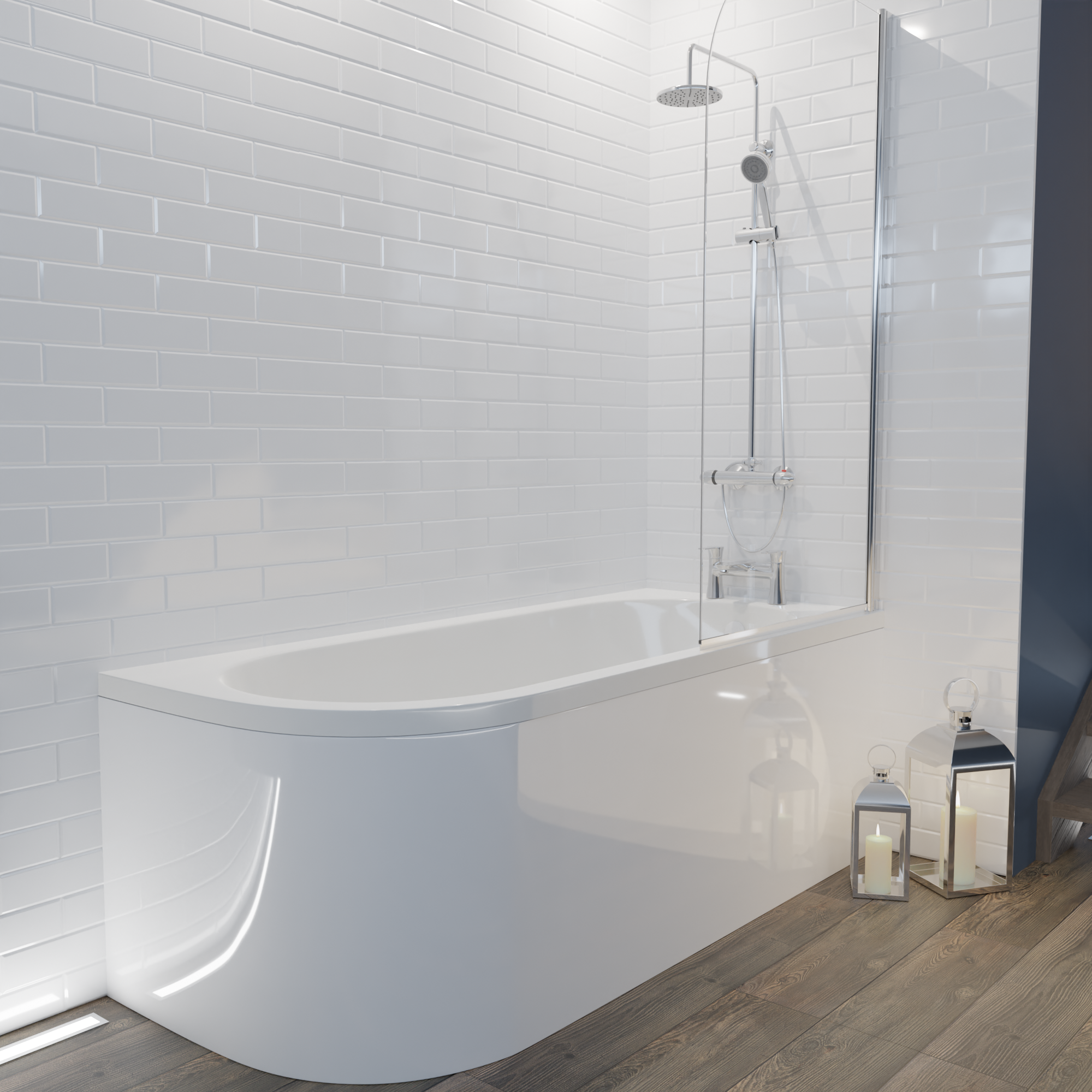 So, there we have it. That was our top tips for making your small bathroom look bigger. At Wholesale Domestic Bathrooms we are proud to offer products to suit every bathroom layout, style and budget so there's sure to be something for you and your small bathroom! Would you try any of these design tips?
For further inspiration and advice follow us on social on the likes of Facebook, Instagram and Twitter. You can also sign up to our newsletter below for ideas delivered straight to your inbox!