Posted by Francine Sweeney 18th Mar 2014
1. Colour my world
The easiest way to transform your bathroom is to paint it in a complimentary shade. Look to the tiles and the accessories in your bathroom for inspiration. Don't be afraid of dark colours! I hear people all the time saying that you should never paint a small space dark because it makes it look smaller…well I'm sorry to say it, but it's nonsense! A dark colour can make the room seem cosier and can actually make the room feel bigger. Let's face it, worst case scenario if you don't like it you can paint over it.
2. Mirror, mirror on the wall
The next must in your bid to rejuvenate your bathroom is a mirror. Pick one that complements the style of your bathroom. Ideally you want to choose a mirror that's unusual to give a wow factor (an unusual shape or colour). Buy a mirror with a demister pad…it will make your life so much easier in the morning, you don't have to hang around until it demists! Find the perfect mirror here.
3. Let there be light
Strategically placed lights will make your bathroom appear bigger as well as cast an even light in your bathroom, making it look cosier and more inviting. This is even more important if you don't have a natural light source. A quick solution is an illuminated mirror but if you're looking for something a bit more intense you really need to think about installing spot lights.
4. Floor it
Porcelain tiles are hot for 2014. I know the thought of tearing up floor tiles is enough to make you weep but some of these are designed to be laid over the existing flooring. This will instantly rejuvenate your bathroom and add a fresh new look. Take a look at the latest porcelain tiles.
5. Shower power
No one needs to be told about the healing power of a good shower. Enjoy a luxurious rain effect shower after a tiring day at work. This type of shower can be easily installed and it will really make all the difference to your daily life as well as look fabulous in your bathroom. Check out the latest showers.
6. Screen if you want to go faster
A good glass shower screen is an excellent way to modernise the look of your bathroom. Banish annoying shower curtains and go for a clean look. Not only will a glass screen not stick to you while you're showering, but it's much easier to clean and won't get those nasty mildew spots. Find the perfect screen here.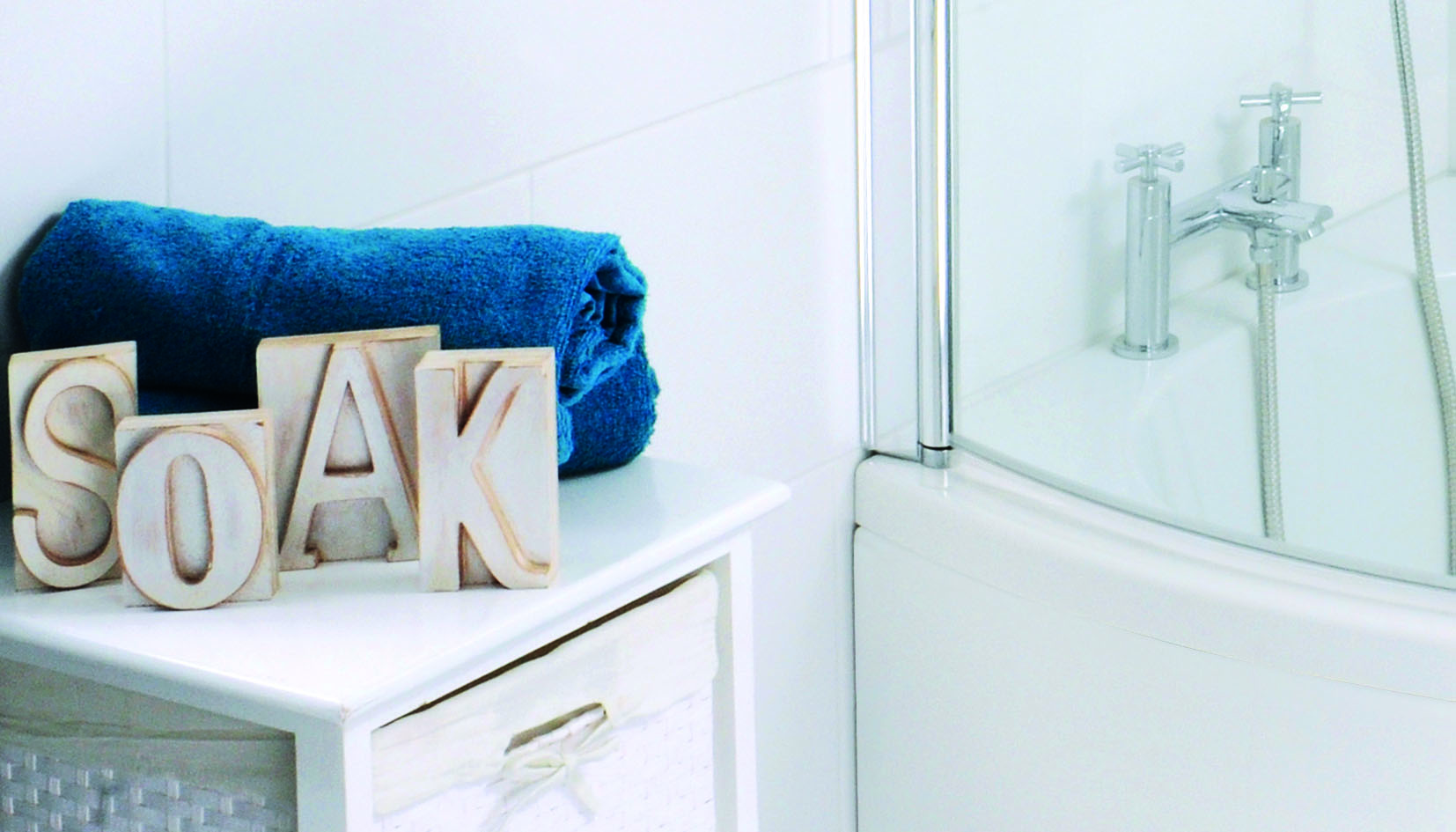 7. Creativity is the key
Add framed art to your bathroom. This will make your bathroom a lot more interesting. I've seen a few good ideas…you could gather a few flowers and press them in a book, these look amazing when added to a frame. Or you could gather a few unused canvases then re-paint them. If this sounds like too much hassle you could just re-home a few existing pieces into the bathroom. It really depends on what style you're going for but you can achieve something really pretty & interesting by hardly spending a penny.
8. Play that funky music
Another great idea is to add a shower radio to your bathroom. It won't look that interesting and it won't transform your room but it will make the room much more enjoyable to shower in.
9. Throw the towel in
Make your bathroom instantly cosier by adding good quality towels and a plush floor mat. Your bathroom will seem more luxurious and inviting. If you're feeling really self-indulgent, add a towel warmer; this will keep your towels nice and toasty for when you step out the shower.
Well, there's no time like the present...just go for it! Don't put it off any longer, if you start now you'll give your bathroom a new lease of life just in time for Spring.