Posted by Francine Flanagan 3rd Mar 2016
This week we're looking at how you can achieve the look of a vintage bathroom. The term vintage is widely misused today, people announce that their party is 'vintage themed' and then they turn up in a 60's mini dress, similarly people tell you that their wedding will have a 'vintage theme' and on the day your attire doesn't fit in with ANYONE and you're left scratching your head (as well as looking a tiny bit foolish… just me?).
Over the past few years we've noticed that some of our customers crave a vintage style bathroom and then choose ultra-modern products, feeling pleased they've created a vintage look (confused? Us too!). Now don't get me wrong, everyone likes what they like but a vintage theme (in any aspect of life) always seems to get railroaded, so we thought we'd offer our knowledge and guidance to help ensure you achieve the look you've been dreaming of.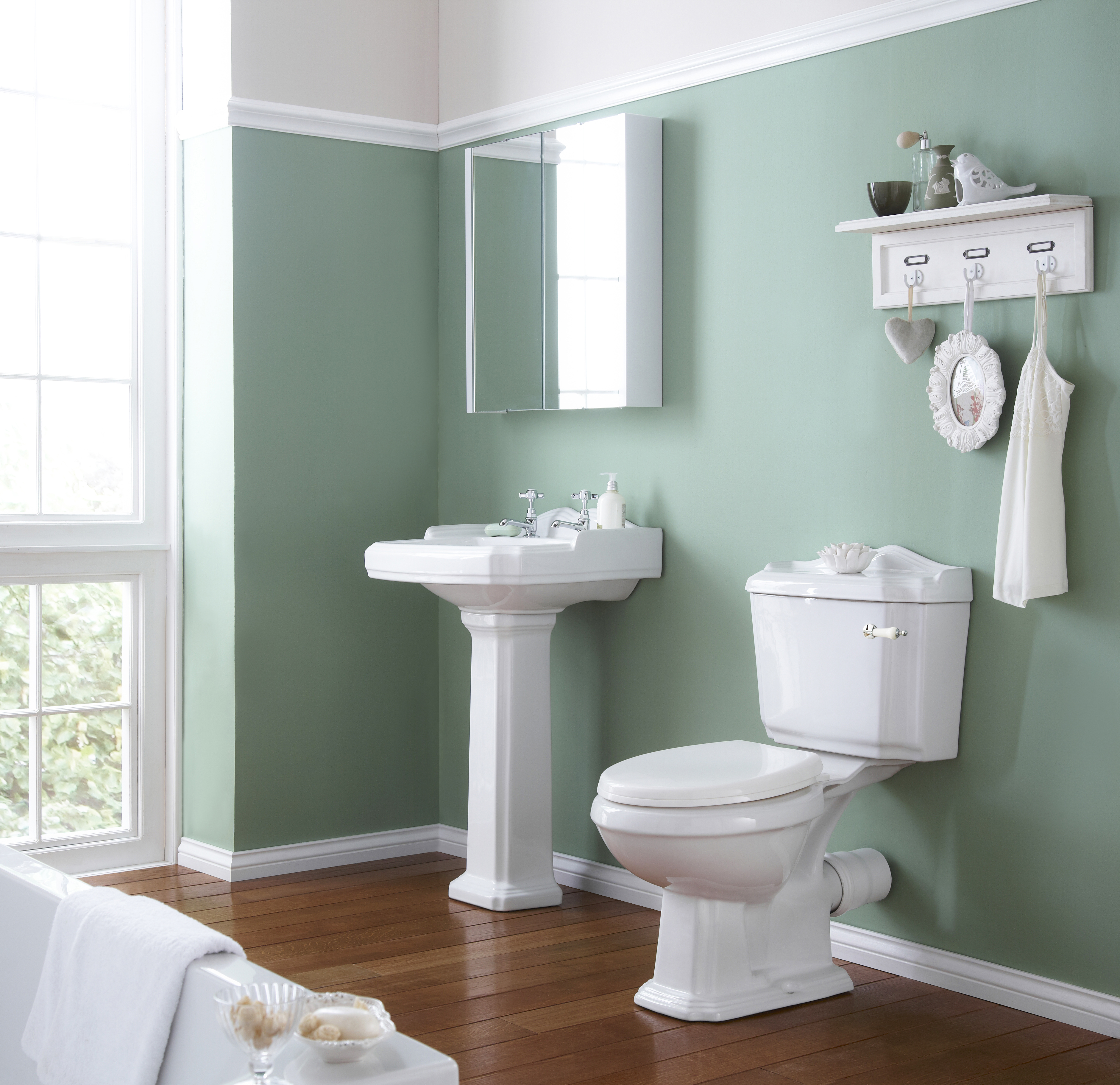 So let's start with the basics, what is vintage? Vintage is anything that dates after the 1920's and up to the late 1950's where retro kicks in. A vintage bathroom is definitely traditional in style and features exceptional quality and detailing, it features a real show stopping look and will never go out of style. Now we've got that down, let's take a look at some products that would work well in a vintage bathroom.
This stunning toilet and basin set is the epitome of vintage, it's simple yet elegant with an undeniable traditional style. Remember that vintage bans high-tech products, it's all about functionality, style and trying to create a look that's in keeping with what the wealthy would have had in their bathrooms in that era. You'll notice that the toilet doesn't have a modern flush button, it features a traditional flush handle which is exactly the type of low-tech details you want to create an authentic look.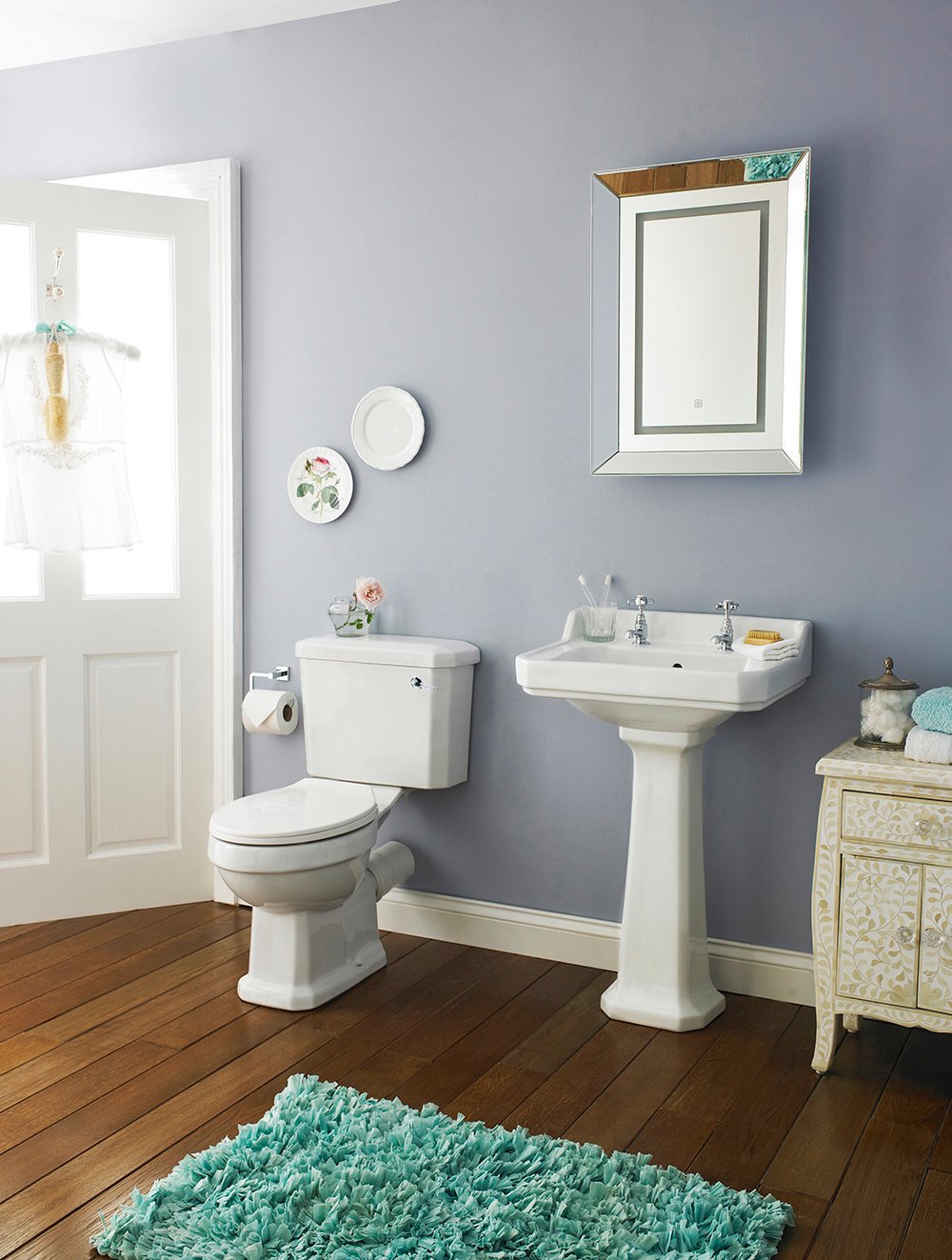 Don't tell me that your mouth doesn't fall open when you look at this beautiful bath! It's the stuff that dreams are made of, who wouldn't enjoy a relaxing soak in this traditional slipper bath? (I would for sure). This clever freestanding bath is shaped to support your back while bathing for the ultimate experience in your new vintage bathroom. Pair this iconic bath with a vintage bath tap to complete the look (don't worry we'll get to that next). You'll have seen this style of bath in old movies, it's a famous shape that's been around for decades – It'll never go out of style (an oldie but goodie).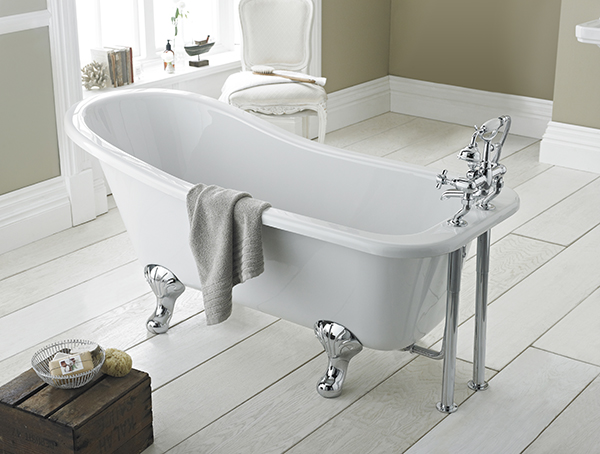 Ok so you can't choose the perfect toilet and basin and bath then add modern taps (sacrilege!). You'll need to pair your traditional basin and bath with complimentary taps to complete the overall feel. Our Balmoral range is absolutely perfect, its unique traditional style features stunning details that will only help to make your vintage design feel complete. There are a few different options to choose from depending on the tap hole options on your basin (some basins have 2 tap holes, some have 1). Choose from a pair of basin taps, single mixer basin tap, and freestanding tap for your bath. You'll notice that these taps don't feature any high-tech gadgetry, remember everything is supposed to be functional, stylish and elegant.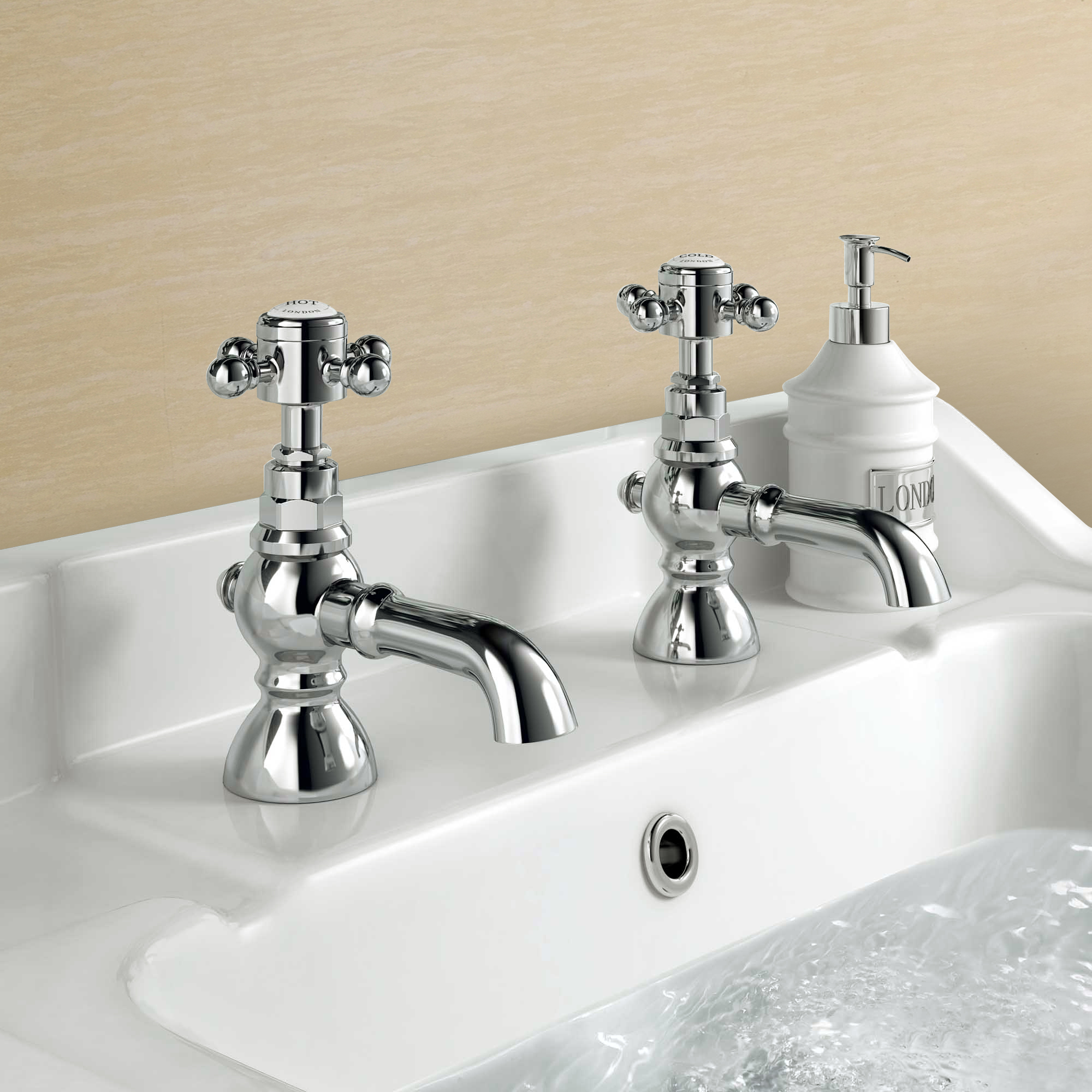 There are thousands of tiles you could choose from, but I think that small tiles create a traditional look beautifully. Our Function range is available in black or white and could be jazzed up with a contrasting grout colour if you feel the need for a slightly modern edge. Another option for an authentic look would be marble (or marble effect, like marble wall panels) which would also create an elegant feel, it really just comes down to personal taste. Marble was used in the past because it was high quality and strong, and would last a lifetime but it's not for everyone.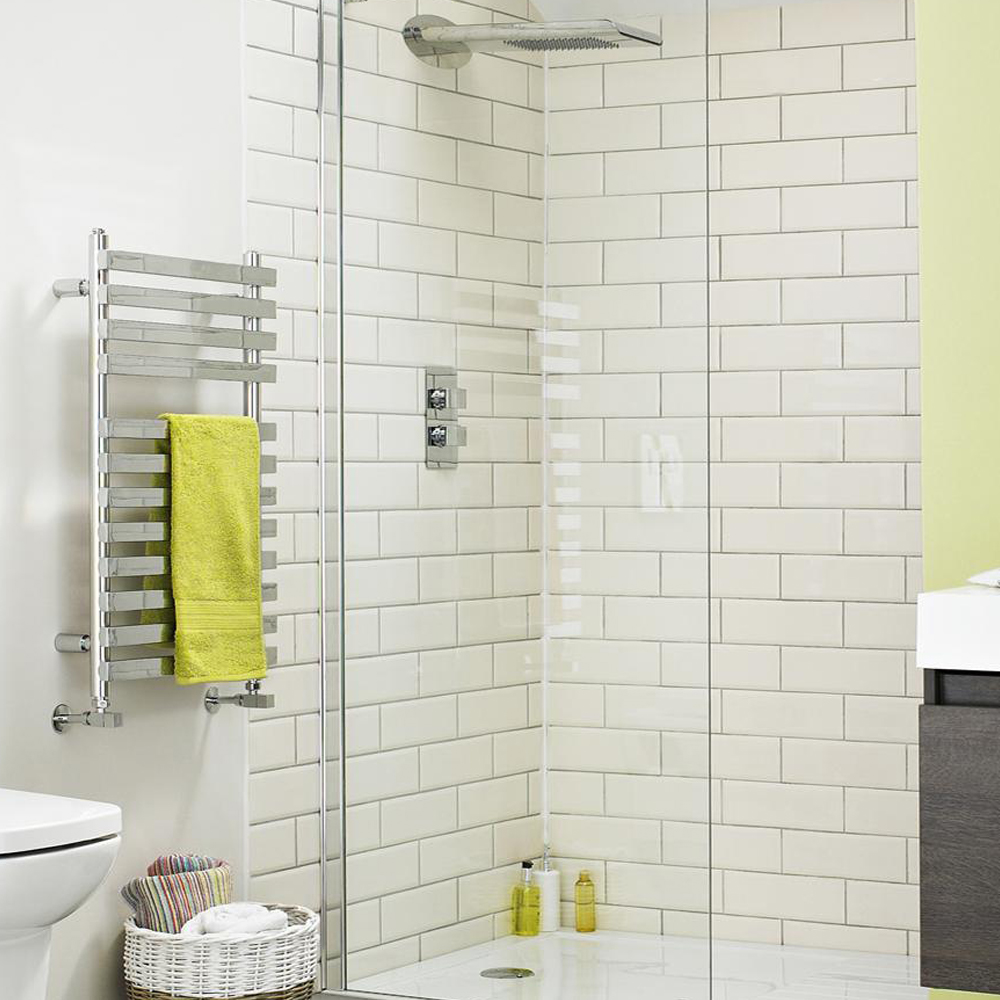 A radiator in your bathroom is entirely optional but it will bring some amazing benefits to your new vintage bathroom. Providing your bathroom with heat will help to prevent mould and bacteria, creating a safe environment. It will also keep your bathroom at a cosy temperature during the winter months, let's face it you won't want to bare all if the room is freezing. A radiator can also help to keep towels dry in between each use which prevents them smelling damp. There are hundreds of styles these days but something like this will be perfectly suited to a vintage theme.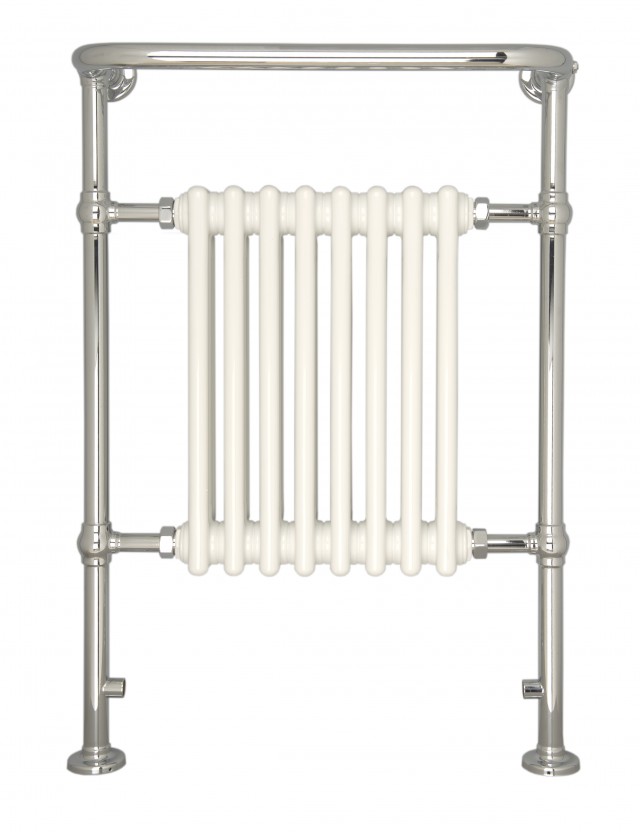 Last but not least are accessories, you'll want to kit your bathroom out with all the usual fixtures like a toilet brush, soap dispenser and toothbrush holder.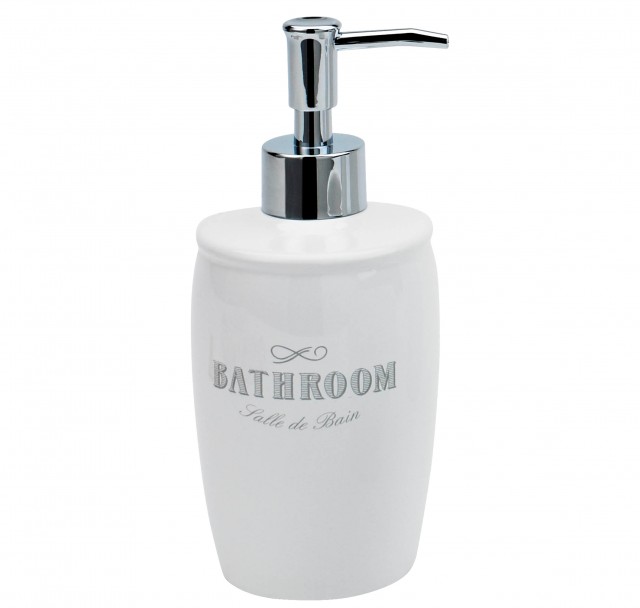 Vintage isn't for everyone but for those who dare to dream, you'll create a sophisticated, timeless bathroom that you'll never grow tired of using. Some people choose vintage to match the period style of their home and some people install a vintage bathroom in a new build, there's no right or wrong setting it just needs to be right for you. Just keep in mind, if you're trying to create a complete and authentic look…
Ban high-tech
No gadgets
Try and avoid including overly modern products
Opt for functional yet elegant products that look traditional
Make smart decisions that will enhance the theme like a flush handle vs a flush button
If you need extra help or advice why not pop into on of our showrooms or speak to one of our experts. Good luck creating your dream vintage bathroom.