Posted by Kristin Kudeva 11th May 2022
Can't stand the chilly bathroom floor any longer? We have just the solution – underfloor heating. At Wholesale Domestic Bathrooms, our underfloor heating system sits beneath ceramic or porcelain tiles and helps keep those cold tiles warm.
What Is Underfloor Heating?
Underfloor heating is made up of a series of electric wires which are held in position by a mat that can be quickly fitted beneath your tiles. This is known as a 'dry system' and is the easiest underfloor heating to install because it does not require a network of pipes to be fitted below the floor.
The temperature is controlled via a small touch screen control panel that you would have installed in a convenient location in your bathroom. This thermostat can be programmed, like your central heating, to come on at a certain time each day, or you can switch the system on as and when required, adjusting the temperature accordingly.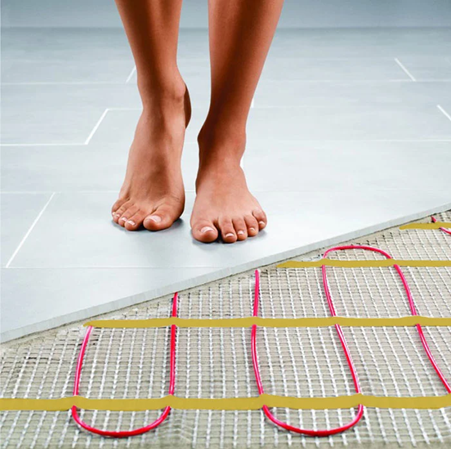 What Are the Benefits of Underfloor Heating?
There are many benefits to installing underfloor heating into your new bathroom:
Underfloor heating can really enrich your bathroom experience and give spa-like vibes when you are hopping in and out of the bath or shower.
It can also prevent mildew in your bathroom because of the regular heat source drying out condensation.
In smaller bathroom areas, such as cloakrooms, underfloor heating can be used as the main source of heat for that area. This can give you more freedom with your bathroom design as you can plan your layout without having to factor in space for a radiator.
Underfloor heating is suitable for use in wet rooms.
It's safe for the whole family as it eliminates the risk of burning small hands.
Underfloor Heating Systems
At Wholesale Domestic, we are proud to use UK based company Cosytoes to provide our underfloor heating products. The Trademat+ system consists of a series of electrical cables that are held in position by a mat and fitted underneath your tiles. Mats come in various sizes, starting from 1m² up to 5m².
Using easy to install 'Tack n Stick' adhesive backing, you can easily position (and re-position) the mat before cutting, to ensure accurate results.
Water underfloor heating, or a 'wet system', works by using a series of pipes under the floor to circulate warm water throughout the floor space. We do not stock this type of underfloor heating.
Underfloor heating can be installed under more than just tiles. Ceramic and porcelain tiles, luxury vinyl tiles and natural stone flooring are amongst the most efficient floor choices for underfloor heating. Polished concrete floors also work very well with underfloor heating as the thermal mass of the concrete retains heat, making your room stay warmer for longer after your heating has been switched off.
Solid wood flooring will likely warp and become damaged due to the constant changes in temperature from underfloor heating, so is not suitable. Carpet must not have a tog underlay rating of higher than 2.5 for underfloor heating to be efficient through it.
Is Underfloor Heating More Efficient Than Radiators?
Underfloor heating can be more efficient than a radiator as the large surface area means it doesn't have to be set to a high temperature to warm the room, only a couple of degrees warmer than room temperature. Heat is distributed evenly and, as they do not get as hot as radiators, underfloor heating uses much less energy.
How Much Does It Cost to Install Underfloor Heating?
The cost to install underfloor heating can largely vary depending on several factors. These include the underfloor heating system you choose, the size of your room and the age of your building.
Our Cosytoes TradeMat Plus products start from £99.95 and range to £199.95 per m² depending on the size you need, and the Thermostat Touchscreen to go along with this is £69.95.
When planning your new underfloor heating system, we recommend contacting a professional for a rough estimate, so you are comfortable with costings.
Shop Underfloor Heating Today
It's time to say goodbye to your freezing bathroom floor and step into cosy luxury with a new underfloor heating system. If you have any further questions, do not hesitate to contact our customer service team, or visit our friendly showroom staff who will be happy to assist.
Shop our full selection of underfloor heating in-store and online today.