Posted by Francine Flanagan 28th Jan 2015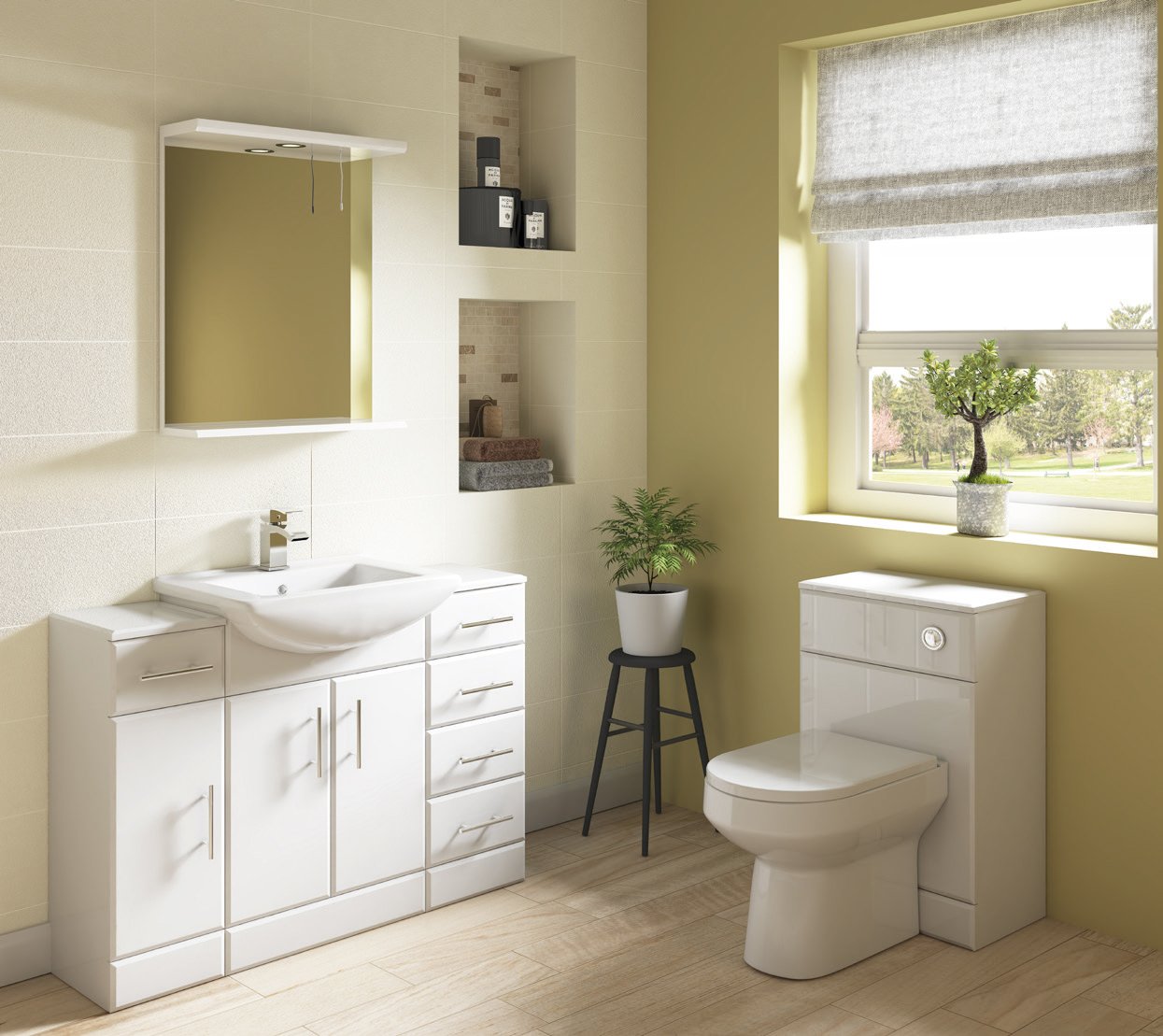 Throughout the years we've noticed the difference between what our designers call products and what customers call them. As we work in the bathroom industry we've become accustomed to these popular terms but know that customers can easily get confused when searching for a new bathroom. Terms like 'vanity unit' and 'mono basin mixer' have become second nature to us, but we understand the need to support our customers with detailed explanations to help them choose the perfect bathroom based on knowledgeable decisions. Our designers come up with our product names based on design trends, which helps us to keep fresh and current in the bathroom industry.
When you start planning to renovate your bathroom, you're very quickly submerged into the bathroom lingo and it can get a bit confusing and overwhelming for people. That's why our talented sales staff are there to guide you through the whole process without any mind boggling jargon. We also carry this view across to our website which features easy to understand descriptions to help you make the best choice for you and your bathroom, no matter if you purchase in-store or online.
This week, we're taking a detailed look at vanity units. We have noticed a huge increase in customers asking us about this, and as it's one of our most popular ranges we thought it was a good idea to answer our most asked questions, to make planning your new bathroom that much easier. Let's get down to business…
What is a bathroom vanity unit?
A simple question that most of our customers ask, basically a vanity unit is a modern take on a traditional sink and pedestal. Typically, it looks like a fitted unit with a basin resting on top. A vanity unit utilises the wasted space where a pedestal normally resides into valuable storage space. Our range includes a wide selection of door units or drawer units depending on your needs. This type of bathroom unit is extremely popular because it offers modern bathrooms additional storage space that most people find vital. You can also choose from either an integrated basin, which looks as if it is part of the unit or a counter top basin, which is completely separate but rests on the top of the unit for a stylish look.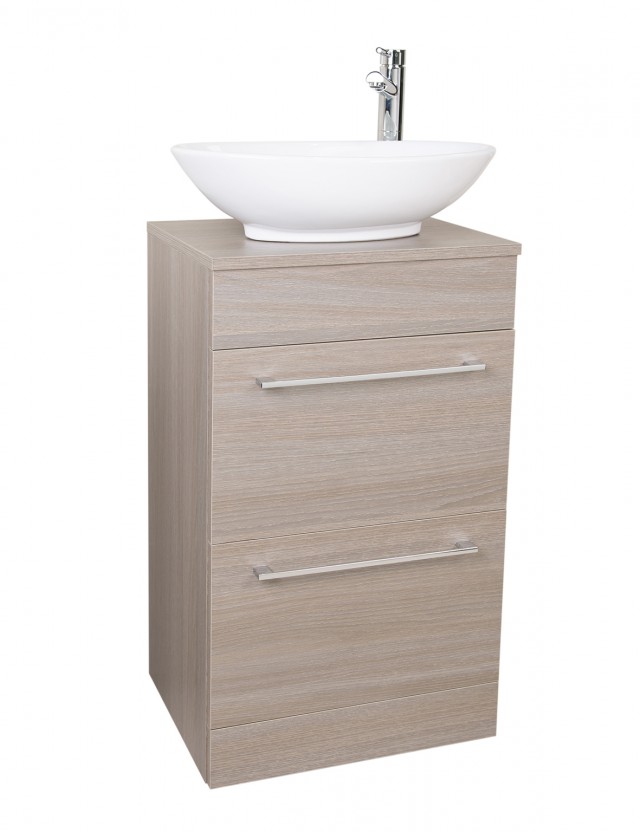 Why is it so popular?
It's so popular because it provides a versatile addition to your bathroom. Not only does it offer a fantastic amount of bathroom storage space, it also creates a modern fitted look which most customers want to achieve in their new bathroom. The style options are endless, so you can really choose a design that is unique to you and your needs.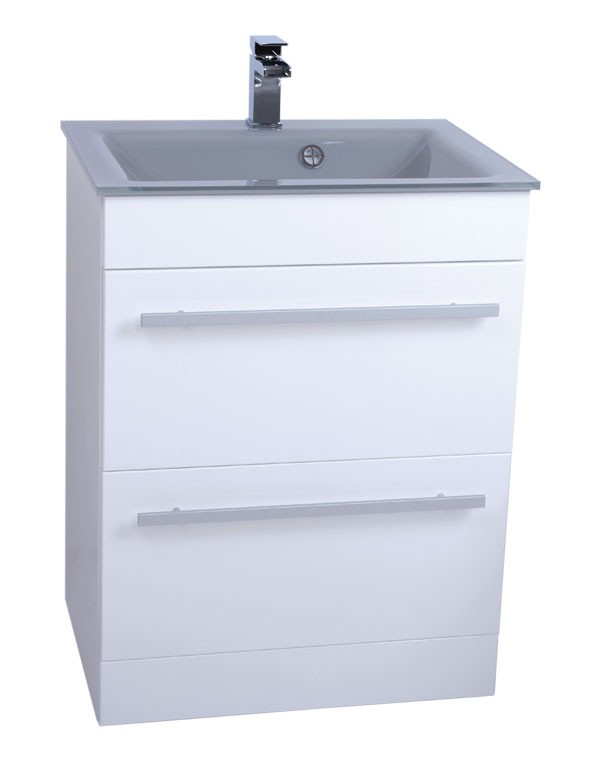 Are there many different designs?
Yes! There are literally hundreds to choose from, different colours, different sizes, different features which allow you to hand pick the perfect choice for your bathroom design, from compact vanity units to spacious vanity units. We have a brand new range that includes an integrated glass basin in 4 different colour variations, so the options really are fantastic.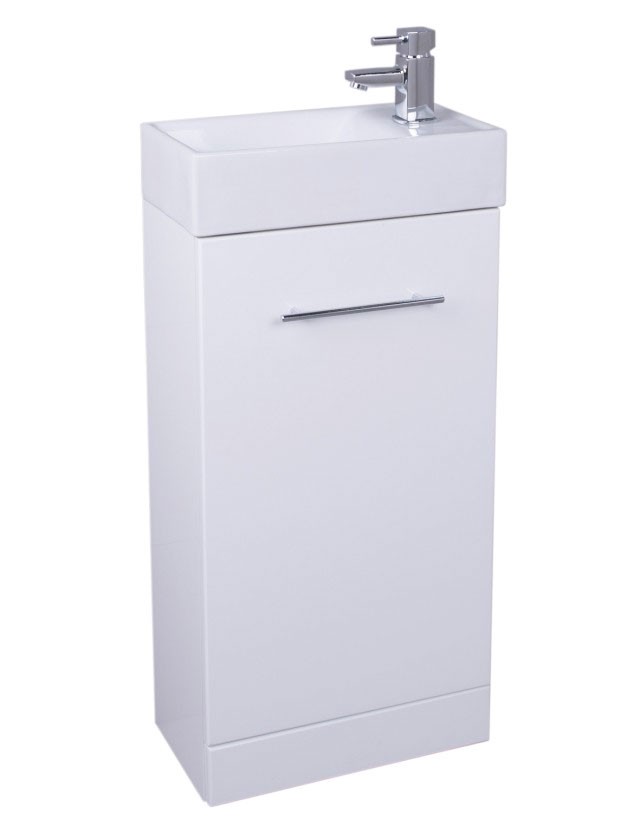 Are they expensive?
No, they are very reasonably priced and our sales team work very hard to find you the perfect vanity unit within your budget. We have a huge range of vanity units that fall into different categories; budget, mid-range and luxury so you can spend as little or as much on your new bathroom design. All products have been quality tested to provide you with a durable and reliable new bathroom, no matter how much you spend on it. Our vanity units start from only £89.95 and are available in both modern and traditional designs.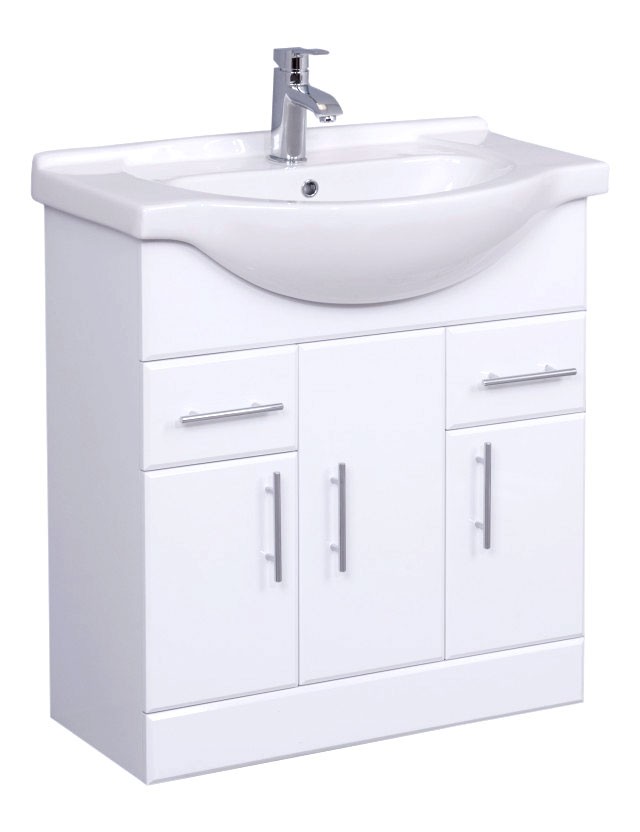 Are matching units available?
Yes, matching units are available to help you create a complete design in your new bathroom.

Do I need to buy matching units?
Of course not, we stock a range of matching units for those who want to create a similar look throughout their bathroom, but you can pick and choose each individual item for your bathroom to create a unique style. Our vanity units are available in neutral colours, so they will match existing bathroom furniture if you don't plan on renewing the whole room.
Is it worth modernising?
If you feel that your bathroom is short on storage space then you'd definitely benefit from modernising. Not only will a vanity unit provide useful storage space it will create a stunning fitted look in your new bathroom which is actually easier to keep clean, compared to a traditional basin and pedestal. The advantages are fantastic, you just need to spend some time researching what style will best suit you and your needs. You can view our full range of bathroom furniture here.
If you'd like any further information on vanity units, please visit one of our showrooms across Scotland or contact our friendly customer service team.