Posted by Sarah Kielbasiewicz 26th Aug 2019
Wall panels, wall boards, shower panels, bathroom cladding…they go by many names. Whatever you call them, wall panels are a rising trend in bathroom design. They're functional, affordable and incredibly stylish.
But shopping for wall panels can be tricky. If you're not sure what type to buy or which trims you need, you're in the right place. We're here to explain it all, to make choosing your new wall panels quick and easy.
What are wall panels?
Bathroom wall panels are large decorative panels which come in various materials. They're the perfect, easy-clean alternative to tiles. Fully waterproof, wall panels will protect your bathroom walls from moisture and prevent mould and mildew. Wall panels are applied to the wall using a special adhesive and are slotted together with trims; say goodbye to high maintenance grout!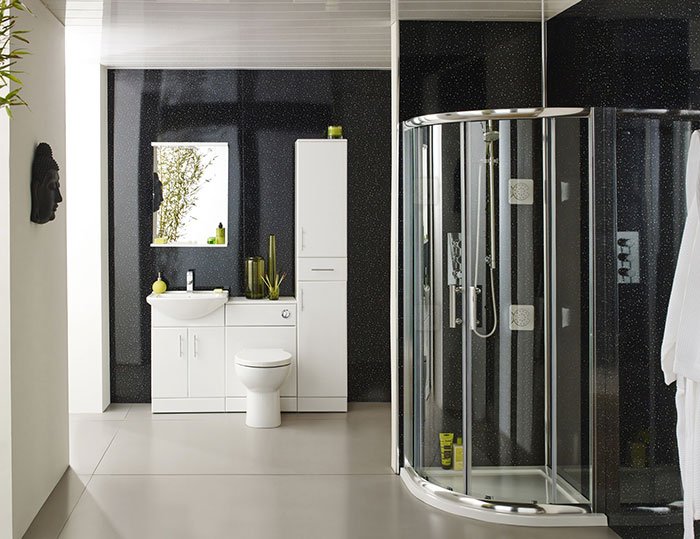 Black Galaxy Wall Panel
What's so great about them?
They're incredibly quick and easy to install. Wall panels can be fitted in a matter of hours, instead of days. Due to the lower skill and time requirements, installation will likely be cheaper than the installation cost of tiles. Panels can even be fitted over existing wall coverings, including tiles, making your bathroom renovation even faster and simpler.
When installed correctly, wall panels are completely watertight. Because of this, there is virtually nowhere for mould or mildew to develop, keeping your bathroom in pristine condition.
One of the main benefits of wall panels is that they don't require grout. Unless you're incredibly vigilant about cleaning and drying your tiles daily (if so, we salute you), over time your grout will start to look shabby and discoloured, which can ruin the look of your tiled wall. Wall panels will stand the test of time, needing no upkeep to stay looking like new.
Wall panels are also incredibly easy to clean. No more tedious scrubbing required; simply wipe down with a wet sponge or cloth, dry to prevent water marks and you're done.
Made from high quality material, wall panels are extremely durable and resistant to damage. With a large surface area, wall panels won't chip or crack like individual tiles can; they're far less likely to get damaged over time.
Wall panels are also affordable, with prices starting at only £19.95. While the initial cost can seem pricier than tiles, wall panels are well worth the investment. Due to the lack of maintenance required, they can actually end up costing less than tiles in the long run.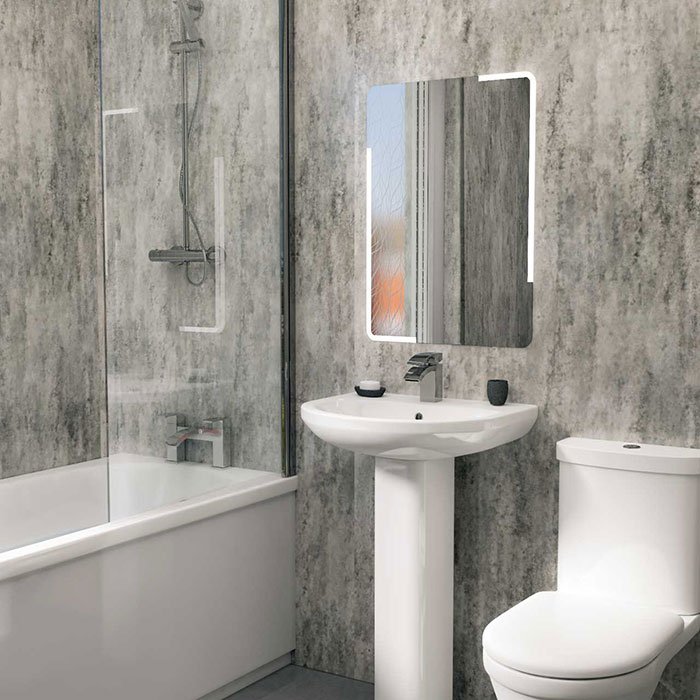 Silver Retro Metallic Wall Panel
Types of Wall Panels
Wall panels are available in two varieties: tongue-and-groove and unlipped. Tongue-and-groove wall panels feature a unique design that allows them to link side-by-side without the use of trims. Unlipped panels have straight edges, so require trims to connect side-by-side.
Wholesale Domestic Wall Panels are all made from high quality PVC and feature a tongue-and-groove system. Available in a variety of stylish designs, our wall panels are affordable and highly functional.
Wholesale Domestic Bathrooms are also official stockists of Multipanel, the UK's leading brand of bathroom panels. We carry a wide range of Multipanel designs, including the best-selling Linda Barker Collection. Multipanel products come in various materials, including laminate, acrylic and WBP plywood core, as well as PVC. They're also available in both tongue-and-groove and unlipped varieties.
Waterproof panels aren't just limited to walls. Our 5mm Wall and Ceiling Panels can be used on the ceiling to protect from moisture and mould growth. We also carry a selection of Multipanel Flooring products for stylish, easy-clean floors.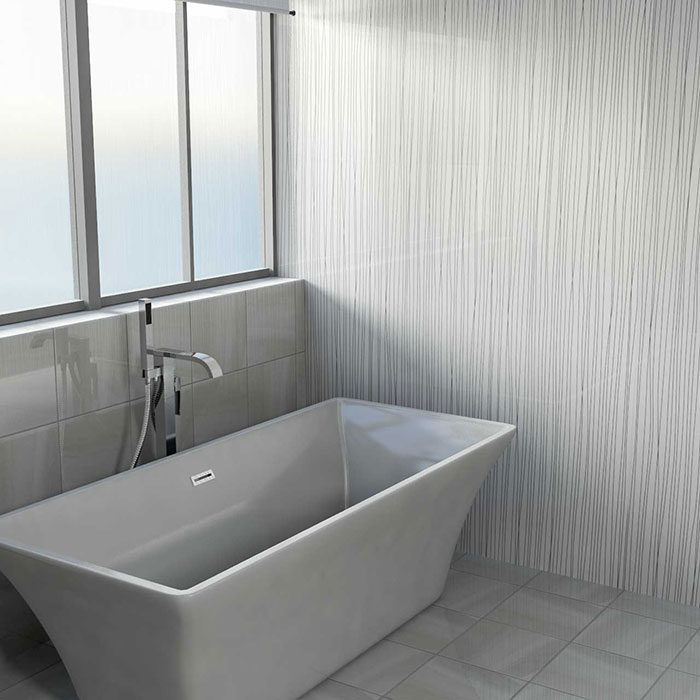 White Strings Wall Panel
Wall Panel Trims
Trims are used to connect each wall panel together, allowing you to achieve a professional finish. All of our trims are finished in silver or white to pair nicely with any bathroom design.
An Internal Corner Trim allows two wall boards to be positioned together in an internal corner.
An External Corner Trim provides a rounded edge in an external corner where two boards meet.
A U Trim, or Start/End Trim, is used to create a complete end to an exposed edge. These are used when laying wall panels in limited areas, like inside a shower enclosure or on a single feature wall. Place one at each end for a clean finish.
An H Joint is used to attach wall panels together side by side on a straight wall to create the desired length.
A Ceiling Panel U Trim is used in conjunction with ceiling panels to create a professional finished edge.
How to Style Wall Panels
Wall panels are incredibly versatile and can be used in many different ways to create a stunning bathroom design.
Use wall panels all over to create a fully waterproof base for the room. Alternatively, you could limit them to specific targeted areas in the bathroom, such as in your shower enclosure or above the bath. This saves money and allows more freedom in decorating your bathroom.
Wall panels are also ideal for creating a feature wall. Opt for a bold design on a single wall to make a decorative statement, and then balance out the rest with a simple, neutral option.
Wall panels are available in a variety of different designs, from the bold to the simple. A marble-effect wall panel, like our White Marble Wall Panel, creates a luxurious and elegant look.
Our best-selling Galaxy Wall Panels are another attractive option. The perfect combination of simple and striking, Galaxy panels are available in a variety of colour options.
If you still long after the appearance of tiles, why not opt for tile-effect wall panels? You can achieve the look of tiles with all the added convenience of wall panels.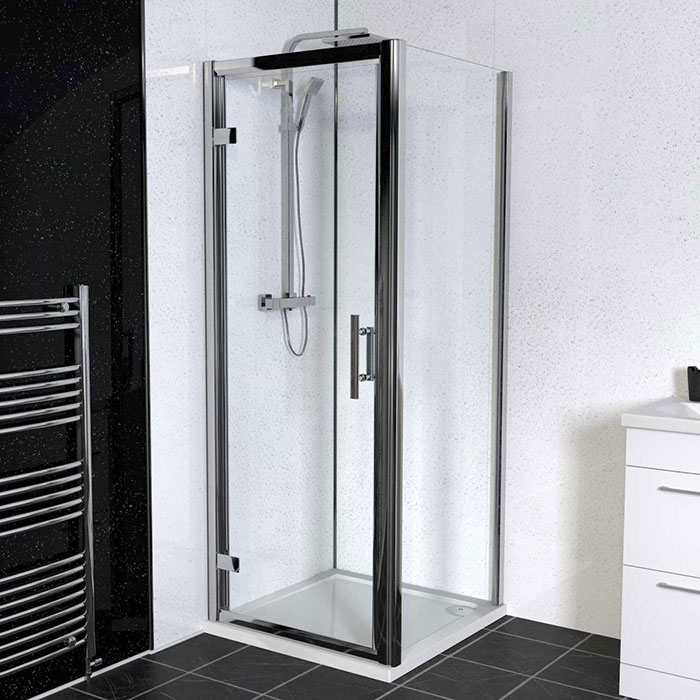 Grey Galaxy Wall Panel
Something caught your eye? Shop our range of wall panels now, from as little as £44.95!
Stay social by following us on Instagram, Facebook, Pinterest & LinkedIn.