Posted by Francine Sweeney 27th Jan 2014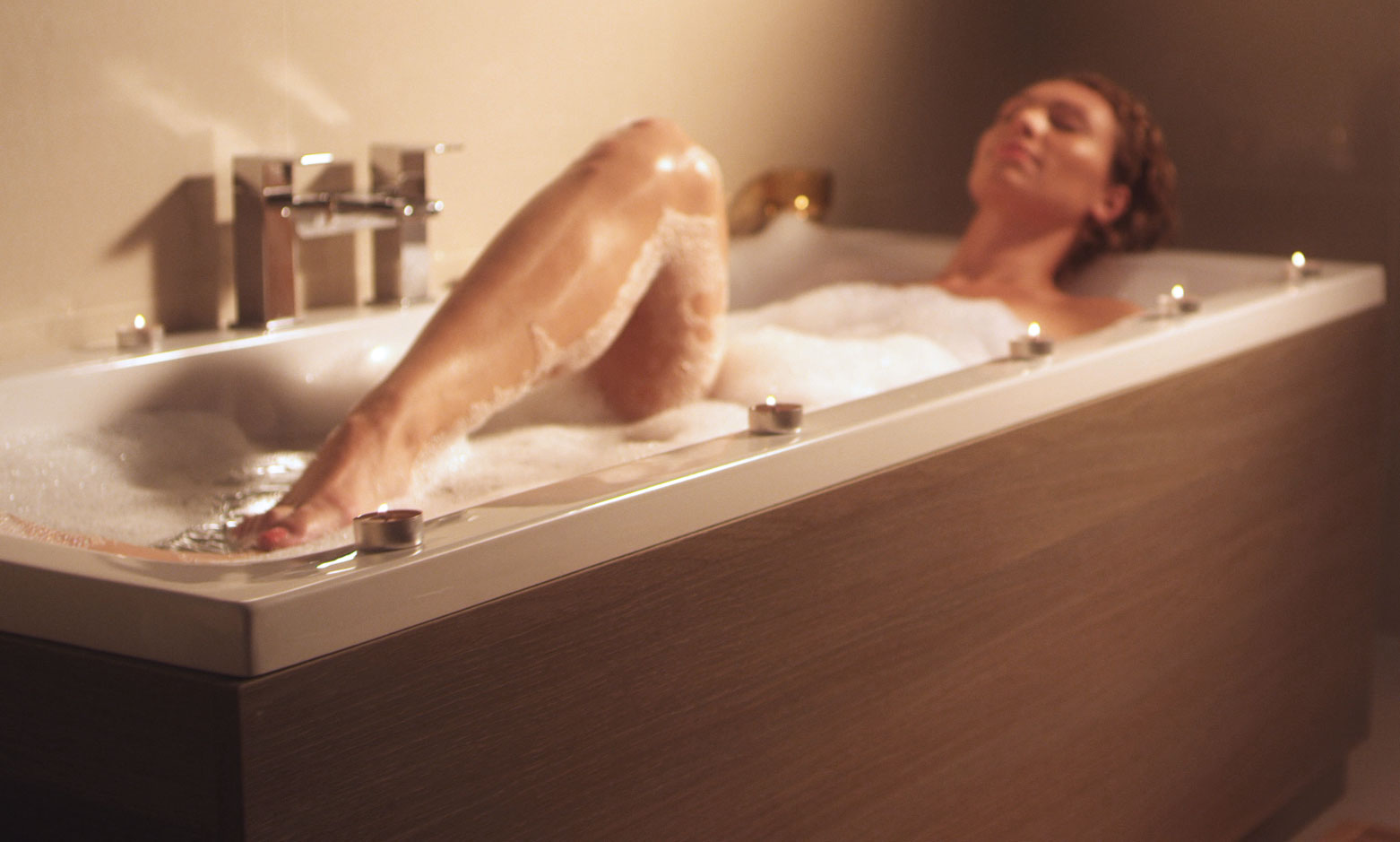 More and more areas in the UK are starting to finally see signs of winter. Within the next few weeks some areas are expected to see below freezing temperatures. Even though during the winter our home is our haven, it's been reported that the bathroom is still one of the chilliest places in the house. Warm showers can turn frigid during the colder months and let's face it, the idea of bearing all in a cold room just doesn't appeal, so let's look at a few clever ways to take the chill off your winter mornings…
1. Candles & ambient lighting. It's been said that lighting plays a huge part in how our bodies perceive temperature. Candle light or soft lighting is thought to make you feel warmer as well as calmer – so it really is worth adding a few candles to see if it makes any difference to how you feel in your bathroom.
2. Will paint colour make a difference? Yes. Colour psychology is the study of colour in relation to mood, behaviour and emotion. It's been proven that you can change how your brain reacts to certain spaces depending on its colour. So it's possible that a quick lick of paint in your bathroom could stop you from feeling the cold on frosty mornings.
3. Add an area rug. The subject of rugs in the bathroom is a rather taboo subject but it makes sense in winter. By adding a warm, welcoming rug to cover cold tiles you'll instantly make the room feel warmer and more inviting (just make sure you add a few strips of grip tape so it doesn't slide about on the tiles).
4. Get woodsy. By adding a few natural wood pieces to the room, you're adding warm colours which helps to make the brain think it's warmer and cosier than it actually is.
5. Buy a cosy warm robe. Have this ready when you finish your bath or shower (even better if you can heat it up on a radiator or towel rails). This will shield you from any cold air that's lurking in the bathroom for you!
6. Invest in some plush bath mats. Simple, yet having a thick plush mat waiting for you to dig your toes into after a bath or shower, will instantly make the room feel cosier as well as protecting your toes against cold tiles.
Ok, so if you don't fancy trying any of the alternative ideas above and you're thinking "come on, this just won't cut it" here's a few more ideas that aren't achieved by trying to trick your brain…
7. A towel rail. This will keep the room nice and warm for you post shower, as well as toasting your bath/shower linens. Towel warmers are brilliant if you're a bit limited for space and will add a touch of luxury to your bathroom without costing the earth.
8. If you're seriously trying to banish the cold, add under floor heating. Heating mats can be placed under your flooring and controlled to reach your desired temperature depending on the weather.
9. Consider a heat lamp. Modern and reliable, this can be installed in your bathroom and will provide light as well as give off a substantial amount of heat. A timer means that you can't leave this on by accident. Never install a heat lamp in a regular light fixture, you'll need a qualified electrician to fit this for you.
10. Check your windows. You'd be surprised by how many bathrooms have a broken window seal or the window hasn't actually been sealed properly in the first place. If you can feel a draught then chances are you'll need to get this inspected and resealed. Fixing this will make a huge difference to the temperature in your bathroom alone.
Ok, so physically adding warmth to your bathroom will require real heat but it's an interesting topic and many people have had great success with our alternative ideas. Have a good think and decide what you think might help your bathroom feel warmer this winter and give them a go – the results may shock you to your very core!
If you need some advice why not give us a call on 0844 809 4249 or if you're local pop in and speak to one of our expert sales advisors.