Posted by Gemma Paton 22nd Dec 2020
Winter can be a dreary time, but not if you've got a brand spanking NEW bathroom to keep you happy. Our Wholesale Domestic Bathrooms Winter Sale has landed, with up to 70% off* all our bathroom products!
Below we've pulled out our top picks of the season, to give you a helping hand with your bathroom shopping.
It can be an overwhelming experience, that's why we offer complete bathroom suites, such as the Ideal 900mm Quadrant Suite, which includes a 900mm Shower Enclosure, Shower Tray, Basin & Pedestal, and complete Toilet which even has a soft closing toilet seat. This simple and practical suite has all the amenities you require at the budget price of only £329.85. Another pro is that a shower enclosure takes up less space than a bath, elongating your floor space, which may allow for extra storage solutions such as a cabinet or built-in laundry basket.
One of our most popular taps is the Colore Matt Black Mono Mixer Tap, it's sleek, and uber trendy, designed to make a distinctive statement in your new bathroom. If you're opting for a smaller basin size, the Colore Black is also available as a Mini Mono Mixer Tap.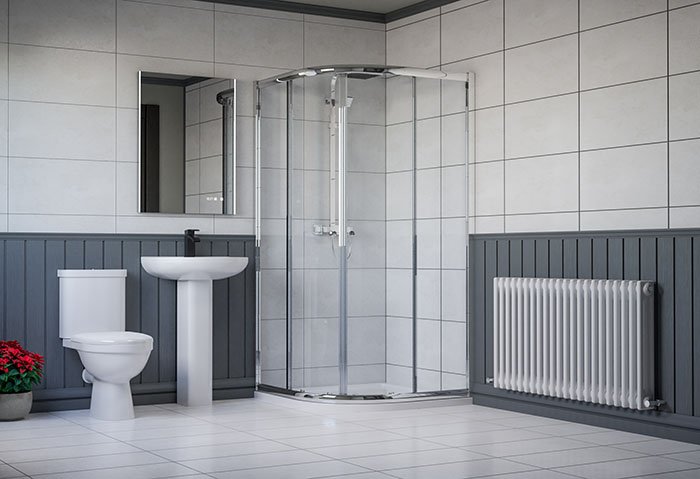 If you're in the market for a vintage inspired, traditional bathroom, we've got you covered. You can't create a vintage-chic space without incorporating a classic freestanding bath and there's nothing better than relaxing in the Kensington with its roll top form and slipper shape. Combine with the Balmoral Traditional Bath & Shower Mixer Tap, coming complete with a handheld shower featuring a stunning Victorian style design.
To ramp up the vintage even further, look to your bathroom heating. Instead of radiator or heated towel rail, go for a mixture of the two. The Balmoral Traditional Radiator, featured in the image below – comes with a handy rail to keep your towels nice and toasty – functional yet stylish.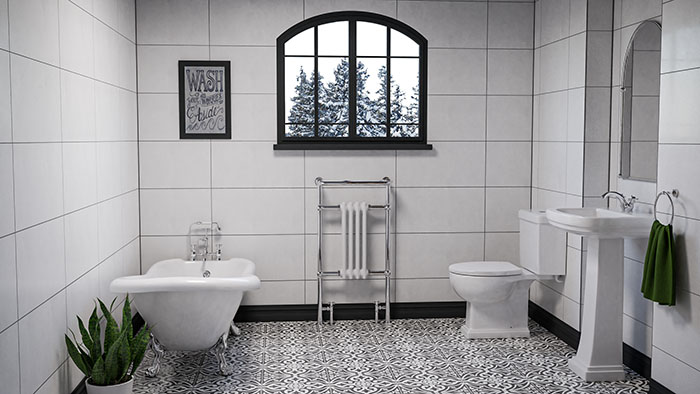 An ultra-modern look to a classic room. Wall Hung Vanities are proving popular in homes across the nation, especially those with no handles (trending for 2021). Take the City, for example, available in 500mm, 600mm and 800mm, with a built in basin, or a plain lid (ready for a counter top). This design is slick, especially in deep Gloss Grey. Pair with a counter top basin, we've opted for the Aveiro, one of our customer favourites, finished off with a high rise tap such as the Cubix – bringing a hotel vibe into the comfort of your own home.
When it comes to selecting your bathroom mirror, think of the key elements that are important to you. We love an illuminated Mirror, with a demister as well as touch screen technology – The Gaia 500 x 700mm Mirror hits that mark with its round edges and smooth design – Mirror Mirror on the Wall – we think the Gaia is the finest of them all!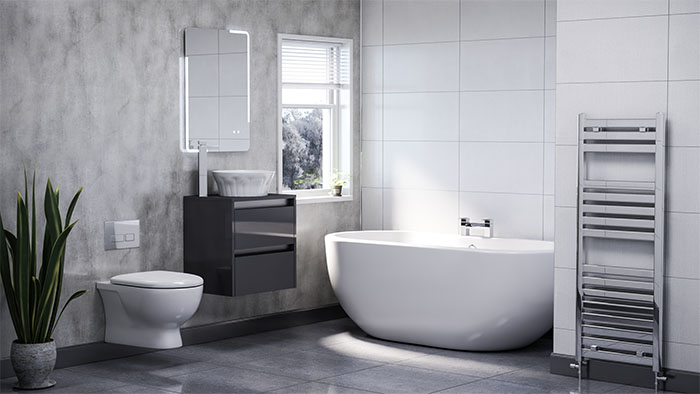 Which style is your favourite? Comment below!
If you have any questions, or need any advice, give us a call on 0344 809 4249!
Stay social by following us on Facebook, Instagram, Pinterest & LinkedIn.
*Savings against RRP, while stocks last.