Posted by Sarah Kielbasiewicz 15th Feb 2019
While many of us love the satisfaction of a sparkling bathroom, most of us would agree that we don't want to spend hours cleaning it (unless you're Mrs Hinch, of course). We're all looking for ways to make cleaning the bathroom a quicker and easier task.
So, if you're planning on renovating your bathroom, why not use the opportunity to your advantage? With some clever design decisions, you can cut down your cleaning time to a minimum.
On that note, let's talk through how you can design an easy-clean bathroom!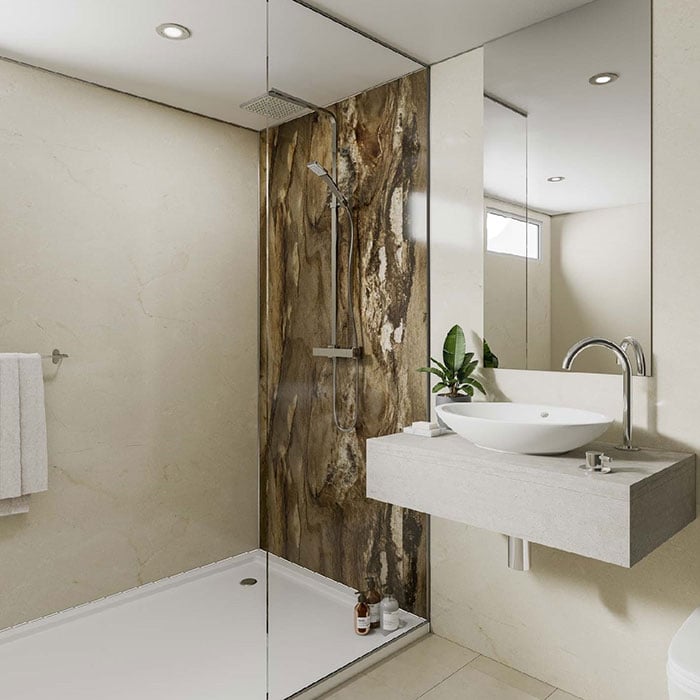 Multipanel Linda Barker Dolce Macchiato Unlipped Bathroom Wall Panel
Wall panels
Wall tiles can get dirty very quickly, especially in your shower enclosure. Dirt and soap scum builds up on tiles and in grout lines, and it can be a time-consuming task to get things looking clean again. The solution? Swap out the wall tiles for waterproof wall panels.
Wall panels are low-maintenance, grout-free and incredibly easy to clean; just wipe them down with warm water and a non-abrasive cleaner. Our best-selling wall panels are available in a variety of designs and colours, so you don't have to sacrifice on style. You could even choose wall panels with a tile-effect design to get the best of both worlds.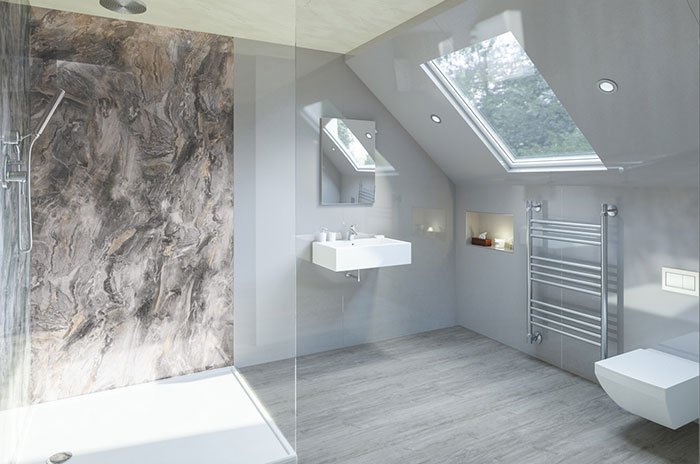 Choose your flooring wisely
The bathroom floor can be one of the most tedious areas of the bathroom to clean. With such regular footfall, dirt and grime can accumulate quickly. That's why it's useful to choose flooring that needs minimal maintenance.
If you're going for floor tiles, choose a style with a matte finish. This texture tends to be more forgiving on imperfections like dirt, smudges and water spots. They generally don't need to be cleaned as frequently as glossy tiles; no more mopping daily just to keep the floor looking presentable.
Another helpful tip is to choose larger floor tiles; larger tiles mean fewer grout lines to clean.
While we're on the topic of grout, a great idea is to choose grout in a dark colour, like black or dark grey. Dirt is less visible on darker coloured grout, so it won't require as much upkeep to maintain its appearance.
Alternatively, you could ditch the tiles altogether and choose vinyl flooring instead. Multipanel Vinyl Flooring is grout-free and easy to clean. It also comes in a variety of stylish designs, so you can find the perfect fit for your bathroom.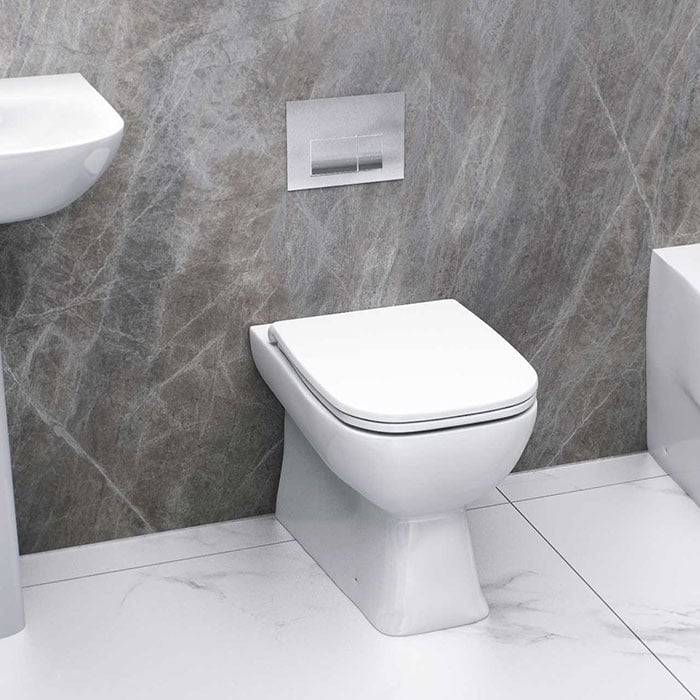 Forth Back to Wall Toilet with Soft Close Seat
Back to wall toilets
Some might say that all toilets are much alike. However, this isn't true when it comes to cleaning. Standard close coupled toilets can be tricky to clean. With lots of curves and tiny crevices, it's easy for dirt to build up.
Back to wall toilets are a great option for easy cleaning. With a concealed cistern and fully back to wall design, there are no awkward crevices for grime to accumulate, making cleaning quick and easy. Our Forth Back to Wall Toilet is a great option; with a sleek and modern design, this toilet wipes clean with ease.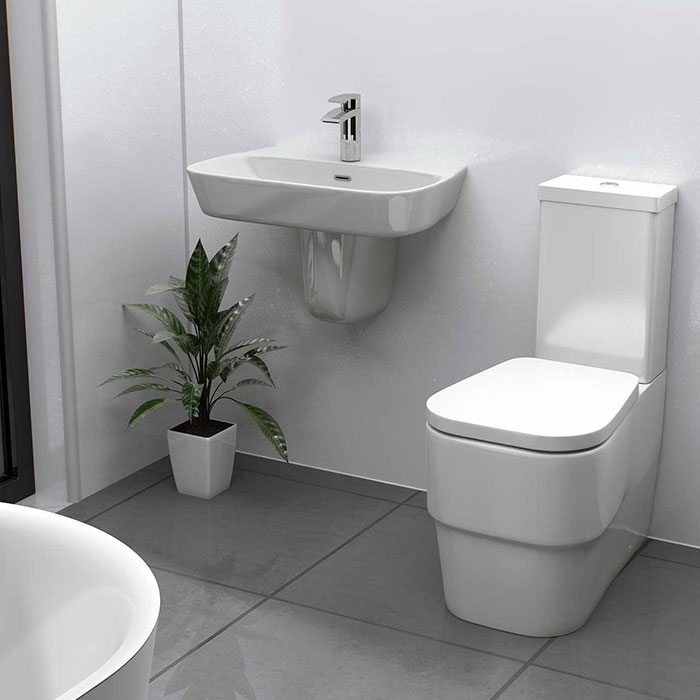 Club 600mm Basin and Half Height Pedestal
Wall hung fixtures
Cleaning the bathroom floor can be an annoying task when you have lots of bulky fixtures to manoeuvre around. Small crevices around furniture and sanitary ware can gather a build-up of dirt and dust that's tricky to clean. Wall hung fixtures can eliminate this issue, giving you full access to clean the floor with ease.
Items like wall hung toilets, wall mounted basins and wall hung vanity units are all great options for an easy-clean bathroom. They're simple to clean, they give ample access for sweeping and mopping the floor and they add a stylish, minimalist look.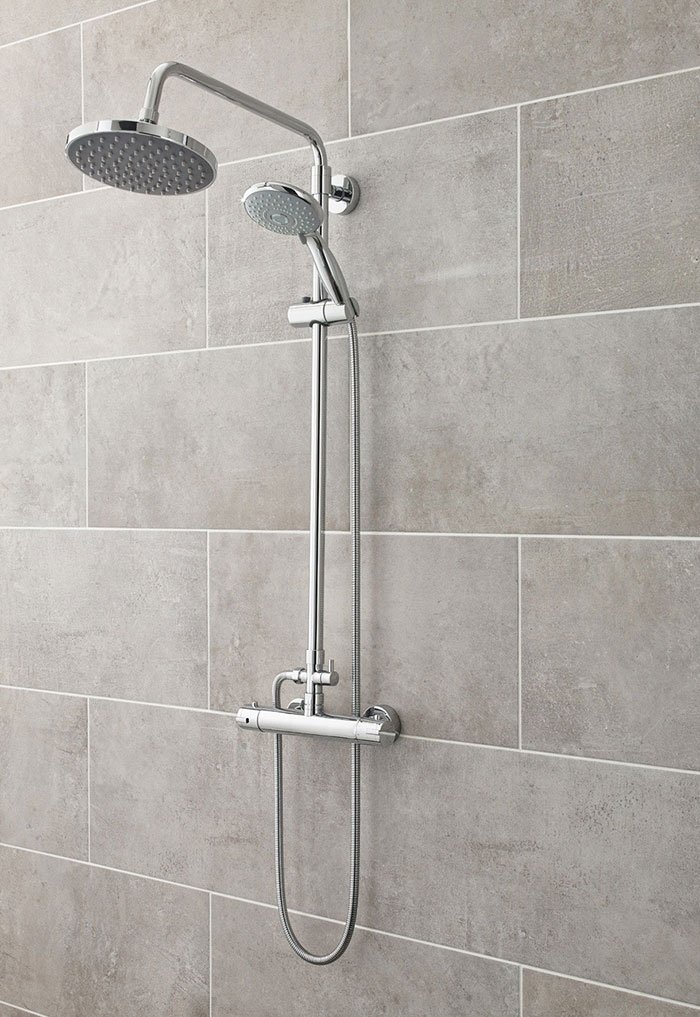 Shower handset
A shower handset is a useful tool for cleaning your bathroom. It can be used to hose down your shower tray and tiles to minimise the build-up of soap scum.
Opt for a shower with a detachable handset for easy cleaning. A rigid riser mixer shower comes with a round showerhead and useful handset.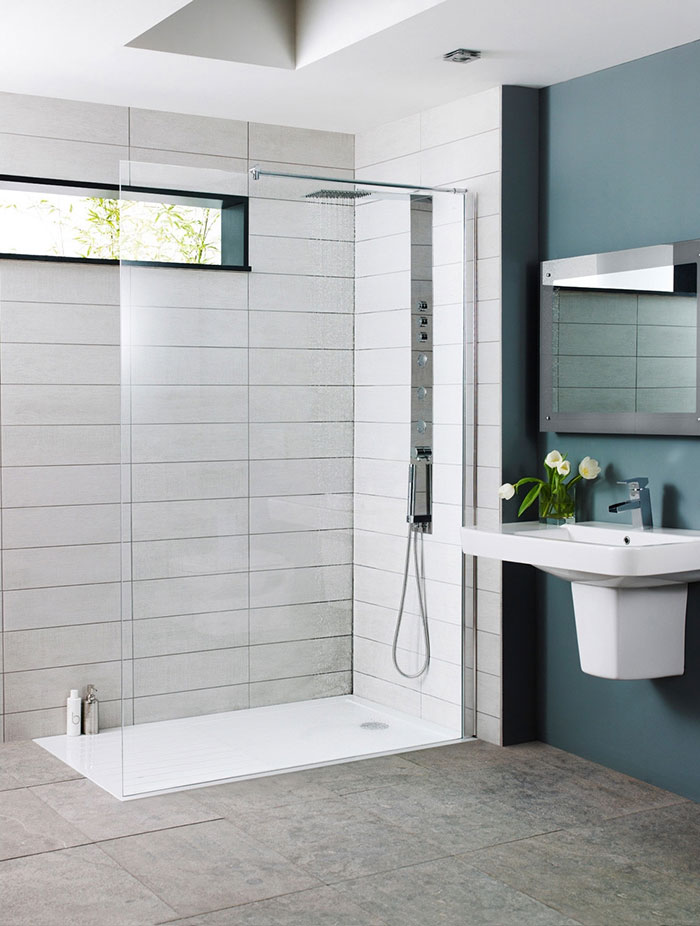 Hudson Reed Chrome Wetroom Screen 1400mm x 1950mm
Walk in shower
Shower enclosures can be notoriously difficult to clean. Chrome frames and handles are breeding grounds for dirt and grime, and it can take a fair amount of maintenance to keep it clean. Opt for a walk in shower enclosure instead.
Walk in shower screens, like the Hudson Reed Chrome Wetroom Screen, feature a simple design with minimal framing, so cleaning is effortless. A glass return screen is also a useful addition, as it prevents any soapy splashes from spraying into the rest of the bathroom.
And there we have it: our tips for designing an easy-clean bathroom. Cleaning your bathroom doesn't have to take an eternity; with the right design, it can be quick and easy! Will you be trying out any of these ideas?