Posted by Kristin Kudeva 8th Jun 2023
Dual shower heads offer a variety of benefits and come in a few different options that will make everyday living easier and more enjoyable.
Most showers that feature two heads usually have a main shower head; this typically would be rain-effect to provide you with a luxurious shower option.
The additional head is usually mounted on a small wall arm or bracket and is called a handset. This small shower head can be used for a quick refreshing shower, for washing hair or it could be used to rinse the shower out after use thanks to its flexible hose. It's also ideal for small children as the main shower head can be a bit too powerful for them.
Whatever your plans for two shower heads are, you'll find this design a welcomed addition to your bathroom that will give you better control over how you want to bathe.
So, join us on this journey as we unravel the amazing benefits that dual shower heads bring to your daily routine!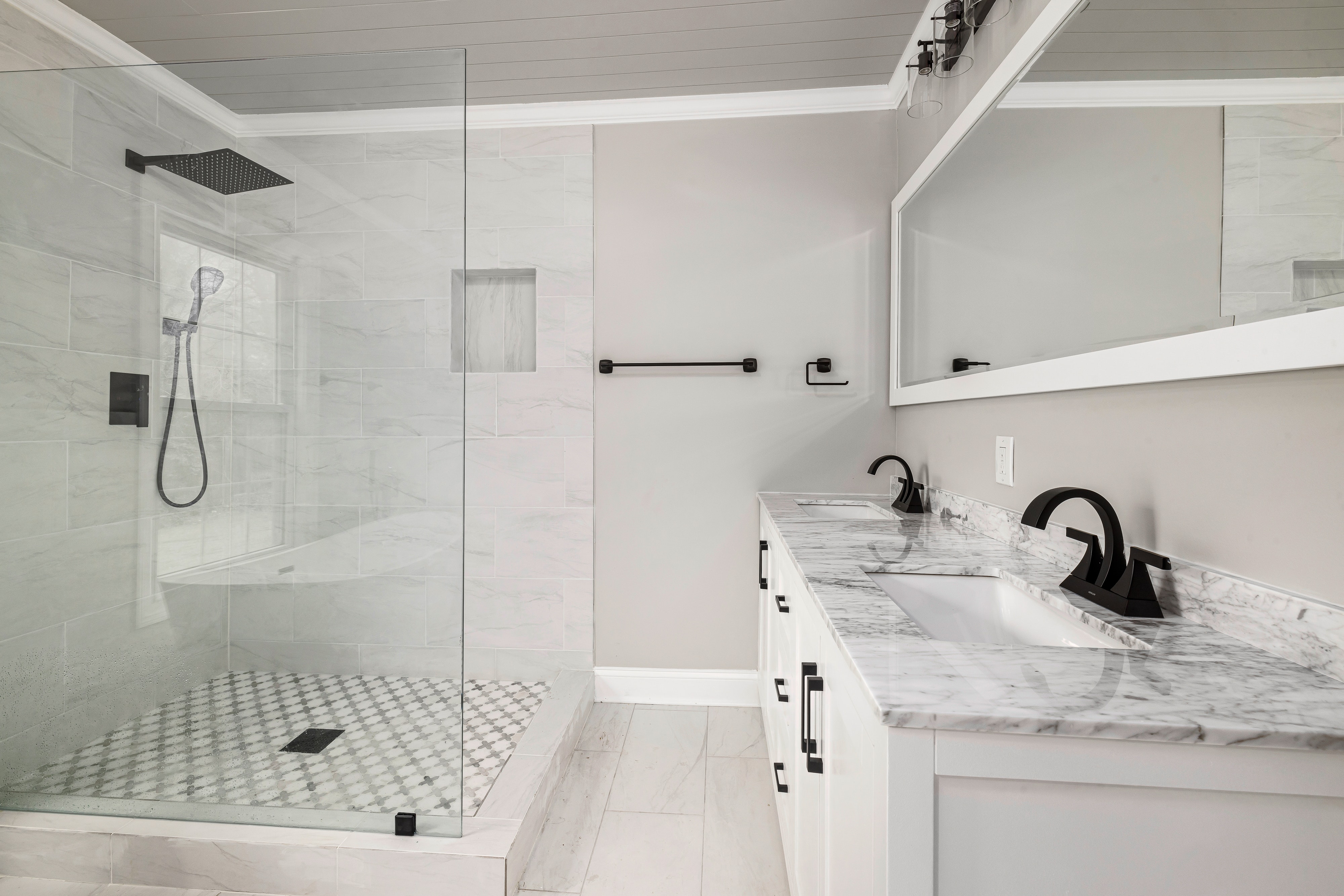 1. Turn your bathroom into a blissful SPA retreat
If you're not fortunate enough to have regular spa visits, there's still a way to transform your bathroom into a relaxing at-home spa. A double shower head system is the answer you're looking for!
First up, we have the fixed shower head - it's perfect for drenching your body, washing away the stresses of the day and preparing you for a state of pure relaxation. Then there's the handheld shower head with its array of spray settings, including rainfall, jetting, and massage. It's like having a personal masseuse at your fingertips. And the cherry on top? You won't even have to step out of the shower. Convenience at its finest!
One remarkable option to consider is the Bristan Exodus Dual Control Shower, which comes complete with a shower arm, a convenient handset, a flexible hose, and a sturdy holder. Everything you need for the shower of your dreams!
With its 200mm fixed shower head, it's like standing beneath a glorious waterfall, feeling the cascading water envelop your body. But it doesn't stop there – the Bristan Exodus is crafted with precision from ABS brass material, perfectly blending durability with a modern touch.
With this Bristan dual shower pack, you'll forget all about those spa trips you thought were out of reach.


2. Simplify shower time
When it comes to sharing a shower with a partner, it can either be a delightful experience or a tricky balancing act, especially when there's only one shower head in play. But a double shower head can be a fantastic solution that will make shower time a breeze for couples.
With this ingenious system, the battle for water domination becomes a thing of the past.
But that's not all the double shower head system has to offer. It brings flexibility to a whole new level, accommodating people of different heights with ease. The handheld shower head, known for its mobility, can cater to shorter individuals, while the fixed shower head takes care of taller people. It's a showering solution that embraces everyone's unique needs.


3. Enhance shower accessibility
For those with disabilities or the elderly, using a regular shower head can present its fair share of challenges. Sure, a handheld shower head can offer control over the water flow. But let's be honest, the fatigue of constantly holding it can dampen the experience. On the other hand, a fixed shower head keeps your hands free, but it leaves you drenched and unable to direct the water where you need it most.
With a double shower head system, you can finally enjoy the best of both worlds. No more acrobatics or awkward manoeuvres under a fixed shower head. Now, you can effortlessly switch between the fixed and handheld shower heads, tailoring your showering experience to your exact needs.


4. Boost home value
Investing in a double shower is a smart decision that can yield impressive returns. When it comes time to sell your home, it can give your home a remarkable competitive edge. The allure of a double shower, with its enhanced functionality, can be a decisive factor that sets your home apart from the rest. It exudes an air of sophistication and indulgence, creating a lasting impression that resonates with potential buyers.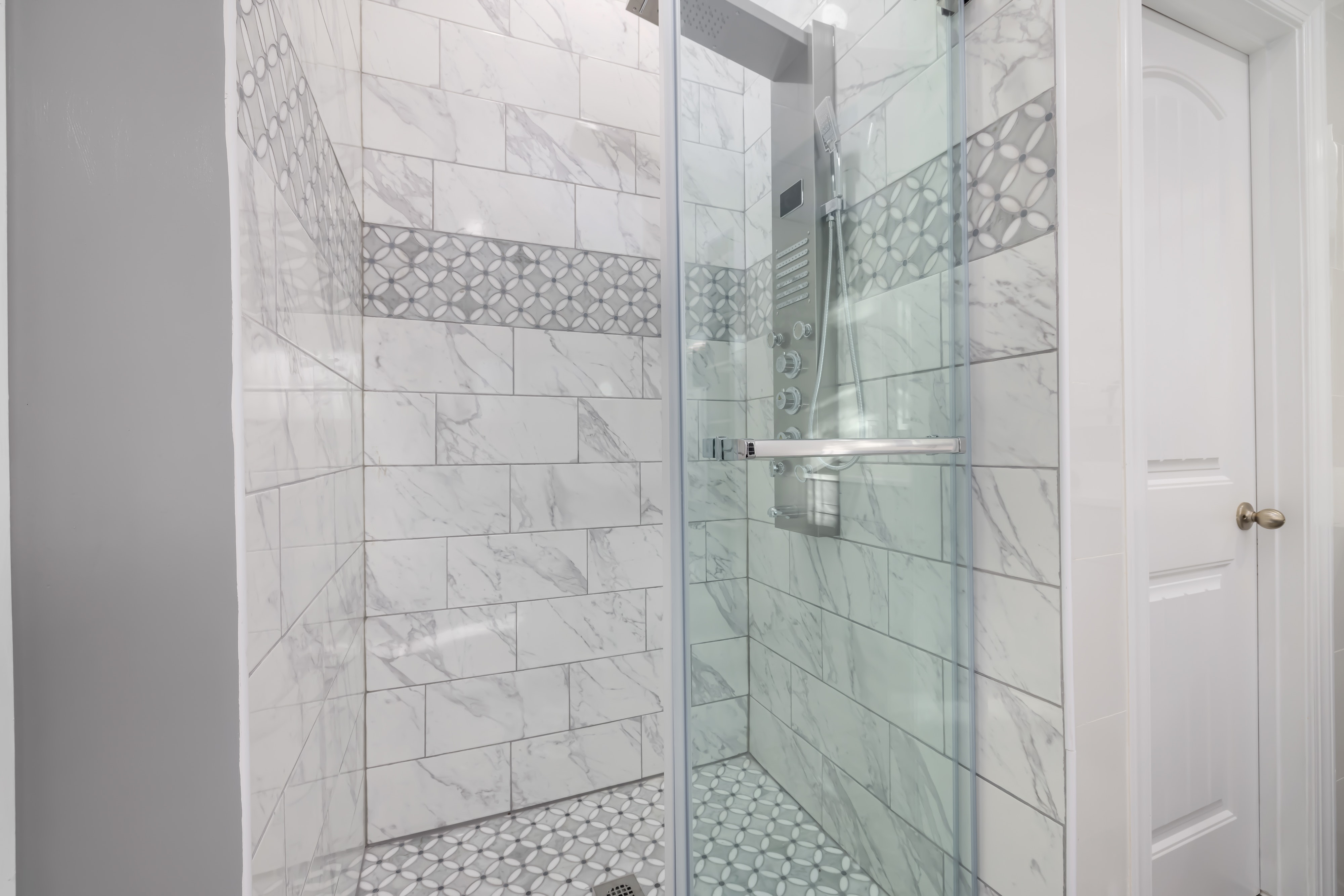 5. Options for every budget
When it comes to reaping the benefits of a double shower, you don't have to break the bank. At Wholesale Domestic, we understand that everyone deserves the indulgence and practicality of a dual shower, regardless of their budget. That's why we offer a wide range of double showers that cater to every pocket.
Our dual thermostatic mixer showers are an excellent choice, starting at just £227. With their contemporary chrome finish, they seamlessly blend style and performance, elevating your showering experience without compromising on quality. These showers offer a perfect balance of affordability and sophistication.
If you prefer the convenience and flexibility of an electric shower combined with the indulgence of dual heads, our electric dual showers are the ideal solution. Starting at just £273, they offer the best of both worlds. Experience the invigorating flow of water from dual shower heads while enjoying the ease and simplicity of an electric shower.
No matter your budget, we have the perfect double shower to transform your bathroom into a haven of luxury, elegance, flexibility, and practicality.
Dual shower options
Shower Panels
Shower panels are unique in that they are one complete unit, our customers love this look because it's sleek and luxurious. Shower panels are slightly different as they usually feature a main shower head, shower handsetand also have massaging body jets for the ultimate showering experience, all in the comfort of your own home.
Our Hydra Thermostatic Shower Panel is finished in stainless steel and features a rain effect shower head, a handset and 2 powerful body jets. Three valves allow you to choose the desired function quickly and efficiently.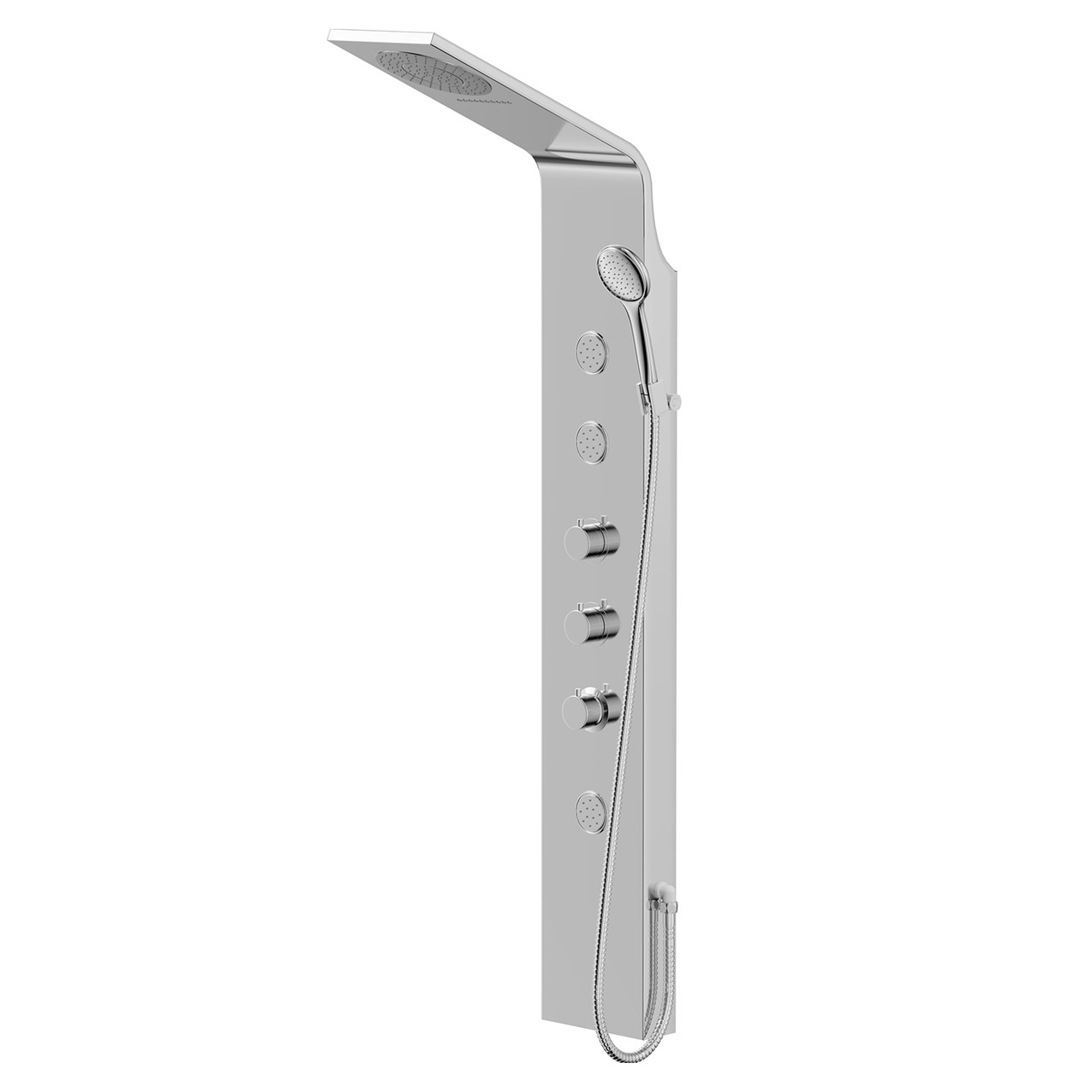 Our Carina Black Glass Thermostatic Shower Panel is a luxurious addition to any new bathroom setting. This stunning black glass shower features a square rain effect shower head, square handset as well as four powerful body jets for an amazing showering experience at home. Again, three dials allow you to choose the perfect function to suit your mood.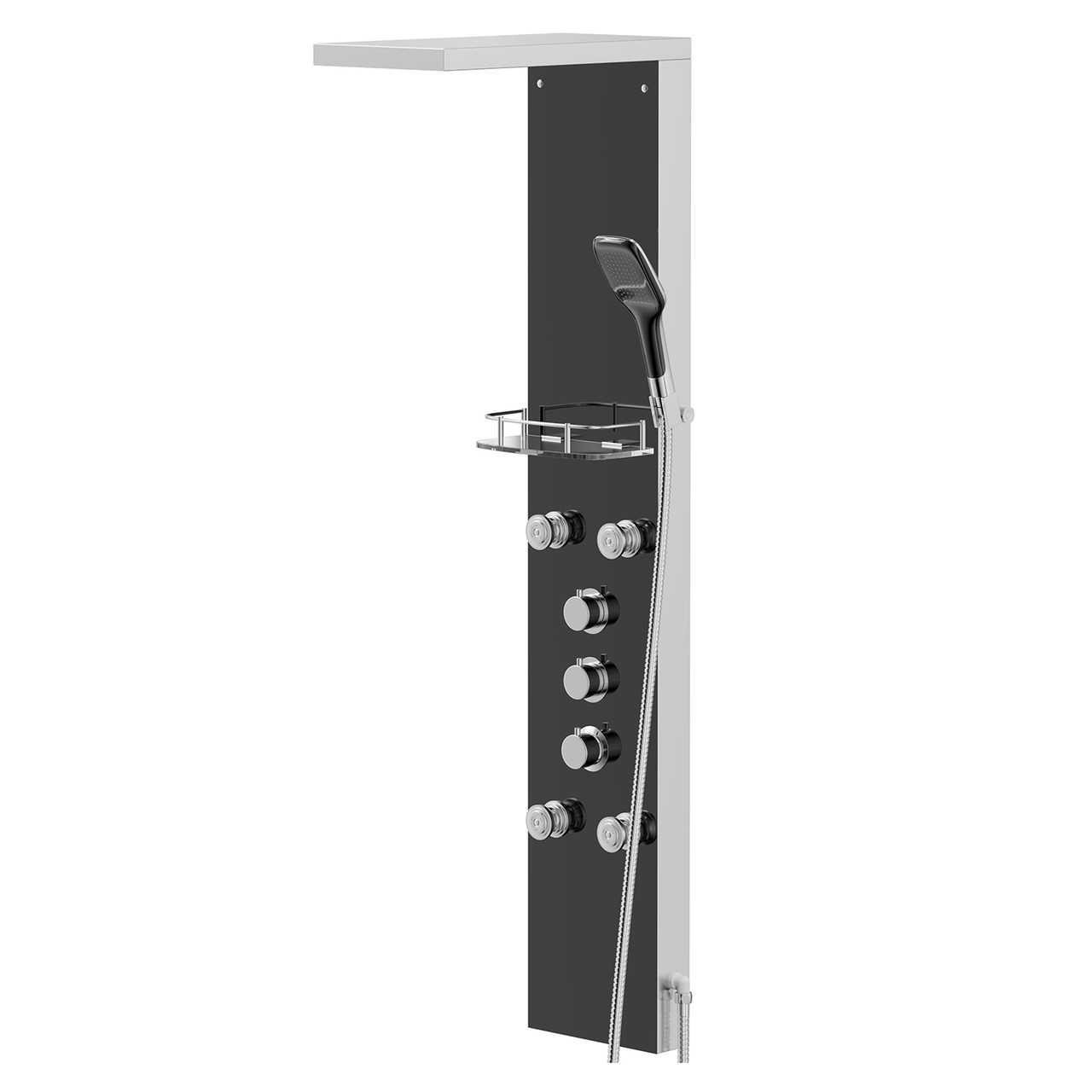 Our Capella Thermostatic Mixer Shower Panel is the ideal choice for any sophisticated bathroom. This gorgeous shower panel features a square rain effect shower head, pencil handset and 2 round body jets for an indulgent in-shower massage.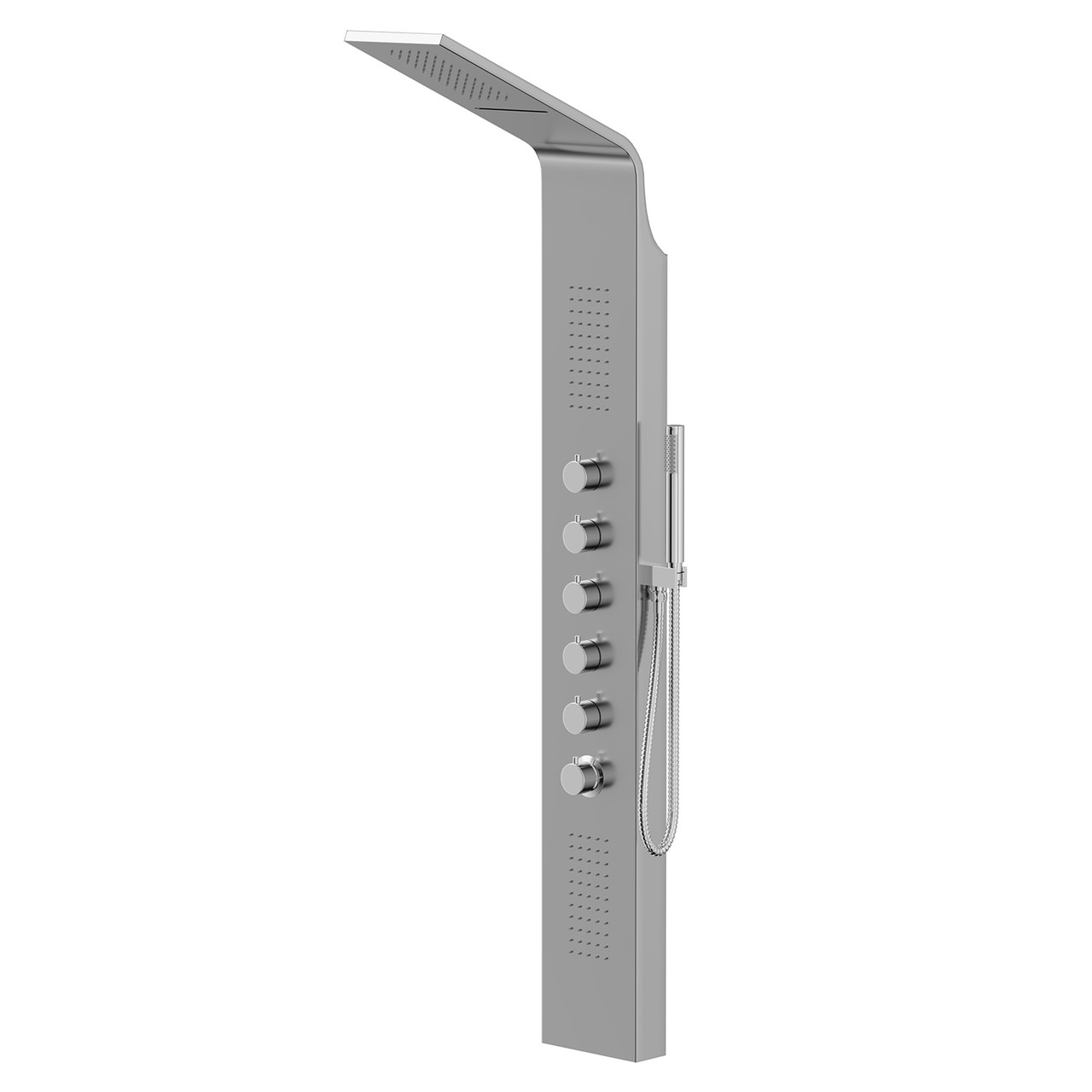 Rigid Riser Showers
Rigid riser showers are unique as they typically feature two shower heads and have a valve at the bottom which allows you to control water flow, temperature and which head the water runs from.
They are different because the design usually keeps the pipes exposed which creates a modern, industrial look that looks great in any modern or traditional bathroom. The main shower head usually creates a rain effect feel and the smaller handset can be used to wash hair, rinse the shower or bath after use and is perfect to create a gentle shower for small children.
Our Kappa Thermostatic Rigid Riser Shower System is one of our most popular showers. Priced at just £139.95, this shower is excellent value for money and provides you with a stylish solution that features two independent shower heads that are perfectly suited to any busy family environment.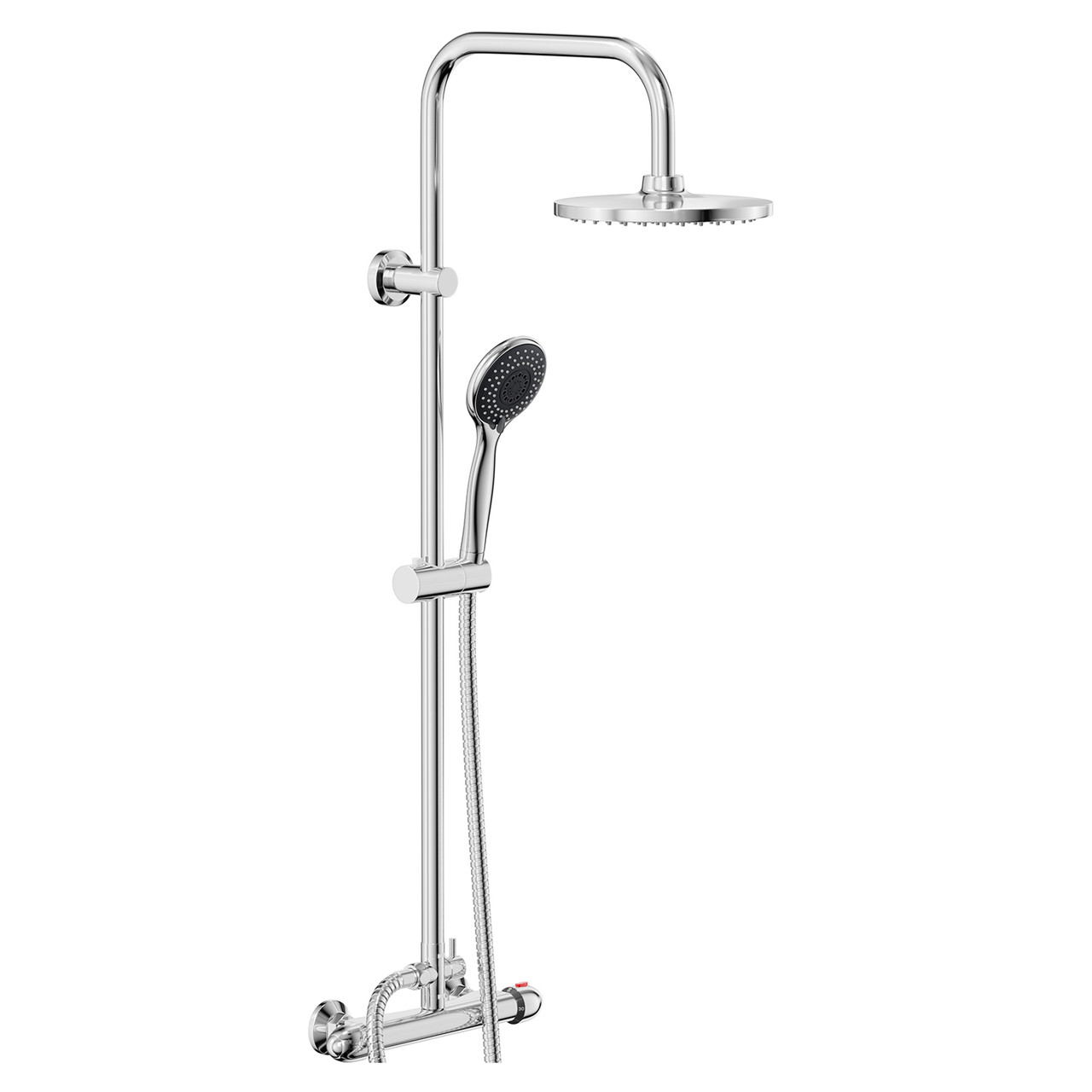 Our Delta Thermostatic Rigid Riser Shower System is the ultimate addition to your lovely new modern bathroom. This stylish shower features a unique round design head and slim line shower handset, a bar valve allows you to control water temperature, water flow and operational shower head.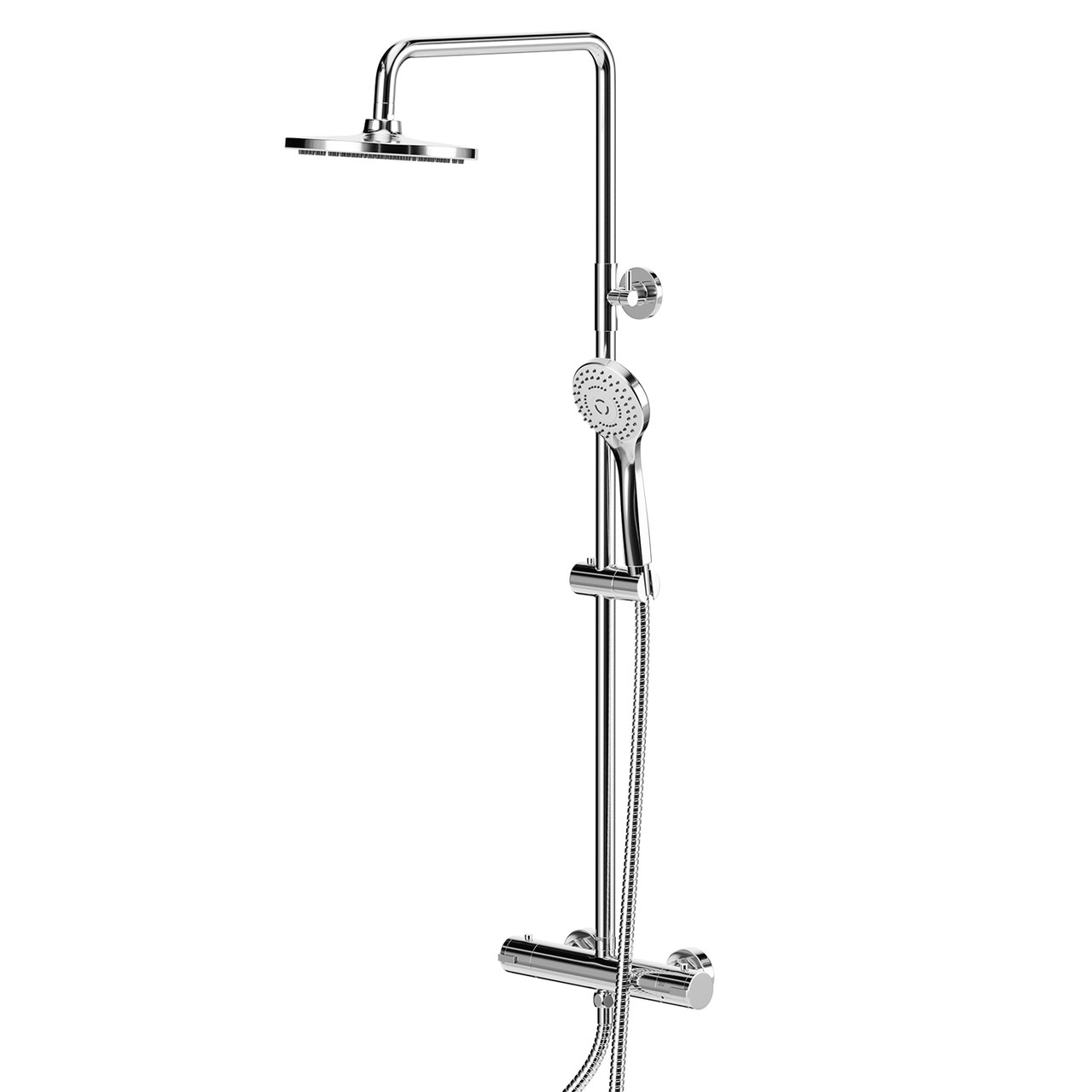 Mixer Showers
Mixer showers come in hundreds of different variations, but it's unique to find this style with two shower heads. For a mixer shower to have an additional head the shower needs to feature a triple valve. This special valve allows you to control water temperature, water flow and each head independently to help you create the shower of your dreams, in the comfort of your own home.
Our Circo Triple Thermostatic Valve with Round Shower Head & Clyde Slide Rail Kit is the ultimate stylish addition to any new bathroom setting. This clever combination includes a round rain effect shower head, round shower handset and unique round triple valve to provide your home with an unparalleled showering experience the whole family can enjoy.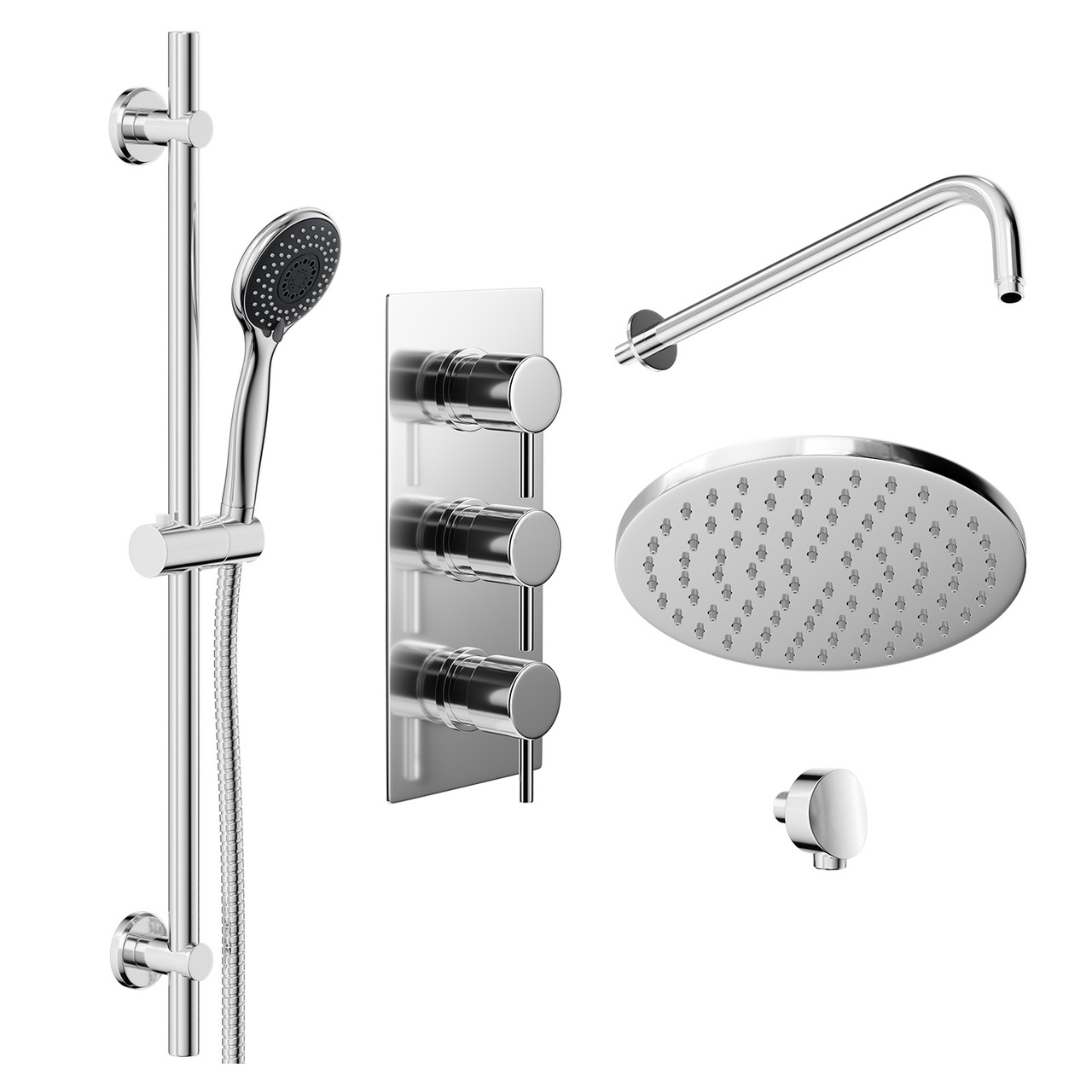 Our Cubix Triple Thermostatic Valve with Square Shower Head & Thames Slide Rail Kit is basically the same idea as the shower above but has a square design rather than a round one. This is an excellent shower and will provide you with an unbeatable new shower.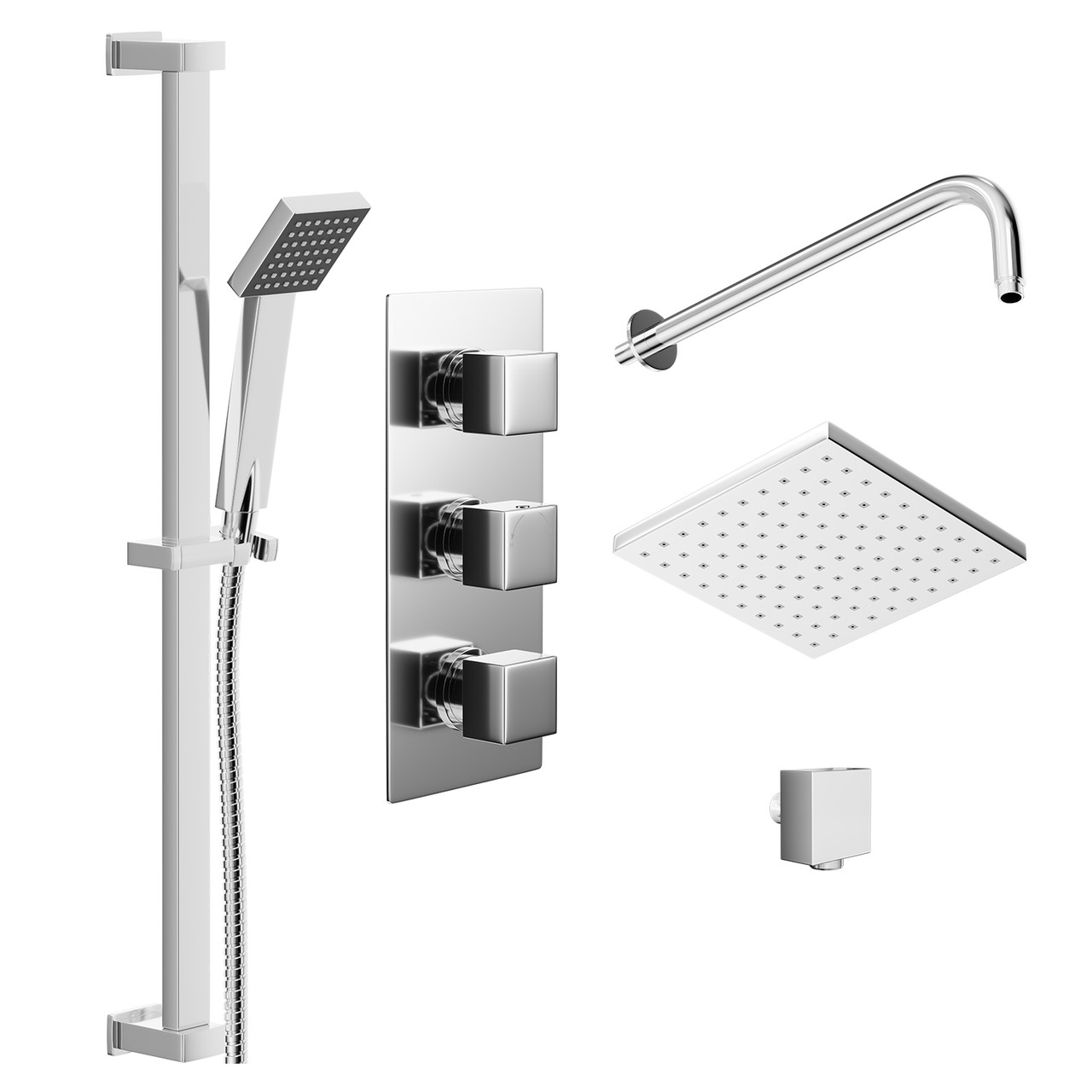 In conclusion, dual shower heads offer a multitude of benefits that can truly transform your showering experience. From the relaxation and convenience they provide to the enhanced accessibility and boost in home value, it's clear that investing in a dual shower head system is a decision worth making.
At Wholesale Domestic, we understand the importance of indulgence and practicality for every budget. That's why we offer a wide range of options to suit your needs. So, make sure to check out our range of affordable dual shower system online or in-store. Our experts are here to guide you towards creating the bathroom of your dreams!


Recommended articles: