Posted by Sarah Kielbasiewicz 11th May 2022
Here is our ultimate buying guide for bathroom basins that is guaranteed to help you select the right basin. The basin is a vital element in every bathroom and is a great way to transform your space, which is why it's so important to choose the right one. Whether you're replacing your old basin or kitting out a full new bathroom, this buying guide will help you choose the right option for you.
Please note all basin taps and wastes are sold separately, allowing you to fully customise your overall basin look. But don't worry, we'll explain what those are too!
Things to Consider When Buying a Basin
When buying a basin for your bathroom, there are a few things you need to consider:
Space: How much space do you have in your bathroom, and how would you like to maximise it? If you're looking for extra storage then a vanity basin unit may be what you're after, or if you're short on space, a corner or pedestal basin could be the one for you.
Size: Much like space, you should then consider the size of basin to suit your bathroom. Our basin vanity units come in a variety of widths to suit many spaces and if you opt for a countertop basin you need to ensure the size will fit on your chosen unit.
Mounting: Check the type of basin you choose can be fitted in the style you want, this may be countertop, wall hung or a simple pedestal.
Material: Which material suits you and your needs best? We offer chic glass basins, however for homes with small children this may not be the most suitable choice. Ceramic basins are highly durable and long-lasting.
Taps: What style of taps will suit your basin and overall bathroom space? Some of our basins come with pre-drilled tap holes so this can determine which type of taps or basin you may want to buy. Those without pre-drilled holes offer the opportunity to choose from many basin taps, including wall mounted and high-rise.
Types of Basins
Pedestal Basins
Pedestal basins are a staple of modern bathrooms. This classic style features a full-sized pedestal which the basin rests upon. The pedestal conceals pipework and plumbing, while also partially supporting the basin on top which is also secured to the wall.
Our pedestal basins are made with durable ceramic, which won't swell or distort with steam or condensation. This hard-wearing material will stand the test of time making them an exceptionally reliable choice if you are looking to merely replace or upgrade your existing pedestal basin.
Full pedestal basins come down fully to the floor whereas semi-pedestal basins have a shorter pedestal meaning they are mounted to the wall with free floor space underneath.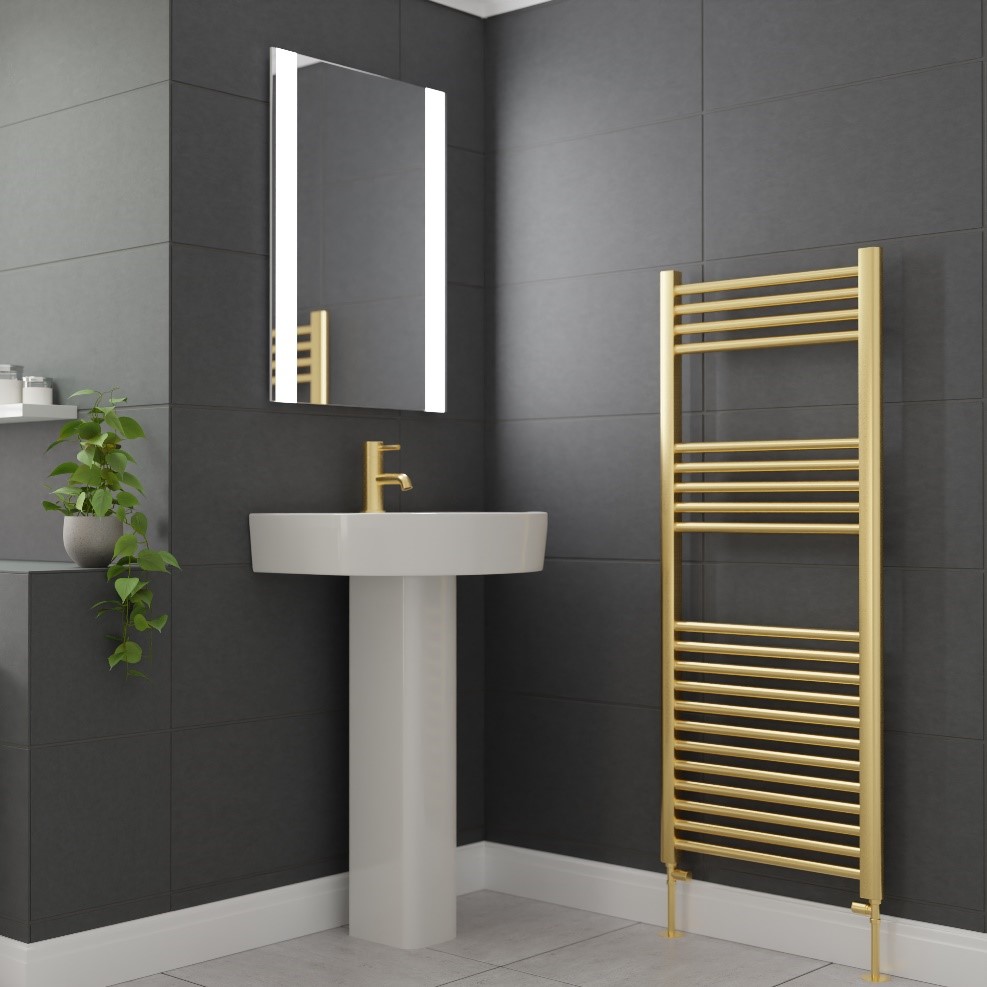 Wall Mounted Basins
Wall mounted basins are a highly popular modern option for a contemporary bathroom design and bang on modern day trends. This style of bathroom basin is a great space saving solution making it a stellar option for smaller bathroom spaces. Highly versatile, wall mounted basins can be installed and positioned at the ideal height to suit you.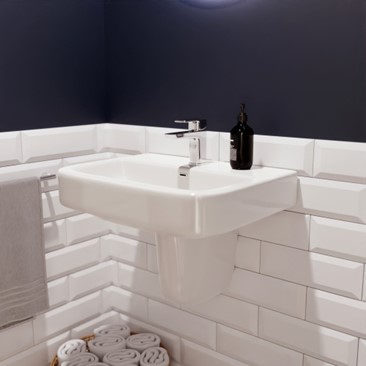 Vanity Unit Basins
A decidedly popular option in modern bathrooms, vanity basins feature a vanity storage unit with a fitted basin on top. This stylish and functional alternative to a standard pedestal basin offers practical storage space concealed underneath the sink to keep your bathroom essentials tidied away.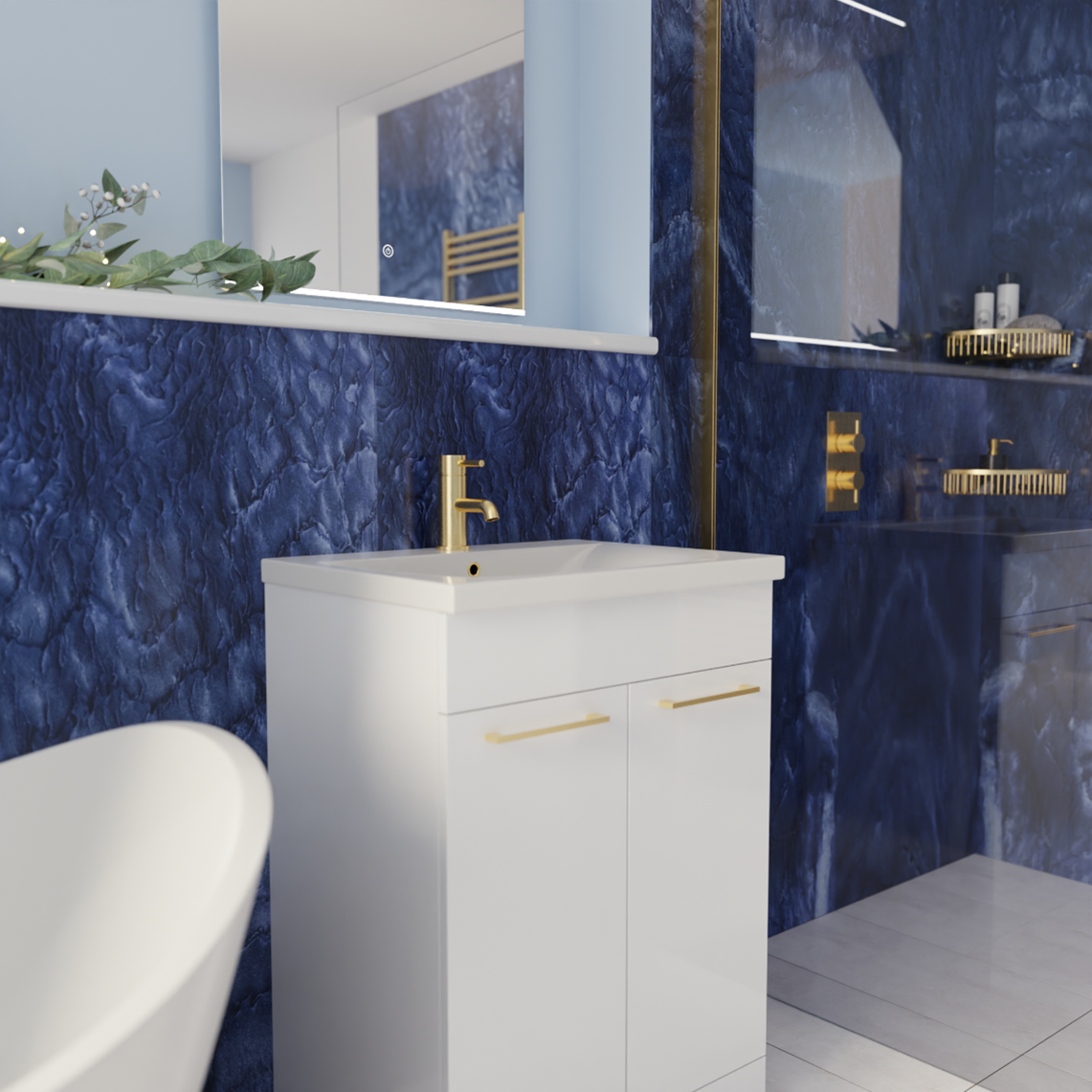 Vanity basin units are available in numerous different sizes to suit different space requirements, meaning there's an option for a bathroom of any size. These stylish units also come in a variety of designs, so you can choose the right style for your bathroom look.
More recently introduced is the slimline basin and L shaped basin with vanity unit, which can both totally transform any smaller bathroom space and give an illusion of space.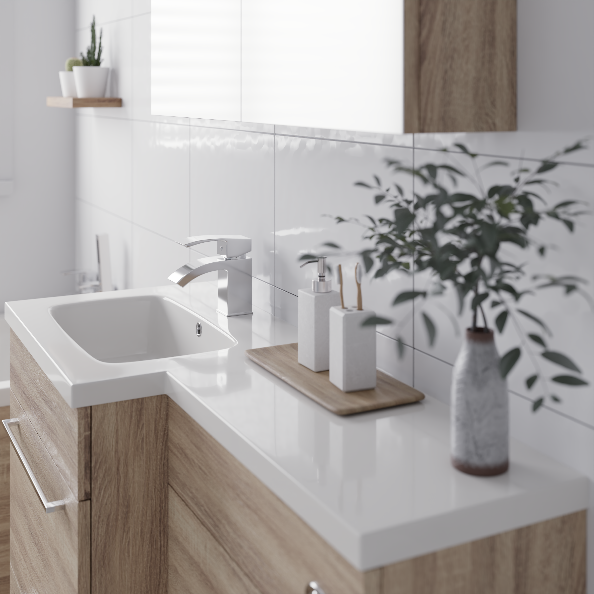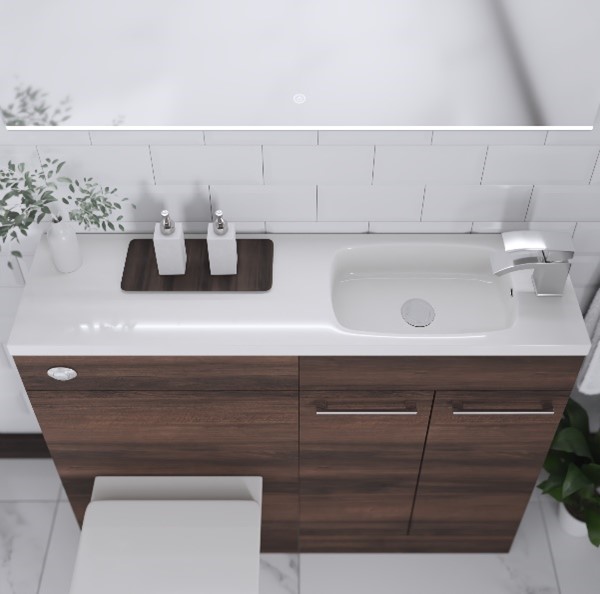 Countertop Basins
Countertop basins are designed to sit on top of a worktop, giving a chic and modern feel. Countertop basins can be combined with most vanity units, including both floor standing and wall hung options. This combination will add a unique, fashion-forward look to your bathroom, while also incorporating valuable storage space.
With all pipework fully concealed, countertop basins provide a clean and simple appearance. While some countertop basins will feature a pre-drilled tap hole to accommodate a tap, most will require the use of a high-rise basin tap. This is mounted onto your vanity unit instead of the basin, with the water flowing into your basin from above, creating an elegant and striking look.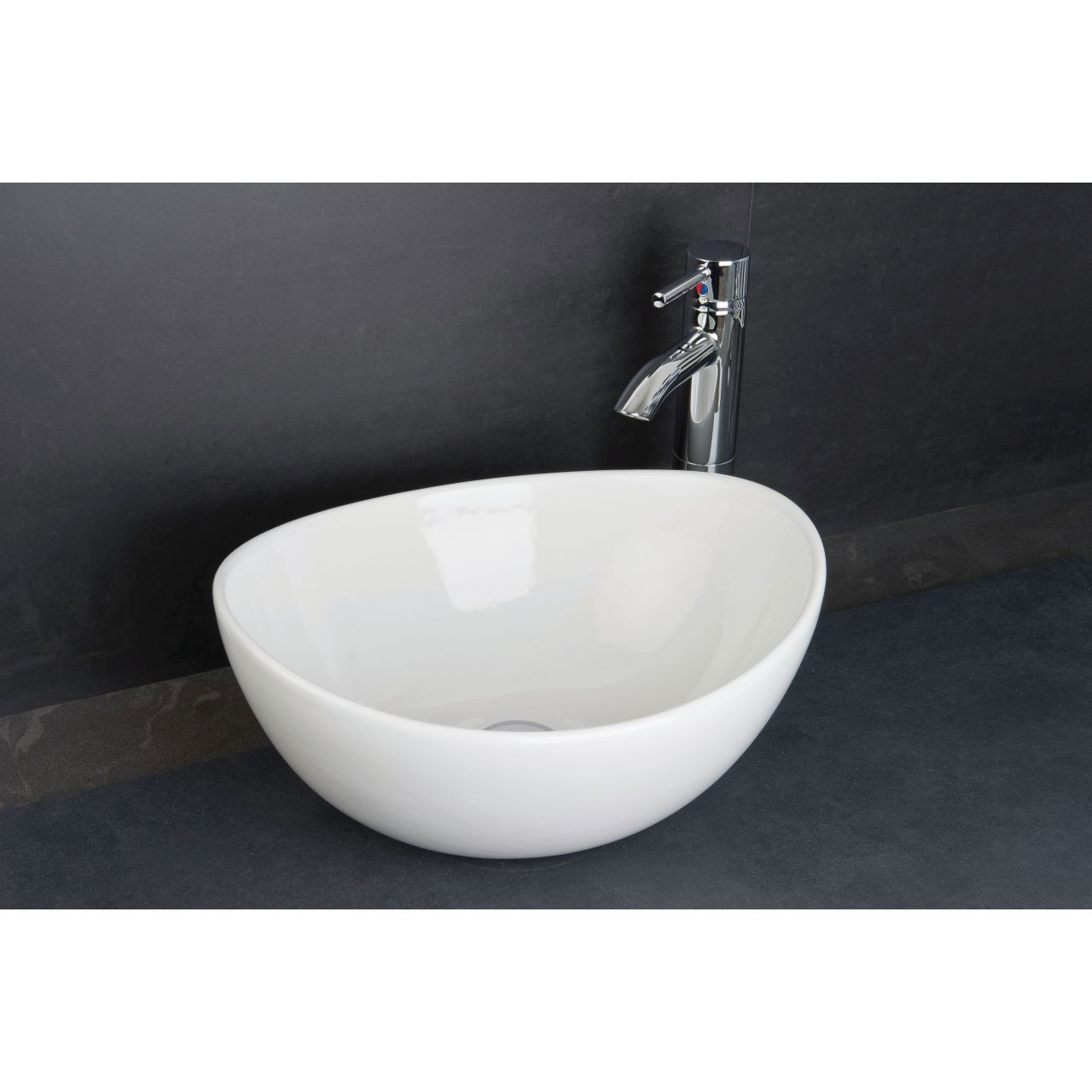 Semi Recessed Basins
Semi recessed basins are a style of basin that is a merge of a countertop basin and a fully recessed basin. This style of basin is typically integrated with a vanity unit with a slight projection that sticks out as shown before. You can shop curved or rectangular layouts depending on your personal preference.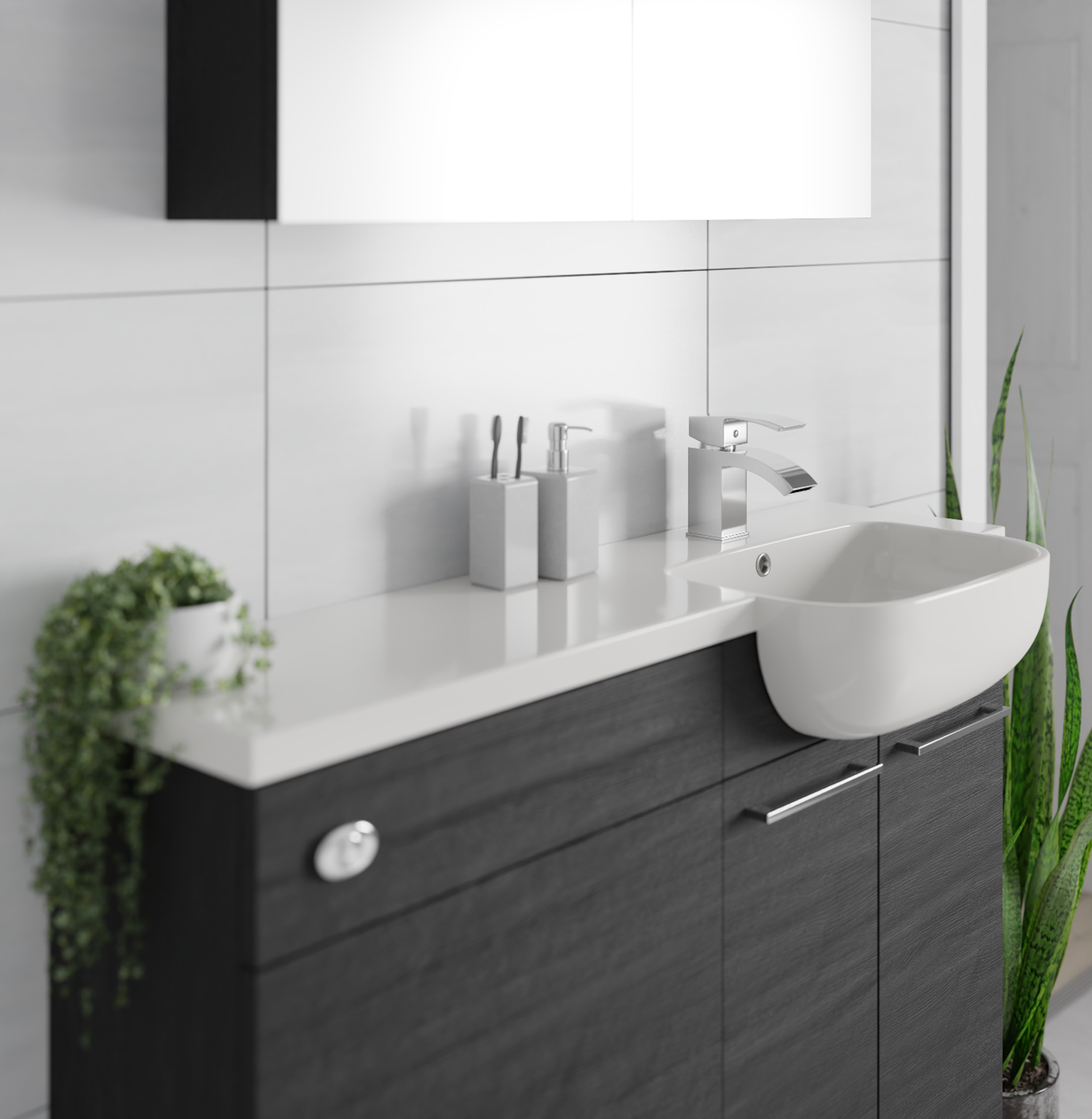 Basin Essentials
A basin waste is an essential for any bathroom basin. Typically, the waste is found in a basin, bath and shower tray where water exits the vessel. It is an essential part of your bathroom as it allows you to use water efficiently and retain or remove it from your bathroom safely, without any damaging leaks.
An overflow is a small hole on the inside of the basin, usually located under the tap, that allows excess water to be drained while the tap is running to stop any potential flooding.
Basin Wastes
First, you need to know if you require a slotted or unslotted basin waste. Slotted waste has a slot that allows any overflowing water to run safely into the main waste and is designed for use with basins with a built-in overflow. An unslotted waste is designed to be used with basins that do not have an overflow. Types of basin waste include:
Push button waste

Plug and chain waste

Flip top basin waste

A push button waste, or click clack basin waste, allows you to simply push down to close the drain and lock in place and then push down again to release. This design does not feature a chain and plug, however traditional basin wastes of this style are also available. Please note, a chain and plug waste will require a basin with a chain stay, which is a small hole used for securing the chain bolt.
A flip over basin waste has a rotating plug that can be turned by hand and spins 180 degrees to open and close.
Our wastes typically come in a polished chrome finish, but if you are looking for something a little different, why not upgrade to a brushed brass or matt black basin waste to match your full bathroom aesthetic.
Basin Accessories
Once you have selected your perfect basin and taps, you can consider a choice of basin accessories to really enhance your bathroom. A bathroom towel rail or towel ring can be placed next to the sink to hang your hand-drying towel for ease of use after washing. And talking about washing your hands, choose a soap dish or wall-mounted soap dispenser to provide cleanliness and hygiene for you and your guests.
If gadgets are your thing, we offer a range of wall mounted electric toothbrush chargers and shaver combos, adding a touch of luxury to your basin area.
Shop Basins Today
So, whether you're looking for a traditional full pedestal basin, a trendy countertop bathroom basin or a practical vanity unit basin, shop our full selection of basins online today.