Posted by Kristin Kudeva 17th May 2023
It's no secret that smart technology is making its way into our homes. Smart devices seem to have found a place in every room, and the bathroom is no exception. These gadgets can be incredibly useful; they make the running of your day-to-day life easier and, let's be honest, they're just plain cool!
On that note, here's 4 new pieces of smart technology that are perfect for your bathroom.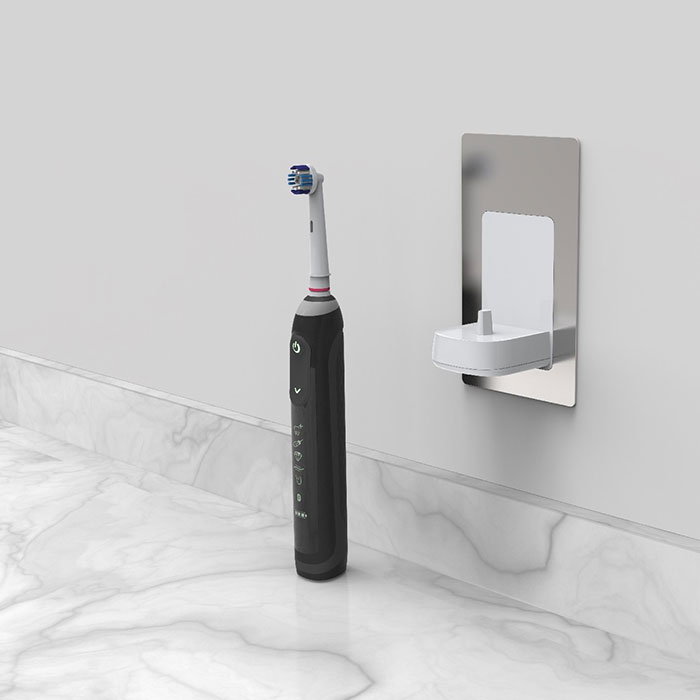 In-wall toothbrush chargers
Electric toothbrushes are commonplace in our bathrooms nowadays, so most of us are aware of the mess that can be created by them. Untidy cables from conventional charging units can be a source of annoyance, particularly if you pride yourself on having an organised, tidy bathroom. In wall toothbrush chargers are designed to combat this exact problem, and are the latest innovation in bathroom gadgets.
The charger is mounted on to the wall to create a handy place to charge and store your electric toothbrush when you aren't using it. It can be installed as a shaver socket or can even be fitted to replace an old shaver socket that has gone unused. The charger can be used with any Braun or Oral B electric toothbrush.
Priced at just £52.94, the stylish ProofVision White In-Wall Electric Toothbrush Charger is a great budget-friendly option. Not only is this in wall charger convenient and simple to use, it has a sleek white unit design that adds a modern touch to any bathroom.

For a high-end choice, the Proofvision Black Metal In-Wall Electric Toothbrush Charger and Shaver Combo offers a two-in-one solution for toothbrush charging and shaving and features an eye-catching black face plate for a tasteful finish.
Regardless of the product you choose, you can enjoy a clean and organized charging solution for your toothbrush with our selection of in-wall toothbrush chargers.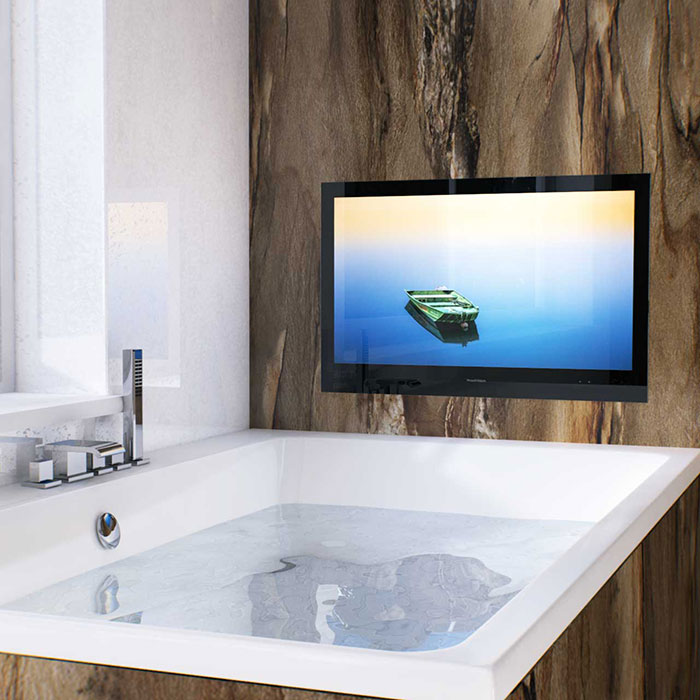 Bathroom TVs
In the past, a TV for the bathroom would have seemed outlandish; something that would have fit in a celebrity bathroom or a luxury hotel, but not really something that would be found in the average person's home. Nowadays, however, bathroom TVs are far more accessible and can add a touch of luxury to any bathroom.
Bathroom TVs are fully waterproof, so they can be used with complete peace of mind that they won't get damaged by a damp bathroom. They can be wall-mounted, or can even be embedded into the wall to create an ultra-sleek look.
A TV for your bathroom might seem a bit extravagant, and perhaps it is! However, it's a great way to turn your bathroom into the perfect space for unwinding, where you can relax in the bath and watch your favourite show after a long day.

If you are looking for a compact yet stylish bathroom TV, then the ProofVision Premium White 19" Waterproof Bathroom Television is a perfect choice. Its in-wall design not only enhances the modern look of your bathroom but also ensures a clean and clutter-free setup. Furthermore, with its IP65 rating, this television is completely waterproof and dustproof, providing peace of mind and durability.
For an unrivalled cinematic experience in your bathroom, look no further than the ProofVision Premium Mirror 43" Waterproof Bathroom Television. Boasting a massive full 1080p HD display, built-in speakers, and smart TV functionality, this television immerses you in your favourite movies or shows while you indulge in a relaxing bath. Its sleek mirror design adds a touch of elegance to your bathroom, creating a luxurious and immersive viewing environment.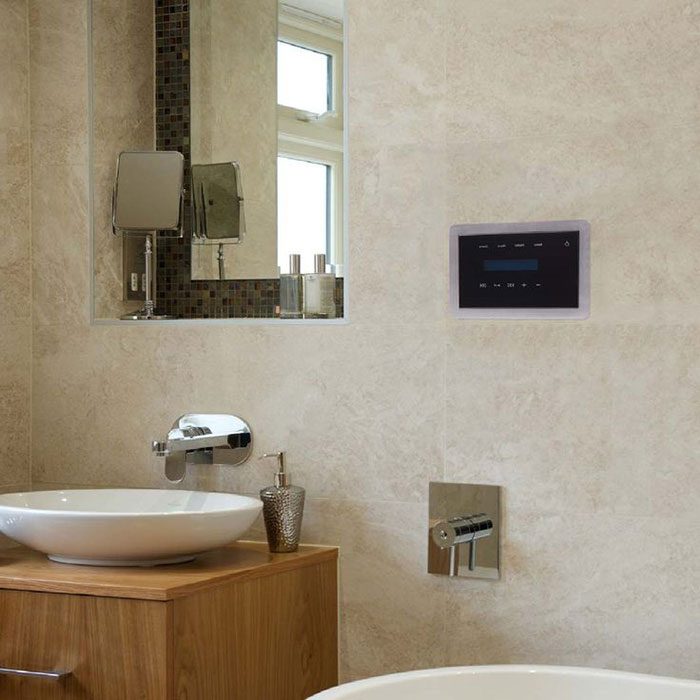 Bluetooth music systems
Bluetooth music systems are a great gadget to add to your bathroom. They connect to a Bluetooth device, like your phone, and give you access to your music collection without having to leave the bathroom. You could also connect the speaker to your Bluetooth TV for optimal sound.
These systems use waterproof speakers like the Proofvision Lithe Audio 6.5" IP44 Bathroom Ceiling Bluetooth Master Speaker, which give you full volume control and amazing sound quality. Gone are the days of straining to hear the music on your phone over the noise of the shower! Most speakers can be controlled directly from your device, so they're very simple to use. However, if you're willing to splurge a bit more, this system comes with a waterproof remote control, so you don't have to worry about accidentally dropping your phone in the bath (it's okay, we've all done it). You can turn up the volume or change songs with ease, even while you're in the shower.
A Bluetooth music system is a great gadget for your bathroom; it makes listening in the bathroom much easier. You can use it to listen to playlists, or you could even use it to listen to your favourite podcast.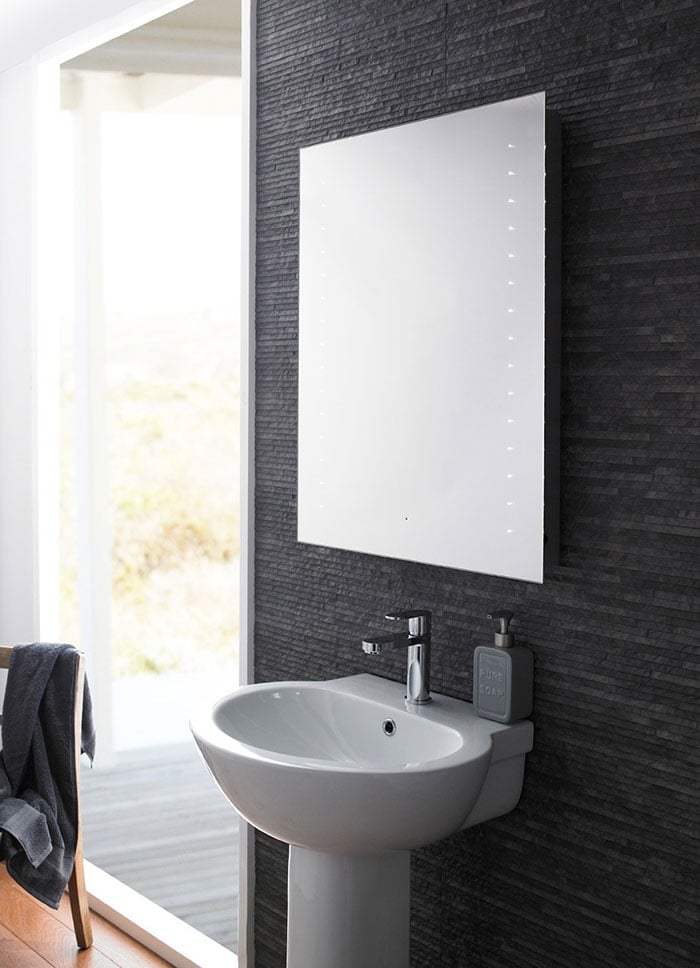 Bluetooth mirrors
If a simple Bluetooth speaker isn't enough for you, you could go one step further and try a Bluetooth mirror. These are bathroom mirrors with Bluetooth speakers built in. They are a great multifunctional option; you could even get a Bluetooth bathroom cabinet for extra storage, such as the Ares 500mm x 700mm Bluetooth LED Mirrored Cabinet.
Much like the standard Bluetooth speakers, they connect to a Bluetooth device, like a phone, and can be used to play music, radio or podcasts.
The mirrors usually come with demister pads, which keep your mirror from getting steamed up.
Bluetooth mirrors are ideal if you don't like the appearance of speakers and prefer a more understated look. They are a great option for adding Bluetooth speakers to a modern, minimalist bathroom.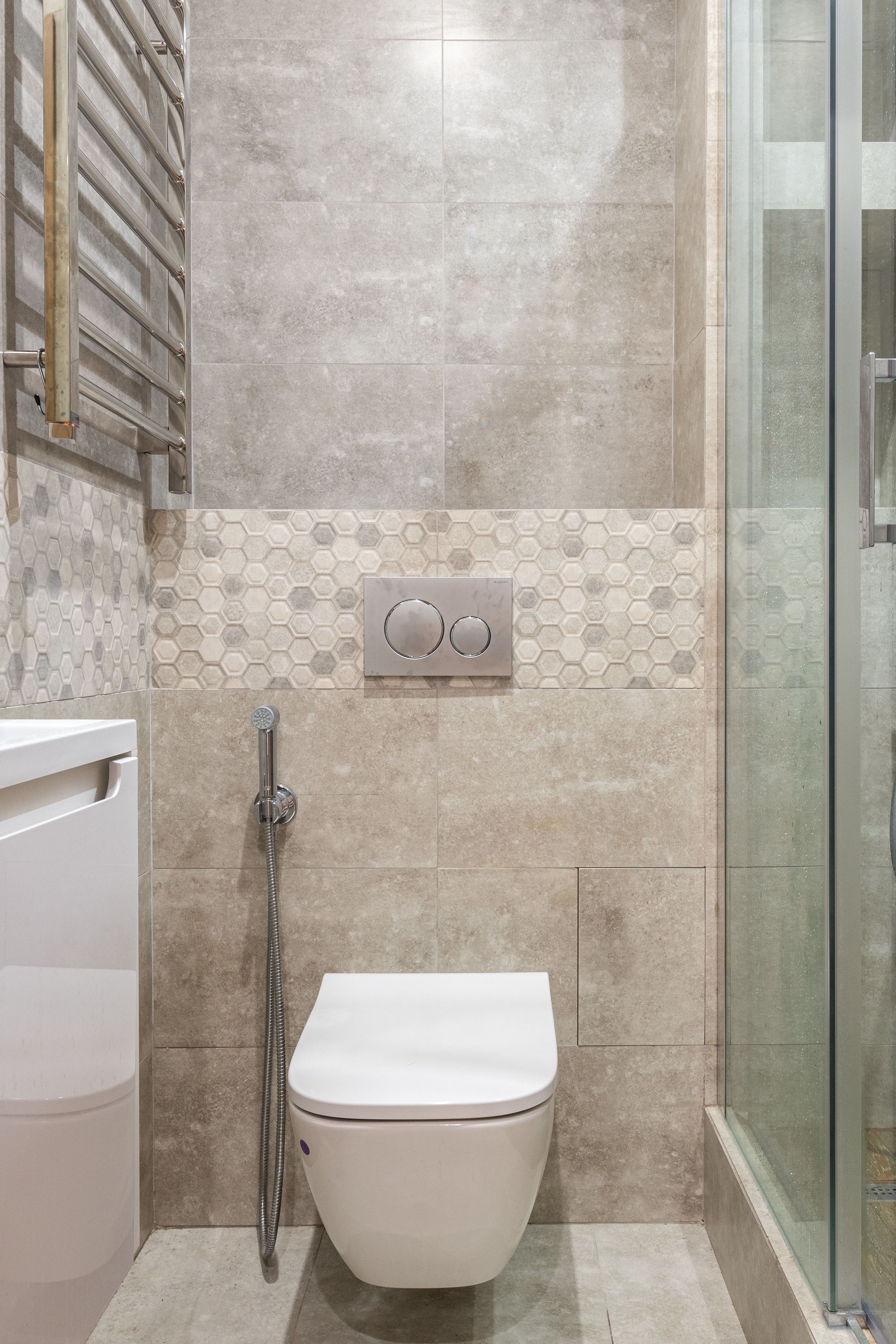 Bonus: smart toilets
Smart toilets, whether as a seat attachment or an all-in-one unit, bring advanced technology to your bathroom. One common feature of smart toilets is the bidet function. After using the toilet, jets of water provide a gentle and hygienic cleaning experience, similar to a traditional bidet. The water spray settings can often be adjusted to suit personal preferences, and many smart toilets can be controlled via a remote. To enhance night-time usability, smart toilets may include built-in nightlights.
This eliminates the need for bright overhead lights, preventing disruption to your sleep pattern. Additionally, slow-closing seats ensure quiet operation, preventing any disturbance to others in the house. The sensory features of these toilets also enable automatic opening and closing of the lid.
The Darnley Round Close Coupled Toilet, for example, is equipped with a smart bidet toilet seat, providing a range of luxurious features. With a self-cleaning nozzle, adjustable water temperature controls, and built-in air-drying technology, it ensures optimal comfort during use.
Transform your bathroom with smart technology
Incorporating smart technology into your bathroom can elevate your everyday routines and add a touch of luxury to your space. From in-wall toothbrush chargers that eliminate cable clutter to waterproof bathroom TVs that provide entertainment and relaxation, there are various gadgets to enhance your bathroom experience.
To stay updated on the latest trends and exclusive offers for these smart bathroom products, don't forget to subscribe to our newsletter below. Join our community and transform your bathroom into a tech-savvy oasis.
Recommended articles:
- Create Your Own Self-Care Bathroom
- How to Create a Spa Bathroom at Home