Posted by Francine Sweeney 11th Aug 2014
This week we're delighted to feature our new Napoli bathroom furniture range. Stunning minimalist style with amazing designer elements, we ask what's not to love? Already selling like hot cakes in our showroom, we thought we'd let you in on our newest range before they all sell out!
Available in three gorgeous colours to suit your personal taste and bathroom design; our Napoli furniture range comes in glossy white, black oak and grey oak. This clever range of bathroom furniture is designed to be combined with other units in the same range to create the perfect fitted bathroom. Basin units can be joined with WC units and a matching bath panel and mirror wall cabinet for an impressive look and feel in your new bathroom.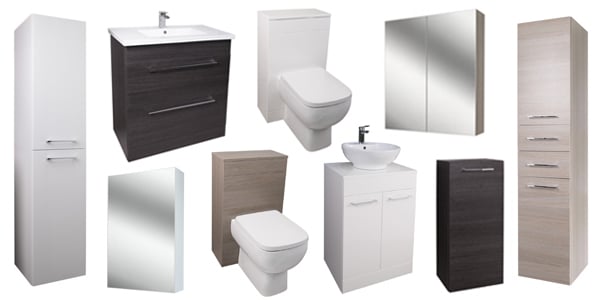 These bathroom units are available in a huge variety of sizes to suit every scope and shape of bathroom, from 500mm basin units to 800mm basin units with the option to choose the perfect counter top basin or an integrated basin depending on your style. The choice is endless, you create the ideal bathroom for you and your family from these stunning bathroom units.
Our Napoli bathroom basin units offer an amazing amount of must-have bathroom storage space. Choose between doors or drawers in your bathroom basin unit to help you keep bathroom essentials tidy, organised and out of sight. Our Napoli drawer basin units feature Blum – Perfection Motion technology which means that the fittings are guaranteed to last the lifetime of the furniture. High quality ceramic is used to form the integrated basin and has a gorgeous hi-sheen for a sophisticated look.
Our Napoli WC unit neatly conceals the cistern in an attractive unit that matches the rest of your bathroom. You can choose from glossy white, black oak or grey oak depending on your colour inspiration. Colour co-ordinating bath panels are also available to ensure you achieve a finished look throughout.
Our Napoli range also includes matching mirror wall cabinets to complete the look of your new bathroom. No bathroom should be without a mirror, strategically placed a bathroom mirror can add extra light which creates the illusion of space to your bathroom. This clever mirror cabinet doubles as extra storage space to keep bathroom products in check at all times.
Take a look at our stunning Napoli range today and transform your old, tired bathroom into a shiny new sophisticated one!