Posted by Francine Flanagan 21st Jan 2015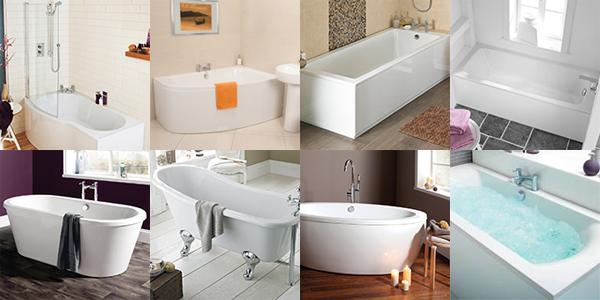 For centuries we have been obsessed with bathing and although the concept of the bath didn't originate in Britain, we quickly adopted this idea and have been advocates ever since. The unique idea of bathing rather than washing came from Roman and Greek cultures, and was brought to this country by the Romans who erected many elaborate bath houses during their time here, some of which have been restored and can still be visited today.
Throughout time, a bath has always been viewed as an expensive luxury and wasn't financially accessible to all until the late 1970s. Parents and grandparent tell tales of visiting the 'Bath House' once a week to enjoy a nice relaxing soak, it really was something to be appreciated and even today they never take it for granted.
Today, we really don't know how lucky we are to have this luxury item in our home, ready to be used whenever the mood strikes us. A nice hot bath also helps to make winter more bearable in Britain, things really have come a long way over the past 40 years, don't you think?
Over the past few years we've noticed that a bath hasn't been as popular as the demand for a shower. Most of us lead a busy lifestyle and that called for a fast and efficient way to get clean, so the bath has been taking a back seat, until now. Busy people are now realising that a hectic lifestyle also needs to be supported by luxurious, indulgent moments and a bath is the best, convenient way to treat your body after a hard day at work.
I know what you're thinking, "We'd love a bath, but we don't have space for both". Well, let me tell you you're not alone, most households don't have a huge bathroom but you can still enjoy the best of both worlds, but how you ask?
Well here's the lowdown to help you achieve the dream of a luxurious bath in even the smallest of bathrooms…
Our recommendations for a small bathroom
The shower bath – typically this style of bath comes in a standard length to fit into even the smallest bathroom. Our range includes a shower screen which is perfect for a quick, refreshing shower and also doubles as a spacious, relaxing bath. All you have to do is add a shower to enjoy both options, any day of the week. View our range here.




The corner bath – these baths are usually shorter in length which is perfectly suited to tiny bathrooms. Matching shower screens are available to match corner baths, which is handy if your bath needs to offer both options. View our range here.




The straight bath – a standard, classic design. This style of bath is perfect for any bathroom and is available in different lengths and widths to suit every space. Add a shower screen and a shower to create a multifunctional environment. View our range here.




The steel bath – a straight bath that's a lot more durable. The steel bath is ideal for busy bathroom environments and offers a traditional style that can double as a shower if needed too.

Our recommendations for a spacious bathroom
Decide what's important to you and your family, this will definitely help you decide on the perfect new bath for your new bathroom design. If you're still unsure and would like some advice you can pop into our Glasgow showroom in Hillington Park or you could give us a call for a friendly chat on 0844 809 4249.